It's easy to forget about the cost associated with fence maintenance and repairs, but it's an important part of homeownership. With a good understanding of all your options for repair, upgrades, and replacements you'll be able to keep your fence looking great year-round.
In this blog post, we'll explore the different kinds of materials used in fences, why they have varying levels of expense attached to them, as well as available solutions. From DIY projects to professional installation – you can make sure your property is always looking its best!
Take away key points:
Fence repair system includes different fence costs, such as fence material and labor costs, repair costs replacement or new fence installation costs, fence posts, and similar full or average repair cost types
You can find various solutions to ensure the best money standards to repair broken fences and make sure you don't pay too much for the fence repair costs
Follow the guide below to learn all you need to know when it comes to fence repairs and similar costs, to know precisely what your needs are
If you need to know more about your existing fence repair, the money you need to spend, and other solutions, you can refer to our guide below. You will find all answers to your questions.
Wood fence repair cost in 2023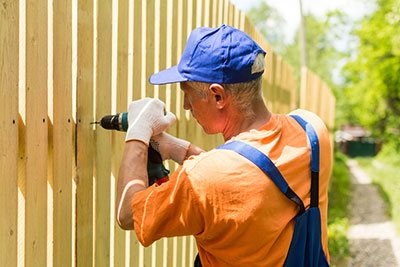 Repairing a fence can cost homeowners anywhere between $50 and $1,600, with the national average fence repair costs being $495.
The typical cost range falls between $270 and $785, but the final cost will depend on certain variables, such as the extent of the repair work needed.
Most common fence repairs entail fixing rotted wood, replacing broken boards, or mending a gate.
Check the table below for a better insight:
– National Average Cost: $495
– Typical Price Range: $270 – $785
– Extreme Low-End Cost: $50 
– Extreme High-End Cost: $1,600 
Fence repair costs by materials and size
The cost of repairing a fence can vary from $20 to $48 per linear foot, depending on the type of material used, the size of the damaged area, and the complexity of the repair work.
On average, the fence repair cost of repairing all types of fences is $34 per foot. Thus, it's vital to determine the materials and size of the damaged area precisely to get an accurate estimate of the cost of repairs.
Take a close look here:
| | |
| --- | --- |
| Fence material | National average cost fence repair cost per linear foot |
| Vinyl fence | $28 |
| Wooden fence | $23 |
| Chain-link fence | $23 |
| Wrought-Iron fence | $30 |
| Aluminum fence | $48 |
| Bamboo fence | $20 |
| Lattice fence | $33 |
Design & fence repair cost
The more intricate a design is, the longer (and costlier) it will take to repair.
Relatively simple designs such as picket or vertical board fencing are easier to fix, particularly if only a few boards need replacing.
On the other hand, basket weave fences of the same material will be much more complex to repair.
If you have an unconventional or custom-made fence, repairing it can be challenging as the contractor may need to create or order specific parts.
Fence material costs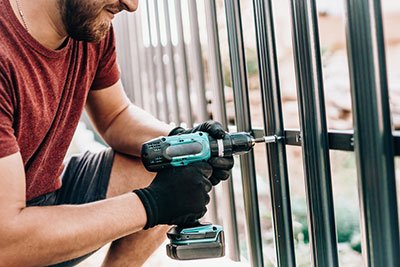 The price for repairing or upgrading an existing fence is determined by the materials used.
Fencing material can vary widely in price, with high-end materials like metal or glass being more expensive to repair. On the other hand, a cheaper fencing material such as bamboo, barbed wire, or chain link can be fixed at a lower cost.
You can find more information on fencing materials and fence repair costs here:
| | |
| --- | --- |
| Fencing materials | National average cost to repair fence damage |
| Wood fences | $370 |
| Chain-link | $335 |
| Vinyl fences / PVC | $485 |
| Aluminum | $565 |
| Bamboo | $285 |
| Wrought Iron | $700 |
| Barbed Wire | $220 |
| Lattice | $375 |
| Composite | $485 |
| Metal fences | $550 |
| Glass | $865 |
| Electric pet fence | $175 |
Fence repair cost and repair type
Determining the total cost of fence repairs is also linked to the kind of repairs needed. Different types of fence repairs, such as:
– fixing leaning fences,
– rehanging fallen fences
– repairing cracks, holes, or rot
play a crucial role in estimating the total fence repair cost. Let's see their details below.
1. Leaning fence repairs
To prevent further damage caused by a leaning fence or collapsing posts, it is necessary to take certain precautions. Typically, fixing a leaning fence with unstable posts may cost about $350.
Any number of drooping or fallen posts can potentially compromise the security of the entire leaning fence, so it's imperative to repair fences or replace them immediately.
2. Fallen fence repairs
The falling of a fence panel can negatively impact both the physical structure of your fence sections and the entire fence. The aesthetic appearance of your home will also increase repair costs.
Usually, bad weather, storms, and accidents are the leading causes of falling fence panels. Additionally, a fallen fence panel can put a significant amount of stress on the support posts, which demands immediate action to fix. The average cost to repair fallen fence sections or the entire fence is around $275.
3. Holes and cracks in fence repairs
Dryness is typically the reason for cracks and holes in a fence. Leaving them unattended can lead to severe damage to the fence, and you might a full fence replacement. Generally, repairing holes and cracks in fence sections can cost around $250 on average.
4. Missing boards
If you have missing boards on your fence, you may be wondering how much it will cost to repair it. The average cost of fence repair ranges from $250 to $750, depending on the material, labor, and extent of the damage.
Additionally, the national average cost for fence repair is around $460, but most homeowners spend between $255 and $685.
To repair fence missing boards, you can expect to pay around $30 per linear foot on average, including labor, which varies by material. Chain link fences are less expensive, whereas wood fences may cost more.
Overall, the average cost to repair a fence varies depending on several factors.
5. Wooden fence repairs (wood fence posts)
Moisture, fungus, and insects are the primary causes of wood rot in wooden fences. If left unattended, wood rot can weaken and potentially damage your wood fence, requiring immediate wooden gate repairs. Therefore, it is necessary to remove the affected wood root and repair the wood fence.
The wood rot can also affect the wood fence post and require to pay a higher cost to repair the wood fence post. The average wood fence repair for wood rot damage is around $275.
6. Replacing fence panels
The average cost to replace a fence panel or board is approximately $240. However, this cost can vary based on several factors, such as the type of material used, the extent of damage, and the height and width of the panel to be replaced.
7. Fence post replacement
Fence posts are the backbone of your wholesome fencing system. If your posts are rotten or harmed, you are risking the wholesome structural integrity of your fencing system, and you need to replace or repair the fence posts.
On average, the fence repair cost of replacing a fence post can range from $60 to $165 per post. Look at the table below for a better understanding:
| | |
| --- | --- |
| Type of fence | Average replacement cost per fence post |
| Wooden fence | $60 |
| Chain-link fences | $75 |
| Vinyl | $85 |
| Bamboo | $60 |
| Barbed Wire | $45 |
| Composite | $85 |
| Metal fence | $165 |
| Glass | $165 |
Fence posts are crucial to keep your fences stable and secure once you install them. For this reason, you must ensure the posts are properly maintained. You must check for rot, decay, or another kind of damage. These are required steps, especially in those areas where your fence posts meet the ground.
Depending on the type of fence posts you purchase, you will have to perform different maintenance tips to keep them optimal for wholesome fence use.
Fence gate repairs
The gate replacement average repair cost is generally higher than the cost of repairing other parts of the fence.
Fence gate repair costs often involve fixing hardware like worn-out hinges and locks or installing a brand-new fence gate.
On average, homeowners pay anywhere between $150 and $775 for gate repair and replacement services.
Take a close look here:
| | |
| --- | --- |
| Fence gate replacement | Average fence gate repair and replacement cost |
| Wood gate repair cost | $300 |
| Chain-link | $150 |
| Vinyl fence gate repair | $390 |
| Bamboo | $300 |
| Barbed Wire | $195 |
| Composite | $440 |
| Metal | $475 |
| Glass | $775 |
Labor fence repair cost factors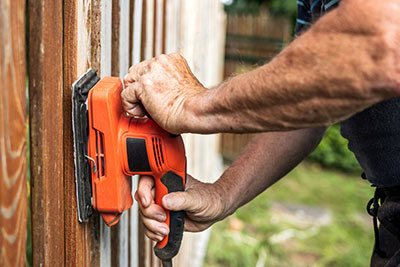 The cost of labor to repair a fence is determined by several factors such as the extent of the damage, the time required, fence type, and damage to the fence's structural integrity. Typically, homeowners expect to pay labor to repair a fence for the average cost of $345. Most homeowners pay between $125 and $565.
Height fence repair cost
The cost of building and maintaining a fence increases with its height. Repairing a taller fence requires more time and materials, thereby increasing the hourly labor cost for the project.
Additionally, if a fence does not have the standard height, the work multiplies since parts of the fence must be trimmed down to the correct size to fit.
Fence repair or fence replacement: What's a better solution?
Repairing a fence can cost anywhere between $270 to $785, with the high end reaching up to $1,600. On the other hand, the average cost of installing a new fence ranges from $1,330 to $5,550, with an average of $27 per linear foot.
The installation cost includes the material and skilled labor costs. Replacing the entire fence is usually more challenging, time-consuming, and expensive in comparison to a simple repair.
However, severe damages such as a leaning fence, a fully rotten fence, or many damaged fence posts call for a complete fence replacement.
For minor damages such as small holes or cracks, rotten paint, or one or two fallen posts or panels, property owners should consider fence repair in place of replacement.
Other factors to consider for a fence repair cost
Opting for additional services as part of your fence repair project, whether they are for functionality or aesthetics, can impact the overall cost of the project. Here are a few examples of such services along with their average costs.
1. Fence removal costs
The cost of removing a fence is typically around $3 to $5 per linear foot. Fence installers who possess appropriate skills will disassemble and dispose of the old fence themselves. Your contractor will charge you either a fixed rate or a rate per linear foot for the fence removal. Removing taller fences will likely cost more than taking down shorter ones.
2. Fence painting & staining project costs
After installing a new fence, you may need to paint or stain it for protection against rot, insects, and other factors. Wooden fences, in particular, require paint or stain for their upkeep.
When it comes to painting or staining your fence, you have two options. You can either do it yourself by acquiring the necessary tools like paint, varnish, paintbrushes, tarps, and a ladder, or you can hire a professional to do it for you. Opting for a professional would typically cost $5 per linear foot.
DIY fence repair cost vs. professional fence repair cost: What's your choice?
While fence repairs can be done independently, they may require you to purchase some tools and materials if you don't already have them. Below is a list of tools and their approximate costs that you may need for common DIY fence repairs.
The materials required to repair holes, cracks, or leaning fence panels typically cost between $10 to $20. For replacing an entire section of the fence, homeowners may need to spend between $20 to $48 per linear foot.
While repairing holes or cracks can be a simple task, replacing an entire fence is time-consuming and best left to a professional fence installer. look below for more details:
| | |
| --- | --- |
| DIY equipment | Average cost for fence repair |
| Work gloves | $10 |
| The tape measure | $18 |
| Hammer | $20 |
| Screwdriver | $12 |
| Level | $21 |
| Safety glasses | $16 |
| Nails | $12 |
| The replacement materials | $20 – $48 per linear foot |
| Concrete mix | $20 |
Fence repair by location
The fence repair cost guide is based on the national average. However, the final cost of your fence repair project may significantly differ from one region to another due to the cost of professional labor.
Typically, it is more expensive to hire a fencing pro in larger cities than in smaller towns, and higher taxes in some states can result in increased material costs.
Other solutions for most homeowners
If you're a homeowner looking for the best solutions to repair a fence, find them below. There are several options available to you.
– DIY: If you're more of a hands-on type of person, you might pay less cost to repair your fence on your own. This could be a cost-effective solution. However, it's important to carefully evaluate your skills, material and labor costs, and tools before embarking on this project to avoid causing more damage to your fence.
– Hire a pro: Hire professional fence repair companies or a fence contractor to do the job for you. They will save you time and effort and get the job done right the first time. The professional should also use concrete footing to make the wooden fence repair more stable. Compare the cost of hiring professional fence repair companies with DIY options so know how much you can expect to pay.
– Affordable handyman services: Affordable handyman services can also be utilized when looking for cost-effective fence repair services. Handyman Services charge less for their services compared to specialized companies that focus on wood fence repair per linear foot, square foot, and fence installation.
There are several other cost-effective wood fence repair solutions out there, but these three options will help get you started. Always look for the fence repair cost estimator in your area, to know exactly how much money you'll have to spend on the cost to repair your fences.
Remember that regardless of which option you choose it's important to check their ratings and reviews to ensure that you are working with a reputable service provider.
Fence maintenance tips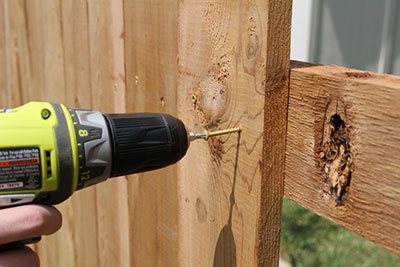 Here are some important fence maintenance tips that can help you keep your fence in great condition:
– Avoid hanging items on your fence or growing vines as they can damage your fence posts and pickets.
– Apply wood protection to prevent the wood from rotting and extend its lifespan.
– Regularly clean and power wash your fence to remove dirt, grime, and mildew.
– Point sprinklers away from your fence to avoid excess moisture, which can cause wood rot and make the fence unstable.
– Inspect your fence for damage regularly, and replace any broken or damaged parts as soon as possible.
– Repaint your fence every two years to maintain its appearance and protect it from the elements.
– Consider using vinyl fencing, which requires less maintenance compared to wood fences.
Remember, regular maintenance is key to keeping your fence in great condition for years to come. So, follow these tips and enjoy a beautiful and sturdy fence all year round.
Frequently Asked Questions
What is the life expectancy of a fence?
Your fence is expected to last between 15 and 20 years with proper maintenance.
How often should you maintain a wood fence?
Your wood fence (and its fence posts) require you to maintain it every three years, prolong its lifespan, and keep it beautiful and stronger.
How much should I save up for a fence?
Nationwide, a new fence will cost between $2,000 and $4,500.
How do you estimate a fence?
To estimate a fence, you need to consider the material, style, and length you want for your fence. The average cost for a fence installation can range from $2000 to $8000, depending on these factors.
Additionally, to do a professional estimate, you must accurately measure the perimeter of your fence. You can do this by running a string along the boundary.
What fence material is the cheapest?
PVC is one of the cheapest materials to buy and install your fencing system.
When is the cheapest time to have a fence installed?
When it comes to buying a fence, winter is often the most budget-friendly season. This is because there's usually a higher demand for fences during the warmer months and installation times can be longer in spring and summer. This way, you can make your money stretch further.
Who is responsible for fence maintenance?
If you're the only fence owner, you are responsible for your fence maintenance. However, if you use a shared fence, then you and your joining neighbor should both maintain your designated sides of the shared fence.
Conclusion
As you can see, there are many different types of maintenance costs to consider when owning a fence. While it may seem like a lot to consider upfront, evaluating these costs in advance will ensure that you don't have any major financial setbacks related to fence maintenance down the line.
Being informed and prepared is always your best bet in tackling any big home improvement project. However, if you still feel lost – don't be afraid to reach out to experts in the field.
By getting a second opinion and professional advice, you can be sure that your fences will remain strong and look great for years to come!