LED tractor lights are essential for working in extreme conditions, making your ordinary farming tasks more efficient, safer & effortless.
However, it would help if you found LED lights that are bright, durable, effective, and efficient enough to make your farming jobs easier.
And, what if you look for a cooling system?
Well, we present you with the best LED tractor lights for your machines, so take a close look and find the best for your needs.
Our LED Tractor Lights – Overview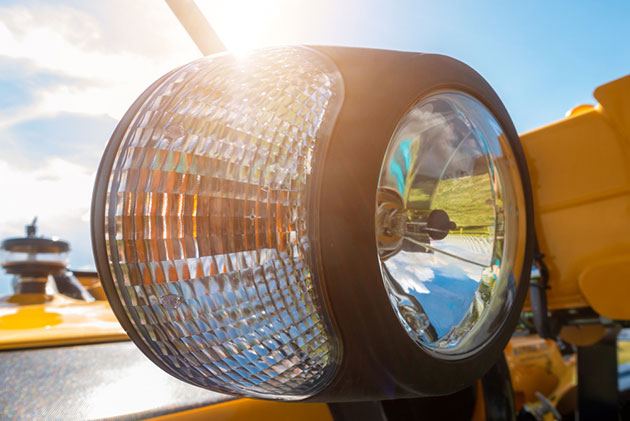 $ – Exzeit Waterproof LED Pods – 1.91 pounds – Best water-resistant lights with exceptional brightness and strength. But, possible short-circuit. Working hours: 30,000
$ – LED Tractor Lights – 1.41 pounds – Best for increased color temperature and two connectors for effortless installation. However, certain design flaws. Working hours: 50,000
$ – Nilight 60001F-B Led Pods – 1 pound – Most durable and reliable for universal uses. Still, the lights lack a voltage stabilizer. Working hours: 50,000
$ – NAOEVO 7inch LED Light Bar – 2.07 pounds – Best performance with an increased waterproof system for a prolonged lifespan. Reduces light loss. Yet, not so durable. Working hours: 50,000
$ – 10 Pcs LED Work Light – 7,09 pounds – Most influential with the highest voltage system. Suitable for all working conditions and vehicles. Nevertheless, hardware issues. Working hours: 50,000
$ – Zmoon Led Round Light Bar – 1.06 pounds – Best for a brand-new sealed technology, advanced system, and resistant design. Anyhow, misleading instructions – Working hours: 50,000
Best LED Tractor Lights on the Market: Top 6 Picks
1. Exzeit Waterproof LED Pods – Best water-resistant LED lights
Brand: EXZEIT
Price: $
Voltage: 12V
Fit: Universal
Best benefit: exceptional brightness
What's so special about our best LED lights?
Firstly, the EXZEIT led tractor lights to offer the most substantial brightness, thanks to the CREE LED chips.
The LED chips have 60 degrees of illumination range. Therefore, the LED tractor work lights increase visibility in dark conditions, night riding & foggy weather.
Moreover, the LED tractor work lights offer stainless steel hardware.
As you might find, the LED lights provide a solid & potent aluminum housing, along with the 304 stainless steel mounting bracket.
Therefore, the LED tractor light will endure & withstand numerous harsh conditions & surroundings.
Besides, the LED tractor light measures 3.5 inches; hence, it will be convenient for your tractor installation process, yet too dazzling to help you work safely and at maximum brightness.
The LED tractor light is also exceptional for its universal fit for tractors and other vehicles.
So, the LED light can be installed on tractors, trucks, jeeps, SUVs, ATVs, pick up, UTV, off the road, heavy machines, motorcycles, etc.
To install the LED lights properly, you will find the adjustable bracket.
The mounting bracket will be adaptable to various surfaces, and you can moderate it for the best installation.
Regarding the light patterns, the LED lights have 54W 3800 lumps of the light output for long hours and more visibility for front or rear fixation.
Finally, the LED tractor headlights are Ip67 waterproof, but you can get a replacement if you notice leakage.
Pros
durable
easy to install
reliable
2. LED Tractor Lights – Best color temperature
Brand: Lantsun
Price: $
Voltage: 12V
Fit: John Deere 
Best benefit: convenient mounting brackets
If you have the John Deere tractor, this is the best LED light for you!
Namely, the John Deere LED light is fantastic for its increased color temperature of 6000 K.
No other lights have a high color temperature as the Lantsun LED lights for John Deere to have.
In addition, the LED tractor lights also offer increased operating voltage (from 9 to 32, depending on lighting needs).
With this power, you can get more light and use the tractor LED lights for different low-visibility conditions, surroundings, and different weather elements.
The tractor LED lights have an Ip67 water-resistant rate.
Therefore, the weather elements cannot damage them so soon, and the tractor LED lights will offer you longer working hours & better light distribution.
With the LED light source type, the tractor light has an aluminum alloy housing for more durability and better light distribution.
The best LED light comes with 3W CREE LEDs*6pc, making it 18W round CREE LED work lights.
Hence, the work light offers supreme potent for more low beam, high beam, pencil beam, or spot beam in the middle if your tractor needs more lighting.
The crucial benefit is that the work lights don't need high/low beam connectors but have two wiring connection units – positive and negative, working perfectly.
So, it would be best if you had adequate blade-type wiring connectors to convert the wire LED tractor light from its original mount to the type the work lights require.
Pros
easy to install
brightness
affordable
waterproof
3. Nilight – 60001F-B Led Pods – Best durability
Brand: Nilight
Price: $
Voltage: 12V
Fit: Universal
Best benefit: sturdy & reliable design
The Nilight LED work lights are extraordinary for their wide illumination range & extremely bright beams.
Namely, this light fixture offers advanced LED chips, providing white and more glowing rays for more visibility.
This way, the specially designed work light is perfect for a dark environment, increasing visibility and allowing you to see the right and left sides.
Also, the low beam has a flood pattern, while the high beam has a spot pattern.
Due to the Ip67 waterproof design, the work light has a Rubber Pad used to tighten the gaps and enable you to use the LED lights for different elements and wet conditions.
So, you can use the LED light up to one meter in water for thirty minutes.
In addition, the aluminum housing is a quick cooling one with a premium-quality silicone gel. Thus, the design extends the lifespan of the work light.
Besides, the mounting brackets are anticorrosive & rust-resistant.
Also, the brackets are adjustable to change the direction of the light beam easily and moderate the light output.
Thus, you will find 2PCS 18W led pods and adjust the brightness and the power you need for your lighting needs.
However, you can place the lights in various indoor and outdoor surroundings thanks to its universal fit.
Thus, you can use the lights for backyard lighting, garden lighting, off-road lighting, backup light, construction lighting, etc.
And, you can mount the lights on different vehicles.
Pros
bright
water-resistant
effortless installation
Cons
lacks a voltage stabilizer
4. NAOEVO 7inch LED Light Bar – The best performance
Brand: NAOEVO
Price: $
Voltage: 12V
Fit: Universal
Best benefit: reducing light loss
The NAOEVO light bar will wow you due to its design.
As you'll see, the light bar has a die-cast aluminum housing as the primary and a water-resistant rubber pad as the extra protection.
However, the light bars also have two additional screwed connection points to improve the water-resistance, ease the mounting and improve performance.
So, you can place the light bars into the water for up to five hours; they will work flawlessly.
The light bars are perfect for the spot beam, suitable for irradiation distance, and the flood beam for a broader-view area.
Besides, the light bars include 6000K, 24,000lm, and 240W of white light, with 97% light transmittance, to reduce the light loss.
You will find ten cooling fins on the back, dissipating the temperature into the air. Thus, the LED light offers an optimal cooling effect and prolongs the lifespan.
Due to the adjustable mounting bracket, the NAOEVO fog LED light provides 45 degrees of adjustable angles. Thus, the LED light changes the direction of the light beam effortlessly.
And the tractor light can be removed or slid when you add an accessory.
The LED tractor light has wide use, suitable for various vehicles – tractor, jeep, off-road vehicles, 4WD, 4×4, UTV, ATV, etc.
However, you can use the tractor light bar as off-road lights, fog lights, work lights, driving lights, etc.
So, the tractor light will be an ideal choice for courtyard lighting and long-distance transportation.
Pros
weatherproof
ease of installation
brightness
5. 10 Pcs LED Work Light – Most effective
Brand: LITE-WAY
Price: $
Voltage: 32V
Fit: Universal
Best benefit: the strongest headlights & voltage power
The following LED light for your tractor is an extraordinary model, well-known for its fade-resistant PC lens.
In addition, the tractor light bar is scratch and impact-covered, with 120 degrees of flood beam, enhancing the light utilization efficiency.
Moreover, the tractor work lights offer 6,000 K of color temperature and 5,600 lumens, along with the flicker-free, higher anti-static CREE chips, for ideal light pattern and output.
Finally, the light design and production reduce glare and eye strain during more extended uses.
In addition, the tractor LED light bar has Ip67 water and weather resistance.
So, you can use the lights in rainy and humid surroundings, ensuring reliable bright conditions, with the proper headlights, flood, spot, and high beams.
However, the tractor LED light bar also includes a groove-shaped heat sink on the back, speeding heat dissipation and increasing air contact area.
Due to 180-degree adjustable stainless steel bracket, rust and scratch-resistant, the tractor LED light bar ensures effectiveness and efficiency on numerous tractor types, including New Holland, Massey Ferguson, Allis Chalmers, Kubota tractor types, and many other brands.
And, thanks to the optimized design, the LED tractor lights include reverse polarity with automatic short circuit protection, preventing potential danger.
However, the wires are also covered with rubber to avoid rupture and are waterproof.
Finally, the universal fit makes the tractor lights suitable for numerous off-road vehicles, 4WD, 4×4, SUVs, UTVs, ATVs, vans, jeeps, boats, and other cars requesting more vital LED equipment for better visibility.
Pros
durability
brightness
easy to install
6. Zmoon Led Round Light Bar – Best advanced technology
Brand: Zmoon
Price: $
Voltage: 12V
Fit: Universal
Best benefit: robust, resistant design
The Zmoon sealed round light is specific for its Ip67 design and advanced sealed technology.
Thus, the LED lights include the brand-new water-resistant die-cast aluminum housing for more extended use in wet conditions.
Also, the shock and rust-resistant design also protect the LED lights from wind, dust, rain, and sand.
Thus, the lights will be bright and dazzling all the time, increasing the visibility conditions for the driver.
It's vital to remember that only one light of this equipment contains 14 LED chips, providing 6,000K and 14,000lm of white light, super-bright.
So, the headlights will be brighter and more dazzling than other similar models.
Also, the beams – spot, flood, or high will help you see clearly in front of you, as well as the left and right side.
Also, a high beam adds a better spot pattern, providing maximum safety and security for the driver when the weather conditions are adverse.
Moreover, the lights include higher illumination, longer lighting distances, and wider-view areas.
So, you can place the equipment on the roof on the bumper to get backup lights or driving lights. In both cases, the installed equipment will be valuable.
The lights are also valuable for prolonging their lifespan, maximizing heat dissipation, and adjustable mounting brackets for different angles and directions for lights.
Due to the universal fit, LED lights can be installed on numerous off-road vehicles requiring more illumination and brightness when operating in harsher surroundings and conditions.
Pros
durable
sturdy
water-resistant
easy to install
Selecting the Best Led Tractor Light: The Buyer's Guide
Although you need to pay attention to numerous factors when choosing the best LED lights, here are some crucial features to consider:
1. Durability
It would be best to choose durable products; otherwise, they won't be effective. They will damage too soon.
Many farm experts recommend aluminum work and outdoor lights as the best models & the most reliable units.
2. Water resistance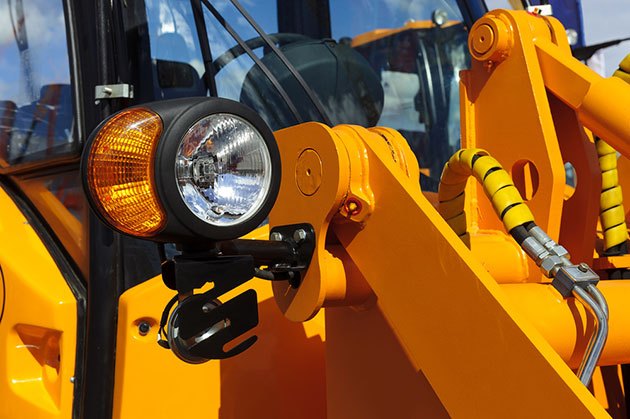 Water-resistant LED lights to ensure you can work in all conditions, environments, and with all vehicles.
So, I suggest you inspect the water and weather resistance and check their design before the final purchase.
3. Universal fit
Multiple application is essential, as you can mount the lights on ALL motor vehicles.
So, if you come across non-universal lights, my advice is to skip those and go for the universal models.
Believe me; they will make your life easier.
4. Flood & spot beam
You can notice different lights with different beams.
According to experts, the best lights are those with both spot and flood beams (combo).
They combine to create better visibility conditions and illuminate more expansive areas for more safety.
5. Cool white or daylight?
Although many claims that both cool white and daylight bulbs offer the same lumen rating, experts believe the daylight-color bulbs appear brighter due to their color temperature.
The cool white bulbs have 3,50-4,100K of temperature, whereas the daylight-color bulbs have 5,000-6,500K of temperature.
Thus, the higher degree provides a whiter color temperature. The whiter your light is, the brighter it will be.
6. Daylight or soft white?
It depends on how much light you need.
However, farm experts always recommend daylight since it has a brighter shade and a bluer spectrum, maximizing color contrast.
So, it's more convenient for working in the dark.
On the other hand, the soft white light is better for indoor areas, as experts state.
FAQs
How many lumens does a tractor need?
Depending on the tractor model and how much light you need, tractors often need between 1,000 and 2,3000 lumens.
But, again, it all depends on your needs – you may need more or less.
How do you put LED lights on a tractor?
To finish the procedure correctly, please refer to the steps below:
remove the wires from the old lights
take the wires of the new lights & place them on the fresh bulbs
find the main wiring harness
cut the wires from the primary output (wire or cable cutters come with the tractor)
determine the distance between the lights and electrical connector (remember that each light takes around three space inches)
install the lights
apply a Heiwei connector to attach the lights
secure the lights via zip tie or a hose clamp
What are the most reliable LED lights?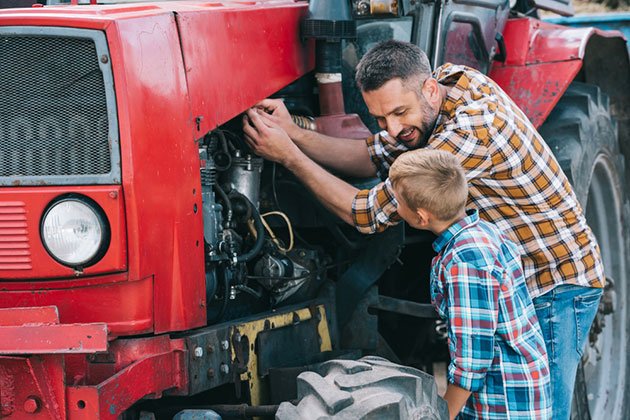 The most reliable LED lights would be the Nilight 60001F-B Led Pods.
They offer the best durability due to the advanced design and system technology & are suitable for all vehicles and working conditions.
And, you can use them in water, they won't damage so soon.
What LED light is the brightest?
The brightest light is the Exzeit Waterproof LED Pods.
The light includes 6,000k of color temperature to create the most brilliant illumination.
Also, its operating voltage power is between nine and thirty Volts, for better light output, on all 12V and 24V vehicles, which is a good indicator of the brightest bulbs.
Do tractors need a flashing beacon?
Yes, they do.
Since the 1st January 2016, all tractors have been OBLIGATORY to use a flashing amber beacon and switch it on when in use.
And, the best LED tractor lights are…?
The best lights are the Exzeit Waterproof LED Pods.
The brightest lights increase color temperature, light pattern, and water-resistant design.
Thus, they are durable, reliable, and sturdy enough for longer working hours and better light distribution for dark modes, harsher surroundings, and working conditions.
They're also high-quality bulbs, even though the wires are not as protected as they should be.
Final words
Whatever lights you choose, you cannot go wrong.
All these models are unique in appearance, strength, illumination, and durability, so all provide effective and efficient working hours.
However, it would help if you went for those universal fit models, as they will be versatile and flexible for more jobs and tasks.
Let me know if you agree or disagree.
Exzeit 56W Led Light Pods, 60° Led Work Light for Tractor Truck Golf Cart Forklift Mower, 3800 LMS...*
[180°12V Led Light] With CREE Led chips, this lights with 180° illumination range gives out abundant brightness for clear visibility, increasing safe hugely for your night riding, as well as your...
[STAINLESS steel Led light Pods]. With durable aluminum housing and 304 stainless steel mounting bracket,This 3.5 inch light pod can withstand different harsh environment, keeping you from rust...
[UNIVERSAL FIT Off Road Lights] It is also widely applied in truck, tractor, off road, jeep, pick up, SUV, ATV, UTV, motorcycle and heavy machine etc.
[Product Warranty]. Any quality issue is under one year of replacement warranty. We stand behind our products.