With the eye-catching orange color, Kubota is one of the leading tractor manufacturers and a number-one choice of farmers worldwide!
Kubota has been on the market for a while now. Well, let's say over 100 years!
It's time you learn everything you need to know in our Kubota tractor review!
First, we will go over some of the finest models manufactured by this brand and see where are Kubota tractors made and what makes them unique?
This brand stands as one of the most reliable choices for farmers worldwide, so if you want to know why, stick around to find out!
How Did Kubota Develop?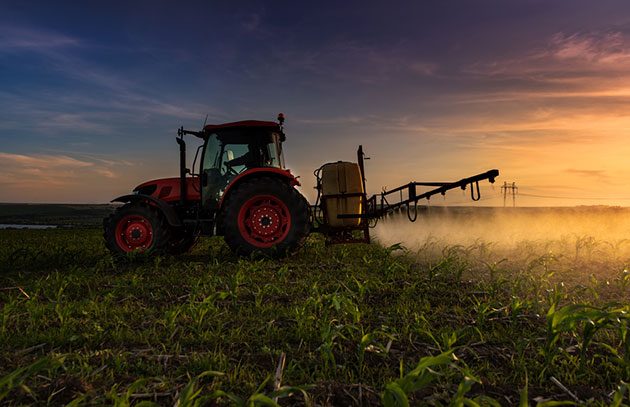 Kubota companies were first developed in 1890 as a foundry producing castings and were designed to be one of the largest manufacturers.
With the company's expansion, they began producing various agricultural equipment, construction equipment, tools, and engines.
The companies' founder, Gonshiro Kubota, set out to develop a company that would fight against environmental, food, and water problems. Thus, he created the Kubota Tractor Company.
The well-known Kubota slogan is "For Earth, For Life," signifying the thoughtful company's investment in society's wellbeing and development.
The Kubota Tractor Corporation is headquartered in Osaka, Japan, with a wide range of agricultural machinery.
They began the business in the 1960s, and its US headquarters is located in Grapevine, Texas. 
Kubota is currently known as the most popular brand for Indian agriculture.
It was founded in 2008 as Kubota Agricultural Machinery India Pvt. Ltd. and continues to deliver the most quality machines for the Indian farms and farmworkers.
The company now is a worldwide manufacturer of implements, combine harvesters, power tillers, attachments, and has an extensive line of tractors fit for every farmer.
Where Are Kubota Tractors Made?
This brand has years of experience behind its successful agricultural machinery. But, where are they made, and where can you find Kubota tractors?
Most of the Kubota tractors we find sold in the US are made in Japan.
Their main headquarters lies in Japan, but a lot of the tractors are assembled in Gainesville, Georgia.
The company includes a versatile range of assembling and manufacturing mowers, tractors, harvesters, and other attachments and implements. 
Kubota Manufacturing of America Corporation was founded in 1988 in Gainesville, Georgia, as a primary site for Kubota's North American operations.
Before the Kubota business took a turn for the better, the company focused on projects such as front loader tractors, backhoes, and agricultural implements.
But, years later, after the global success of the US market, Kubota began delivering high-quality lawnmowers, garden tractors, rotary cutters, utility tractors, and tractors for rough terrain with high power.
Some of the prominent tractors and equipment made in Georgia include sub-compact tractors, lawn tractors, front loader models, utility vehicles, turf tractor models, as well as backhoes.
The Kubota engine is manufactured in Kubota Engine America, located in Lincolnshire, IL.
Many of the Kubota engines can go up to 300 HP, making them powerful and reliable for many agricultural tasks.
Why Are Kubota Tractors So Unique?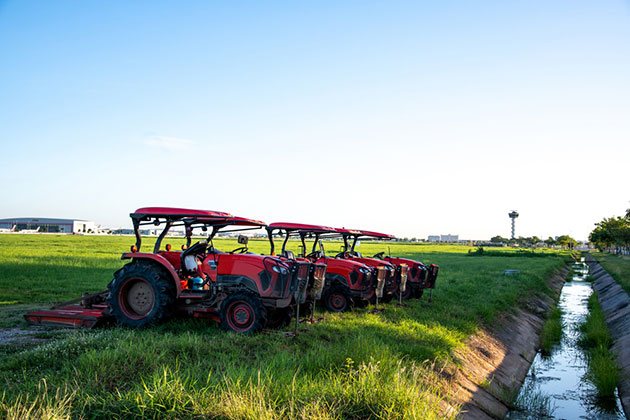 If you want to operate on the field quickly, you have to try out Kubota!
You can use their tractors on small farms, bigger lands for gardening, lawn maintenance, yard work, and many more!
They happened to be one of the most versatile tractor brands on the market.
And, guess what, with the right implement, you can even use it for clearing ice on those snowy days!
Besides versatility, Kubota models have a variety of features and implementation, so you can get the job done faster and be cost-productive.
In addition, there are numerous certified dealers shop worldwide, and getting your very own Kubota has never been easier!
They are handy to work with and have great visibility in the cab so the driver can always be comfortable while maintaining the land property.
Kubota's Extensive Lineup of Tractors
During the years of the manufacturer, the Kubota brand has worked very hard on delivering versatile tractors for multiple farming jobs.
Now more than ever, you can get a Kubota tractor for basically every agricultural task you have in mind.
Let's see the lineup of Kubota tractors.
1. Compact tractors are excellent for digging, plowing, and even hauling.
You can get various jobs done with Kubota compact tractors, no matter if your farm is big or small. On that note, they are easy to maneuver and installed with other implements.
2. Sub-compact tractors are terrific for gardening.
Of course, we would not use them so much on heavy-duty farming jobs and rough roads, but for essential garden maintenance, these are the best.
They efficiently perform tasks such as landscaping, clearing up mulch, and till the soil. Along with compact tractors, they have around a 15-40 HP range.
3. Utility tractors give out fantastic performance and power for farming and demanding jobs.
These tractor models often come with a diesel engine so that you can go over rough terrain with no problem whatsoever.
Plus, with the right set of tools attachments, such as a loader, you can upgrade your utility Kubota tractor to perform any job on the farm.
Their range of power is usually around 40-110 HP.
4. The Row-Crop tractor by Kubota is designed to serve you on heavy-duty farming tasks.
So what exactly can you use this model for? They are terrific for weed control, plowing, harvesting, clearing the field, and many more!
5. The last tractor model we will mention is the rotary tiller, also known as a walking tractor.
If you are an owner of a small property, this is the best Kubota model for you!
Not only are they great for smaller terrains, but they also manage to work well on uneven grounds and hilly areas.
One of the most outstanding features they offer is easy steering, row spacing, a power lift is included, and they provide better ground clearance.
Best Performing Kubota Tractor Models & Series
1. Kubota L Series
Any tractor from the L series will do the job significantly when in need of a reliable and heavy-duty model.
The L series models have great power between 32 to 60 HP. These orange beasts are also available in deluxe models, economy, and tractor-loader backhoes.
You can use them for snow removal, small and big farms, landscaping, garden maintenance, and more!
2. Kubota M Series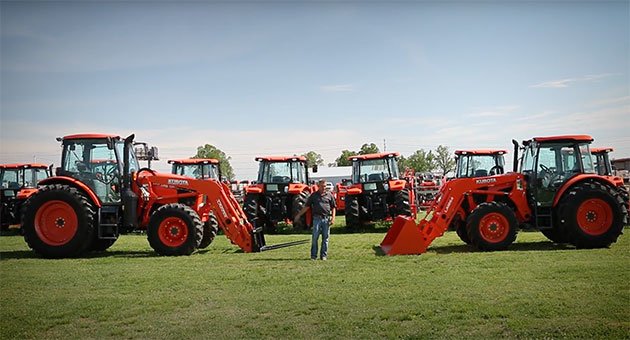 M series is a true master of high-power. They have an engine that offers up to 135 HP, so they are great if faced with a challenging farming job.
The heavy utility tractor is available in standard, AG, tractor loader backhoe, and special models.
What can the M series do best?
They are terrific with specialty farming, loader work, snow removal, agricultural tasks of all kinds, livestock, ground maintenance, forestry, landscaping service, etc.
3. Kubota B Series
With sufficient power of nearly 34 HP, the B series are suitable for lighter jobs and smaller fields.
Expect them to do great snow removal, landscape maintenance, commercial use, or lightweight construction.
These models are available in the economy, narrow, track-loaded backhoe, and in premium and unique versions.
4. Kubota BX Series
The BX series is known as the most versatile.
You can use them for lots of stuff, whether in the garden or around the farm. They are compact and easy to maneuver around the field.
As for the power will usually run on 25 HP, which is just perfect for lighter tasks such as towing, lawn and garden maintenance, snow removal, and light loading.
5. Kubota LX Series
This line presents a crossover between the L series and B series. With that in mind, you get the best of both worlds!
The LX series is known for including models with the diesel engine.
One of the well-known tractor models in this series is the LX3310 which offers a standard rail system.
The system works well in colder conditions by providing high torque and power.
They have a terrific lift capacity so that they can raise to 1,000 pounds.
Kubota vs. John Deere
When comparing the best-selling tractor brands, John Deere and Kubota are names you will see a lot.
Both are exceptional in performance and quality, but which one is better?
We would have to say that John Deere takes the win in terms of exterior.
John Deere tractors are made from polymer plastic on the outside, making them less prone to scratches, dents, and color fade-offs.
On the other hand, Kubota's exterior is made from painted metal, so it will be more prone to rust if you don't protect it adequately and maintain it.
However, Kubota does shine in one area specifically. It's much easier to change out loader buckets in Kubota than it is with John Deere.
John Deere includes fixed mount loaders, so it is more challenging to do this.
Kubota also offers factory cabs on smaller units, making managing work in challenging areas easier.
They also produce various models where you can enjoy an AC cab, radio, front and rear wipers.
They are also available for smaller models, which John Deere does not include.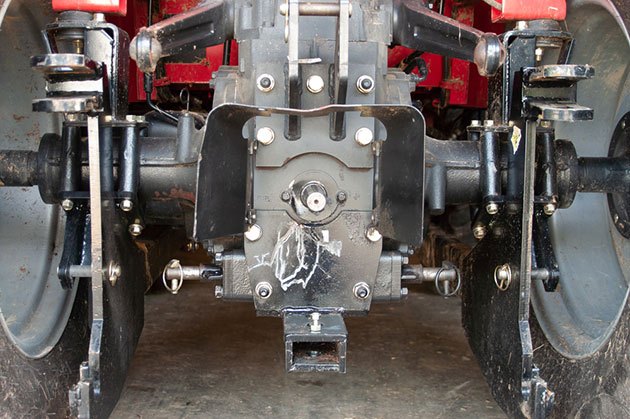 Mahindra tractor company is based in India and is a top-selling tractor brand worldwide!
The main differences between these two tractor brands are usually with prices, service, quality, and personal preferences.
Price-wise, Mahindra is known to be less expensive than Kubota.
However, this will all depend on where you purchase the tractor. But, when it comes to service, Mahindra did not show well.
For years now, customers have experienced many issues with the Mahindra service, and it was impossible to find parts for it.
You would have to wait for quite a while before the part was available when it required a quick fix.
However, now that the company is mainly US-based, getting some of the parts is a bit easier.
On that note, Kubota's service is much better!
Most customers had a great experience as technical support and service were always up to date.
You can also phone a trained technician whenever you are experiencing trouble with your tractor and get quick advice on what to do next.
FAQs
Are Kubota tractors any good?
Yes, Kubota tractors are excellent!
They have excellent performance and are reliable and efficient in the field.
Many of their tractors, such as the ones from the L series, offer a comfortable space for the driver.
With contoured seats and ergonomic support, Kubota offers an excellent solution for those longer rides.
As a result, Kubota tractors are an excellent investment if you look for a heavy-duty, long-lasting machine.
How long will a Kubota tractor last?
A Kubota tractor will usually last for around 4500-5500 hours.
Kubota models are long-lasting and reliable for various agricultural tasks with diesel engines as quality built.
The Kubota tractors will serve you for years and years with proper care.
Are Kubota engines reliable?
With proper maintenance, Kubota diesel engines can be pretty reliable.
However, you should change the oil regularly and clean out the filter if you want the best reliability out of your Kubota tractor.
Are all Kubota tractors made in Japan?
Not all Kubota tractors are made in Japan, but their main headquarters are in Osaka, Japan.
Most of the Kubota tractors are made and sold in North America and Georgia, United States.
Today, Kubota is spread over 25 countries worldwide and is one of the leading agricultural equipment manufacturers.
Read more —
Best KIOTI Tractor Reviews + Where Are Kioti Tractors Made: A Complete 2022 Guide For All Farmers
Final Words
Overall, Kubota never disappoints whenever they come out with a new model.
With the extensive tractor models they offer, Kubota has a suitable option for every agricultural endeavor.
So Whether you are working on a big or small field, light or heavy-duty work, it's a safe bet you will find a suitable Kubota tractor for your needs!
 "For Earth, For Life" and your best agricultural results!