Your tractor is like your body. If you treat it with care, it will work well!
But, just like you don't want to feed your body with low-quality food, you also don't want to pick an inadequate diesel oil for your four-wheel buddy, would you?
For this reason, it's essential to pick the absolute best tractor oil for the diesel engine on the tractor.
Changing the oil on the tractor as recommended will keep the pricey repairs away!
Optimal engine performance is necessary if you want to get the best out of your tractor, plus it keeps it running smoothly.
If you want to rely on your diesel engine all the time, it's time you learn how to take care of it properly.
So let's see the best diesel engine oil for the tractor in 2022!
Our Favorite Oil for Diesel Tractor – Overview
$ – Castrol 1597B1 Edge Extended Performance 5W-30 – The best synthetic oil you can get for the price, works on high-performance engines, is suitable for higher temperatures, and includes Titanium fluid strength. 
$ – Castrol EDGE 5W-40 A3/B4- B4 – The best full synthetic oil for gasoline and diesel engines works best for garden and lawn tractors but can also be used for other compact and utility tractors. A bit pricey. 
$ – Mobil 1 – 153669 Synthetic Motor Oil – Best engine oil for cold weather and extremely high temperatures, stays clean for a long time, and offers optimal oil consumption. The package is not the best. 
$ – ROYAL PURPLE 15W40 Synthetic Diesel Motor Oil – Has excellent cleanliness, API approved, protects the engine against corrosion and rust. Does into fixing poor bearings. 
$ – Shell Rotella T4 Triple Protection Conventional – Works well under all temperature conditions, has improved cleanliness along with additives that remove sludge from the engine. Not the best lubrication.
My Top 5 Best Oil for Diesel Tractor
1. Castrol 1597B1 Edge Extended Performance 5W-30 – Best Pick
Brand: Castrol
Liquid Volume: 160 Fluid Ounces
Viscosity: 5W-30
Best For: High-performance engines
We are starting off the list with one of the best diesel engine oils on the market. People often associate Castrol with high quality, and we cannot argue with that.
This is one of the recent additions in their offer, and it has the best performance with heat pressure.
It's suitable for hauling, towing, modern engines, frequent or short trips, and high-temperature conditions.
If you live in warmer climates, you know how important it is to pick the best diesel oil for your engine.
Well, Castrol Turbo Diesel oil is just what you need. One of the most advanced synthetic oils offers an extended drain of 20,000 miles!
The 5w-30 engine oil supports Titanium fluid strength and offers terrific performance under extreme pressure.
The reason you want to try out this engine oil with Titanium is that it's able to maintain a constant film strength.
In contrast to other oils that do not have Titanium fluid, Castrol showed terrific results!
The friction is reduced to 15% and metal-to-metal contact at different speeds and high temperatures.
Lastly, the Castrol 5w-30 viscosity level works excellent on newer tractors with high-performing engines!
The oil has also passed all the tests and delivers impeccable strength that keeps the wear of your machine to a minimum.
Pros
Extends engine life
Great for newer vehicles
High performance
Includes Titanium fluid strength
Cons
Not the best for high mileage engines
2. Castrol EDGE 5W-40 A3/B4 – Best Synthetic Motor Oil 
Brand: Castrol
Liquid Volume: 32 fluid ounces
Viscosity: 5w-40
Best For: Tractors, motorcycles
The Castrol has taken another spot on our list, but it's the second place this time.
The runner-up pick goes out to the Castrol EDGE 5w-40 engine oil.
If you are looking for a premium synthetic oil that can withstand high engine pressure on modern engines, then you found your best pick.
This diesel oil is fully advanced to support the high-temperature range of diesel and gas engines.
It is formulated with an SAE degree of 5 in cold starting mornings and reaches 40 range once the engine warms up and reaches standard temperature.
Why should you trust this tractor oil? It has been thoroughly tested to reach all the requirements made by the European Automobile Manufacturers Association. 
It is unique because it includes Titanium fluid, just like our top pick. This means it induces film strength and prevents the breakdown of the engine.
The engine oil is perfect for high gas mileage thanks to its full synthetic oil design. However, the price is high because it's not conventional oil.
As we have tested, this tractor oil works best on farm tractors and lawn tractors.
The ones that have used it extensively say that they changed the oil filter only every two years.
Pros
Best for fuel efficiency
Great for tractors and gasoline engines
Full synthetic oil
Good for garden tractors
Works well with low temperatures
3. Mobil 1 – 153669 Synthetic Motor Oil – Best For Cold Weather
Brand: Mobil 1
Liquid Volume: 160 Fluid Ounces
Viscosity: 0w-40
Best For: Works both on diesel engines and gasoline engines
Are you a farmer living in a cold-weather area that can never rely on our tractor to start on a freezing morning? Then this tractor oil is for you!
This is the only engine oil you want to use if the temperature range drops below zero.
Why? You are about to find out all about the Mobil 1 tractor oil!
For starters, this motor oil passed the 0w rating.
According to the tests, you can always rely on this tractor oil during cold mornings. It has an impressive cold ranking capabilities.
What's surprising to learn is that this engine oil keeps the viscosity thin even when the temperature drops to -30° F.
That being said, this is the best engine oil if you want to protect your engine during winter. 
Moreover, the Mobil 1 motor oil has a 40 grate when the temperatures are optimal.
Therefore, it's also suitable to use in the summertime as it can withstand a temperature range of 500 degrees.
A feature that surprised many tractor owners is that this oil stays clean for a long time! Therefore, don't be surprised when you see it stripping down previous oil in the older engines.
Plus, it will offer excellent fuel performance and extend the life of your engine.
Overall, the Mobil 1 multigrade oil can offer you extreme engine protection in all weather conditions.
Pros
Great for all year round
It helps to prevent oil breakdown
Excellent fuel economy
It stays clean for a long time
4. ROYAL PURPLE 15W40 Synthetic Diesel Motor Oil – Best Universal Tractor Oil
Brand: Royal Purple
Liquid Volume: 1 Quart
Viscosity: 15w-40
Best For: Works with gasoline and diesel engine
Moving on, we have the Royal Purple tractor oil.
You will see a lot of tractor owners using this oil, but what is the secret behind its popular use?
Let me walk you through all the magnificent benefits of using the Royal Purple engine oil.
To begin with, you can use this motor oil with diesel engines, gasoline oil engines, and even with conventional oil and synthetic motor oil. Plus, it's compatible with ethanol-based fuels.
It offers excellent wear protection and claims to have at least 3x film strength over other synthetic oils.
In addition, it prevents metal-to-metal contact and features API CK-4 heavy-duty engine oil license. 
It can be used with older vintage tractors because it has an extraordinary cleanliness level.
Moreover, this quality oil has outstanding protection against sludge formation.
In addition to that, the fuel consumption is stabilized, ensuring optimal engine performance in all weather conditions.
The oil also works well on high engine mileage; you have to be careful not to overdo the oil change.
Farmers who have been using this tractor oil on a John Deere tractor and Kubota tractors have a positive experience as it's one of the best 15w-40 diesel oils on the market.
Pros
It can be used both on diesel engines and gas engines
Works with ethanol-based fuels
Synthetic formula
It does not cause an engine leak
Excellent cleanliness
Increased fuel efficiency
Does not turn the oil black
Cons
It does not fix poor bearings
5. Shell Rotella T4 Triple Protection Conventional – Best Oil For Diesel Tractors And Trucks
Brand: Shell Rotella
Liquid Volume: 128 Fluid Ounces
Viscosity: 15W-40
Best For: Heavy-duty tractors
Lastly, we have saved this incredible Shell Rotella tractor oil.
It's heavy-duty engine oil that has been reformulated for better performance.
If you had the chance to use some of the Shell Rotella motor oils, you would know that the performance they offer is extraordinary!
This is another great oil for vintage tractors as well as low-emission engines.
So if you have been using your tractor for over a decade and worry about finding the best diesel engine oil, you no longer have to look around!
The Shell Rotella is your best option for excellent oil consumption.
The diesel engine oil comes in an additive package that protects the engine against corrosion and rust thanks to the slow oxidation rate.
In addition, the diesel engine oil also has increased shear stability for optimal viscosity levels. It keeps the engine pressure at an excellent rate.
The advanced technology of this diesel oil has excellent cleanliness even during an oil change. Therefore, it's best to use it on high-power vehicles and diesel tractors.
However, we must admit that the lubrication is not that long-lasting, so you will find yourself doing the oil change frequently.
Overall, you cannot go wrong with this tractor oil.
Many tractor owners have used it on tractors with 30 HP and higher, so it's pretty versatile in that matter.
Pros
Prolongs engine life
Trusted by many automotive engineers
Excellent for diesel trucks and tractors
Works well under high and low temperatures
Cons
Not long-lasting lubrication
Types of diesel tractor oils
1. Synthetic oil
This is the most common tractor oil type you can get on the market.
But unfortunately, it's artificially manufactured, and it consists of synthesized base oil mixed with additives.
Now, depending on the type of synthetic oil of your choice, the manufacturer will always include additive blends.
The main benefit of synthetic oils is that they have no crude formula, so they do not leave debris behind.
Also, they have a better level of cleanliness.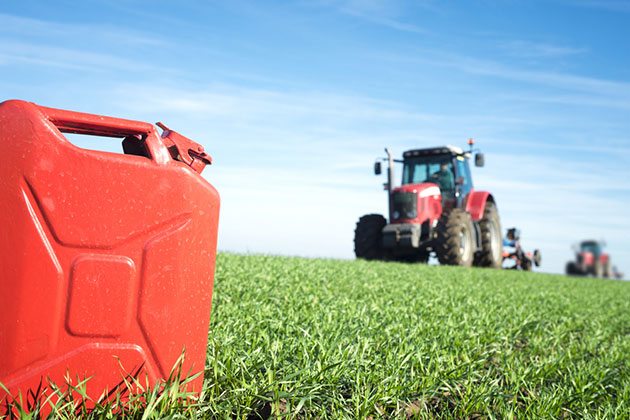 2. Hybrid blend
One more popular alternative to synthetic oils is the hybrid blend made from conventional and synthetic ingredients.
Since conventional oil is rather notorious in the agricultural community but does have its benefits, the hybrid blend offers the best of both worlds.
However, the hybrid blend oil is probably the best to use for lower temperatures as it does not withstand high temperatures that well.
3. Conventional oil
Conventional oils were widely popular back in the day.
They relied on most natural ingredients, and mineral oil was one of them. However, the primary source of this type of oil is crude.
Since conventional oils are natural in most of their composition, they leave residue behind and have less molecular consistency.
Sadly, they do not have a perfect level of cleanliness, but they do perform excellently in off-the-road equipment and vehicles.
Also, it's pretty affordable when you compare it to synthetic oils, but you would have to do oil change frequently.
Consider this when purchasing best diesel engine oil
1. Viscosity grade
When purchasing tractor oils, you should first look for the viscosity grade. For instance, you will mostly find the 5w-40 and 15w-40 relation with diesel oils.
The W next to the first number indicates the thickness of the oil in cold conditions. The number next to it refers to oil thickness in standard temperature conditions.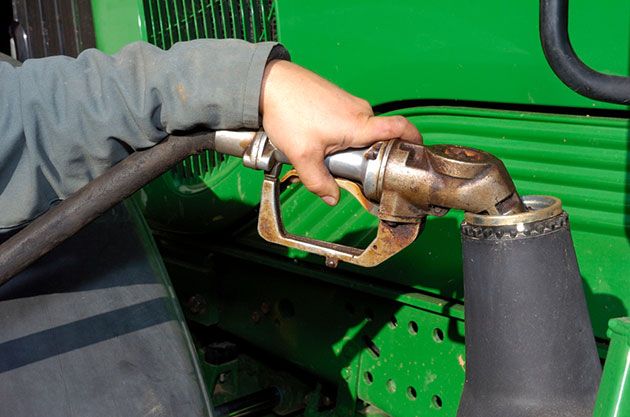 2. Additives
Don't be fooled thinking the diesel oil you have just picked out is entirely pure.
Almost all of them have a blend of additives that accelerate and exchange the overall performance.
However, additives are a good thing when it comes to tractor oils.
Some make sure the oil does not get too thin during summer and too thick during winter.
Other additives involve detergents that act as a cleaning agent to remove the residue or sludge from the engine.
3. Look for the certificate
If you want to make sure the diesel oil of your choice is 100% reliable, look for quality certification.
In the US, the quality of diesel oil is determined by the American Petroleum Institute (API).
The designation starts with the letter C and is followed by the alphabet letters from A-J.
A stands for low-quality, whereas J is the current high-quality performance level.
4. Shelf life
Not everyone thinks about the shelf life when they first buy diesel oil.
Consider it like this, once you open the oil bottle or can, it will be on the shelf in your storage or garage for a while until it's time for a change.
Logically, when it's open like that and sits for months unused, it can lose its benefits and power.
For this reason, I advise you to get the opaque container for the oil and look for a high-quality seal package.
FAQ's
What's the best oil for a diesel tractor?
The best oil for a diesel tractor is Shell Rotella T4 Triple Protection Conventional and Castrol 1597B1 Edge Extended Performance 5W-30.
Both oils are of high quality and work excellent on diesel tractors.
However, if you wish to have a fully synthetic oil, you should go with Castrol.
Is 15w 40 oil only for diesel engines?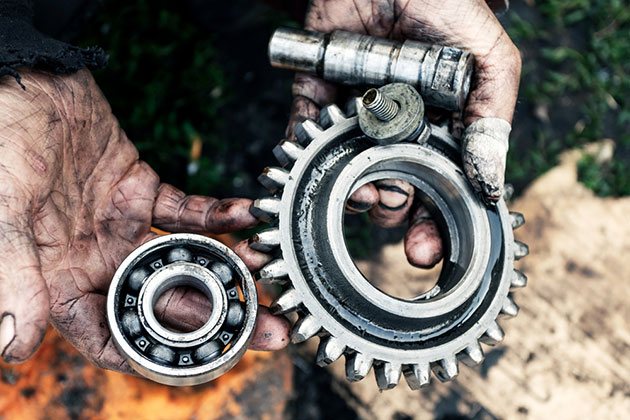 No, the 15W 40 oil is not only for diesel engines.
You can use this oil viscosity for farm equipment, trucks, off-highway, and gasoline engines.
Although it's typically used for diesel engines, that does not necessarily mean it only works for them.
What exactly is diesel engine oil and how does it work?
Diesel engine oil, also known as diesel fuel, is refined from crude oil and biomass materials and is used with diesel engines.
What makes diesel engine oils so unique is that they have a high anti-wear load in Zinc form.
Therefore, the catalytic converter in diesel oils can fight off corrosion and rust, online gasoline.
They have a higher viscosity level, and each oil has a proprietary blend of additives that enhances its performance.
As for how it works, the oil is pumped through the engine under high pressure that lubricates the internal components and separates metal parts.
What oil should I use in my Kubota tractor?
On Kubota tractors, you can use 15w-40 engine oil.
Our top recommendation for these oils would be the ROYAL PURPLE 15W40 Synthetic Diesel Motor Oil and Shell Rotella T4 Triple Protection Conventional.
However, it would be best to make sure the oil you picked out has an API rating of CF or even higher.
Is there a difference between small engine oil and car oil?
Yes, there is a difference between small engine oil and car oil.
Smaller air-cooled engines typically run hotter than most, especially on hot summer days.
Therefore, the small engine oil quickly reaches 200-300 degrees Fahrenheit while car oil is 100 degrees hotter.
You should not be using small engine oil in your vehicle because of the high zinc percentage. They can easily damage new vehicles.
Final winner
Interested to know what tractor oil will never let you down?
My top recommendation is the Castrol 1597B1 Edge Extended Performance 5W-30! It's synthetic oil of excellent quality that works well in cold and warm temperatures. 
Furthermore, it's supported by Titanium fluid that keeps your engine in top-notch shape and prevents tear.
It's followed by excellent performance, suitable for new and old tractors, and will support every one of your agricultural endeavors.
All there is left to do is click "add to cart" and see why so many farmers think this oil is the holy grail of agriculture!
Sale
Conclusion
With numerous factors that need to be considered when choosing tractor oils, we have selected the top 5 best diesel engine oil picks I hope you liked.
Of course, each of these oils has its pros and cons, but there is only one clear tractor oil winner at the end of the day.
Choosing the best tractor oil is not an easy task, especially for beginners.
The smartest advice I can offer is to try the oils on our top list and see why they are a favorite of many agricultural workers.
It's time you give your tractor the best care it deserves!