If you're an agricultural worker, understanding your tractor fuel usage is essential for the success of your business. Having the right type and amount of fuel can make all the difference in the performance of a tractor. Unfortunately, this isn't always easy to figure out!
In this post, we'll look at all aspects of tractor fuel consumption – from types and amounts to best practices. You can easily make informed decisions on what's best for your tractors.
Take away key points:
When your engines provide less power and use more energy, they are not that efficient. So, you must take figures into consideration and produce the best work results.
The optimal fuel consumption is the best way to solve the problem, and you need to know the exact amount of energy used to perform required tasks on farms and fields
Optimal usage will provide the necessary engine and machine power to ensure the best performance on all farms
Specific fuel consumption in tractors: All you must know
If you're wondering whether your tractor offers maximum power, optimal performance, and fuel consumption rate, refer to the guide below. Our experts have gathered all standards related to this topic. Let's dive into more details.
What fuel does a tractor use?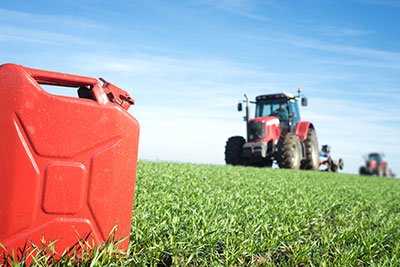 Tractors are powered by a variety of fuel sources, depending on the type and age of the tractor. The most common fuel sources for tractors are diesel, gasoline, and propane.
Diesel is the most efficient and cost-effective option for modern tractors, as it provides more power than gasoline or propane while also being more fuel-efficient.
Gasoline is still used in some older models of tractors, but its use has declined due to its higher emissions and lower efficiency compared to diesel.
Propane is becoming increasingly popular for smaller tractors due to its clean-burning properties, although it does not provide as much power as diesel or gasoline.
How much fuel does a tractor use on average?
On average, a tractor uses between 0.203 to 0.24 liters of fuel per horsepower per hour. This means that a 310-horsepower tractor is estimated to use around 13.6 gallons of fuel per hour.
However, the amount of fuel used can vary depending on the type and size of the tractor, as well as the type of operation it is being used for. For example, a smaller tractor may need to run more hours to cover a given acreage to use the same amount of fuel as a larger unit.
Additionally, some tractors are designed to be more fuel efficient than others and can use up to 19.59 gallons per hour less than other models.
Factors affecting fuel consumption
Fuel consumption in tractors can be affected by a variety of factors, such as the type of tractor, its size and weight, the terrain it is operating on, the type of fuel used, and the speed at which it is operated.
The type of tractor will affect fuel consumption because different models have different engine sizes and power outputs.
Tractors with larger engines tend to use more fuel than those with smaller engines.
The size and weight of the tractor also affect fuel consumption; heavier tractors require more energy to move them, resulting in higher fuel usage.
Terrain can also play a role in fuel consumption; operating on hilly or uneven terrain requires more energy than driving on flat ground.
The type of fuel used can also affect fuel efficiency; diesel tends to be more efficient than gasoline.
Finally, the speed at which a tractor is operated can have an impact on its fuel efficiency. Faster speeds require more energy and therefore use more fuel.
How can you know if your tractor offers better fuel efficiency?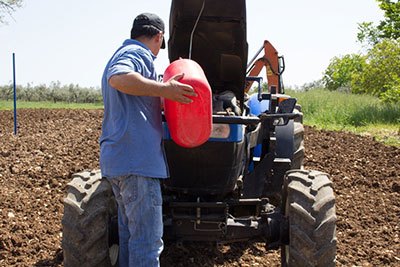 If you're looking to know if your tractor is energy-saving, there are a few steps you can take.
First, you should check the Nebraska Tractor Test Laboratory to find the efficiency of tractors in horsepower hours per gallon, which is similar to the miles per gallon rating for cars.
Additionally, you can conduct a needs analysis while analyzing your existing fleet of agricultural machines and trailers. This will help you identify qualifying information and understand your goal power range when it comes to fuel efficiency and agriculture.
You should also adjust tire pressure as this is essential for saving fuel. Furthermore, use eco power mode on your tractor whenever possible as this will reduce fuel consumption significantly.
Lastly, consider adding duals as ballast on the rear axle as this will improve tractor performance and fuel consumption. By following these steps, you'll be able to determine if your tractor is fuel-friendly or not.
Is a fuel-efficient tractor better than a non-fuel-efficient one?
Energy-efficient machinery is becoming increasingly popular among farmers and contractors due to its ability to save money on fuel costs. 
In comparison to non-fuel-saving machines, these models offer a much more cost-effective solution for farmers and contractors who need to transport goods over long distances.
They offer less fuel use than traditional models and require fewer stops for refueling which can help improve productivity and reduce downtime. Additionally, some of these machines offer additional features such as advanced technology that can help improve performance even further.
Overall, when it comes to more or less fuel use, there is no doubt that investing in a fuel-efficient tractor is a smart choice for anyone looking to save money on fuel costs while still getting the job done quickly and efficiently.
What are the most popular energy-saving models?
The most energy-efficient tractor types on the market today are:
– The John Deere 9400/9420 24 Speed 312 HP,
– AGCO Challenger MT 845 Track 338 HP,
– Case IH STX 325/New Holland TJ 325 292 HP, and
– Massey Ferguson 8600 Series.
These machines have been tested by the Nebraska Tractor Test Laboratory and have achieved an impressive 18.15 hp-hr/gal, 18.14 hp-hr/gal, 18.13 hp-hr/gal, and 16.6 hp-hr/gal respectively.
Fuel-saving tractor tips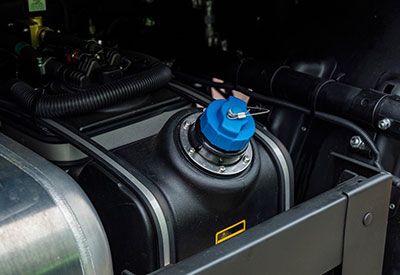 You can apply multiple energy-efficient tractor tips to reduce fuel usage and make your machine optimal. Some of the best steps to save more fuel and energy include the following steps:
– Selecting engine and travel speeds for optimal fuel use
– Match implement size to a tractor to save work quantity
– Machinery maintenance for energy efficiency
– Ballasting machines for optimal energy
– Optimize wheel slip to save diesel
– Reducing tillage to save more power
– Gear up and throttle back to save
– Optimizing field efficiency to save fuel
We will explain each of the specific fuel consumption tips in detail.
Selecting engine size and travel speeds for optimal energy efficiency is an important factor to consider when it comes to saving fuel in agricultural equipment. By setting the optimum engine size and travel speed, farmers can maximize fuel economy while still getting the job done quickly.
Matching implement size to tractor size is another way to save fuel usage. A larger tractor will consume more diesel power than a smaller one, even if the workload remains constant. To ensure that the tractor is not working at full capacity, it's important to match the size of the implement with that of the tractor.
Machinery maintenance is key to ensuring energy efficiency. Regular servicing will help make sure that machines are running at peak efficiency, which in turn helps reduce specific fuel consumption rates. Additionally, tuning up engines and replacing filters regularly can also help reduce emissions and improve the overall power economy.
Ballasting machines for optimal fuel usage is another way to cut down on energy costs. Ballasting involves adding weight to a tractor such as sandbags or weights to run more efficiently over different terrain types. This ensures that the wheels are not slipping unnecessarily and wasting fuel usage.
Optimizing wheel slip in machinery is a great way to save fuel use. To do this, the tractor and tires should be maintained so that the wheel slippage is between 10% and 15%. This can be achieved by ensuring the correct tractor tire pressure, ballast weight, and axle settings.
Additionally, controlling the torque of the drive axles can help optimize wheel slip. By using particle swarm optimization (PSO) algorithms, it is possible to adjust the parameters of the tractor to achieve optimal traction performance and more power.
Finally, soil conditions should also be taken into account when optimizing wheel slip as different types of soil may require different levels of slippage for optimal performance and fuel use on your farm.
Reducing tillage can also help save on fuel costs as well as improve soil health. Reducing tillage operations such as plowing or discing minimizes unnecessary passes across a farm field. It reduces time spent in the farm field and thus saves on diesel costs, offering maximum power and reducing specific fuel consumption rates.
Gear up and throttle back is another great way to save on fuel usage without sacrificing performance and engine power. By selecting higher gears but lower throttle settings, farm machinery can move through farm fields more efficiently without using up too much diesel power.
Finally, optimizing field efficiency by eliminating inefficient movements or practices can also lead to significant savings on diesel costs and gain more engine power.
For instance, scheduling tasks closely together instead of traveling long distances between tasks can help reduce idle time and conserve fuel use throughout a day's work cycle.
So, you can increase the performance for optimal engine results, more power, and reduce cost-effect calculations.
FAQs
How much fuel does a 100-hp tractor use per hour?
A 100-hp tractor typically uses around 4.8 gallons of fuel per hour.
How much fuel does a tractor use per acre?
Generally, direct drilling uses around 12 liters of fuel per hectare while ploughing, sowing, and cultivating consume 60 liters/ha. However, the amount of fuel a tractor uses per acre can vary greatly depending on the type of tractor, soil, yields, and other factors.
How much fuel does a tractor hold?
Tractor fuel tanks vary in size depending on the model and type of tractor. Most tractors have a fuel tank capacity of between 25 and 75 gallons. The larger the tractor, the larger the fuel tank capacity. For example, some large farm tractors can hold up to 150 gallons of fuel.
What kind of fuel do tractors use?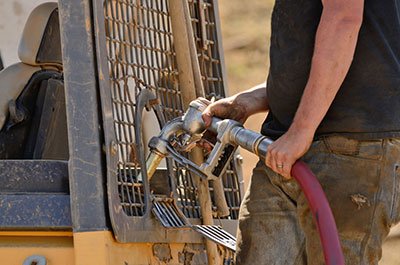 Tractors use a type of fuel known as a distillate or tractor fuel. This low-grade fuel is produced between gasoline and diesel in the traditional distillation of crude oil.
It is similar to diesel but adapted to local climate conditions. In the early and mid-20th century, it was the most common fuel used for tractors. Today, kerosene has become increasingly popular as a tractor fuel due to its efficiency and cost-effectiveness.
What is the most fuel-efficient tractor-trailer?
The most fuel-efficient tractor-trailer is the Freightliner Cascadia Evolution. The semi-truck model can get over 10 miles per gallon and has improved fuel efficiency compared to previous commercial truck models. It also has the potential to get up to 23 mpg when going downhill.
What kind of oil to use in a gas 4000 Ford tractor?
The best oil to use in a gas 4000 Ford tractor is Mobil Delvac™ 1300 Super, which is designed specifically for Ford Tractor Operations equipment. It is an advanced synthetic blend diesel engine oil that helps extend engine life and provides excellent protection against wear and fuel economy.
Additionally, Traveller Ford Tractor Hydraulic Oil is also a great option for reducing friction and providing excellent protection against engine wear and optimum fuel economy.
What is the average fuel economy of a tractor-trailer?
The average fuel economy of a tractor-trailer is 7.2 miles per gallon. On average, semi-trucks get only 6.5 miles per gallon, but this can range wildly between 3 mpg going up hills to more than 23 mpg going downhill.
To improve fuel economy in a semi-truck, drivers need to have large amounts of fuel because the average miles per gallon (mpg) for semi-trucks is only 5.6 mpg.
How much fuel does a Big Bud tractor use?
The Big Bud tractor is known for its impressive fuel capacity, with a tank that can hold up to 1,000 gallons of diesel fuel.
Summary
Fuel consumption is one of the main costs of running a tractor, and knowing how to adjust your tractor's power output can save customers money longer. Professional users can make intuitive changes to the working and farm conditions on-the-fly that optimize consumption. They can still retain top performance.