Getting through a busy day in the field means only one thing. You need to fuel yourself and your tractor tank to get the job done!
If you have ever wondered what the absolute best tractor fuel tank you can get in 2022 is, we have the answer!
We present the top 5 gas tanks that will support your agricultural endeavors from the beginning to the end!
As a beginner farmer, you may not know what materials are the best for gas tanks, where to get one, and how do you get rid of the unavoidable rust?!
So let's help you get started and equipped with the best gas tank.
Best Fuel Tanks of 2022! My Top 5 Choices
$ – John Deere Original Equipment Fuel Tank
Best O.E.M. replacement gas tank by John Deere. It's made of heavy-duty material, and it fits the majority of riding mower models.
However, customers run into the same problem of loose installation.
$ – All States Ag Parts Parts A.S.A.P. Gas Fuel Tank
Fits Ford 2N, 8N, and 9N models are easy to install and include a separate sediment bowl that allows for easy assembly and has white paint on the outside.
However, it comes without a fuel cap.
$ – JohnDow Industries JDI-AFT58 58-Gallon Auxiliary Diesel Fuel Tank
One of the best portable fuel tanks for unexpected situations can pump 10GMP, and includes a 12V pump that even works on old tractors!
$ – Complete Tractor Fuel Tank For Ford New Holland Tractor
Easy to line up and get rid of rust thanks to the anti-rust coat; worth the money considering it comes from a reliable brand.
Does not include a tank cap.
$ – Kubota Fuel Tank
Fits Kubota tractors, made from durable rust-resistant material; the assembly system could not be easier as the tank is installed in under 20 minutes.
The dimensions are not specified.
#1. John Deere Original Equipment Fuel Tank – Best Pick
Brand: John Deere Store
Dimensions: 21 x 12 x 8 inches
Material: High-density polyethylene
Fit Type: John Deere tractors
Even beginner farmers know the greatness of the John Deere name!
They have been around for quite a while now and have delivered thousands of outstanding tractors to loyal customers.
If you choose from any brand, our recommendation is always to get the John Deere. It's reliable and a safe bet. Such is the case with this gas tank!
For starters, it's a genuine John Deere part, so it works great for antique tractors and riding mowers.
In addition, it will fit models such as 102, 105, 107S, L120, L130, LA100, LA105, LA110, and many others!
However, if you plan on replacing the O.E.M. fuel tank, this John Deere gas tank will not fit as snug as you want it to.
However, it's the only replacement on the market, so you might as well get the best of it. The gauge is loose after you install it, so beware of that issue.
Also, it's a bit pricey because it does not fit properly.
Pros
Heavy-duty built
Holds at least 2 gallons
Cons
It does not offer a tight fit
#2. All States Ag Parts Parts A.S.A.P. Gas Fuel Tank – Runner Up
Brand: All States Ag Parts Parts A.S.A.P. Store
Dimensions: 26 x 20 x 11 inches
Material: Metal
Fit Type: Fits Ford tractors
As our runner-up pick, we have the All States gas fuel tank!
So if you are looking for a gas tank that will fit your Ford tractor, you have found your perfect match.
To begin with, this gas tank is made from metal, making it quite the counterpart of the previous pick.
As you know, tanks can either be made from metal or plastic. Although both are highly durable, metal tanks will usually develop rust and shed the inner coat faster.
However, if you take care of it properly, this tank can last you for quite a while!
It fits Ford tractors from the 2N, 8N, and 9N series, putting it in 1st place winner of Ford fuel tank replacement!
One of the leading issues is that it does not come with a cap, so you must get a sealer that offers the stock cap.
However, the tank has a separate sediment bowl for the gas flow, so the installation is a breeze!
Pros
Includes a separate sediment bowl for the fuel line
Fits Ford tractors
Easy to install
Cons
It does not come with a fuel cap
#3. JohnDow Industries JDI-AFT58 58-Gallon Auxiliary Diesel Fuel Tank – Best Diesel Fuel Tank
Brand: John Dow
Dimensions: 37 x 34 x 36 inches
Material: high-density polyethylene
Fit Type: Universal fit
This is nothing like you have seen before!
The JohnDow offers a high-quality carry tank that can transport and transfer diesel fuel wherever and whenever!
The John Dow gas tank can carry fresh gas, which is necessary for every agricultural worker!
But I bet you have found yourself stranded in the field with an empty tank, so this is where this portable tank comes to the rescue!
The self-contained tank includes a 12V pump, a hose, and an automatic nozzle that allows for an easy pour.
First, you need to get the proper outlet fitting and hock up the 12V pump to create high-pressure air. Then, just sit back and watch the pumping magic happen!
Moreover, the tank has a straightforward assembly system that pumps 10 gallons of fuel liquid per minute.
Plus, the integrated forklift pockets are there to move the tank easier!
Not only that, but the tank also features integrated recesses that keep it safe and stable during transport.
Pros
Easy assembly
Includes a 12 V pump
Pumps 10 gallons per minute
Features an air hose nozzle
#4. Complete Tractor Fuel Tank For Ford New Holland Tractor – Best For New Holland Tractors
I told you we would have another Ford-friendly fuel tank on our list!
However, this one comes with another benefit for New Holland tractor owners. It fits perfectly with the 2000 series, but it will not work with the 4000 series.
As you can notice, this is a steel gas tank. You can get one in your local motorcycle shops.
However, they won't tell you that you would have to remove the anti-rust coating before installing the tank.
You can flush the coating with paint tinner, muriatic acid, or even a mineral spritz.
The Complete Tractor store delivers only the best property items that meet the genuine O.E.M. specifications, offering you an excellent reason to check them out!
Honestly, you cannot make the wrong choice with this gas tank.
It does not cost a bunch, has a 13-gallon capacity, and can easily replace your deteriorating old fuel tank.
Pros
Has a 13-gallon capacity
Quickly get rid of all the rust
Easy to assembly
Cons
It does not fit the 4000 series
It does not include a seal cap
#5. Kubota Fuel Tank – Best For Kubota Tractors
Brand: Kubota
Dimensions: not specified
Material: High-density polyethylene
Fit Type: Kubota tractors
We have arrived at the last item on the list!
This is the Kubota tractor tank that all Kubota owners need to try out!
If your old tractor tank cannot go through any more restoration, it's time you get a new one.
However, getting it directly from the Kubota seller shop can often be pricey. Well, you are in luck today!
This genuine tractor tank by Kubota fits perfectly on models such as B7100 like it was made specifically for it!
Moreover, the installation will not cause trouble as the assembly is done in under 20 minutes.
Another valuable mention is that this tractor tank is made from high-density polyethylene, which means it's not prone to rust as steel tanks are.
It even includes a cap which many tanks don't, so you won't have to make additional purchases!
Lastly, because the dimensions are not specified, it's best to contact the seller if you are interested in this phenomenal tank!
Pros
Made from heavy-duty material that is rust-resistant
Easy to pour gasoline
Includes a seal cap
Cheaper deal than getting it from the Kubota shop
Cons
Dimensions are not specified
What Should You Be Looking for in the Best Gas Tanks?
1. Material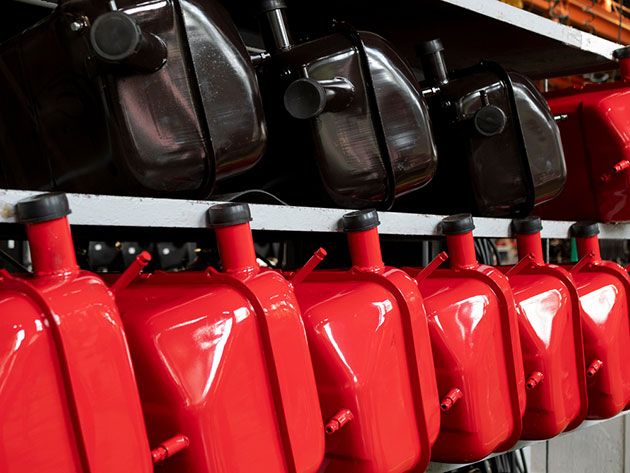 Before you decide on restoring the old fuel tanks, think about purchasing a brand new tank.
With new tanks, you can get a clean slate, so you get to choose a completely new material, style, and coating.
For instance, it's crucial to decide whether you would want steel or a plastic tank.
Steel ones are made from stamped sheets, and they have advanced technology for limiting fuel emissions.
In addition, you can choose the paint and the anti-rust coat inside of the tank.
High-density plastic is your next choice. They allow for easy installation and can save you a lot of space in the tractor.
In addition, many of them can often be flushed down with plain alcohol to get clean.
However, make sure you rinse it well and wash the inside of the tank before it gets filled with gas.
2. Coating
Next up, coating! If you pick a steel tank, you need to ensure it has an adequate rust-resistant coating.
All the rust can easily build up quickly if your tank liner is not appropriately protected.
For steel tanks, the coat should protect it against chemicals, rust, acid, corrosion, and weather elements.
With a quality coating, your diesel fuel tank can last for a long time!
3. Fill
There are various methods of filling the storage tank. For starters, you first need to determine the rate of the fill and the frequency.
One of the most commonly used methods is to pour the kerosene, gasoline, or diesel fuel with a nozzle on the top of the tank.
If you have a bigger tank, the following preferred method is to pour the fuel through the cam lock adapter.
FAQs
What is the fuel tank in a tractor?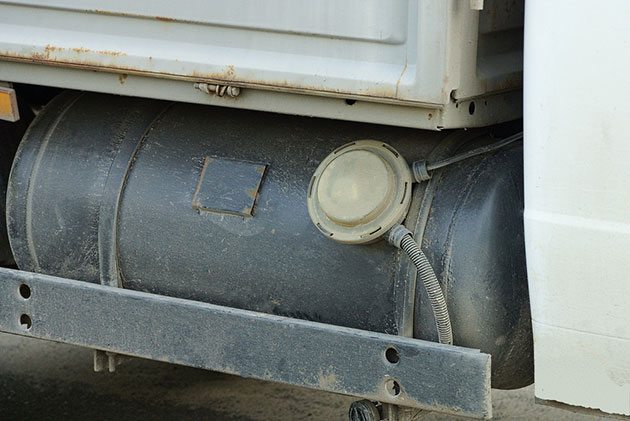 A fuel tank in a tractor is a container that holds the flammable fluid. Such fluids will include gasoline, diesel fuel, and petroleum.
The fluid is stored in the gas tank and released into the engine during high pressure. It can be made either from steel or from high-density polyethylene.
Whichever material you choose for your tank, you will need to clean it often if you want to avoid the rust.
What is the best material for a fuel tank?
The best material for a fuel tank is high-density polyethylene.
It saves more space, but fuel tanks made from H.D.P. are also more durable and not prone to rust as steel tanks are.
You can also opt for steel or even aluminum. However, it will all depend on your vehicle's type of fuel.
How does rust affect the fuel tank?
We talked about how you can effectively get rid of rust on the tank. It's a tedious job to do, but it seems that rust is inevitable with some tanks, especially steel ones.
However, many people choose to avoid facing this problem.
Not only will it cost you more to replace the new tank, but rust can present a grave danger not only to the tank but also to the engine.
For instance, it will deliver an inconsistent fuel flow, making the start-up much more difficult.
It can also create debris and build-up in the fuel line, which leads to pinholes and causes pressure.
Lastly, the rust can also cut down the drain of air that mixes with the fuel.
How do you fix a rusty tractor gas tank?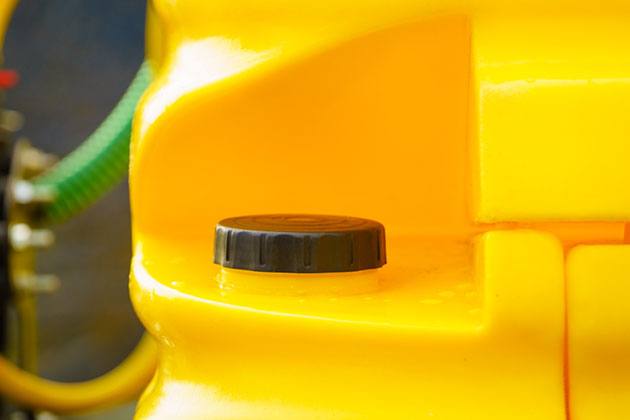 With numerous methods of fixing the rust on tractor tanks, there is one reliable and chemical-free.
One of the most reliable methods of getting rid of rust flakes in the tank is by mixing vinegar and baking soda.
Fill the tank with this mixture, and you can begin to see the restoration of your tank! However, the poured mixture will begin to change color due to the rust!
Repeat the process if needed and rinse the tank.
How do you clean an old tractor gas tank?
There are multiple methods of cleaning old fuel tanks!
You can use chemical solutions, abrasives, and electrolysis which has proven to be the best for removing rust on smaller objects.
If you wish to use abrasives, you must remove the fuel tank altogether. Then, you can use gravel, nuts, bbs, or even aquarium gravel for abrasives.
Chemical cleaning of the gas tank is a sure way of getting rid of rust and restoring the "new tank" look!
Here, you can use a mixture of baking soda and vinegar.
And finally, electrolysis uses electric current throughout the ionic substance and separates the materials.
You will need a 12V battery, ferrous metal for using this method. As well as sodium carbonate.
What is the mileage of a tractor?
The mileage of the tractor depends on its type and how you use the tractor. For instance, rotavator tractors will consume at least 7-8 liters per hour.
Final Winner
Our final winner title goes out to the trustworthy John Deere Original Equipment Fuel Tank!
You cannot make a mistake choosing either of the John Deere products, especially their tanks! They are built with heavy-duty materials and have excellent endurance.
This one fits most John Deere tractor models and is by far the most reliable tank among the competitors!
See why so many agricultural workers put John Deere items as a priority for their farming business.
John Deere Original Equipment Fuel Tank - GY21876*
OEM Part Numbers: GY21876
Fits: 102, 105, 115, 125, 135, 145, 155C, 190C, L100, L105, L107, L108, L110, L111, L118, L120, L130 Lawn Tractors
Fits: LA100, LA105, LA110, LA115, LA120, LA125, LA130, LA135, LA140, LA145, LA150, LA155, LA165, D105, D120, D130, D140, D150, D160, D170, X110, X120, X125, X140, X145, X155, X165 100 Series Tractors
Fits: 1642HS, 1742HS, 14.542GS, 17.542HS Sabre Lawn Tractors, L1742, L17.542, L2048, L2548 Scotts Lawn Tractors
Made of durable, high-impact plastic for long life
Conclusion
Even though choosing the best tractor fuel tank can be challenging, we hope we have made a choice at least a bit easier.
These were some of the top-rated items on the market that will deliver the best performance for your long days in the field.
Remember to choose based on your tractor model and opt for the most reliable materials to avoid tractor tank restoration!