It's not just about tractors – hydraulic fluid, hydraulic oils, and transmission fluids are essential for the performance of any vehicle.
Cars, various trucks, and any type of vehicle that relies on shifting gears (even automatic ones) require transmission fluid.
When it comes to tractors, well, you've guessed it – it requires a bit of a hit.
That's why they're usually sold in large jugs and gallons, but how can you know which transmission fluid is the best for your tractor model?
Don't fret; that's why we're here.
We went on a quest to find the best tractor transmission fluid on the market for various types of tractors, and we've found five of them.
Here's our list, and we hope you like it.
Top 5 Transmission and Hydraulic Fluids – General Overviews and Reviews
$$ – John Deere Original Equipment Hydraulic and Transmission Fluid – 3.78 l
If you're looking for a universal low-viscosity transmission fluid for your tractor, this is the one to get.
It's cheap, works great, and offers excellent performance.
$ – Triax Agra UTTO XL Synthetic Blend Tractor Transmission and Hydraulic Oil – 3.78 l
The most popular tractors are easy to find, but how common are their transmission fluid units?
Well, look no further than this synthetic blend, and you'll find your oil for Kubota, John Deere, and many more.
$$$ – Kubota Genuine Tractor 2.5 Gallon UDT2 Transmission Hydraulic Oil – 9.46 l
If you're not worried about spending a bit more money than usual, this 2.5-gallon transmission oil will do everything you want it to and more.
The performance is impeccable, and your hydraulic system will be thankful.
$$$ – MOBIL FLUID 424 High-Performance Tractor Hydraulic Fluid – 18.92 l
Take care of all your tractor needs and never worry about replacing oil again.
Mobil is a staple in the tractor community, and this tractor hydraulic fluid only goes to serve the point.
$$ – Starfire Premium Tractor Hydraulic & Transmission Fluid – 18.92 l
Are you worried about varnish and sludge? Do you need great friction to deal with your uneven terrain?
Then, get this transmission fluid and let it do the rest.
#1. John Deere Original Equipment Hydraulic and Transmission Fluid – The Best Universal Tractor Fluid
Many people commonly mistake hydraulic and transmission fluid for one another and usually end up getting the wrong thing.
However, there are products, such as the John Deere Original Equipment Hydraulic and Transmission Fluid, that are universal, i.e., work as a hybrid between transmission oil and hydraulic fluid.
Let's talk a bit more about it.
John Deere is probably one of the most popular tractor manufacturers on the market, and they've been going at it for decades now.
Naturally, they specialize in everything involving tractors – from accessories and tires to tractor fluids.
This original hybrid fluid comes in a gallon pack (3.78 l), and it's mostly used for low-viscosity tractors.
When it comes to John Deere, you can use it with all models ranging from 650 to 4020, and it covers all mower series – 100s and X series.
Since it's a licensed product, it'll practically increase the performance of all John Deere tractors and mowers if used as instructed, but that won't be the case with all tractors on the market.
Therefore, read the instructions to figure out if it works with your model and will it affect the smooth shifting.
Pros
It fits all John Deere models
Great for tractors and mowers
Hybrid oil
Licensed product
#2. Triax Agra UTTO XL Synthetic Blend Tractor Transmission and Hydraulic Oil – The Best Replacement For OEM Fluids
OEM fluids rule the industry right now, but they can be quite expensive, and oftentimes, you don't need such performance for an ordinary tractor.
However, if you want a bit of a kick and an affordable replacement for OEM, here's the Triax Agra UTTO XL Synthetic Blend Tractor Transmission and Hydraulic Oil.
A common issue that a lot of people face with tractor oil is leakage.
Now, you can spend a bunch of money going to a mechanic, or you can use the Triax Agra blend in red color to spot leaks quickly and fix them.
With this blend, you'll get approximately 6,000 hours of oil life for various hydraulic systems, which is exceptional protection overall.
It also helps improve stability when it comes to friction and brake hold.
Also, low-budget transmission fluids tend to foam and lose their potency the second they're inserted inside the tractor.
Well, that's not the case here – with extremely fast aeration and foaming stability, your farm tractors will keep on treading.
There truly aren't any flaws with this brand of hydraulic fluids, and guess what? It's the most affordable item on this tractor list, so keep that in mind for future references.
Pros
Maximum protection
Anti-foaming
6,000 hours of oil life
No acid formation
#3. Kubota Genuine Tractor 2.5 Gallon UDT2 Transmission Hydraulic Oil – The Best Hydraulic Fluid
Transmission fluids are types of hydraulic oils that improve the overall performance of your vehicle.
Now, in most cases, you can use your standard hydraulic oil for that purpose, but that's not always true.
Still, here's a product that you can use and get a great value – the Kubota Genuine Tractor 2.5 Gallon UDT2 Transmission Hydraulic Oil.
Kubota is a Japanese company that has operated since the 1890s.
It's been a stable pillar in the world of agriculture and still continues to bombard the market with quality products and vehicles, most notably tractors.
However, their hydraulic oil is not something you should disregard as ordinary ISO oils.
It provides shear stability, wear protection, and a long equipment life for the tractor it's used with.
It comes in a 2.5-gallon packaging, which amounts to 9.46 liters, so you'll never miss any oil while on the terrain.
Now, it is pricey, but that's what you get from a Kubota original hydraulic fluid that can be used with an international harvester and true hydraulic type tractors.
It's a supertype that can be mixed with certain oils, but you'll have to go through the specifications to find out which.
Pros
Great value for money
Excellent performance
For heavy-duty tractors
True hydraulic type uses
#4. MOBIL FLUID 424 High-Performance Tractor Hydraulic Fluid – The Best Heavy-Duty Hydraulic Transmission Fluid
If you own a big vehicle that requires a strong kick to it, we highly recommend you try out the MOBIL FLUID 424 High-Performance Tractor Hydraulic Fluid due to its strong properties.
This type of hydraulic and transmission lubricant is specifically designed to exceed the expectations that most manufacturers pose with their fluids and oils.
It can improve the overall performance of your system by 200% with ease if used correctly.
Thanks to its select base oils and additive package, the tractor will be able to handle different types of projects, even older tractors, for that matter.
What's truly great about it is that it works particularly well in reducing wet brakes and PTO – common issues with all modern-day tractors.
Honestly, it is the most expensive item on this list, but there's a reason for it – all power steering systems can benefit from this blend of hydraulic and transmission fluid.
Wear protection is impeccable, corrosion is out of the question, and it'll protect your motor for years.
Pros
Perfect for heavy-duty machines
Wear protection
Excellent performance
Additive package
Cons
Too pricey for this range
Finally, we're left with one more type of transmission fluid before we move on to the buyer's guide.
Let's see what the Starfire Premium Tractor Hydraulic & Transmission Fluid is all about.
Inserting transmission fluid into the motor of a tractor or any vehicle puts it in danger of thermal degradation and breakdown.
That's why the best transmission fluids have great thermal stability and protection from such cases, which is why we're mentioning it in the StarFire review.
It has superior wear protection and incredible control over the inner mechanics of your tractor, thus protecting it from varnish and sludge forming in your tractor.
Also, oxidation that often happens inside the motor is one of the main culprits of corrosion.
Therefore, you'll be glad to know that this motor oil successfully protects from corrosion and any type of rust if used at recommended values.
Now, due to the composition of this low-viscosity transmission fluid, you won't be able to mix it with other oils, and it's quite potent, so it might not be suitable for older tractor models.
Therefore, it's kind of exclusive in that way.
Other than that, we highly recommend it, and its position in this list is no reflection of its value.
Pros
Anti-varnish and sludge
Thermal stability
No corrosion
Absolute protection
Cons
Not designed for older models
Universal Tractor Hydraulic Fluid: What Should You Know About It?
Before we start rambling on about what kind of transmission fluid you'll require, it's important to set clear distinctions regarding what transmission fluid is and how it differs from hydraulic fluids, and when you use what.
Transmission Fluid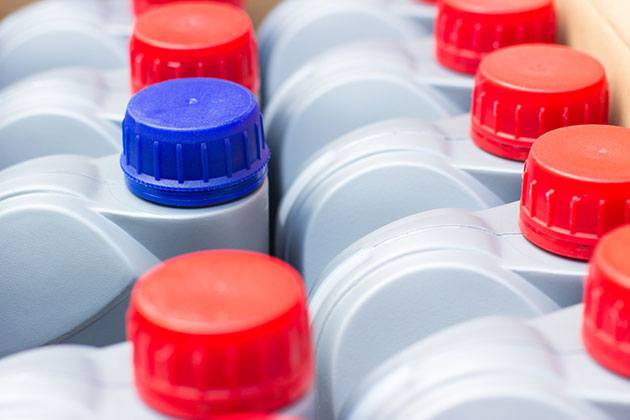 Transmission fluid or transmission oil is lubrication used for most motor vehicles that have multiple gears.
Based on the type, we can also divide transmission fluid into Automatic, and Manual.
Transmission fluid oils up the bearings, all metallic parts, and the moving parts inside the motor (in this case, the motor of the tractor) and lets it quickly shift through gears and keep everything smooth.
Without transmission fluid, many motors risk corrosion and oxidation, which could ruin your entire vehicle.
Now, transmission fluid is technically a hydraulic fluid in the sense that it improves the pressure and hydraulic friction inside the tractor, which is the main reason most people often mix the two.
However, the truth is that there are many types of hydraulic oils and fluids, such as OEM, CVT, brake fluids, steering fluids, and many others.
Also, you'll often find hybrid oils that function in a way that improves both transmission and hydraulic properties of a vehicle, which is generally what people go for as they don't want to hassle and purchase different types of oil for one vehicle.
Now that you know a bit more about these types of fluids let's see what makes a great one stand out.
Thermal Stability
The best transmission and hydraulic fluids have a stable composition, meaning that their thermal stability is much greater than other brands.
This is important because the temperature inside the motor and the gears is very high, which often leads to the process of decomposition of the transmission oil inside.
Therefore, hydraulic transmission fluids such as Starfire Premium Tractor Hydraulic & Transmission Fluid will have a much longer lifespan than what you're used to.
Furthermore, they help prolong the overall lifespan of your motor by a lot.
Oil Life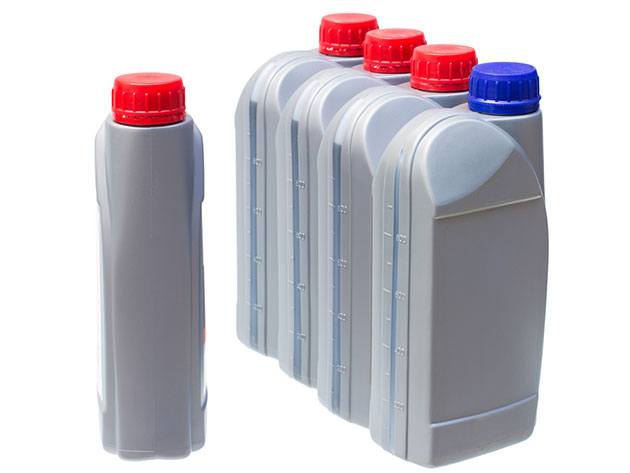 In connection to thermal resistance, oil life is greatly impacted by many factors, such as the quality of your motor, age, internal composition, and many other factors.
Therefore, you have to know that oil works best for your tractor.
Generally, that comes with experience, but you'll also have guidance from many owner's manuals that clearly state the following specifications for certain types of tractors and their corresponding transmission oils.
Acid Formation
Try to get the most stable composition that relies on stable oil bases and strong chemical composition.
In most cases, you'll have the chemical compound analysis on the back, and you'll see exactly what you're dealing with.
FAQs
What type of transmission fluid goes in a tractor?
Low-viscosity transmission fluids are the most stable blends you can insert into your tractor and get the best value for money.
When it comes to brands, Americans mostly prefer Dexron II and III.
You can also choose to get hybrid transmission oils – hydraulic and transmission.
They are clearly and obviously not as effective as the specific type you need, but they'll get the job done, especially with older tractor models, i.e., before the last decade.
What is the best hydraulic oil for a tractor?
It really depends on the type of tractor you own and the internal composition of all your parts.
If we're on a quest to find a universal hydraulic oil, it's definitely the Triax Agra UTTO XL Synthetic Blend Tractor Transmission and Hydraulic Oil.
It significantly improves hydraulic pressure and friction, and it can even be used as a low-tier substitute for break oils, which is always great to see.
What is universal tractor hydraulic fluid?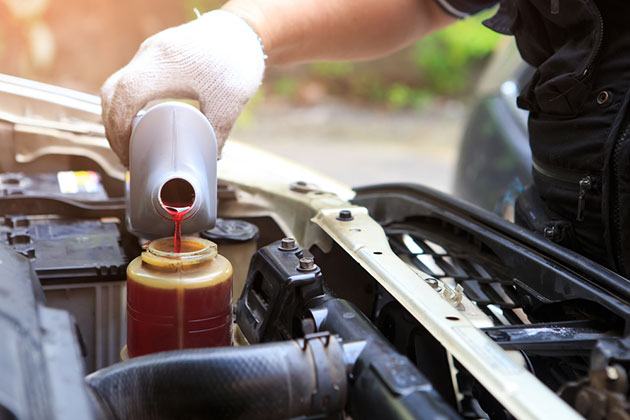 A universal tractor fluid can be used with most tractors, whether they have automatic or manual gear systems.
In essence, such products can be used with all models, but you really have to check:
Viscosity levels,
Thermal stability,
Oxidation, and
Acid levels.
What is the best tractor transmission fluid?
If you're not really and entirely sure what to get and what's the best hydraulic oil or transmission fluid for your tractor, your best bet would be to go for the John Deere Original Equipment Hydraulic and Transmission Fluid.
It's an excellent blend of hydraulic and transmission fluids, it works well with modern and older tractor models, and it's undoubtedly the universal model of fluids you can get from this list.
Sale
John Deere Original Equipment (2) Gallons of Hy-Gard Transmission & Hydraulic Oil #. (2)*
John Deere Original Equipment 1 Gallon Hy-Gard Low Viscosity Transmission & Hydraulic Oil - TY22000
Compact Tractors: 650, 750, 850, 950, 1050,655, 755, 855, 955, 670, 770, 870, 970, 1070, 790, 990, 1000R, 2000R, 2210, 3020, 4000, 4010, 4020
Riding Mowers: 105, 108, 115, 125, 135, 145, 190c, L100 Series, LA100 Series , LA100 Series, D100 Series, G100 Series, X300 Series, X400 Series, X500 Series , X700 Series
GT Series, GX Series, LT Series, LTR Series, LX Series, S240 Sport Parts, SST Series, STX Series, 110, 111, 112, 130, 160, 165, 170, 175, 180, 185, 200, 210, 212, 214, 216, 240, 245, 260, 265, 280,...
This is a Licensed John Deere Product
Final Thoughts
All in all, this should be the basic info you need to purchase transmission and hydraulic fluid for your tractor.
It's not much, but these are straightforward products that don't require that much thought – if it works for your tractor and it's affordable, you should probably get it.
However, these are the five best items about the best tractor transmission fluid on Amazon we could find, so have them in consideration before you make the final call.
Thanks for reading!