To finish your agricultural tasks, you will have to use different types of tractors.
However, it doesn't mean the agricultural tractors serve only for preparing the soil for plantation.
Various types of tractors serve specific farming jobs and other needs.
So, what are the different types of tractors, their benefits & functions, and how to classify them?
Read the comprehensible guide and find all the answers. Even if you're a future farmer, you will find the directions valuable.
Let's start!
Most Trendy Types of Tractors 2022: Choose Your Fighter!
According to the uses, purpose, and functions, you can find these different types of tractors:
1. Row Crop Tractors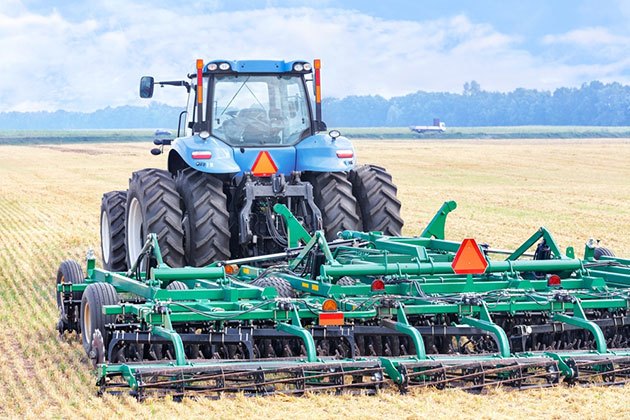 Row crop tractors are multifunctional machines, delivering supreme performance. That's why the row crop tractor is more expensive than utility tractors.
However, their main benefit is increased ground clearance.
Row crop tractors are specific as they serve for numerous agricultural tasks, including leveling, weed control, harrowing, plowing, and pulling seed drills.
In addition, row crop tractors are also ideal for utilizing other farming equipment, such as water pumps and threshers.
These farming tractors have multiple benefits, such as power lift for heavy lifting, ease of driving, user-friendliness, quick attachment and detachment of tractor attachments, ideal row-spacing capabilities, etc.
Row crop tractors will also offer a straightforward operation due to the greater ground clearance capability, effortless steering with shorter turns, and other various benefits.
So, if you want to complete your farming tasks quickly and effectively, row crop tractors are an excellent option for you!
2. Utility Tractors
What's so specific about utility tractors?
Well, these types of tractors are multi-purposeful machines created for numerous farming tasks, including plowing.
In addition, however, utility tractors can attach and drive another farm equipment when driving.
So, if you cannot afford extra machines and attachments to complete specific tasks, the utility tractor is the best option for you. Also, they're ideal for pulling heavy implements.
And, you can notice that utility tractors have medium and low-powered engine power, frequently used for pulling extra equipment.
But, if you use utility tractors by contractors, they will serve you for the doze, break, trench, etc., with specific attachments.
Thus, utility tractors can attach threshers, hay cutters, tillers, harvesters, etc.
And John Deere – an outstanding manufacturer, has a wide variety of utility tractors ranging between 80 and 115 horsepower.
3. Rotary Tillers
The walking type tractors or rotary tillers are farming tractors used for smaller fields or different height levels.
Thus, a rotary tiller is ideal for all smaller areas, where regular, more significant types of tractors cannot really work efficiently.
Hence, the rotary tillers are excellent for those hard-to-reach areas, smaller spaces, and hills.
These walking-type tractors are excellent for setting seedbeds on the farms, as their rotating blade well maintains chunky, complex, and tough soil, turning it into a clod-free, fine bed suitable for planting.
You can also use this walking-type tractor to moderate the skid shoes and create a suitable working depth for the farm tractor.
4. Earth Moving Tractors
These types of tractors are burdensome and super strong, as the earth moving tractors come in two types: tire and track types.
So, if you're working on a construction site, earth-moving tractors are perfect solutions for your needs.
As you will see, the earth-moving tractor helps work with quarries and dams, and they can pull heavy loads of unnecessary materials.
Although too expensive, earth-moving tractors are durable, solid, and powerful enough to last for an extended period.
As they move earth, rocks, stones, and other considerable objects to dig holes for new constructions, they also operate on other earth moving tasks – moving lumber, mud dirt, debris…
It's crucial to remember that earth-moving tractors have three different types, and they're the following:
Bulldozers – these machines are also known as crawlers. These tractors have large front plates for pushing massive piles of rocks, stones, dirt, cleaning various properties on all terrain types. While performing, the bulldozers have extra-wide tracks for maintaining good balance when operating.
Backhoe loaders -strong & potent machines, serving for breaking the asphalts and digging holes for numerous jobs and tasks. The backhoe loaders come with the front shovels and back buckets for digging and adjusting the functions to your needs.
Excavators – these machines are often used for digging holes and demolishing. They can also lift stronger and heavier equipment parts or shovel dirt. The seats are elevated so that the drivers can see clearly. And they also have a long bucket arm attached to the rotary cabin. The long bucket arm is also used for lifting and removing dirt and heavy implements.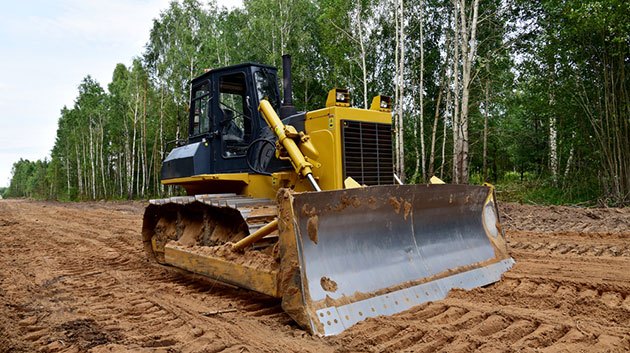 5. Garden Tractors
Garden tractors are small in construction and size and offer minor horsepower (ranging from 1 to 10, but only in some cases, it ranges up to 20).
You can use the garden tractor to create new flower beds in your garden, weed control, or for grass-cutting tasks. The second option is more frequent for the garden tractor.
Although garden tractors have wheels similar to the scooter's wheel type, they are thicker.
Up until now, you can find more than a hundred different types of garden tractors with separate price tags. Thus, the garden tractors range from less than $2000 to more than $4000.
Therefore, if you want garden tractors to suit your needs, you need to check their price tag, capability, functions, and size.
This way, it will be easier for you to find the best one instead of roaming around.
But, the garden tractors are also suitable for a small construction site as they're of very small construction size.
6. Orchard Tractors
These different types of tractors are created and intended for work in orchards only.
The tractors are high and tall enough to let the driver sit on them, trim fruit trees, or pick the fruits.
You can move around freely, as the orchard tractors have a clear surface and are suitable for all orchards types with fruit trees (grapes included).
Orchard tractors have specific tires suitable for thorns. In addition, they're narrow in shape and size, with enclosed cabins, for effortless maneuvering.
7. Industrial Tractors
Industrial tractors are famous as "Tuggers" and are designed to pull heavy loads. Equipped with the crane booms, the load is easy to lift.
Industrial tractors are NOT used for agriculture but factories and pulling heavy loads and other things or objects.
Unlike farming tractors, industrial tractors have a drawbar rather than the three-point hitch and come in various HP strengths and models.
8. Implement Carrier Tractors
Implement carrier tractors serve for mounting and carrying various implements; you will see that they have the extended chassis frame between the front and rear tires.
This way, implement carrier tractors carry different types of attachments, such as seed drills, loaders, sprayers, hay cutters, rotary sweepers, dusters, drills, and other attachments.
Implement carrier tractors come in numerous designs & sizes, so you should discuss with the manufacturers about the best solutions.
9. Military Tractors
Military tractors or artillery tractors have the same design as the industrial models, moving on semi-tracks, wheels, and tracks.
But, you can find semi-amphibious and amphibious tractors here too.
The first military tractors were designed as civilian industrial tractors and used in the 1970s, and their purpose was to move heavy military implements.
Today, they're used for demolition, construction, risky areas, or temporary road building.
Thanks to their undercarriages and rock-hard frames, military tractors tolerate explosive devices and landmines.
10. Driverless or Electric Tractors
They're also known as autonomous tractors. Their primary source and operation is artificial intelligence.
In the future, they will complete different agricultural and farming tasks without humans to navigate and lead the operations.
The autonomous tractors avoid human tractor operators and focus on single tractor operators for controlling limitless tractor numbers.
You control autonomous tractors via satellites, smartphones, GPS, drones, and computers.
Still, only a dozen autonomous tractors are operated by a single operator without human interaction.
Different Types of Tractors According to the Construction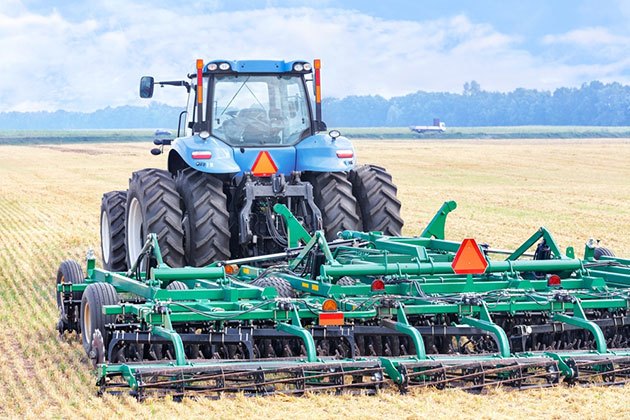 Here you can find two different types of tractors:
human tractor operators
walking type tractors (walk-behind tractors)
The first type requires a driver to maneuver the machine.
The second model includes operators who walk behind tractors to complete the procedure. But, again, they have small gasoline engines.
Different Types of Tractors According to the Types of Drive
The division includes two main groups:
track-type tractors
wheel type tractors
The track types have two groups of tractors: half-track and full-track tractors.
The full-tracks have the track installed on each side rather than wheels. So, the single-axle tractors drive from the sprocket run by a rear axle shaft.
Moreover, the tractor doesn't need steering gear. Instead, the machine moves automatically with one side of the track, applying the brake on the other way.
Half-tracks have a small track chain at the rear end, and the tires are attached to the front axle. The model doesn't focus on agriculture but uncultivated areas.
And, they're similar to earth-moving tractors due to higher traction power.
The wheeled tractors are smaller tractors suitable for pulling smaller attachments, plowing, tilling, etc.
They have three groups: two-wheeled, three-wheeled, and four-wheeled tractors.
All of them are valuable in agriculture, for moving smoothly and fast. They have shock absorption capability. They're mainly used for hills and small farms.
Three-wheelers are nowadays less popular than four-wheelers.
However, although they're less popular, they have a single or dual wheel at the front part, allowing better performance.
Finding Different Types of Tractors for Different Needs: Extra Tips & Tricks
1. The Primary Purpose of Your Tasks
Once you determine what you need to do (harvest, move heavy materials, build new flower beds, trim trees, etc.), you can select the right solution for your farming needs.
Do not purchase different tractors for different needs, as you can mismatch them.
2. Land Size
If you have larger farms, you will need more considerable HP of tractors – between 45 and 70 HP.
For smaller farms, tractors with 35 HP will complete all tasks successfully.
3. Hydraulics
It's crucial to select the best hydraulics systems.
The hydraulic liquid transmits energy via its technology, making tractors move and do their jobs.
So, if the functions are usually performed, you can select the tractor you like.
4. Transmission
There are two types: those, as mentioned earlier, hydraulic and mechanical.
The second is more energy-efficient than the former, but it's limited.
On the other hand, hydraulic one permits you to choose any engine or ground speed, with zero-maximum range. So, it's more flexible.
5. Lifting Capacity
Selecting the suitable lifting capacity might be challenging since you need to determine numerous points, such as full-height lift capacity, static & arm lift capacity, etc.
Therefore, choosing the loader from the same tractor brands would be best for complete match and compatibility.
6. Budget
Of course, don't forget your budget.
Choose according to your possibilities, as tractors vary in prices but generally require an enormous amount of money.
So, ask your wallet what the best option would be.
However, hold your horses, as not all high-budget models mean the best quality.
So, check the quality and performance as well before you find the best tractor for your farm.
FAQs
What are the different types of tractors?
As in the list, you different types of tractors, including:
utility
garden
earth-moving
orchard
implement carrier
row crop
industrial
rotary
military
driverless
human operators
walking type
track type
wheel type
But, there are also two additional types: compact and subcompact tractors as well.
What is the most popular type of tractor?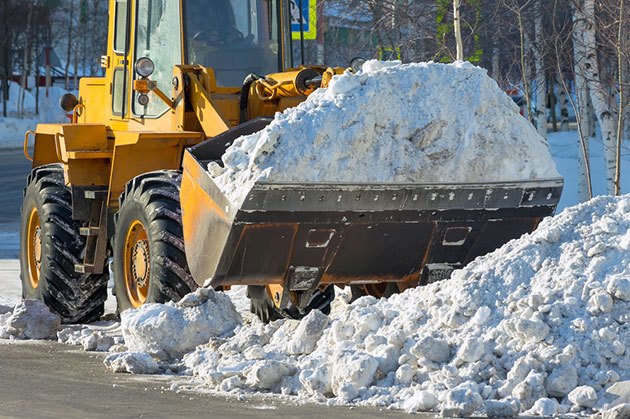 The first one is the Mahindra & Mahindra tractor among the tractor brands. The second is the John Deere tractor brand.
The first one is from India, satisfying customers worldwide, focused on increasing productivity in farms, suitable for all farming jobs.
John Deere is a USA-based tractor company focused on high-quality products and best performance to satisfy their customers.
What is a subcompact tractor?
A subcompact tractor is a machine that has a small frame and less ground clearance accommodating a mowing deck.
In other words, it's a "combination" of the utility tractor's versatility and strength, the garden tractor's performance, and the four-wheeled vehicle's agile handling.
What's the difference between a compact and a subcompact tractor?
Both types of tractors have the more-less same operations, functions, performance, and purpose. Also, they have the same quality.
Compact models are suitable for animal management, snow clearing, gardening, landscaping, mowing, etc.
They're ideal for wooded areas, hard-to-reach places, rough terrains, pulling heavy loads, and hauling.
The subcompact models are more affordable, take less space, and are ideal for garden and lawn tractors.
In addition, they're suitable for beginners with smaller lands, comfortable, easy to maneuver, and accessible.
Compact tractors have a more petite frame and are between 25 and 50 HP. The subcompact has less HP than 25, so their strength is the main difference.
However, they offer the same performance and quality as compact tractors.
But if you want your job done without a hassle and faster, compact tractors can be more valuable than subcompact tractors.
How are tractors classified?
We have classified them according to three standard criteria:
purpose and functions
construction
driving types
Summary
The end! My dear farmers, have you found the best farm tractors for your needs?
If you haven't, take your time and thoroughly examine the list.
As you can see, there are different types of tractors according to their essential features and advantages.
I suggest you calculate all possible variants and find the most suitable solution for your farming needs.
And, once you do, let me know in the comment section. I look forward to hearing back from you!
Good luck!