Small farms have unique needs when it comes to harvesting their crops.
Having the right row crop tractor can make all the difference in getting your crops harvested on time and for maximum yield.
With so many models of tractors on the market, it can be difficult to know which one is best for you and your farm.
Luckily, we've taken a look at all of them and given our recommendations for what we think are the 10 best row crop tractors available in 2023.
Read on to find out more about these powerful machines and how they can help make your farming operations easier than ever before!
Take away key points:
Row-crop tractors offer exceptional power and performance and come with a variety of features to make farming easier, such as advanced guidance systems, adjustable seats, air conditioning, power shift transmissions, and more.
Look for advanced technology, such as automated guidance systems and power shift transmissions, that can make farming easier and more efficient.
Select a model that offers adequate power and performance for your specific needs.
What is a row-crop tractor & how does it work?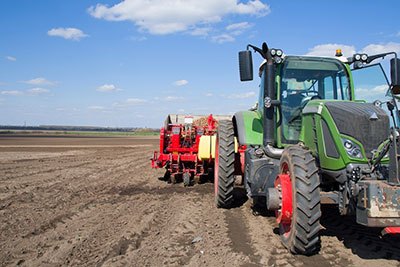 A row-crop tractor is a specialized type of tractor designed for use in farming operations. They are called 'row-crop' tractors because they are specifically designed to navigate between rows of crops in a farm field, although they can also be used in other applications.
Row-crop tractors are designed to work in a variety of field conditions and offer higher ground clearance and a narrow wheelbase, making it easy to navigate between rows of crops planted close together. Most tractors are also lightweight and compact which makes them ideal for smaller fields.
In order to work efficiently in row-crop applications, these tractors are often equipped with specialized systems like hydraulic power steering and a three-point hitch system that allows you to adjust the depth and angle of the implements being used in the field.
Row-crop tractors work by powering a variety of implements used in crop management, such as tillers, sprayers, cultivators, planters and harvesters. This allows farmers to efficiently work from planting to harvesting, and prepare the land for the next crop. Plus, due to their narrow desing, they can be used in orchards as well.
The tractor's small size and maneuverability make it easy to turn and work around obstacles such as rocks, stumps or tree roots, saving time and effort.
Factors to consider before purchasing a row crop tractor
1. Field size and terrain
Consider the size of the field and the terrain you will be working on. Smaller fields may require a smaller row-crop tractor with a narrow wheelbase, while larger fields may require a larger tractor for better efficiency.
Also, if your field has steep slopes or uneven terrain, you may need a tractor with four-wheel drive to handle it.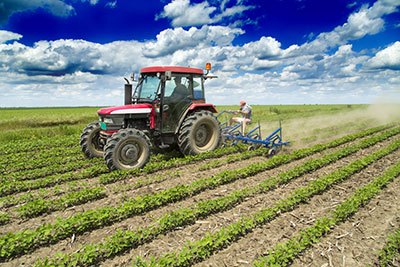 2. Horsepower and engine size
The horsepower and engine size of the row-crop tractor play a crucial role in its ability to perform various farming operations. Consider the amount of power needed to operate the implements that will be used in the field.
Typically, higher horsepower tractors are more versatile and can handle tougher jobs more easily.
3. Fuel efficiency
Since tractors are often used for long periods of time, it's important to consider fuel efficiency when making a purchase. A more fuel-efficient tractor will help you save on fuel costs in the long run.
4. Ease of use
Look for a tractor that is easy to operate and comfortable to work with.
User-friendly features like convenient access points, ergonomic controls, and cab amenities can make a big difference in the operator's experience.
5. Maintenance and repairs
It's important to choose a manufacturer that has a reliable service network and provides good customer support. Consider the tractor's warranty and availability of parts, and find out whether you can get local service and support.
6. Budget
Finally, consider your budget and how much you are willing to spend on a tractor.
Keep in mind that the price may vary depending on the make and model, features, and other options. Determine how much you are willing to spend and look for options that match your budget.
Different types of row crop tractors and their features
Here are some common types of row-crop tractors and their features: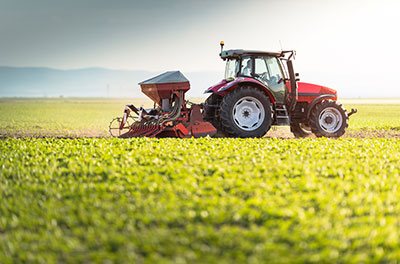 Small row crop tractors: These tractors are designed for small farms or gardens and can be used for crop cultivation, harvesting, and transportation. They are compact, lightweight and easy to maneuver in tight spaces. They often operate with 40-100 horsepower (HP) and have a narrow wheelbase for easy access to rows.
Mid-sized row crop tractors: Mid-sized row crop tractors offer higher horsepower than small models, usually between 100-200 HP. They are ideal for farmers with larger fields who need a tractor that can handle more demanding jobs like plowing, tilling and disking and you can even attach water pumps to it. They also have wider wheelbases, which provide better stability on uneven surfaces
Large row crop tractors: Large row-crop tractors generally have more than 200 HP and are designed for large-scale farming operations. These tractors are often equipped with advanced features like GPS navigation, automatic steering, and hydraulic control systems. They also have wider wheelbases and heavier frames for additional stability and more compact loads.
Narrow row crop tractors: These tractors have a narrow profile, which makes them ideal for working in fields that have narrow rows. They often have a wheelbase of fewer than 60 inches, which allows them to maneuver through tight spaces without damaging the crops.
High clearance row crop tractors: High clearance row-crop tractors have a greater distance between the ground and the bottom of the tractor, which allows farmers to work in fields of taller crops such as corn or hay. They have powerful engines and a wider wheelbase for better stability.
Specialty row crop tractors: There are also a variety of specialty row crop tractors available. For example, utility row crop tractors can be used for tasks like mowing, tilling, and earth-moving; while vineyard row crop tractors are designed for working in vineyards and have a narrow width and a low profile.
Best row crop tractor models: Top 10 Recommendations
#1. John Deere 8R Series
The American company John Deere 8R series offers powerful and efficient performance with up to 360 HP.
The John Deere 8R Series is a powerful row crop tractor with six wheel drive, offering increased traction and maneuverability in the most demanding conditions. It features advanced technology, such as an automated guidance system and power shift transmission,
It also has a comfortable cab design that maximizes visibility while providing comfortable operation.
#2. Case IH Maxxum Series
Case IH is the second-largest producer of agricultural equipment! Just like other brands, you can find various agricultural equipment as well as sub-compact tractors and compact and utility vehicles within the IH Case line.
The Case IH Magnum series offers a wide range of performance options because it has a lot of power and uses modern technology.
These tractors feature up to 410HP and come with a range of convenience features such as an adjustable seat, side mirrors, cruise control, and air-conditioning. They also include Intellivew™ III cab monitors, which provide easy access to information.
#3. Massey Ferguson 8700 Series
The Massey Ferguson 8700 S series is made for applications that need a lot of horsepower while offering low fuel consumption.
This series includes farm machinery with advanced technology such as auto-guidance systems and Draft Control, which optimizes the use of implements in the field.
The Canadian company offers one of the best tractor models for row-crop agriculture. The 8700 s tractors are compatible with lots of attachments, while their wide range of applications allows you to achieve more work than you would imagine!
#4. New Holland T9 Series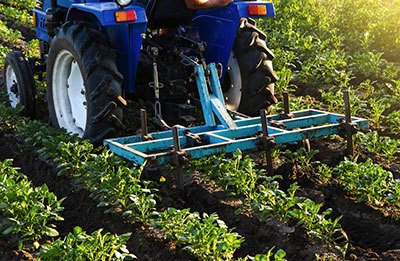 Another global brand that has been on the tractor market for quite a while now is New Holland. They feature models ranging from sub-compact to utility tractors and other utility vehicles. As one of the best row-crop tractors, many farmers opt for the New Holland T9 series!
The New Holland T9 Series provides unmatched performance with up to 600 hp. New Holland tractors are designed for large-scale operations and come with a variety of high-end features such as dual steering systems, a climate control cab, and an intelligent transmission control system. It also features an ergonomic cab layout for maximum operator comfort during long hours in the field.
New Holland is a global company with 18 plants in 170 countries, most of which are in Asia, where the company has a strong focus on greener earth and renewable sources of energy. Organizations such as Ford Motor and Sperry Corporation acquired the New Holland brand before they became a part of the CNH global.
#5. Kubota M7 Series
Kubota is a Japanese company that makes high-quality, compact tractors that last for a long time. They have been on the tractor market for a long time now, offering great tractors with even greater price points!
Kubota's M7 series combines exceptional power with advanced technology for superior performance. The power steering and dynamic front suspension on these tractors make them easier to move around, so they can be used in a variety of farming situations. They also come with intuitive controls that make operations easier than ever before.
#6. Challenger MT700 Series
Designed for severe applications, the Challenger MT700 series offers robust construction along with substantial power ranging from 350-600 HP. Its advanced suspension system ensures optimum comfort on any terrain while its auto guidance system ensures accurate navigation in challenging conditions.
#7. Fendt 900 Series
Fendt 1000 Vario agriculture row crop tractors are extremely powerful – featuring up to 400 HP – but they are also fuel efficient due to their ECO Technology engine management package. They include a sophisticated IntelliSteer™ auto-guidance system and vario transmission, which enables optimal positioning accuracy when using implements in the field.
#8. Claas Arion 400 Series
Claas Arion tractors come packed full of innovative technology that makes farming simpler than ever before – from Common Rail Injection engines that reduce emissions to efficient automatic transmissions that ensure smooth gear changing at all times – these machines have been designed for maximum efficiency without compromising on power or reliability.
#9. Deutz-Fahr Series 6 Agrotron
Deutz-Fahr 9 series offers excellent fuel economy combined with extreme comfort thanks to its spacious cabin design.
It includes an Air Suspension seat, air cleaner, hydrostatic transmissions, ergonomic controls & LCD display informing farmers about working speed, gear position & engine load parameters.
Every farmer will enjoy the use of this agriculture tractor as it also comes equipped with an AutoCruise autopilot system & optional 4-wheel steer drivetrain, allowing unparalleled flexibility in tough terrains.
#10. Valtra A5 Series
Valtra's S series is designed for extreme productivity, with up to 320HP available in some serial number models.
As well as its strong construction, it benefits from a number of convenience features, including an air conditioning unit, climate-controlled seating, Bluetooth connectivity, and a CD player mp3 option for listening to music during work hours.
Conclusion
After considering the features and performance of each model, it can be concluded that there are numerous row crop tractor options available on the market.
Each one has its own features and benefits, so farmers can choose the one that best fits their needs.
By choosing the right row crop tractor for the job, farmers can work in their fields as quickly, reliably, and comfortably as possible.