Nowadays, there are so many different diseases connected to improper sitting habits and bad posture.
Whether you're a farmer or a 9-to-5 office worker, you've probably gone through so many different seats and chairs and ended up complaining anyways.
It's the same deal in the agricultural industry.
Tractors, forklifts, and many other machines often have uncomfortable seats that will surely cause you some discomfort in the long run.
Worry not, because that's why we're here.
Take your old tractor seat and throw it in the garbage because we're about to present you with the best tractor seat out there.
We've singled out 8 different tractor seats that we think are the best on the market right now.
Maybe you don't believe us, but we hope that the following reviews will be the tipping point to persuade you otherwise and choose the best replacement tractor seat.
Stay tuned!
Top 8 Tractor Seats – General Overviews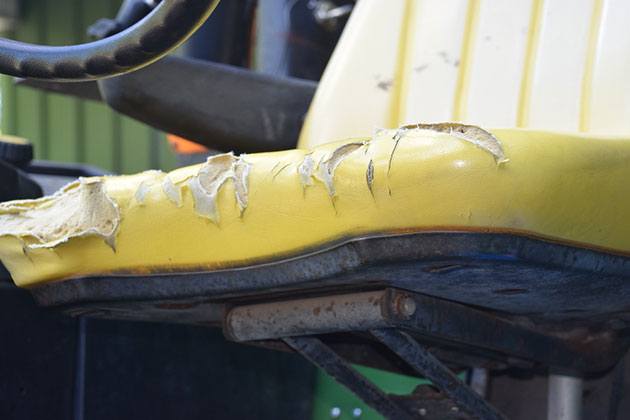 You might think that there isn't really much to know about tractor seats, but that's where most people would be wrong.
There are many different attributes and features to consider, so here's a quick overview before we start dealing with the reviews.
$ – Sunbelt Lawn Mower and Garden Tractor Seat – 10 lbs
Comfort is obviously a priority, but so is finding the perfect mounting seat that can fit your tractor or mower model. Luckily, we've found just the combination in this Sunbelt seat.
It's lightweight, comfy, and has a reasonable price.
$ – AI Deluxe Mower Tractor Seat – 16.5 lbs
Stability and comfort are what this tractor seat's all about.
With its rigid frame construction, there's no way you'll feel any tremors or turbulence while working.
$$ – Black Talon Highback Kubota Tractor Seat – 17 lbs
Don't we all want to sit back and relax our lumbar area as if we were in an office?
That's what this NTE tractor seat will offer you – absolute comfort and enjoyment in a warm, vinyl embrace.
$$ – TRAC SEATS Black Brand Waffle Style Universal Tractor Suspension SEAT – 33 lbs
Heavy-duty vehicle seats are actually the hardest to find, especially quality ones.
Based on our research, the level of stability and comfort that this Trac Seat offers the user is unmatched by any other.
$$$ – Bestauto Universal Fold-Down Forklift Seat – 30 lbs
Full adjustability, durable leather material, and ergonomics are the three main features you'll hear about in the review.
Keep in mind that this is the most expensive product on this list, so you know it'll be worth it.
$$ – E-W222BL Wrap Around Black Universal Tractor Seat – 300 lbs weight limit
This is one heavy boy. If you own some big machines that will get you into the thick of it, this will be your best companion.
The best of all is that the price-to-quality ratio is through the roof!
$$$ – Stens – 420-300 High Back Seat
This is the lightest item on this list since it's a high-back seat with no support.
However, it can be mounted to pretty much any adjustable base, and the comfort is truly amazing.
$$ – A & I Suspension Tractor Seat – 10 lbs
This is the most standard type of universal seat you'll find, but that's the beauty of it. It works with any type of machine and gives a perfectly optimal level of comfort.
Read more —
Best Tractor Door Gas Struts Money Can Buy: 2022 Edition
Best Tractor Seats 2022: Our Exclusive List!
1. Sunbelt Lawn Mower and Garden Tractor Seat – The Best Universal Tractor Seat
Dimensions: 26x20x14 inches
Type: Golf cart
Material: Vinyl
Comes in: Black and Yellow
Finding a universal tractor seat is already hard enough, let alone finding one that fits your build, stature, and shape of your back.
In other words, what you require is absolute universality, which is the number one benefit of investing in the Sunbelt Lawn Mower and Garden Tractor Seat.
Sunbelt Lawn and Tractor is a dealership located in central Florida that specializes in leasing or selling farming equipment.
They quickly rose to fame in just their brief 30-year existence, and they've managed to win the hearts of many.
For example, this tractor seat, albeit a simple product, is one of the most sought-after tractor seats on the market right now.
It fits the most popular tractor models, including John Deere tractors, Bobcat, Kubota, Allis-Chalmers, and many more.
This is actually the reason people go for this model – there's no thinking whether it'll fit or not.
It's made of vinyl – a synthetic plastic polymer – that's usually used for sturdier construction equipment, especially in the manufacturing process of windows and doors.
However, a slightly different chemical compound results in a perfect material for seats or tractor seats in this particular instance.
It comes in black and yellow, and its fine craftsmanship allows it to maintain its shape and dimensions even when put under extreme pressure.
So, don't worry if you have a couple of extra pounds – this set will support you physically and mentally.
Pros
Sturdy
Rigid
Heavy-duty construction
Quality cover
2. AI Deluxe Mower Tractor Seat – The Best Durable Tractor Seat
Dimensions: 22x18x12 inches
Type: Golf cart
Material: Polyurethane
Comes in: Black, Gray, and Yellow
The charm of universal tractor seats is that they fit not only different models but also different types of agricultural machines – tractors, mowers, diggers, powers, and so on.
Working with all of these machines often means working in different environments, which greatly impacts you and your equipment.
So, the next couple of lines will tackle the features of the most resilient tractor seat out there, the AI Deluxe Mower Tractor Seat.
The dimensions of this tractor seat have two-fold benefits:
It can be mounted on most agricultural machines – UTV, golf carts, ATV, tractors, and lawnmowers
The build is just right to make a huge difference in your stature
Essentially, the indented seat and sturdy polyurethane padding are excellent for the back and lumbar area.
Furthermore, polyurethane is often used as the main material in the manufacturing process of refrigerators due to its insulation properties.
Therefore, the same thing applies to polyurethane tractor seats – it's great for rigidity, and it's waterproof.
Also, one more thing to add – aside from multiple mounting patterns and extra holes, this thing even has a drain hole in the padding.
In all honesty, the only reason it lost to the Sunbelt model is the fact it's smaller and therefore cannot support all sizes and body types.
But, will it allow you to sit comfortably? Absolutely yes!
Pros
Polyurethane build
Waterproof
Great to avoid neck pain
It can be easily mounted
Central drain hole
3. Black Talon Highback Kubota Tractor Seat – The One With Premium Features
Dimensions: 26x18x15 inches
Type: Tractor
Material: Polyurethane and vinyl
Comes in: Black
You know how you hear about these incredible products on TV commercials and think to yourself, "There's no way this is true."
Honestly, we felt the same way about this tractor seat before we tried it.
Now, with a heavy heart, we have to hone up to our mistakes and say that it really has everything that was advertised.
So, here's the Black Talon Highback Kubota Tractor Seat.
The first glance at this highback tractor seat reveals the sturdy steel frame construction, which is the main reason it's so popular nowadays.
When you add the extra polyurethane padding and the integrated vinyl into the mix, you quickly realize that this seat model is one of the sturdiest seats you'll find on the market.
The sole design is built to support various body types; the 18-inch highback with plastic cover so perfect for spinal alignment and healthy posture.
And finally, the best part is the air ventilation thanks to the contour lines and perfectly placed holes on the edges.
This model features six mounting holes, which is the most common mounting pattern for all types of mowers and tractors.
Oh, it also fits other tractors aside from Kubota, but you'll have to find the exact same measurements to make it fit.
Other than the price, we really have no complaints when it comes to this metal tractor seat. It's quality-made, sturdy, and at the same time, comfortable to sit down at.
Pros
Proper air ventilation
Six mounting holes
Heavy-duty steel construction
Durable materials
4. TRAC SEATS Black Brand Waffle Style Universal Tractor Suspension SEAT – The Best Tractor Suspension Seat
Dimensions: 19.7×23.62×20.86 inches
Type: Tractor
Material: Steel alloy
Comes in: Black
If you are using the seat for more machines and vehicles other than your tractor, we suggest you try the adjustable suspension system that's both universal and highly durable.
More on that in the TRAC SEATS Black Brand Waffle Style Universal Tractor Suspension SEAT.
Trac seats is a large company that produces – yeah, and you guessed it – tractor seats.
Now, their products stem from adjustable base angle seats to heavy-duty steel construction seats that fit some large machines. In this case, we'll be talking about suspension seats.
Suspension seats are practically made of a steel frame and a liner that's "suspended" from between the springs of the steel frame construction.
This affects the way your body handles imminent impact because as the occupant of the seat moves, the liner absorbs the pressure, and you're left scratch-free.
Furthermore, suspension seats are generally thought to be more comfortable as they're usually made from breathable fabrics with more holes than regular tractor seats.
This seat tractor model also has a 5-position angle tilt for making adjustments to the sliding track that fit your physical constitution better.
On all accounts, this suspension seat has all requirements to be the best seat there is. So, why isn't it?
Well, due to the design of this suspension seat, you'll have to take exact measurements and figure out if it works for your mower or tractor.
It's quite rigid, so it won't fit every tractor, even if you try to drill the holes.
However, it does fit Ford New Holland and most John Deere tractors, which are the most common ones.
Pros
Adjustable weight suspension seat
Adjustable slide rails
Extremely sturdy
Anti-impact
Cons
It doesn't fit a lot of tractor models
5. Bestauto Universal Fold-Down Forklift Seat – The Best Premium Seat
Dimensions: 24x23x13 inches
Type: Forklift seat
Material: PVC leather and polyurethane sponge
Comes in: Black
Nobody loves giving away money for things we don't need, but stuff like seats is always a good investment.
Therefore, we have prepared for you one of the best premium tractor seats on the market, the Bestauto Universal Fold-Down Forklift Seat.
We're not here to bore you with some details regarding dimensions and the exact manufacturing process behind this universal tractor seat, so let's go straight into the good stuff.
This seat is made of PVC leather and polyurethane sponge, which you might have heard about from the previous reviews.
The PVC acts as a superior isolator that protects the frame and the padding thanks to its resilient features and not making the seat slippery, while the polyurethane sponge is considered to be one of the best materials for comfort and support for tractor seats.
Moreover, this sponge is highly flexible and great for a rebound, which is an excellent thing for impact and working on the field.
Not only will you be comfortable, but you'll also remain perfectly positioned while doing it.
The design is ergonomic, featuring a highly effective shock absorber and an adjustable back system that supports the entire lumbar area of your spine, including the shoulders.
The best thing about this seat is that you won't suffer from constant friction and feel trapped in your skin while driving.
In fact, many UTV drivers often purchase this seat for that reason, even though it's designed for forklifts and tractors.
Now, we do have to mention the price as this is the priciest item on this list. It's not that bad, but it's more than you'll want to spend for a seat.
Still, we highly recommend it to those that spend the entire day sitting as this is the best thing you'll get comfort and health.
Pros
Easy installation
Adjustability
Health benefits
Premium design
6. E-W222BL Wrap Around Black Universal Tractor Seat – The Best For John Deere Tractors
Dimensions: 24x23x13 inches
Type: Tractor seat
Material: PVC leather and polyurethane sponge
Comes in: Black
If you own a John Deere tractor, you've probably thought to yourself, "What's the seat I should get"?
John Deere is the most famous manufacturer of tractors, and almost all tractor seats you'll find on the web are universal, so which one's right?
Well, we think that the E-W222BL Wrap Around Black Universal Tractor Seat could be the answer.
So, the main thing you're probably looking for in most seat tractor models is full adjustability.
Let's face it – it doesn't matter how comfortable the seat is if you're going to be in the same position for the entire day.
Overall, sitting in the same position for hours is the main culprit of all conditions associated with back problems.
There are two main benefits we like in this John Deere tractor seat:
Weight suspension
Adjustable positions
Although this seat doesn't flip up, it does feature multiple angles and multiple mounting patterns for various types of tractors.
It's intended for John Deere tractors, but it'll work just fine with Ford, New Holland, and Massey Ferguson tractor models.
Also, it can support 300 lbs of weight, with the ability to go a bit overboard, but you shouldn't test your luck.
When it comes to cons, we really mind that there wasn't any mounting hardware with the package, but on the other hand, the price is quite reasonable.
Pros
Weight suspension
Adjustable positions
Easy to set up
7. Stens – 420-300 High Back Seat – The Best Replacement Tractor Seat
Dimensions: 21x23x19 inches
Type: Tractor seat
Material: Vinyl
Comes in: Black
Nowadays, every machine, device, or product will require spare parts at some point.
Now, you can get some directly from the store and spend countless hours searching for it, or you can go and buy online everything you need from Stens.
Stens is one of the greatest aftermarket dealerships, and we've found a high-back seat in their arsenal that just might be perfect for your tractor.
It's the Stens – 420-300 High Back Seat review.
Aside from the fact that they perfectly fit almost any tractor model like a glove, we also wanted to include this line of seats for their incredible resilience and ease of cleaning.
In most cases, excessive moisture from sitting around all day is couped up in small nooks and crannies around the seat, which can turn to mold if it's not cleaned properly.
Well, this tractor seat resists wear, it's easy to clean, and the vinyl cover is perfect for extra protection.
The seat itself is very comfortable with luxurious contours and an ergonomic back that supports the entire body.
It weighs only 0.13 lbs since it doesn't have any mount or steel construction.
However, its dimensions fit a lot of John Deere tractors, which usually have universal tractor seats.
Still, its quality is too good to pass on.
Pros
Premium vinyl
Easy to clean
Waterproof
Resilient
Cons
Not a universal seat
No mount
8. A & I Suspension Tractor Seat – The Best For Mowers
Dimensions: 20×18 1/2×21
Type: Tractor seat
Material: Vinyl
Comes in: Black
Lastly, we have one more tractor seat, and we're moving on to the buyer's guide. So, let's have a peek at the A & I Suspension Tractor Seat review.
Now, there's not much to think about this tractor seat. It's your standard suspension seat with slide adjustment and a 5-angle base.
It has a contoured design with a backrest shaped like a trapezoid, mounting brackets that you can use with pre-existing and new holes, depending on your body type and leisure.
Even though it's deemed as one of the best seats for mowers, it's extremely viable as a tractor seat, and in fact, a lot of farmers use this model in particular.
So, why is it all the way down here, you might ask? Well, honestly, we don't feel like it's worth the money it's being sold for.
It's a great seat, but you can find many suspension seats that are cheaper and offer more features, which is something you have to take into account.
Other than that, we'd say, "Go for it!"
Pros
Trapezoid backrest
Slide adjustment
Mesh panels
Cons
Price-to-quality ratio
No drain holes
What's there to know about tractor seats?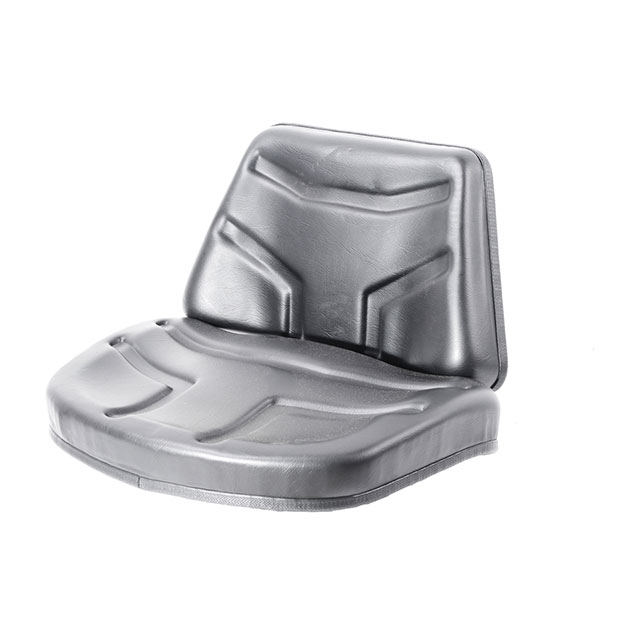 Naturally, the primary thought that comes to mind regarding seats is – comfort. However, there's a lot to it that affects the so-called "comfort."
It's actually a combination of a couple of factors, so here are some detailed explanations.
In order to feel comfortable, you'll have to pay attention to more things other than the material of the seat.
In most cases, the construction beneath the seat is actually more important.
This is where you'll have to look at two things: sturdiness and design.
In terms of sturdiness, it's best to look for models with steel frames that can support a lot of weight.
Not to say that seats are biased, but the constitution of each individual will highly affect the overall sensation and comfort that he'll get from the chair.
When it comes to design, universal tractor seats are always a great choice, but you should always look to find the right dimensions that fit your tractor and your stature.
You can easily check this with the manufacturer or the customer support service if you can't find the exact measurements in the description.
Then, it's time to focus on the material.
You can already guess what's the best based on the reviews – vinyl and polyurethane.
Vinyl is great for two things – durability, and it's very easy to clean.
You'll find that a lot of people use vinyl in the manufacturing process of other things, such as clothing and replacement fabrics.
On the other hand, polyurethane is great as a padding material due to its softness and wear resistance.
You'll usually find this in heavy-duty vehicle seats, such as UTVs and tractors.
Finally, try to look for the best ratio between the price, quality, and the warranty you'll get for the product.
In most cases, it'll determine how good that seat is, especially if we're talking about heavy-duty steel tractor seats.
The best tractor seats usually have at least 6-month or 1-year deals, and they shouldn't cost you more than $200, so it's just a heads-up.
Frequently Asked Questions
How can I make my tractor seat more comfortable?
If the coils are rusty or loose, we recommend taking them out and putting in a new set.
In most cases, the padding loses its voluptuousness, and, in this case, it's probably best if you purchase a new replacement seat.
Are tractor seats universal?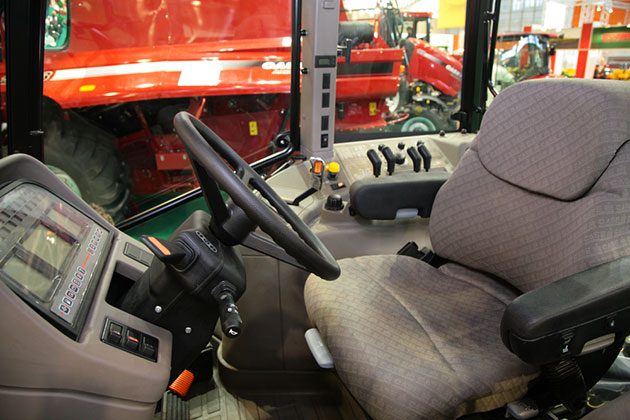 Not all, but some are.
It usually depends on the design, dimensions, and mounting holes.
Some of the products on this list are universal, but you should always check the manufacturer's description to make sure if it fits your tractor.
Also, some products are advertised as universal, but only when you check the detailed description is when you'll find it's really universal.
What is the second seat in a tractor for?
It's called a "buddy seat," but most agricultural laws don't allow two people in the tractor at the same time.
It's an old practice, and you'll usually find buddy seats in older tractors.
How do I replace my seat with a new one?
It's a relatively straightforward action.
Simply unscrew the bolts holding the construction down to the mount and carefully remove the current seat.
Then repeat the process to install a new one.
What's the best tractor seat?
Honestly, we think everybody will love the Sunbelt Lawn Mower and Garden Tractor Seat.
Not only is it great to sit in, but it looks very nice, and it works with the most popular tractors on the market.
The contoured lines are great for people with back problems, and it has a lot of health benefits, other than stopping the current ones that you probably have from your old seat.
All in all, this is our recommendation for the day.
Sale
Lawn Mower, Garden Tractor UTV / ATV Seat Black High Back Vinyl Universal Mount B1LGT100BL*
This seat fits many models John Deere, Kubota, Allis-Chalmers, Bobcat, Case-IH, Ford New Holland, White, Oliver, Mpl, Moline, Massey Ferguson
Fits John Deere Skid Steer Loader 125, 240, 70, 7775, 8875
Heavy Duty Molded Vinyl Cover. Has Drain Hole in Seat
Multiple Mounting Patterns. Accepts Round Operator's Presence Switch
Universal Seat fits many models of UTV, ATV, Tractor, Golf Cart, Lawn Mower and other farm and construction Equipment
Final thoughts
Now, these were our picks based on our research.
Maybe you'll find some other seats that fit your model better, in which case, we'd like to hear more from you.
If you liked this list of the best replacement tractor seat, also let us know.
However, the constant that remains is – tractors are great, and they get the work done.
But, what's the point if you'll get hurt or strained while doing it?
Well, now you don't have to choose when you have the best tractor seat out there.