Since its initial launch in 1957, Massey Ferguson tractors have remained among the best high-quality and reliable tractors on the market!
They invest in high-power delivery, incredible horsepower range, steady control, and terrific value!
The company continues to deliver reliable and innovative products that farmers worldwide invest in yearly!
Massey Ferguson tractors have even been a reliable choice for the U.S. military as there is a wide array of tractor models available.
With the help of this review, you can finally learn all you want to know about this brand and see what type of tractor is fit for you!
Let's see in this Massey Ferguson tractor review where these tractors are made and some of the features that make them stand out from the competitors!
Where Are Massey Ferguson Tractors Made?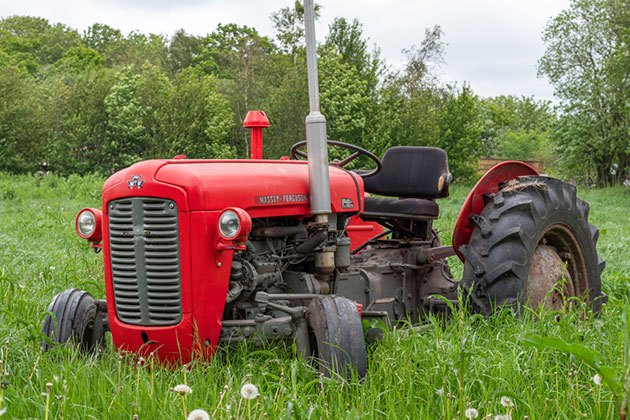 Massey Ferguson tractors are still manufactured under Massey Ferguson Limited, a subsidiary of AGCO Corporation.
They are based in Georgia, USA, and deliver various Massey Ferguson tractors such as sub-compact tractors, utility, compact, high-horsepower tractors, row-crop tractors, and mid-range tractors.
Over the few decades of production, Massey Ferguson company has focused on high-horsepower range tractors.
However, they have also improved the production of harvesters, combines, planters, loaders, ground mowers, and such.
Currently, Massey Ferguson Tractors have up to eight worldwide factories located in Kansas, USA, Beauvais, France, Changzhou, China, Breganze, Italy, Santa Rosa, Brazil, and Mogi das Cruzes, Brazil, Canoas, Brazil, and Ibirubá, Brazil.
As a part of the AGCO corporation, the company has over 3,150 dealerships and distributors located worldwide.
You can find your local dealer of Massey Ferguson tractors here.
The AGCO corporation also features many other agriculture items such as tillage equipment, sprayers, combines, harvesters, hay gathering tools, and others.
Beginning Steps Of Massey Ferguson
There is no arguing that Massey Ferguson sells one of the best tractor models in the world.
Along with John Deere, they are a top-selling tractor manufacturer. But how exactly did they become to be top-seller?
First, let's take a brief look into the history of Massey Ferguson's company.
It all began in 1847 when Daniel Massey established a company named Newcastle Foundry and Machine Manufactory.
He was a farmer and produced a couple of agricultural implements that would become a trademark of the company.
Firstly, the company was known as Massey-Harris before its initial merge with the Ferguson company in 1952.
However, the brands retired in 1958 and kept the name of Massey-Ferguson.
After the name was established, the company released its first product – a 3-point hitch! It sold big and quickly popularised the name, Ferguson.
However, in 1957, Massey Ferguson produced its first tractor-the MF35.
The design of the first tractor was primarily inspired by the famous Ferguson 35.
Best Massey Ferguson Tractors
It's no secret that Massey Ferguson delivers high-horsepower tractors, but let's see what the top models you should invest in are!
1. Massey Ferguson 5455
We have the 5455 model for starters, which is a simple yet efficient tractor. It was initially launched in 2003 and is a best-seller in the U.K.
This loader tractor is perfect for all types of loader work as it includes a high-visibility and a well-e operator cabin.
Features that make this tractor model unique are the power control, ergonomics, terrific tire traction, low-noise level, excellent speed, and 125 HP range.
Most 5455 series tractors come with a multi-plate clutch that allows for directional change.
This tractor remains a favorite choice for many farmers who enjoy the simplicity and a robust engine for their farming tasks.
2. The Massey Ferguson 6490
Moving on, here we have a true beast of agriculture!
If you wish to get a heavy-duty tractor, then the Massey Ferguson 6490 is the right choice.
It was designed in 2008 and remained one of the best tractors by this brand. It's equipped with six powershift ranges in the newer models.
The tractor includes a 10HP PTO shaft and excellent fuel efficiency for various operations.
It's terrific for handling heavy loader work due to its lift capacity and transportation tasks.
The 6490 model has a variety of ergonomic features in the operator cab and excellent visibility.
3. The Massey Ferguson 4255
We talked previously that Massey Ferguson offers excellent mid-range tractors. Well, this is one of them!
The 4255 is ideal for pull-actions as it has excellent visibility in the operator cab.
No matter what kind of attachments you will use with this tractor, you will always see a clear field.
The vision will not be compromised as this tractor is designed to work with attachments in the rear and the front.
Many farmers prefer this tractor for everyday farming tasks such as feeding, stacking, hauling hay, and even transporting a cattle trailer.
Why Are Massey Ferguson Tractors a Good Choice for Farmers?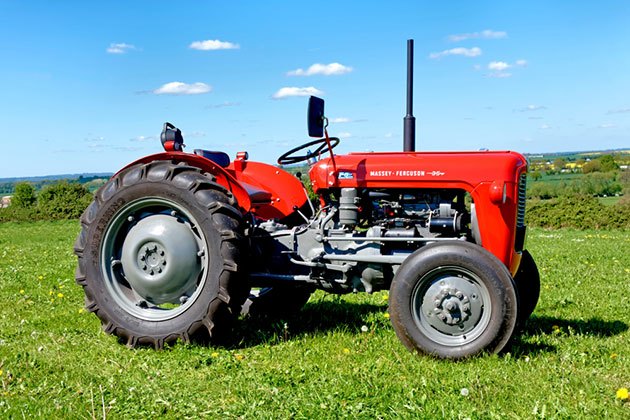 You will notice that many professional farmers tend to compare John Deere with the Massey Ferguson tractors.
Now, this is not so much for the similarity that both are the two of the worldwide-known brands that offer reliable tractor models.
Their global series has been a national favorite, so let's see some of the features that make Massey Ferguson so unique.
1. Durability
Surprise, surprise! Massey Ferguson tractors have been ranked as the best-durable tractors on the market!
Their transmission system includes several speeds that allow you to switch between them even while carrying a heavy load easily.
The Dyna-VT Transmission of these tractors even has fewer parts than the standard transmissions.
They are less prone to damage, wear and tear, and oil leaks, making them durable and reliable!
Once you have purchased from Massey Ferguson, you will see your money's worth soon enough!
2. High-Horsepower & Efficiency
The company is known for delivering trustworthy equipment that will last you for decades! However, a few models are unique in the high horsepower suitable for any operation!
It's unbelievable that even some utility tractors and compact tractors work so efficiently that they can easily be compared with high-horsepower tractors.
The worldwide brand also has well-performing engines.
Almost all of the engines in the newer models are equipped for hard work on the field, including turbo-charger, four-valve, and 3-cylinder, along with the high-performing fuel efficiency and hydraulic flow.
Not only that, but the tractors feature selective catalytic reduction.
Plus, it's super easy to mount the attachments on some models as the PTO shaft is electronic, so it will deliver high-power from hauling hay to construction work!
Since we mentioned the fuel efficiency, you need to know about Massey Ferguson's four-cylinder engines with an excellent capacity to endure heavy loads.
The quality is not to be questioned, as the tractor will use a minimal amount of fuel to perform any operation.
3. Design & Comfort
If you ever had the chance to try out one of Massey Ferguson's tractors, you would know about the great comfort.
For instance, the cab! It's built with comfort in interest so that every operator will enjoy full ergonomics and excellent visibility.
Additionally, you can get some models of the Visio roof.
The Visio roof is of excellent quality and is especially beneficial for loader work as it gives you a clear view of the work ahead of you.
This is just one of those features that are worth the money!
There are also numerous mount options you can choose from, including hydraulic suspension, rigid, and spring-shock suspension.
All of the controls are accessible and easy to use as far as the dashboard goes.
The design of the Massey Ferguson truck is also something else!
Tractors are built with excellent hydraulics and hydraulic flow, and high-quality construction.
A few of the models include a metal hood which is resistant to rust and corrosion and will therefore last longer!
However, some models, such as compact tractors, have plastic components that are not without a fault.
Therefore, once they are dented or decayed, they will need to be fixed fast!
Read more —
Case IH vs. Massey Ferguson: A Powerful Battle of 2022
Kubota Vs. Massey Ferguson
Both Kubota and Massey Ferguson are highly respected names in the tractor industry.
However, they are often compared to one another, and it cannot be easy to choose the best one.
As both of the brands offer top models worth the investment, they also have a few flaws.
So let's compare and see which brand stands out the most!
1. Engine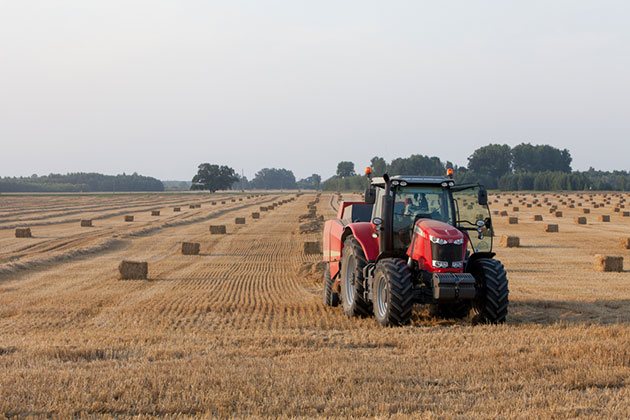 We already discussed the Massey Ferguson engine and said AGCO, Mitsubishi, or Perkins largely make them. They make for fantastic machine operation.
However, AGCO's models may deliver less power for some tasks.
If you invest in Massey Ferguson utility tractors, make sure they are made with a Mitsubishi engine.
It's a lot more trustworthy for demanding farming tasks and will deliver more power for loaders.
On the other hand, the Kubota engine uses multi-cylinder diesel engines designed by KMA for over three decades now.
Therefore, although they are fantastic for agricultural work, they may not be suitable for general farming tasks such as landscape maintenance, hay hauling, plowing, etc.
Comparing both engines by Kubota and Massey Ferguson, we can see that even though they share the same horsepower, Kubota tractors deliver more power at less speed.
Therefore, you can take them up the hill and have the stability you need.
2. Long-Lasting Service
The longevity is never guaranteed, as it depends on how well you maintain your tractor.
For instance, Massey Ferguson tractors can last for up to 10,000 hours of work if they are well-cared!
On the other hand, Kubota tractors last for a few hours less. They often hit the 5,000 hours mark before calling it quits.
3. Best Tractors?
Ultimately, if you want great sub-compact and compact tractors, you should always invest in Kubota.
Kubota makes one of the best compact tractors compared with Massey Ferguson, as they are versatile and compatible with various implements.
They have a terrific lift capacity, so attaching implements and completing your favorite job on the farm field is easy.
On the other hand, we have Massey Ferguson tractors that deliver the best zero-turn mowers, loaders, utility tractors, and planters for the price.
If you purchased any of their tractors, you would know everything about the high horsepower and efficiency on the farm.
If you wish to buy on sale, then getting an old tractor by Massey Ferguson is also a good choice.
They have been on the market for longer than Kubota, so many of their models earned the respect they receive today!
The Drawbacks of Massey Ferguson Tractor
Although they are a worldwide known brand, a tractor by Massey Ferguson is not a perfect one.
One of the most common issues with their tractor is the stuck gear.
Some consider it an equipment issue; however, it limits you to doing anything if the gear is stuck.
The issue is a quick fix, but we hate to admit that most customers run into the same problem.
If you are on the farm, you need your tractor to be functional for the work that awaits you. This kind of issue is something you need to keep in your head when purchasing older models.
Other issues consider the faulty fuel pump that would require costly repairs.
Then, of course, with poor maintenance, you can also experience the deterioration of brakes, hand breaks, and flywheel dampers.
FAQ's
Is Massey Ferguson still making tractors?
Yes, Massey Ferguson still makes tractors.
The company's recent success was the 7600 and 8600 series, which reached worldwide success, especially in North America.
The company has around eight global manufacturing facilities located in China, India, Brazil, and France.
Since they have been paired with the AGCO Corporation, the brand has also delivered excellent farming equipment such as harvesters, combines, tillage equipment, and hay gathering tools.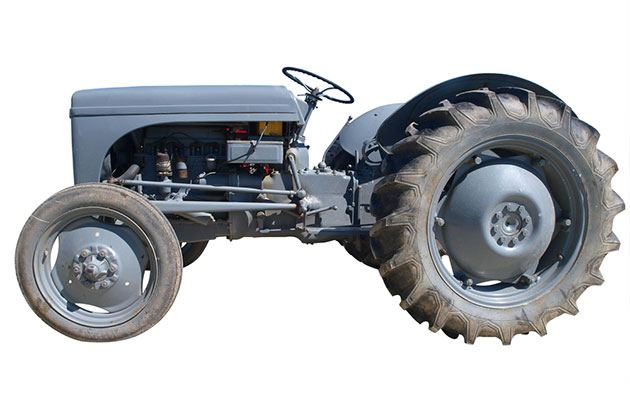 Which is the best tractor in Massey Ferguson?
One of the best Massey Ferguson tractors comes from the 5455 series!
This tractor is well-built and equipped with exceptional hydraulics necessary for cultivating the land.
In addition, it features the well-known Dyna-4 box transmission, which allows you to switch gears with a steering column-mounted on the Dynashift power shuttle.
Additionally, all of the controls on the tractor are easy to reach, offering total operator comfort and a large fuel capacity.
The 5455 tractor features the electronic PTO speed selection and adjustable shuttle response.
It's truly a marvelous piece of equipment by Massey Ferguson.
Who makes the engines for Massey Ferguson tractors?
Mitsubishi and AGCO Corporation make Massey Ferguson tractors and their engines.
But, it's safe to determine that most of their engines are made by Mitchibishi nowadays.
In some models, you may even find the Shibaura 3-cylinder engines.
Which is better, Massey Ferguson or Kubota?
Both of the brands are highly respectable in the market.
The Kubota brand delivers the best sub-compact and compact tractors and a great price for them.
However, if you want the best zero-turn mowers and high-horsepower, you better choose Massey Ferguson.
Although it's a close call between the two brands, we have to give one more point to Massey Ferguson.
If you need any parts replaced, it's easier to find a Massey Ferguson nearby than finding Kubota.
Conclusion: Should You Invest in Massey Ferguson Tractor?
Now that you have read in our Massey Ferguson tractor review all there is to know about the M.F. tractor, what do you think?
Is it a good choice for you, or will you opt for, let's say, Kubota instead? On our part, Massey Ferguson is an old but gold choice!
You can never miss a true classic that offers tractors for any farming job.
Their equipment is packed with power and a powerful engine that takes speed to another level.
Any tractor by this brand offers immense technological improvement and economical prices for extraordinary built.
All of the attachments are easy to mount on the PTO shaft and will accomplish various tasks on the field.
It's absolute you can never make a wrong decision with this tractor brand since years of satisfied customers will prove it's worth every dime!