For years now, John Deere has been a top manufacturer in the agricultural market. However, other brands have released new models that may have even outperformed some of John Deere's tractors as the years passed!
One of those brands is Case IH, New Holland, Allis Chalmers, and Massey Ferguson, among the rest.
Although it sounds impossible, Massey Ferguson tractors have beaten John Deere in some performance categories.
But, why don't you take a closer look since we will compare these two rival brands in a few crucial categories and see which one is better!
Overview
As expert farmers, you probably heard about the steel plow.
Did you know that John Deere was the first to invest in a steel plow that would plow the entire soil without clogging? Although we owe this invention to the brand, John Deere has not stopped delivering high-quality agricultural equipment and vehicles!
The company is a leader today and will continue its legacy in decades! However, many farmers who had the chance to try out several other brands say that Massey Ferguson is surprisingly similar, if not even better than JD!
Massey Ferguson is an American agricultural manufacturer created from the merger of Massey Harris and Ferguson companies back in 1952.
The name was shortened to Massey Harris Ferguson to express the joined forces of Massey Harris from North America and Harry Ferguson in England.
Massey Ferguson is currently under the ownership of the AGCO corporation. More than half of the AGCO corporation sales are from Massey Ferguson's tractors, indicating their reliability to farmers worldwide!
Both of the companies are highly reliable, not to mention quality. However, we cannot neglect that John Deere has held all the bells and whistles for the past couple of years.
JD takes 1st place with top-five tractor brands, while Massey Ferguson is at third. The second world competitor is Case IH.
Plus, John Deere has been on the market for over 200 years now, so it's only logical every beginner farmer will want an authentic JD before they reach for any other brand.
First Look of the Competitors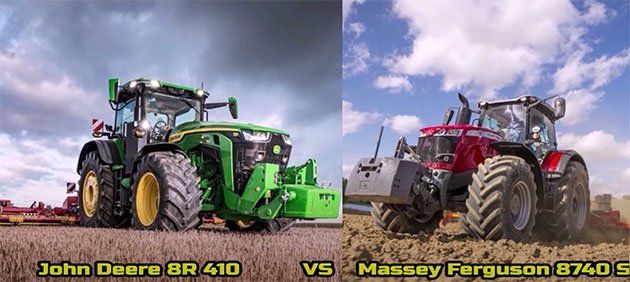 We can go on and on about the best tractors from each brand. However, for comparison, we will talk about the similarities and differences between the two models – the John Deere 5310 and Massey Ferguson 9500.
The JD 5310 tractor model is easy to operate and suitable for many beginner farmers. It includes power steering, so it offers smooth performance on most terrains. Additionally, it can work with wetland conditions and various types of soil.
This is not commonly seen in all tractors, as many tend to not perform as well on different soils. In addition, the entire tractor requires little maintenance, so owners often pick this model for ease of use!
The 9500 Series model from the India-based brand is a well-known tractor used for averaged agricultural areas. It can handle loads of equipment such as a cultivator, trailer, rotavator, and even a seed drill.
The versatile use is one of the best selling points of this Series! Due to their latest technological features, these tractors are a go-to pick for many owners!
Engine
The engine is a crucial aspect that many owners tend to focus on. So when you walk into the dealer store, the first thing you should be asking about is the engine. Although JD has been on the market for quite a while now, Massey Ferguson is the one that offers a better machine.
The John Deere tractor will get a powerful 55 HP engine and a 68-L fuel tank. This means you can get loads of work done in the field for many hours before it's time to refuel the tank.
However, Massey Ferguson has a slightly more powerful engine of 58 HP. The 3-cylinder engine has one of the best-rated RPMs. The four-wheel-drive machine offers plenty of mileage on the field and high performance you will enjoy.
Additionally, Massey Ferguson offers plenty of other tractor models with high HP ratings, making every farming process effortless.
Their engines meet the Tier-4 emission standard through the selective catalytic reduction and clean-air features. This allows the entire tractor to be fuel-efficient, saving you lots of money in the long run!
Winner? Massey Ferguson
Transmissions
We already talked about it before, declaring that Case Ih tractors currently have one of the best transmission systems! However, Massey Ferguson is not that far behind, followed by Kubota and New Holland.
But, where does that place John Deere?
For starters, Massey Ferguson is equipped with the Dyna-VT transmission system. It ranks as one of the most refined, and it includes extra working speeds that work with ease without having to use the clutch.
When we compare it to other tractors, we see that the MF transmission system has fewer parts. This will ultimately result in less wear and tear throughout the years!
Massey Ferguson, 9500 model series, comes with a dual-clutch that offers smooth service.
The company also offers Power Steering, which is beneficial for beginners and expert workers. Other models, such as 770S Series, have maintenance-free components. It will be at least a month until you have to do some mild repair or a check-up.
On the other hand, John Deere is equipped with a manual transmission. The quality is still impeccable. However, the manual system may not be everyone's favorite.
JD also uses Infinitely Variable Transmission, which offers a seamless range of speeds. However, although JD tractors provide reasonable control and power balance, they only provide two transmission speeds which are significantly slower than other competitors.
The green and yellow 5130 tractor model has a Single Wet Clutch that offers slightly better performance than the other models. It also has Power Steering, just like MF, so handling the tractor in rugged terrains is not a challenge.
Winner? Massey Ferguson
Hydraulics & Lift Capacity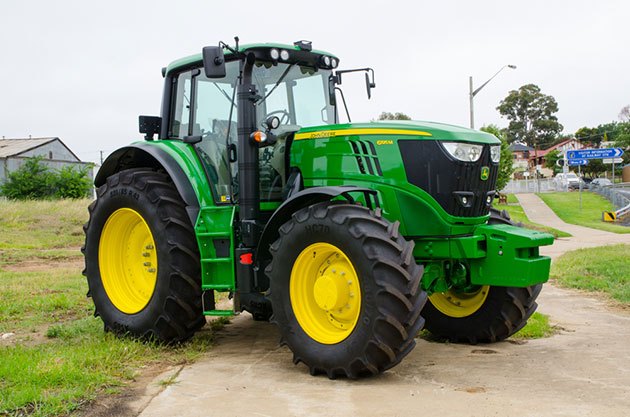 If you are getting a tractor you want to use mainly as a loader, you must make sure it has excellent hydraulics. Let's see which one of these two companies has a better lifting capacity!
John Deere tractors are known for their incredible heavy lift capacity! Consequently, the company has made this machine powerful and reliable for various loading operations.
Therefore, you can only guess the immense power behind the John Deere tractor. The 5130 model is an excellent tractor with a 2000kg capacity due to the powerful hydraulics. Compared to other John Deere tractors, this one features an economic PTO that offers a better take-off on various fields.
The other competitor of farm equipment offers a similar lifting capacity. Ferguson 9500 tractor has a capacity of 2050 kgs and offers a three-point linkage.
The three-point linkage offers draft, position, and response control.
If you want a slightly better living capacity, I highly suggest you check out the Massey Ferguson 4700 series.
These tractors offer a 4800 lbs capacity and a low-center gravity, while the chassis weighs over 7,000 pounds! The three-point hitch tractor is built for versatility and can be used as a mower, loader, haying, tillage, or drill.
The MF9540 and MF9560 tractor models feature the V-cool system. This system positions the engine radiator, intercooler, and hydraulic cooling system in a v-shaped design, thus preventing overheating and tearing.
Once again, we have to give the advantage over to the Massey Ferguson brand. If you search for a machine that requires less service maintenance, especially in the hydraulic area, this is the best choice.
Their newer models are slightly more advanced than Deere ones, and you cannot make it wrong with the latest technological design.
Winner? Massey Ferguson
Operator Comfort
When you are about to spend the entire day in the open field, you want to make sure you are as supported and comfortable as possible! With farm equipment, the little things make a big difference!
John Deere and Massey Ferguson are not precisely the tractor brands you think of when you think of ultimate operator comfort. However, both the companies do introduce the very best for their users.
John Deere tractor has a contoured mid-high back driver seat that offers a comfortable and smooth ride. Some models even allow for seat adjustability, which is a big plus!
A cab with air-conditioning is available and optional, which I highly suggest for those hot summer days. Admittedly, the price on this feature is a bit higher but worth it!
What most customers appreciate about the Deere design is the uncluttered space! When performing a demanding farming business, all of the controls should be within your reach, which is what Deere offers.
The controls are all color-coded, which is a great idea for beginners, ensuring you don't go wrong with commands!
Massey Ferguson tractor brand has up to several square feet of cab visibility! But, of course, the deck size is larger, so it's only logical the manufacturing made sure you enjoy complete visibility.
Additionally, you can choose from multiple mounting options on the Massey Ferguson tractor. You can get a hydraulic suspension, a rigid one, and a spring-shock suspension with that in mind.
The dashboard is also easy to reach, so both tractor brands are similar in this area.
On the other hand, Ferguson offers you a chance for a Visio roof. Not many companies have this function, but it's incredibly beneficial for loaders as it provides a clear view.
However, the passenger seat position makes the entire cab slightly uncomfortable for the operator. In addition, it's often challenging to navigate a steering column, so we opt for John Deere in this category.
Winner? John Deere.
Which Tractor Brand is More Expensive?
Both John Deere and Massey are reliable tractor companies on the market. However, one is slightly more expensive than the other one.
Considering John Deere company has been on the market for a long time, this green and yellow tractor holds a luxurious price compared to the majority of their models.
FAQs
Are Massey Ferguson good tractors?
Yes, Massey Ferguson tractors are remarkably well-made. They are easy to maintain, operate, control, and reliable for the price.
Massey Ferguson tractors have even served the USA Military, along with several other brands. Unlike other tractors that can be bulky and difficult to steer, Massey Ferguson offers ease of use. In addition, due to the compact size, these tractors are excellent for between rows and around smaller fields.
Which is better John Deere vs. Massey Ferguson?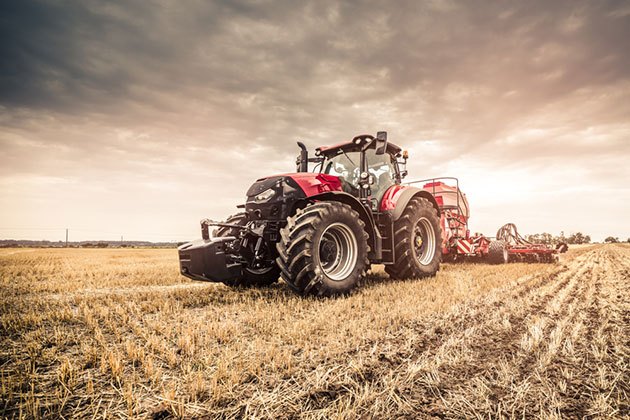 John Deere is one of the top leaders in the USA market regarding agricultural manufacturing. They have a great audience that has chosen to stick to the traditional tractor brand for decades.
However, Massey Ferguson offers similar tractors in performance at a fraction of the price of what JD offers. Furthermore, many farmers who have used both JD and Massey Ferguson have said that the latter is reliable and better.
Is a Massey Ferguson 35 a good tractor?
Massey Ferguson 35 is a good tractor, equipped with a Perkins diesel engine model. The tractor offers incredible power for this price, suitable for any business.
However, the ones with the 4-cylinder engine are most likely to crack. So if you are going to pick any MF 35, choose the one with a Perkins 3-cylinder engine.
What is the most powerful Massey Ferguson tractor?
Massey Ferguson is known for its wide range of powerful tractors. One of the most powerful MF tractors is the MF8700 Series. It surpasses 370 HP and has a reliable system for any operation.
This Series offers five highly-reliable tractors that can efficiently operate large drills, implements, trailers, and tankers! Additionally, they are equipped with the latest CVT transmission and Dyna-VT for the ultimate efficiency worth the money!
Where are Massey Ferguson tractors made?
The majority of Massey Ferguson's tractors are made in several worldwide factories. These include France, China, Brazil, and Italy factories.
Over 80% of the tractors are manufactured here and exported to over 70 countries worldwide.
However, Massey Ferguson's engines are manufactured in a factory near China.
Final Winner
I have to say: this has not been an easy choice to make!
In the end, when we say Massey Ferguson Vs. John Deere, we come to the conclusion that both the brands have pros and cons, but there can only be one winner.
The comparisons have given you an in-depth insight into both brand qualities, so we hope you have found what you are searching for.
If you want to get a reliable brand that has been on the market for over 200 years, then John Deere is an unmistakable tractor choice! Their mower, loader, utility, and compact tractors are among the most recognizable within every dealership, so you cannot make a wrong choice.
However, if you don't want to stick to the classic and want to try out something completely new and advanced, then Massey is a clear winner.
As you can notice, Massey manufacturing has made sure their models follow the latest trends with farm equipment. The AGCO ownership delivers refined engines that are reliable for every terrain!