No matter how hard you go into research, you'll always end up doubting yourself whether you've chosen the best product for you.
In the case of tractors, there are simply too many things to take into general consideration:
Budget,
Longevity,
Fuel efficiency,
Hydraulics,
Wheelbase,
etc…
Now, you can scour the web all day in hopes of finding the best, or you can settle for one of the best diesel tractor brands on the market – Case IH.
We won't dig into the specifics of various machines and the same subtype models, but we'll give you an overall picture of what you can expect from Case IH and why they're an excellent choice for everyone.
Stay tuned in this Case IH tractor review!
The Early Stages of Case IH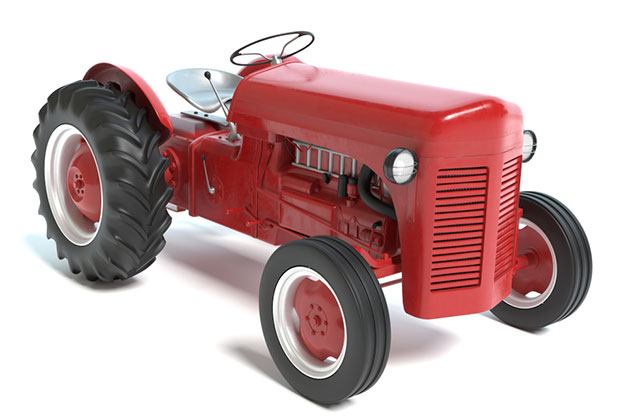 It all started back in 1842.
Jerome Case, an American manufacturer of threshers, had set out to expand his business of separating wheat and peas with a threshing machine and sought out a more elegant solution to farming land.
At that time, diesel engines had become all the rage, and he decided to become one of the frontrunners in the business by massively producing steam and diesel-powered machines on a global level.
By 1886, he had already surpassed his goals, and by 1892, his business was already blooming with capital, which enabled him to become the face of the company that had produced the first diesel-powered tractor.
At that point in time, Case IH company had already diversified enough to produce products other than just tractors.
The manufacturing process included:
Agricultural equipment,
Financial services,
Spare parts,
Service support, and
Commercial operators.
With the passing of time and the developmental nature of tractors, new technologies allowed Case IH to transform its business with modern models and different subtype tractors on the market.
You could find anything from garden tractors, loader tractors, and wheelers to heavy-duty machines for large-scale agricultural purposes.
Nowadays, the most success can be found with the Case IH Farmall models, Steiger, Magnum, and Puma, but there are quite more subtypes that are perfect for various applications and purposes.
Where Are Case IH Tractors Made?
Due to constant changes in the leadership and locations of the firm, combined with the technological process in the last century, Case IH has seen many transformations.
The company, as we know it today, was founded in 1985 with headquarters in Turin, Italy, but the largest profits are generally made in the US.
At first, Tenneco bought out assets of the IH (International Harvest) to create a uniform company called J.I. Case Company, but since then, many mergers have happened, and we have the Case IH we know today.
As for the US market, there are several manufacturing facilities scattered across the country stationed in several countries. You can find them at:
Grand Island, Nebraska – Combines, Windrowers
Benson, Minnesota – Cotton Harvesters, Application Equipment
Fargo, North Dakota – Tractors
Racine, Wisconsin – Tractors
Burlington, Iowa
Goodfield, Illinois – Tillage Equipment
New Holland, Pennsylvania – Round Balers, Square balers, Pull-type Forage Harvesters, Disc Mower Conditioners, and Box Spreaders
Burr Ridge, Illinois – Technical Center
Since Case IH is a global distributor, meaning it has facilities all around the world on different continents.
If you wish to find a tractor that suits you in person, you'll find distributors at:
Ferreyra, Argentina – Combine harvesters, Puma tractors
Curitiba, Brazil – Farmall, Maxxum, and Magnum Tractors
Jesi, Italy – Tractors
Piracicaba, Brazil – Sugarcane harvesters, Sprayers, Coffee harvesters, and Planters
Saskatoon, Saskatchewan – Crop Production Equipment
Sorocaba, Brazil – 7230, 8230, and 9230 Combines
St. Valentin, Austria – Tractors
Basildon, England – Tractors
TürkTraktör, Türkiye – Tractors
CNH Industrial (India) Pvt limited – Tractors and harvesting equipment
Querétaro, México – Tractors
HEPCO, Iran – Sugarcane harvesters
What Makes Case IH Tractors Special? General Features
All agricultural vehicles and equipment have many categories and standards upon which they're rated and valued.
Since they are multi-purpose products, it's quite impossible to pinpoint some features that are universal, but there are some that you want in all of your vehicles.
Based on that, we'll list out some of the characteristics that Case IH thrives in and get you acquainted with the brand itself.
Let's go!
1. Versatility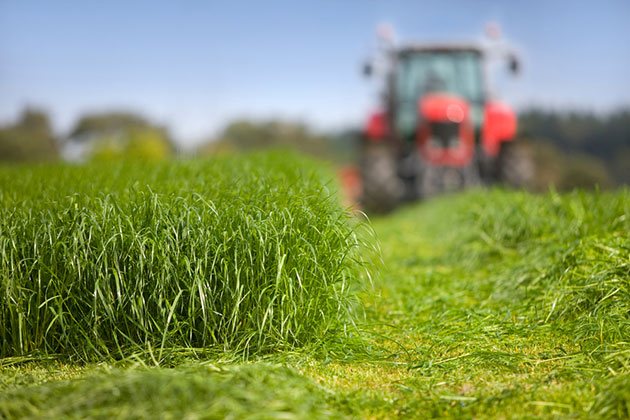 Newer IH models have come a long way with the technological advances in modern times.
By versatility, we usually refer to what the vehicle is capable of achieving without much burden on the engine or the entire housing.
Moreover, owners of IH tractors usually opt for either standard or heavy-duty loaders, depending on the type of agricultural chore they want to do.
In both cases, IH tractors offer self-leveling and skid-steer buckets with all the necessary safety features.
All models come with a hydraulic pump and a wet clutch, which usually lets them run in various environmental conditions.
2. Engine Power
Even though most IH combines and tractors still run on diesel, they are modified to work with clean-diesel technology that significantly improves the overall lifespan of the engine, the quality of work, and it's better for the environment.
For example, the International Harvester Farmall models use Case IH FPT 4-cylinder engines with turbocharger and inner cooling.
This enables them to run much longer without the added burden on the functionality of the vehicle.
3. Design
Most tractor manufacturers focus solely on making the specific model the best it can be, but they often disregard design features in terms of ergonomics and user-friendly features.
In general, all agricultural vehicles and machines should firstly consider the user and how well will a new customer adapt to the preexisting features.
All Case IH tractors come equipped with:
High-visibility roof panel,
Tractor canopies (often sold separately),
The instrument cluster tilts, and
Accessible valves.
Reliability is the number one trait of Case IH tractor machines, which is only amplified by climatized cabs, HVAC systems, and tractors with ROPS configurations.
4. Price
Depending on how much you're willing to spend on a tractor, you'll either be amazed by Case IH's prices, or you'll be astonished.
Either way, it's probably a safe thing to say that the prices for all their vehicles are reasonable given the demand and the quality of their products.
For example, you'll generally find the prices ranging from $100,000 and $200,000, based on the model's year, quality, and application in the field.
Read more —
Case IH vs. Massey Ferguson: A Powerful Battle Of 2022
Types of Case IH Tractors
Since Case IH started manufacturing agricultural equipment, there have been many early models, loader tractors, and test tractor machines throughout the years.
Therefore, we'll skip some of the early ones and cover the most popular types that are being sold today.
Here's a quick recap.
1. The Steiger Series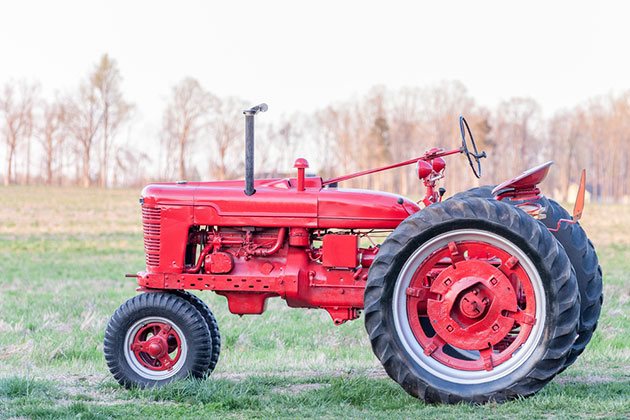 In 1988, the Case IH Steiger 9100 Series was launched, which marked the beginning of a long saga of fuel efficiency and a good tractor era.
There have been models from the Steiger Series early on, but the 9100 proved to be extraordinary for farmers at the time.
They were budget tractors with great wheels, comfortable seat settings, and easy access.
Furthermore, all the subsequent models have proven to be better than the past models with each passing year.
In fact, the 2019 and 2020 Steiger models have accumulated several accolades, and they also come with a 3-year warranty that, Case IH claims, comes with a 2000-hour guarantee.
However, the by-far most popular Steiger model is the AFS Connect.
This "beast" can be found with engine power from anywhere between 370 and 682 HP, and it has up to 113 GPM hydraulic capacity.
Aside from innovative technology and impressive attachments, these tractors let you manage your farm remotely, and they come with a 5-year subscription.
2. The Farmall Series
In 1923, the Farmall Series had become a familiar and household name for all farmers across the US.
These tractor models were way ahead of their time with their controls, versatility, task handling, and hours that you had to put up in a certain line of work.
Their main feature was compactness, which is why most farmers enjoyed them – they enabled them to farm different types of land without having tested the ground, and the durability of the tractor because it worked everywhere.
Furthermore, they had just enough horsepower with their old engines to do anything literally.
Nowadays, we can separate a couple of the most popular types that came from the Farmall Series that still rule.
They are:
Farmall 55-75 A,
Farmall 55-75 C, and
Farmall 90-120 C.
3. The Magnum Series
Another popular series that has taken the loader tractor to new heights is the Magnum Series.
You'll find a variety of tractor models here, but the one thing you have to remember is – these things have power!
Even though they're not as strong as the Steiger series, they'll give you about 180 to 380 HP of raw engine power, combined with the past fuel-efficiency characteristics that we've mentioned.
The Magnum Series lets you choose between three types of tractor vehicles:
Wheeled,
Rowtrac, and
Scraper.
Based on your farming needs, you can choose a tractor tailored for crop rowing, tough and heavy-duty work, and land-leveling.
Cons of Owning a Case IH Tractor
They might be a great purchase, but every tractor has its flaws, even Case IH's models.
Therefore, here are the things that we've noticed regarding all of their models that you might want to know.
Because most Case IH tractors are quite versatile and ergonomic, some things had to suffer.
The first thing that we noticed was the transmission, in general terms.
Older Farmall models often tend to get stuck in a certain gear, especially if you've bought a used one that has seen some mileage.
Furthermore, modifying the fear system is not an option since attempting to do so could lead to more malfunction in the engine.
Honestly, there are essentially two things you can do – either call the manufacturer and service the vehicle or find a repairman that specializes in these types of tractors if you have a problem with the transmission.
The second thing is overheating, which happens with some models, generally the older ones.
The newer models have inner cooling that prevents overheating, but if you'd found your tractor from individual dealers, chances are it'll overheat.
FAQs
Why did IH go broke?
Due to high demand at the time, Case IH had lost its edge over the competitors in the mid-80s and was forced to merge with the International Harvester Agricultural Division to transform the appearance of their brand and tractors.
Are Case IH and New Holland tractors the same?
Case IH had maintained its independence all the way up to 1999 when it merged with New Holland AG.
From that point on, they've been a part of the CNH Global, but the two companies have still maintained their identities due to striking differences in their models.
But, yes, they belong to the same parent multi-company.
What engine is in Case IH tractors?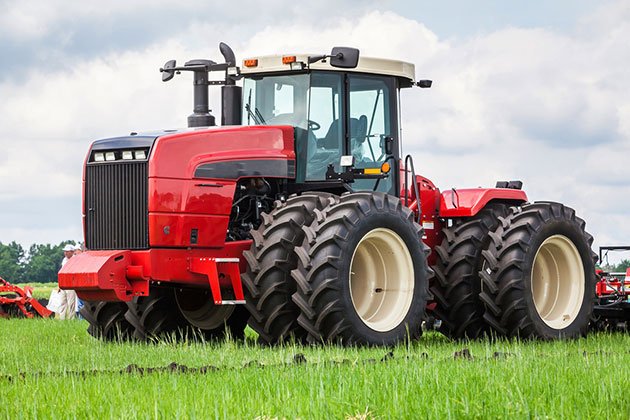 In terms of volume, Case IH engines can be found anywhere between 4.5 and 6.7 l.
In terms of horsepower, it all depends on the model, but they go as far as 500 HP, which is in the range of some very fast sports cars.
What's better: John Deere or Case IH?
Honestly, both of these brands are great, and they come with their own pros and cons.
In fact, they are considered to be mutually exclusive in the sense that people either buy one or the other.
The largest problem with John Deere is the price, while on the other hand, people often complain about the lack of choices when it comes to Case IH.
Overall, the best way to choose is by following your own needs and going from there.
Final Thoughts
Overall, the Case IH company had its ups and downs, but it still managed to come out on top as a fierce competitor in the field of agriculture as a class company.
Their rugged design and high-stand vehicles have proven their worth, and they're undoubtedly a company to keep in mind when you decide to purchase a new tractor.