Have you ever spotted a blue tractor and auction sale and thought to yourself, "Aha! That's gotta be a Ford tractor for sure"?
Kudos to you because this is precisely why significant brands stick to only one paint option for their tractors.
It's forgetting the customers' attention and making them recognizable among a variety of models.
But, why did the largest manufacturers like Ford, Case IH, or Massey Harris choose the colors they use now? Does the color of the tractor matter? Is it purely for aesthetic reasons?
We answer this and many more questions concerning farm tractor colors.
If you are on the lookout for the best-selling tractor brands by color, we also got you covered!
Why Are Some Tractors Painted Blue?
As one of the most popular colors seen with tractors, blue is an eye-catcher!
And how wouldn't it be when one of the biggest manufacturers trademarked it? Yes, we are talking about Ford tractors.
Ford brought his A-game to the car manufacturer and even farm tractor production back in the day.
Then, unfortunately, they had to move their production to Great Britain, but they returned to the market years later, ready to make a big hit!
In the first few series, when the brand partnered with Harry Ferguson, the color option was gunmetal gray used for the 9N series.
Then, Ford tractors switched to the other color scheme, red and white. As a result, you will find them mainly in older, vintage models.
However, in 1961, the brand had a genius idea to present their new 6000 series. The new series comes with new looks, so they started painting the tractors blue!
The new machines were much more improved than their earlier models and made them even more recognizable.
It was the start of a new era in agricultural machinery.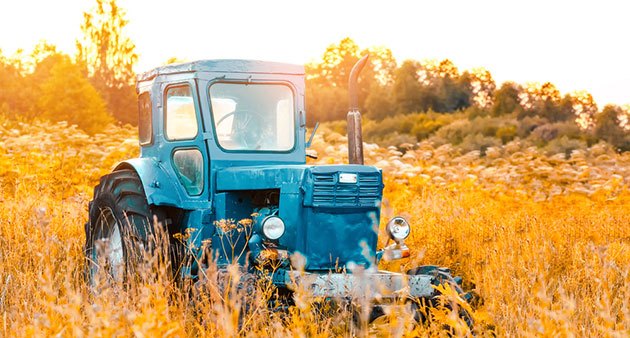 Why Are Some Tractors Painted Red?
Red is a bold choice to make. So why is it that it's painted in red color every time you see a tractor?
There is a bit of history behind why many manufacturers made the brave move to red paint their new agricultural machinery!
Rewind to around the time of the Great Depression.
Then, it seemed like every piece of agricultural equipment was either dark gray or black.
But, it could have been that the coloring reflected the dark times or simply being popular back in the day.
However, none of the manufacturers were brave enough to switch up the theme of their tractors until Allis Chalmers was the first company that switched their well-known green for the "Persian Orange."
Well, following their example, a tractor expert, Farmall, delivered their first red tractor during the 1930s.
The color is now known as "Flambeau red," and it's used by many other tractor brands such as Case IH-International harvester company and many more!
The Flambeau red is the most seen tractor hue nowadays as well as with old red tractor brands. However, there is one more reason behind the red color choice.
The safety of the farmers.
Having a red tractor brand in the field makes you more visible and, therefore, safer when the sun drops. And let's face it, red tractors are cool!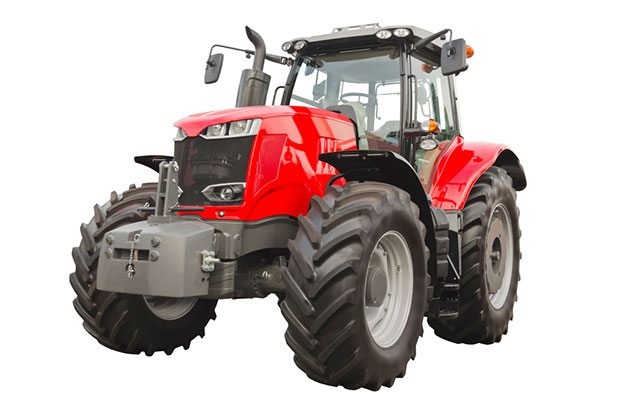 Why Are Some Tractors Painted Orange?
When you think about orange tractors, your mind wanders straight to the Allis Chalmers.
We discussed why they made the bold choice for the agricultural equipment in the previous section.
It was 1929 when Harry Merrit introduced bright colors into agricultural machinery.
Besides being attractive, bright colors are also easier to spot from a distance and immediately steal your attention when shopping for tractor models.
Not only did they want to introduce coloring in the tractor models, but the vibrant poppy color also inspired the tractor brand in California's landscape.
Therefore, the name "Persian" since poppies are the native crop of former Persia.
Just like John Deere wanted to match the landscape coloring of their agricultural green choice, so did the Allis Chalmers company with their Persian Orange color.
They are among the best old orange tractor brands you can find currently!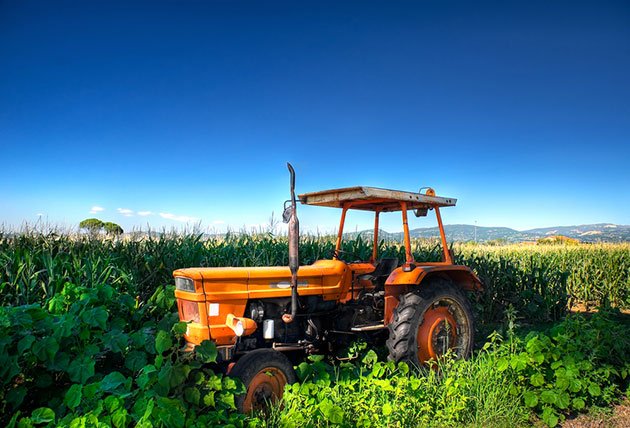 Best Blue Tractor Brands
1. Ford Tractors
As one of the most recognizable tractor brands, Ford initially began delivering blue-colored tractors during the 1960s.
The company was established in 1903 by Henry Ford, with its main headquarters in Dearborn, Michigan.
Best Ford's blue tractor models: The thousand series (1000, 2000, 4000, 6000).
2. New Holland
The New Holland company comes from the heart of America, and they offer a variety of agricultural equipment.
The extensive product line includes tractors, harvesters, self-propelled sprayers, hobby tractors, utility vehicles, seeding equipment, haying tools, etc.
They offer exceptional quality equipment and are currently one of the leading top-selling brands for specialized agriculture machinery.
Best New Holland blue tractor models: T7 series, T6, T9, 3600-2, 6500, 3230, 3037 X, 3510, 4710, 7500 4WD/2WD
3. Ebro
The Ebro is a Spanish brand that produces trucks, buses, construction equipment, and trucks.
Although its headquarters lie in Brazil, Madrid, and Avila, the brand was first established in 1920 as Ford Iberica until the Civil War stopped its production in Spain.
However, in 1987, the Nissan company took over Motor Iberica. During the 1980s, the brand was released.
Best Ebro blue tractor models: 8110 DT 4WD, Ebro Super Ebro, Ebro 44, Ebro 48, Ebro Super 55, Ebro H 100, Ebro H 135 DT, Ebro 2300, Ebro 6045 V, Ebro 6100, Ebro 6125, Ebro 8100, Ebro 8135.
4. Fendt
From Germany, we have the well-known Fend company.
The company was started in 1930, and its agricultural equipment division was sold to AGCO in 1997.
It is one of the premium tractor brands of the AGCO group, and it offers a wide range of agricultural products such as harvesters, rakes, four-wheeled tractors, mowers, and balers.
Additionally, the company is a part of the Agricultural Engineering Department.
Best Fendt blue tractor models: 900 series, 1000, 724 profi-plus, 936, 720 profi-plus.
5. Eicher
Eicher was created by brothers Josef Eicher and Albert Eicher in 1936 in Germany.
The idea for the company's development came from the brother's surroundings and interest in agriculture.
In 1959, the company transferred to India and began producing India-built tractors.
In 1973, the company was bought by Massey Ferguson, which is the current owner. As of recently, the brand has been producing tractors solely for vineyards.
Best Eicher's blue tractor models: Eicher 333, 480, 551.
6. Lanz Bulldog
The Lanz Bulldog company was founded in 1859 by Heinrich Lanz.
It began its production with the threshing machines with steam engines and the first crude oil-fuelled tractor.
The well-known Bulldog versions began production in 1860 when John Deere purchased the company.
It changed its name to John-Deere-Lanz and delivered numerous successful agricultural equipment divisions.
Best Lanz Bulldog's blue tractor model: T01, 25 PK, D4016.
7. Hanomag
Hanomag was considered one of the best-selling tractor brands in the 1950s when they developed a new line of tractors that featured 2,3, and 4-cylinder engines.
They are known for producing tractors, military vehicles, and steam locomotives.
In 1924, they began their worldwide glory by developing their first farm tractor!
Best Hanomag's blue tractor models: R324E, R16, R22 22 PS, R324 EB 27 PS, R19, R12A 12 PS, R217
Best Red Tractor Brands
1. Mahindra USA
Starting with the top-selling tractor brand, Mahindra is a well-recognized company known for manufacturing utility tractors and sub-compact tractors.
This high-end company also delivers implemented equipment and attachments for tractors, and guess what? They all come in red paint!
Best Mahindra's red tractor models: YUVO, SP Plus, NOVO, eMax, Max, JIVO, XP Plus, 1600, 2600, 3600, 4500, 5500, and 6000-9000 series
2. Case IH
Case company was founded in 1985 by Jerome Case. Later on, the International Harvester factory was sold to Tenneco.
Generally, Case IH has four categories of tractors and equipment.
Today, the Case IH company is owned by CNH Industrial.
The International Harvester company was also one of the top brands that started using the flambeau red in their tractors.
Best Case IH red tractor models: Steiger Series, Vestrum Series, Magnum Series, AFS Connect Magnum Series, Maxxum Series, and Farmall series.
3. Massey Ferguson
As a global manufacturer of farming equipment and the oldest manufacturer, Massey Ferguson is currently situated in Georgia.
They merged with a British company Ferguson and created the Massey Ferguson company from the beginning of their career.
However, before their initial merge, the business carried the name of Massey Harris.
Best Massey Ferguson red tractor models: MF 7700 S, MF 8700 S, MF 5S, MF 300 Xtra, MF 5700 M, MF 6700 S, MF 3700, MF 8S, MF 4700 M, MF 3700 AL, MF 200 Xtra, MF 1700 M, MF 400 Xtra and MF 1500.
4. Valpadana
ARGO bought the Valpadana company in 1995.
It was first established in 1935, while Valpadana headquarters was in Italy.
Their first tractor saw the light in the 1960s and continued to deliver the vibrant red tractors under the name of ARGO.
Best Valpadana's red tractors: Valpadana 4RM-180, Valpadana 4RM-545RS, Valpadana 1015 HSD, Valpadana 1545, Valpadana 1555, Valpadana 2030, and Valpadana 3580 GE.
5. Antonio Carraro
You will mostly find these high-end tractor brands in Italy, Spain, and Turkey.
Founded by Giovanni Carraro in 1910, the manufacturer focused on creating smaller and more compact tractors for farmers with smaller fields.
In their offer, you can find more than 30 red color tractors.
Best Antonio Carraro red tractor brand models: T major series, Ergit R series, 30 series, 15 series, TRX 5800, Tigre series, and Antonio Carraro.
6. Mitsubishi Agricultural Machinery
Have you probably heard about this one a few times? Oh, who are we kidding? This is the major brand of the Japanese company!
They have been in the business since 1959, and almost all of their tractors are equipped with Mitsubishi diesel engines.
They have built tractors for some of the most distinguished manufacturers, such as Cub Cadet and International Harvester.
Best Mitsubishi red tractor models: GS series, GA series, GM series, GJ series, GOE series, and GCR series
7. Belarus
The Minsk Tractor Works partnered with the Belarus company, and apart from farm tractor models, they also deliver a variety of agricultural machinery.
In their offer, you can find up to 15 different models sold in stunning red color!
Best Belarus red tractor models: Motoblock, Belarus-622, Belarus-422, Belarus-923, Belarus-1025, Belarus-1221,Belarus-550, Belarus-320, Belarus-1502, Belarus-1523, Belarus-2202, Belarus-2103, Belarus-3022, Belarus-1220.1, Belarus-3522
Best Orange Tractor Brands
1. Daedong
Daedong is a company situated in South Korea.
Apart from their well-known orange color tractors, the brand sells harvesters and autonomous agricultural vehicles.
The South Korean manufacturer was formed in 1947 and still delivers high-quality agricultural machinery.
Best Daedong's orange tractors: Rx series and HX series
2. Kubota
Kubota first released farm tractors in 1960, and they are still a leading manufacturer if you want to purchase an orange tractor.
In addition, their business offers lawn tractors, utility vehicles, zero-turn lawnmowers, loaders, sub-compact tractors, and many more!
Their tractors are equipped with diesel engines, so they hold immersive power.
Best Kubota orange tractors: B series, BX series, M & L series
3. Terrion
Here we have a well-known Russian brand that delivers fine machinery and equipment for agricultural purposes.
Their products are versatile, and most of them come in an attractive poppy orange color.
Best Terrion orange tractors: TERRION АТМ 5280,TERRION ATM 4200, TERRION АТМ 3180M, and TERRION ATM 7360
4. Ursus
Another prominent brand, Ursus, comes from Poland.
The company has distinctive red-colored tractors separated into Ursus C-series and Ursus tractors for the global supply.
The company was founded in Warsaw in 1983.
Interestingly, they used the old design from Massey Ferguson as inspiration.
Best Ursus orange tractors: URSUS C-360 B,URSUS 5312, URSUS C-380, URSUS C-385,URSUS C-3105, URSUS C-3110,URSUS C-335 B, URSUS C-3150V POWER, URSUS 3515, URSUS 4512, URSUS 5314, and URSUS 6012
5. Steyr Tractors
The company was first established in 1983 in Austria and is owned by CHN.
Mainly, this brand makes tractors in two: colors-red and orange. Interestingly, both colors have different purposes in the field.
For example, red tractors are used for agriculture, and orange tractors are used for landscaping work and maintenance.
Best Steyr orange tractors: KOMPAKT SERIES, CVT, EXPERT CVT,TERRUS CVT, MULTI,PROFI SERIES, and SZ/SF FRONT LOADER
6. Allis Chalmers
The one that started it all!
The Allis Chalmers company was the first one that colored its tractor orange and stepped out of its comfort zone.
Their well-known Persian orange shade is used worldwide.
Best Allis Chalmers orange models: WD45, B model, D-17, D-14, D17
FAQ's
What brands of tractors are red?
The most popular red tractor brands are International Harvester Company, Mahindra, Case IH, AGCO, AG Trac, Massey Ferguson, ArmaTrac, Zetor, Yanmar, Valpadana, Jinma, Belarus, Branson, Antonio Carraro, McCormick tractors international, Mitsubishi, RK tractors.
What are the different colors of tractors?
Modern tractor models are usually painted blue, red, orange, and green.
These popular colors make it easy to recognize which manufacturer made which tractor.
For instance, if you see a green tractor with yellow tires in the field, you will be sure it's John Deere!
What tractor brands are green?
One of the most well-known representatives of the green color tractor is John Deere.
With the green color symbolizing the fields and yellow tires of the crops, John Deere and their classic green tractors are worldwide known!
What brand has blue tractors?
One of the largest manufacturers that makes blue tractors is Ford.
However, you can still find many other blue tractor brands on the market, such as New Holland, Fordson, Eicher, Ebro, Fendt, Lanz Bulldog, Hanomag, and BCS two-wheel tractors.
What are the colors of a John Deere tractor?
John Deere is the largest manufacturer of tractors. Logically, they had to make their products recognizable among various colors.
John Deere makes the tractors in classic green, and their newer generation models are painted in agricultural green.
Why are most tractors red?
Before red tractors became popular, one of the most-used colors was dark blue-gray.
To increase visibility in the field and make it safer to operate the vehicle, manufacturers began painting their tractors red.
The one that began with the red color trend was the McCormick- Deering Farmall.
They painted their tractors in what is known now as "Farmall Red" to distinguish them from other tractor colors.
Final Words
Did we cover all of your questions regarding the history of tractor colors and their famous brands?
Each carries a rather interesting story of why they chose that exact color that made them famous.
But, no matter if you choose the flambeau red or Persian orange, we list all of the top tractor brands by color, so you don't have to roam around the internet to find your best match!