Choosing the best tractor for your agricultural endeavors can be challenging.
Many well-known tractor manufacturers, compact and utility tractors, budget-friendly, and overly-expensive models.
However, only one brand has kept the number one selling spot for years! It's Mahindra!
I'm sure you've heard of it and maybe even had the chance to try their models out.
But, if you consider whether they are worth the investment, we have a special guide just for you.
Mahindra has managed to stand out among other brands so let's see how this brand started and check out some Mahindra tractor reviews.
Beginning Steps Of Mahindra
Mahinda started as a humble steel trading company in Mumbai, India, back in 1945.
After it had reached its initial success right from the start, the company received a license to produce Willys Jeeps after the automobile production license.
However, when 1963 rolled around, the Mahindra tractor company took a turn for the best!
Mahindra joined forces with International Harvester to produce its first tractors for the Indian market.
When the Mahindra tractor company arrived in the USA, it was wildly popular in India and sold many tractor models.
But none of that would be possible without one man – Rip Evans.
Evens took a promotional trailer tour around the USA from 1988 to 1994. It took over a million miles and around 140 Mahindra tractors to establish a dealership.
By doing this, Evens offered the customers a one-on-one meeting with a trailer full of Mahindra tractors.
He was sure this was either going to be a hit-or-miss move, but luckily, America went crazy over Mahindra tractors!
By 2010, Mahindra had become a top-selling tractor company and beat the competition to the core.
In the following years after the expansion to the US market, the tractor company received numerous awards such as the Japan Quality Medal and Deming Application Prize.
The company was then established in Tomball, Texas, as it was among the largest tractor markets in the US.
But, after the outstanding success in the US, the company continued to expand its distribution centers in Pennsylvania, Kansas, Tennessee, Arkansas, and California.
Where Are Mahindra Tractors Made?
Mahindra tractor company was first headquartered in Mumbai as a portfolio company of Mahindra & Mahindra Limited.
After they had reached global success, Mahindra had developed business worldwide.
Almost all Mahindra tractors are made in India, China, Australia, and North America.
Mahindra USA has five assembly plants stationed in Kansas, Pennsylvania, Tennessee, California, and Texas.
North America marks the most success for Mahindra products. They joined the American market as Mahindra USA in 1994.
Gathered to the data of the Association of Equipment Manufacturers, Mahindra is currently the #3 tractor manufacturer in North America, while all of its sales are handled by Mahindra USA.
The brand sells eleven tractor models in North America, ranging from 19.4 to 120HP.
Although this seems low, the company has slowly but indeed increased the horsepower in their tractors sold on the US market.
Their focus is primarily on compact tractor models and sub-compact tractors.
In India, Mahindra delivers tractor models with up to 60 horsepower, but they also offer an extensive line of other agricultural products for the Indian market.
They include harvesters, planters, reapers, ballers, and front-end loaders.
Most of the more powerful models are manufactured in India as the soil required tractors that could handle the heavy workload.
As for the Mahindra, engines work with several brands, but the most recognizable are Mitsubishi and Tong Yang Moolsan.
For almost seven decades, Mahindra has been the number one tractor brand offering diesel models.
One of the things that will surprise you the most is their engines. They are highly reliable and can power vehicles up to 400 kgs.
Additionally, they can support the heavy load without getting worn out, so you will get the best performers out of Mahindra.
Why Is Mahindra a Top-selling Brand?
1. Powerful Engine
When Mahindra is mentioned, farmers usually associate it with one word-reliability.
However, the brand has been on the market's top-selling list for years now, so let's see what makes it so unique.
The brand itself has one of the best warranty deals.
To be exact, they offer up to five or seven years of warranty so you can have a sound mind on your purchase.
One of the reasons so many farmworkers opt for Mahindra is its mighty engine. It's terrific for tough jobs that require a lot of strength and reliability.
Moreover, they deliver the excellent power needed for a big or small property without wasting too much fuel.
For starters, you should know that all of the Mahindra compact tractors are made with a Mitsubishi engine for better performance.
However, it was later replaced with a petrol engine that would support Tier IV emissions standards while maintaining fuel efficiency.
The newly designed petrol engine proved to be a better solution for the workers compared cost-efficiently with the previous model.
It provided more torque power at fewer cycles per minute. In addition, the Mahindra engine allowed the tractors to be more user and environment-friendly.
The mCRD technology in the new engines improved the fuel consumption for farmworkers. Tractors using this mCRD technology can carry a heavy workload without getting overheated.
Plus, it's easier for farmers to use as you no longer have to clean the filter or spend ridiculous amounts of money on replacement parts.
Moreover, the Diesel Oxidation Catalyst will ensure you are farming on a budget! This means it meets all the fuel emission standards and respects the environment.
2. Versatile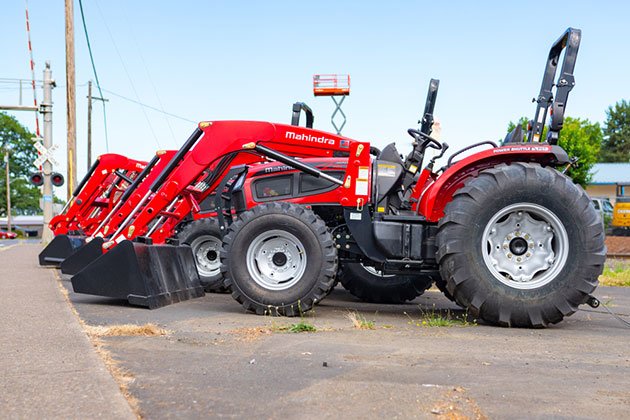 There are many good tractors, but only a few are as versatile as Mahindra.
So whether you are looking for a bit or small tractors, the one that includes Shuttle Shift or Hydrostatic drive, or even a four-wheel drive, Mahindra has it all!
It's one of the best versatile brands of tractors that accommodate the needs of every farmer.
3. Affordable Price
Although the Mahindra tractor brand uses advanced technology in their vehicle design, you can still get them for good money.
This is why Mahindra remains a top choice for most agricultural workers.
The brand is reliable and has been on the market long enough to earn the trust of many satisfied customers.
Plus, all of their tractors come with a warranty so you can have a safe purchase.
4. Outstanding Performance
Mahindra's horsepower may not be over the top, but it sure gets the job done!
For instance, a Mahindra tractor with a 25 HP can genuinely surprise you with its performance.
If you pick a loader truck with a bucket, it can serve you great for brush hogging or any other similar tasks.
Compared to Kubota or even JD, a more expensive brand, Mahindra is an excellent alternative if you are looking for a truck for loader work.
In addition, you can find various models of Mahindra tractors that will be suitable for bigger lands, smaller fields, orchards, vineyards, or even non-agricultural tasks.
Best Performing Models of Mahindra Tractors
1. Mahindra Jivo 225 DI
The Jivo series presents one of the most outstanding tractors with excellent performance. The Jivo 225 DI is a great tractor with two cylinders, a 2300 engine, and 20 HP.
Not only is it one of the top-selling tractors by the brand, but it's also affordable, so a lot of the farmers can afford the price.
This Mahindra tractor is best used in smaller farms, orchards, and vineyards.
2. Mahindra ARJUN NOVO 605 DI
This model comes with four cylinders and is slightly more powerful than the previous one.
It reaches 57 HP and has terrific gear for a heavy workload. It can perform up to 40 applications, and thanks to the mighty engine, this machine can lift 2200 kgs.
This model will best suit those with bigger farms that require a high-power machine. Mahindra ARJUN NOVO 605 DI can also be used for non-agricultural tasks.
What makes this Mahindra tractor so special is that it has low-cost maintenance and fuel consumption, so it's great if you are sticking to a budget.
3. Mahindra YUVO 575 DI
The Yuvo 575 DI Mahindra tractor comes with 45 HP and has an improved hydraulic and backup torque.
It also has a high lift capacity and up to 30 different applications ensuring you get the most of agricultural work done.
Along with the Mahindra 475 DI, Mahindra Arjun 555 DI, and Mahindra Yuvo 575, these tractors are excellent if you have a bigger field to cover.
They all come in a range of similar power, so it's possible to cover a large farm.
Competitor Brands
1. Kubota
Kubota is yet another highly recognizable tractor brand worldwide!
With headquarters in Osaka, Japan, the company makes construction equipment, farming implements, tractors, and lots of other agricultural machinery.
Unlike Mahindra, we have to say that their service is a lot better.
Mahindra often had troubles with the service and could not provide help and quick repair, while some parts were challenging to find.
However, now that Mahindra USA is in service, it's easier to get a hold of necessary parts.
Nonetheless, Kubota's service and customer support are at the top of the game.
Each piece on their tractors can be easily fixed in case of repairs which is not a common practice we see a lot these days.
In addition, you can find almost all of their parts at the dealer shop.
In terms of quality, these two brands are quite similar.
However, Mahindra is better for heavy-duty tasks, while Kubota is long-lasting and delivers lots of accessories available!
But, considering their price range sets them apart, you cannot go wrong with either of the brands.
2. John Deere
John Deere is a name you will hear a lot in the industry.
While Mahindra is a top-selling tractor brand, John Deere has higher horsepower and larger models you can choose for the job.
However, they do differ in the front-end loader.
Both of them have excellent hydraulic performers. However, the loader on the John Deere tractor is far better.
They are not tough to remove, and you will only need to dismount them once to disconnect the hydraulic lines.
If you are looking for driver comfort, we recommend John Deere as the better tractor.
The ride has lumbar support, it's suitable for both tall and short drivers, and the cab offers better visibility.
3. New Holland
Finally, we have a New Holland tractor company.
Compared to Mahindra, these tractors are not the best for heavy soil, and they often require hydraulic repairs.
However, they have great loader tractor models with high power.
Both of them deliver high-quality tractor models that perform well under heavy workloads.
Since both New Holland and Mahindra are similarly priced, it all comes down to what kind of tractor does your property requires?
Will it need a heavy-duty Mahindra, or will the New Holland be your next reliable choice?
Disadvantages of Mahindra Tractors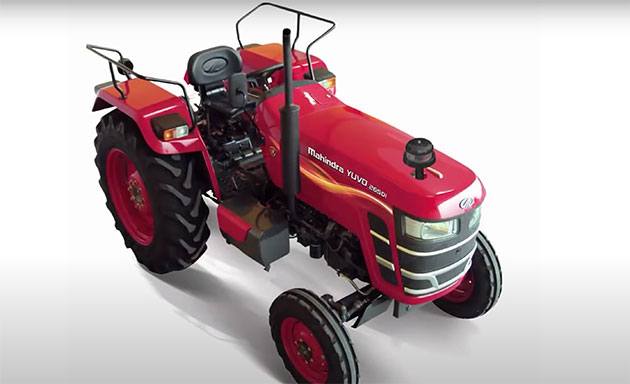 Although it's a top-selling brand, Mahindra still has a few flaws then and there.
One of the most common problems is dull implements.
Of course, this is a common problem we see with more tractors nowadays.
With frequent use comes frequent maintenance, so you must pay attention to the blades. A dealer will probably advise you to sharpen them at least twice a year.
In addition, Mahindra parts are often hard to find.
Due to the global pandemic, many dealers are experiencing problems, so it may take them a while to get a hold of the particular part that needs to be fixed.
Nonetheless, we would advise you to find a close dealership and keep in contact if your tractor parts need replacement.
FAQ's
Which is better: Kubota or Mahindra?
Both Kubota vs Mahindra are respected tractor brands that have been in the industry for a while now.
With years of experience and development, we can say that you cannot go wrong with choosing either of these brands.
However, deciding which one is the best of the two would depend on your budget and what kind of performance you are looking for.
But, if you are looking for a heavy-duty tractor built and can handle rough terrain, then Mahindra is the best choice.
However, if you need a premium sub-compact tractor, you can safely opt for Kubota.
Who makes the engines for Mahindra tractors?
All of the Mahindra engines are made by Mitsubishi and Tong Yang Moolsan.
On the other hand, almost all Mahindra tractors are made in India or China while operating internationally in ten different countries.
Are Mahindra tractors made in China?
Mahinda does make some tractors in China, but a large majority are manufactured in India, USA, and Australia.
Are Mahindra tractors good quality?
Yes, Mahindra tractors are of good quality!
They are the number one top-selling tractor brand delivering only the best products for their loyal customers.
The company has even received the Japan Quality Medal, which the Deming Prize Committee issued.
Final Words
Overall, Mahindra tractor models have an excellent reputation for being one of the finest agricultural machinery.
With the top-selling title, the Mahindra USA continues to be a primary choice of many farmers!
Whichever model you choose based on your agricultural tasks, you won't make the wrong choice.
You can get a reliable Mahindra tractor practically anywhere by offering a worldwide dealership!
Thanks to the innovative technology solution, a Mahindra tractor will allow you to get most of the job done with less cost-maintenance and more power.