Both Kubota and Mahindra tractors are two leaders in the tractor market.
Both tractor brands are exceptional, providing superior heavy-duty agricultural equipment, high-quality compact and sub-compact tractors, and other support for farmers around the globe.
Still, many farmers turn to Mahindra, while others prefer Kubota tractors.
So, Mahindra vs. Kubota – who will take the crown? Find below.
Mahindra vs. Kubota: Our complete 2022 comparison
1. Two tractor brands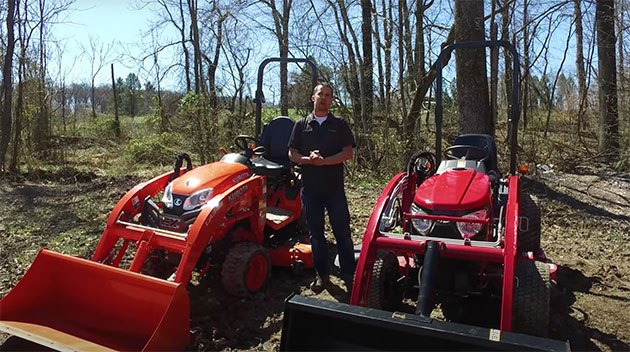 Although both brands come from Asia, they are not the same manufacturers. Here are the differences.
Mahindra is the most famous Indian vehicle manufacturer and the world's largest tractor manufacturer. It's a subsidiary of Mahindra, and Mahindra Limited is the leading corporation.
Mahindra was established in India in 1963 & they have manufactured different tractors and following tractor equipment for the USA, China, and Australia,
In addition, the company also has its bases in Serbia, Syria, Africa, South America, Asia, etc., so it's a global tractor brand.
They are outstanding in producing global engines, backhoes, loaders, and similar tractor equipment to satisfy the customers.
On the other hand, Kubota tractors are produced by the Kubota Tractor Corporation, founded in Osaka, Japan, in 1890. But, globally, they started making tractors in 1960.
Thanks to their tractor dealers, Kubota has an extensive dealing network in the USA, including Kansas, Georgia, Ohio, California, and Texas (with headquarters).
To satisfy farmers worldwide, their goal is to create and produce multiple tractor equipment, including powerful engines, backhoes, loaders, and similar agricultural equipment.
Both tractor brands are dedicated to producing multiple agricultural machines and other following equipment to help farmers.
But, to narrow down our contrast, we have picked the most popular tractors and compared them. And, who's better? Let's see?
2. Kubota or Mahindra – Compact tractors
We will compare the famous Mahindra eMax 25S HST and the Kubota BX2670 small tractors to portray the similarities and differences.
The two brands both offer small, compact tractors, without cabs, for residential-size applications.
Compact tractors are ideal for mowing, dirt shifting, and maintaining plots of land of five acres or smaller areas.
The Mahindra eMax 25S HST tractor is manufactured in South Korea. It's the smallest in the Mahindra eMax series.
It's a re-badged tractor produced by the famous Tong Yang Moolsan – TYM.
The compact tractor is ideal for maintaining a 1-5 acre property due to multiple rear tractor attachments available.
In addition, the Mahindra eMax small tractor is standard in size, with a three-point hitch, operator comfort features, and a drive-over mower.
Concerning Kubota, its BX2670 tractor is the most prominent model in the Kubota BX tractor series.
The compact tractor utilizes outstanding versatility and power, so it's excellent for residential use.
Of course, the Kubota tractor also provides a powerful 3-cylinder Kubota engine. In addition, it includes a three-point hitch, foldable ROPS for storage options, and hydraulic power steering.
The BX Series sub-compact tractors are multifunctional machines that tackle multiple heavy-duty and lighter yard and garden projects.
The 4WD Kubota machines provide enough traction for hauling, climbing, etc.
Of course, you can also check other tractor series – Kubota L Series, Mahindra 4500 Series, etc. to find their engine, attachments, and similar equipment, including the front axle, etc.
3. Kubota or Mahindra – The construction
You have seen John Deere vs. Mahindra comparison, so here's the same model – many differences are comparing Kubota and Mahindra small tractors.
The Mahindra eMax 25S HST sub-compact tractor is made of solid steel components.
You've seen it in contrast with John Deere machines, and we said that JD tractors would last longer.
Regarding Kubota and Mahindra tractors, the Mahindra machine is heavier than the Kubota tractor.
However, the Kubota tractor is cast aluminum, tough steel, and plastic components.
Although it might not be as heavy as the Mahindra tractor, Kubota makes more durable machines. How?
Mahindra tractors are prone to rust, corrosion, and fading, whereas Kubota tractors cannot damage so soon. So, the overall construction is advanced in Kubota tractors.
Another difference is the operator's seat.
Since the Mahindra's station is made of metal elements, the Kubota tractor utilizes plastic parts, console, and other parts in the operator's station.
It's not a big deal, as it doesn't affect the functionality of the two tractors, but you should remember it for the overall design and mechanism.
We will let you decide what suits you best.
4. Kubota or Mahindra – Engines
Both Kubota and Mahindra provide powerful tractor engines, suitable for numerous heavy-duty farm projects and similar operations.
However, Kubota tractors utilize a more powerful tractor engine, with a more gross horsepower and a slightly bigger PTO horsepower.
In addition, Kubota is a globally famous manufacturer for its non-automotive multi-cylinder diesel engines.
As you'll notice, the Kubota tractor offers 19.5 PTO horsepower at 3200 RPM, while the Mahindra engine offers 19.3 PTO HP at the unspecified RPM.
In addition, the Kubota BX tractor offers 25.5 HP of maximum engine power at 3200 RPM, whereas the Mahindra engine utilizes 24 horsepower at 3000 RPM.
So, in terms of the engine power and strength, Kubota wins over Mahindra.
Kubota provides a custom-built engine. Kubota makes its tractor engines patterned with other manufacturers, such as Mitsubishi.
This is a crucial factor, as if something goes wrong, you can quickly solve the issue due to the original Kubota engines.
Unlike the Kubota tractor brand, Mahindra tractors have different engines, partnered with Mitsubishi, Tong Yang Moolsan, or other foreign manufacturers.
It's critical to examine the engines and their parts to find suitable spare parts and replace the machinery quickly.
Various models will offer similar but still different features, so examine the models thoroughly.
It's not that the Mahindra engines are not powerful; it's just that your mind will be at peace if you use original Kubota manufacturing engines.
Besides, they offer more power and more substantial potential for multiple tasks. So, in the second Kubota vs. Mahindra round, the winner is again Kubota.
5. Kubota or Mahindra – Pedal placements
Kubota and Mahindra are great tractors, but they provide different pedal placements.
Mahindra tractors utilize the traditional side-by-side pedal placements. Therefore, if you're a newbie, it will be easier to operate the Mahindra machines.
Contrary to the Mahindra tractor brand, Kubota tractors provide a treadle pedal, offering more floor space, but many farmers complain it's awkward to drive such Kubota machines.
Again, you choose the right tractor brand according to your preferences, but simplicity over wins over complexity. Therefore, we give our vote to Mahindra.
6. Kubota or Mahindra – Comfort & ergonomic benefits
When mowing your four-acre properties, comfort benefits are crucial for longer work hours and reduced pain and fatigue.
Both tractor manufacturers offer exceptional tractors to make you less stressed, but there's a small hack.
Cab option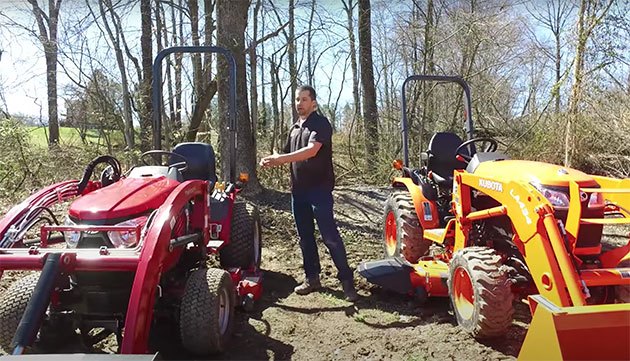 While both Mahindra eMax 25S HST and Kubota BX2670 tractors come standard, without cabs, Mahindra is slightly offering a cab option. So, the tractor offers premium comfort benefits.
Unfortunately, the Kubota manufactures tractors without cabins in the BX Series, but you could probably find an aftermarket cab if necessary.
Comfort features
Both tractors offer the cruise control feature to reduce exhaustion after a long and tiring day in Kubota vs. Mahindra comfort.
The Kubota tractor comes standardized with armrests and exclusive lumbar support, while Mahindra doesn't have this option.
But the Mahindra tractors have the suspension seat on the flip side, while Kubota tractors don't have this option.
Convenience
The Mahindra tractor brand provides the fuel tank at the front of the tractor, while the Kubota tractor brand places its fuel tank underneath the operator's seat.
In addition, the Kubota tractor provides ergonomically-designed joystick controls for more comfort. Simultaneously, Mahindra offers awkwardly placed joystick controls.
This might be an issue if you use the tractor for longer work hours. But, you may want to test both machines to find the best machine.
So, in terms of overall comfort and ergonomics, Kubota is better. However, in terms of the suspension seat and cab option, Mahindra is the right tractor brand for you.
Regarding the fuel tank options, both Mahindra and Kubota tractors provide the same operating fuel, 6.6 gallons.
7. Kubota or Mahindra – Tractor specifications
What happens in our next Kubota vs. Mahindra round? Let's see.
Weight
Thanks to its heavier and sturdier design, the Mahindra eMax 25S HST tractor weighs more than its Kubota BX2670 counterpart.
The Mahindra loader weighs 1609 pounds (730 kg), while the Kubota tractor weighs 1466 pounds (665 kg). So as you see, Mahindra outweighs Kubota by 65 kg – 143 pounds.
It might not be such a big deal, but it's crucial to the impact forces and pressure on your lawn, garden, and similar properties.
Lift capacity
The Mahindra eMax 25S HST tractor advances the Kubota tractor's lift capacity since its maximum potential weighs 419 kg – 924 pounds.
The Kubota tractor offers the maximum lift capacity of 310 kg – 683 pounds.
However, the Japanese tractor brand has a 4-point mounting system to attach and detach the tractor attachments without additional tools.
Unfortunately, India's tractor brand doesn't have this option, so you might need extra tools to connect and detach multiple tractor attachments.
Additionally, the Kubota tractor brand offers more compact dimensions than its counterpart,
The tractor will be more maneuverable, easier to operate and improve access in tight situations and properties.
So, in terms of more compact dimensions & overall tractor specifications, the Kubota tractor brand beats Mahindra. And many farmers find it better.
Regarding prices, both companies offer somewhat similar prices for their machines. You can examine the MSRP or find their prices on the official websites.
However, the costs may vary due to multiple factors, such as:
But, it would be best to find your local dealers and make inquiries to find the possible extra cost for the loaders.
The Kubota USA dealership offers instant guidelines to find your best options. But, please, confirm prices with the dealers, as the conditions the companies offer may vary.
The customer support Kubota offers is also exceptional in all countries they produce agricultural equipment and loaders.
Thus, in the USA, Kubota has more than 1,100 authorized dealers.
On the other hand, the Mahindra manufacturer doesn't have as many dealers as Kubota does, so you will have to put more effort into finding the best solutions.
There are approximately 500 Mahindra dealers across the USA, so it would help to find the official dealership networks near you.
But, what are the prices?
The Mahindra eMax 25S HP tractor has an overall price tag between $14,750 and $25,000. And the average price of the loader is $19,850.
On the other hand, the Kubota BX2670 loader costs from $19,500 to $23,000. And the average price tag the loader offers is $19,750.
As you see, the two leaders have almost similar price tags; the difference is only $100.
But, Kubota is famous for its loyal customers and numerous dealers. So, it might be better to pick it as the better tractor brand for your peace of mind.
You can easily find all tractor equipment – attachments, engines, backhoes, and similar units quickly and replace the necessary parts effortlessly.
We're not saying that Mahindra equipment won't be as quality as Kubota, NO!
But, it might be challenging to find the necessary parts so soon, and you'll have to put much effort into the process.
9. Kubota vs. Mahindra – Customer support
Mahindra has improved its customer support quality in the past few years. In the past, it was challenging to find suitable tractor parts easily.
Nowadays, it's much quicker to find reliable tractor parts and contact the authorized dealer network.
They will provide you with the best and quickest guidelines to solve your equipment on time.
On the other hand, Kubota's customer and technical support are pretty outstanding. The employees are very well trained to fix your issues on all tractor models.
Both competitors will provide precise info about warranty periods, maintenance, operator guides, seasonal questions, and tips.
And if you have issues with finding the authorized dealer near you, the technicians can direct you to multiple third-party supplies.
Such a network will specifically answer all your questions and provide complete support.
10. Kubota vs. Mahindra – Outscoring
This is an essential criterion when deciding between the two competitors.
Although many farmers agree the final decision should be made according to one's preferences and needs, others don't quite agree.
The main issue here is whether you can or can not get the necessary equipment quickly and if the equipment is reliable.
Kubota produces all parts by themselves, so all components are original, with precise warranty periods and other following details.
However, Mahindra works in teams with other tractor manufacturers so that some parts won't have their original stamp.
This means it might be challenging to find all corresponding parts quickly, even through the dealer networks, because it's demanding, and you must know all the details.
So, Kubota seems more reliable in terms of original parts, and it's quicker in problem-solving features.
We still vote for Kubota but don't listen to use. It's up to you to choose what you like more.
Alternatives?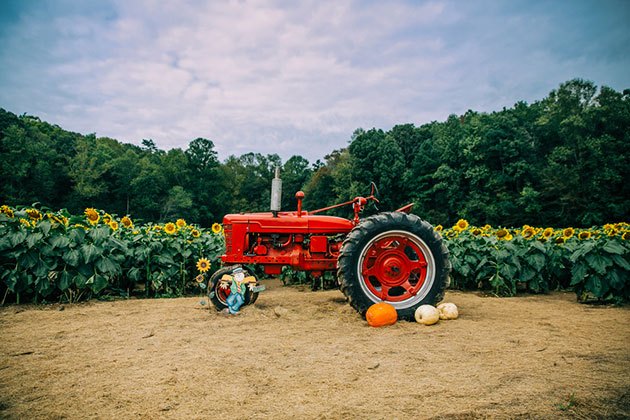 BIG YES!
You can check the Kubota L3301 model and the Mahindra 1533 Series. The L3301 reaches the speed of 14.1 mph, while the 1533 reaches the rate of 11.9 mph.
In many commercial applications, higher speeds equal better productivity, so the Kubota 3301 machine wins.
Regarding the overall size, the Mahindra 1533 again weighs more than the competitor L3301, so it might not be the best option for the smaller and tighter areas.
Kubota is more flexible and adjustable.
Finally, the Kubota equipment smashes its opponent in terms of safety benefits.
The safety system on Kubota machines automatically turns off the engine when the operator leaves the seat while the tractor is moving with the engaged PTO.
Unfortunately, the Mahindra 1533 tractor doesn't have this benefit, so the Kubota L3301 is the ultimate winner of the comparison.
Frequently Asked Questions
Is Mahindra as good as Kubota?
Well, both competitors are famous for their quality and long-lasting machines. However, Mahindra is the absolute favorite, especially with their older tractors.
However, Kubota machines offer the smoothest operations, maximum comfort, and safety systems. And, they're known as the best tractors for the money.
So, although it's a savage battle, Kubota tractors might be slightly better in terms of overall quality and multi-cylinder diesel engines.
Are Mahindra tractors made in Japan?
No! Mahindra is a submissive tractor brand to the main Mahindra and Mahindra Limited company. This is the largest tractor manufacturer in India.
They were established in 1963 in India. But, they use engines from Mitsubishi and other foreign manufacturers.
How many hours do Mahindra tractors last?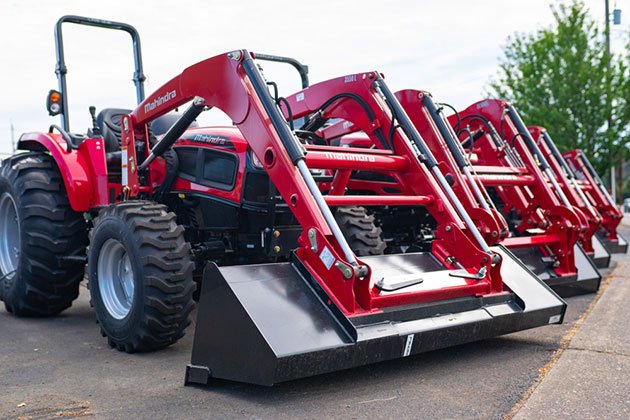 The Mahindra equipment will offer numerous work hours depending on the years and conditions.
So, you can find multiple models with less than 300 hours to those with 500, 600, 700, or even more than 1,000 hours (1,100 or 1,200 hours).
But, please examine the manufacturing year and the working conditions to prolong their hours.
Is Mahindra as good as John Deere?
Unfortunately, no, it's not.
John Deere tractors are far more advanced than Mahindra machinery in all factors: quality, design, comfort, ease of use, operator comfort, reliability, performance, etc.
You can refer to our Mahindra vs. John Deere article to find what benefits Mahindra lacks.
However, the greater the quality means, the more significant price, so John Deere beats Mahindra even at this point.
Of course, we are not underestimating Mahindra – you get what you pay for, and their tractors are exceptional for multiple operations.
But almost none of the competitors can approach the JD models.
Mahindra vs. Kubota – Who's the winner?
So, what's your final decision? Will you go to Japan or India? Mahindra vs. Kubota?
To sum up, we'll say that both tractor brands are leaders in the market, and whatever choice you make, you cannot go wrong.
It's only your needs and preferences that determine the final winner.
We would go for Kubota for overall quality, yet Mahindra is more than a supreme option. So it's tough, even for us, to decide.