One of the best investments you can make for your farm is a tractor.
However, they can be quite expensive, and choosing a suitable model can sometimes be challenging.
How can you be sure you have picked the best tractor for a small farm with the various categories and subcategories?
Well, this is where I step in and help you out in your time of need!
You don't need to splurge on your budget or make the mistake of getting a cumbersome tractor when the field size does not require one!
Let's dive straight into and see what you should be looking for in small farm tractors, as well as see what top models of the best tractor for small farm you can choose from.
Our Favorite Tractors For Small Farm – Overview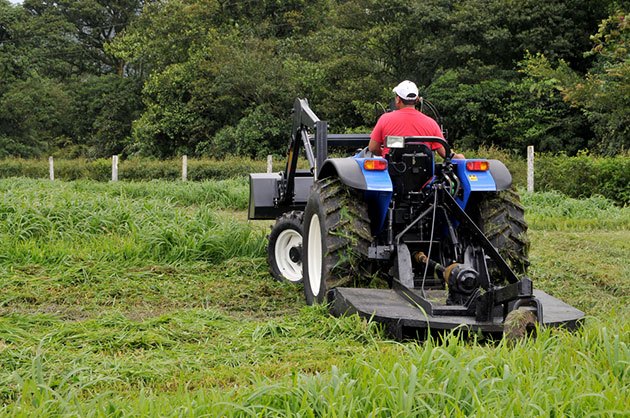 $$$ – John Deere 2025R
One of the best full-size tractors by John Deere for a small farm, it's easy to operate and offers comfort for the driver, thanks to the three-point hitch, you can attach a variety of implements.
However, the hitch does not have the best lift capacity. Horsepower: 23.9 HP
$$$ – TYM TS25
Best small farm tractor with incredible power and versatile use includes customization features, easy to maneuver and steer. Horsepower: 25 HP
$$$ – Iseki TXGS24
Easy to use and steer on a small farm, robust design with a powerful engine, great for a smaller property. Horsepower: 23 HP
$$$ – Mahindra eMax 20S HST
One of the best sub-compact tractor models on the market for a smaller farm; it's easy to operate thanks to the four-wheel drive and is packed with features necessary for pull and lift actions.
Not suitable for rough terrain. Horsepower: 10HP
$$$ – John Deere 1025R
One of the top versatile tractors for a small farm, easy to steer and maneuver, includes a powerful diesel engine, but the price is too high for those with tight budgets. Horsepower: 23.9 HP
$$ – Kubota BX1880
Best bang for a buck, performs well in all terrains, and has a terrific lift capacity, the size is small, so it can safely be stored in a garage when not in use, a comfortable seat for the driver. Horsepower: 18HP
$$$ – MASSEY FERGUSON GC1700
One of the best tractors for delivering the perfect cutting results on the lawn, suitable for performing various landscaping tasks. Horsepower: 22.8 HP
The Best Tractor For Small Farm: My Top 7 Models
Brand: John Deere
Engine: Yanmar 3TNV80F-NCJT
Horsepower: 23.9 HP
Power source: Gas-Powered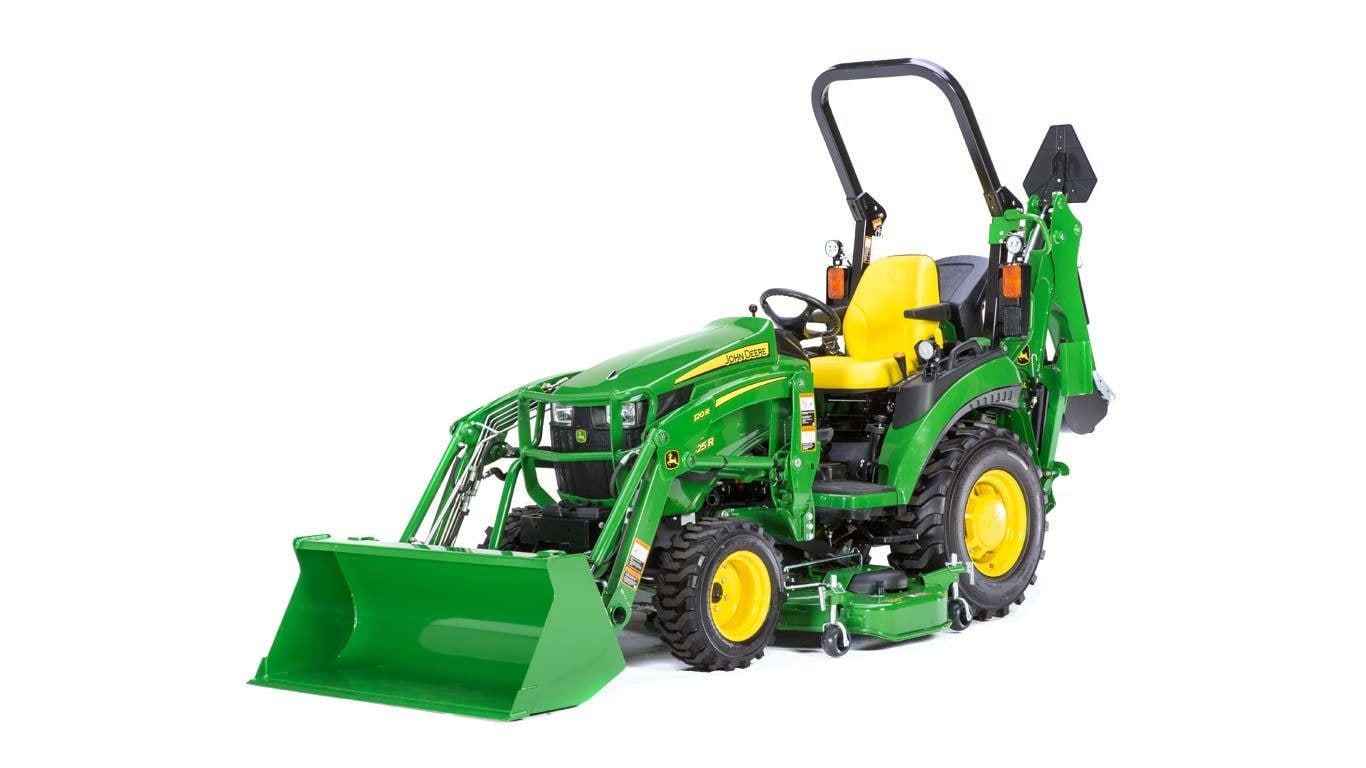 Let's begin with one of the best compact tractors from John Deere.
The 2025R farm tractor offers the users ease of use, maneuverability, and incredible power for a small property!
Many compact tractors will usually lack one or two features, but John Deere has it all!
Let's check it out.
Starting with the safety and user-friendly feature, the John Deere tractor includes TwinTouch footswitches.
It's easy for the operator to change speeds with a light touch. Thus, it reduces fatigue if you work all day in the field.
With the help of swift directional changes, the tractor is easy to maneuver in narrow spaces.
In addition, the 2025R offers complete comfort for the driver.
It has a wide array of features the driver will appreciate, such as standard cruise control, a comfortable seat with armrests and suspension, and rubber mats that reduce vibration.
One of the best features of this full-size tractor is the powerful engine.
A durable high-torque three-cylinder diesel engine powers it. The 2-R series also includes hydrostatic transmission.
But, what makes this tractor for the small farm so special is that it includes a three-point hitch that makes switching between implements effortless!
You don't need tools to do the switch, so you can easily attach blades, brooms, snow blowers, grapple, a front loader, and many more!
In addition, you can attach mid-mower, loader, and rear-hitch attach implements simultaneously!
All in all, this is one of the best compact utility tractor models for a small or large farm. It's versatile, great for hauling material, and is easy to maneuver on all terrains.
Pros
Excellent visibility in the cab
Equipped with a diesel engine
Easy to operate
Reduced vibration
Cons
The three-point hitch does not have the best lift capacity
2. TYM TS25 – Best Small Design With Incredible Power
Brand: TYM
Engine: Tier 4 Yanmar diesel engine
Horsepower: 25HP
Power source: gas-powered
The TYM TS25 is a Trojan Horse among tractors!
This compact and small design hides a lot of power and delivers excellent performance.
Not all tractors this size will provide such magnificent power on the field, which is why we picked out TYM TS25 as the best powerful compact tractors.
For starters, the farm tractor is powered by a diesel engine, so it delivers more incredible power than most mid-size tractors on the market.
In addition, the hydrostatic transmission offers a variable speed range and power steering for ease of use.
If you tend to work all day in the field, you must get the right tractor to make you feel comfortable.
Unfortunately, older tractors usually did not have fancy features modern-day tractors have, such as an ergonomic seat and AC units.
One of the reasons many farmers will love this tractor for small farms is that you can customize the cab.
So, you can add an AC or even protect the cab from sun rays and rain, which can result in rust.
Although it looks small, the TYM TS25 is designed to perform most tasks on small farms. Its design is heavier than most small tractors due to the added weight in the driveline.
Thanks to this, the tractor can pull and lift heavier loads, haul materials and perform daily tasks on a smaller farm.
There are also several options included in this tractor, such as an easy to detach backhoe, mid-mount mower deck, front to end loader with a hitch, and a self-leveling bucket.
The power take-off is electrically controlled, so it's easy to operate with a single button.
Pros
Mighty engine
Compact design great for small farms
Versatile
3. Iseki TXGS24 – Best Tractor For Beginner Farmers
Brand: Iseki
Engine: Diesel engine
Horsepower: 23 HP
Power source: Gas-powered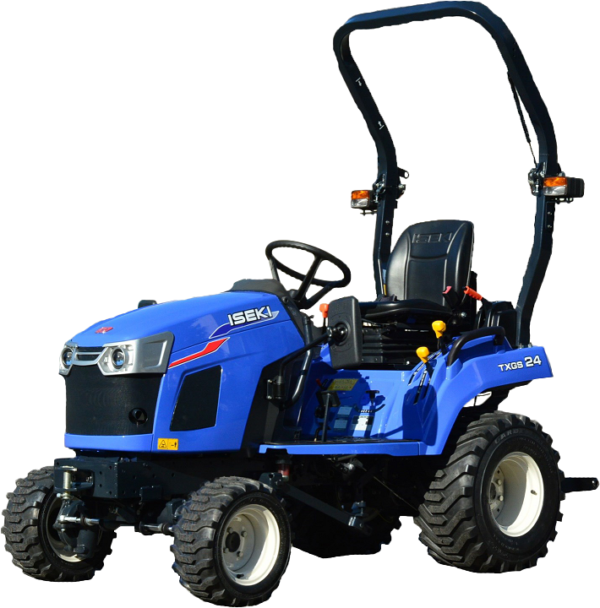 Let's tell it how it is. Farm tractors are one of the most expensive farm equipment vehicles!
If this is your first time purchasing a new tractor and is looking for a reliable yet not a too expensive model, this one is perfect for you.
The Iseki farm compact tractor is one of the best small farm tractor models you can get while on a budget.
However, although it's compact and small-sized, it still includes a powerful diesel engine that's great for smaller farms and properties.
Let's begin by discussing the platform on the Iseki compact tractor.
It's easy to climb onto, and it has a flat operating station, suitable for tall and short drivers.
All of the operator controls are easy to use and straightforward, so this might as well be your best option if you are a beginner.
Thanks to the four-wheel drive, it's user-friendly and easy to manoeuver on smaller properties.
But, don't let the small and compact design fool you! This is one of the best tractors that are small yet powerful.
The Iseki compact tractor comes with a 23 HP engine suitable for various tasks on a small farm.
Plus, you can attach multiple implements to the Iseki compact tractor to perform general farm tasks. Moreover, the robust design will allow for heavy-duty operations.
The compact tractor comes with turf tires, so they won't cause too much pressure and damage to your lawn like larger tractors usually would.
Lastly, the Iseki tractor is the best pick for those who want a compact tractor that is easy to use and control on a small farm.
In addition, its premium operator station makes it the perfect model for beginners!
Pros
Affordable price
Turf tires
Easy to use
Large mower deck
Brand: Mahindra
Engine: 3 cylinder Yanmar engine
Horsepower: 19.4
Power source: gas-powered
Next up, this is one of the best subcompact tractors models for a small farm.
Mahindra is a big name in the tractor manufacturers industry, so it's only fair we review one of its most popular sub-compact tractor models for a small farm.
Although it's mini-sized, the Mahindra eMax 20S HST sub-compact tractor is powered by a 3-cylinder Yanmar engine that delivers power for basic and challenging farming tasks.
As one of the best tractor brands in the market, Mahindra tends to make their tractors both efficient in the field and comfortable for the driver.
It has a deep and plush seat with armrests that can be folded down and a retractable seat belt.
The model is available in two versions, and you can get either the one with a fully enclosed cab or an open one.
Nonetheless, both models have a hydrostatic transmission, and the engine generates 14. 2 power take-off.
For those really hot summer days you spend in the field, there is a cupholder on the side so you can store your refreshing beverage.
Most of the customers noticed the only issue with this Mahindra sub-compact tractor is that it's not the best for rough roads and hilly terrain.
However, this sub-compact tractor will serve you just fine for light work on a small farm. Just be careful not to exaggerate with the heavy load.
What you will love the most is the best in class turning radius of the Mahindra small tractor.
With the help of four-wheel drive, this small farm tractor is easy to use, pull and lift other implements you need for agricultural tasks.
Pros
Four-wheel drive
Easy to use
Perfect for small lands
Comfortable driver seat
Cons
Not suitable for rough terrain
5. John Deere 1025R – Best Versatile Tractor For Small Farm
Brand: John Deere
Engine: diesel-powered
Horsepower: 23.9 HP
Power source: Gas-powered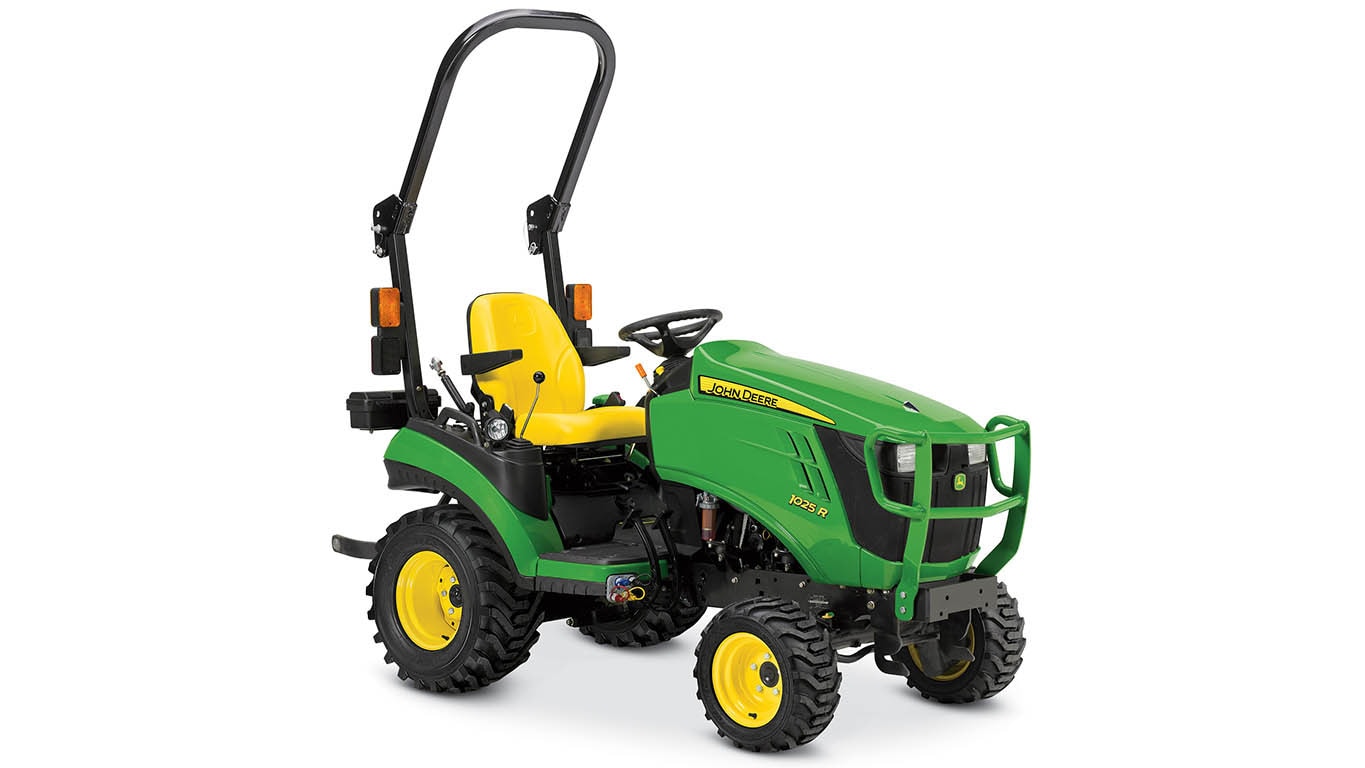 Here we have another sub-compact tractors model by John Deere.
This is the 1025R farm tractor, so if you like our previous John Deere model, chances are you are going to love this one!
We have gathered from multiple positive customer reviews that make this John Deere one of the best small farm sub-compact tractors on the market! How is that?
Well, because of its powerful engine and robust design, the tractor can perform multiple landscaping tasks that usually require larger tractors.
However, the 1025R handles the heavy workload by itself! One of this tractor's best features is the easy switch between implements.
Most compact tractors and sub-compact tractors will require the help of another person to take off or put on an implement, but not this one.
The John Deere sub-compact tractor allows you to take implements on and off without even getting off the tractor.
Many compare it to the E series by John Deere, but let me tell you, it's nothing like that.
This tractor is much lighter and easy to maneuver on a smaller field.
Thanks to cruise control, you can steer the tractor in any direction you would like without too much hassle.
But, considering the E series is practically similar to the R one, minus the cruise control, it might be an excellent affordable alternative.
One of the most impressive features the 1025R tractor offers is the high horsepower rating of 23.9.
John Deere tractors can handle anything from light garden work to heavy-duty tasks with diesel engines. This is why we value this model so much; it's versatile yet so compact!
Pros
Easy to steer
Lightweight yet powerful
Tier 4 diesel engines
Includes cruise control
6. Kubota BX1880 – Best Budget-Friendly Sub Compact tractor
Brand: Kubota
Engine: Diesel-engine
Horsepower: 18 HP
Power source: Gas-powered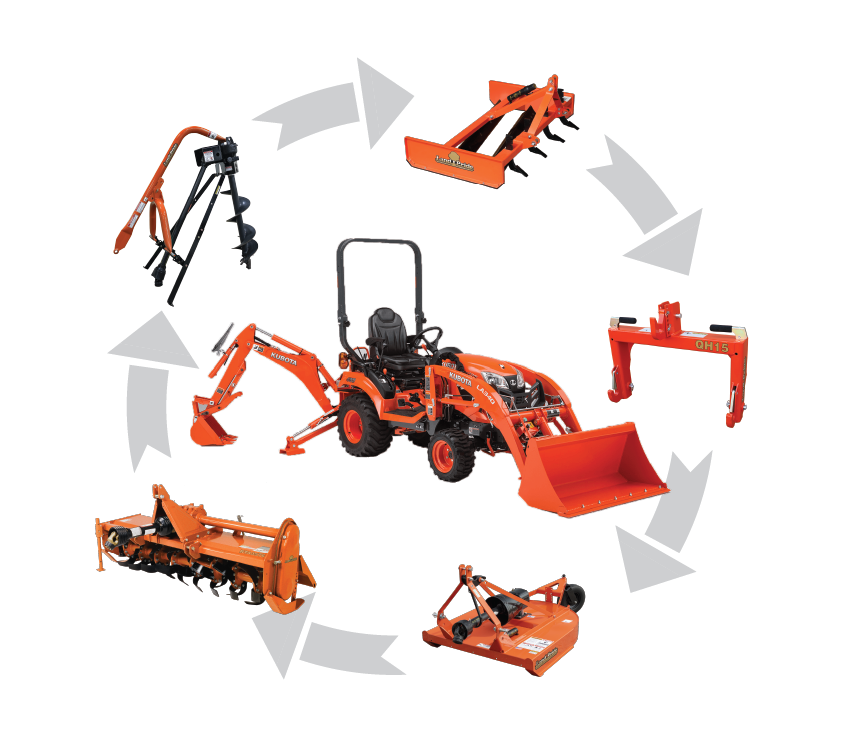 If you are tight on budget, Kubota comes to the rescue as the best budget-friendly tractor for small farm businesses!
Moreover, among the Mahindra eMax series, Kubota is one of the best sub-compact tractors in the 2022 market.
Working all day on the farm can be exhausting, mainly if you perform most tasks alone.
Well, you know when you are in a situation where you need to switch between implements, and there is no partner to help you out?
If this is a frequent cause, you no longer have to worry about Kubota's lack of physical strength.
Thanks to the Swift-Tach loader technology, removing the front-end loader in under a minute just by pulling the lever is simple.
That's right! You don't even have to leave the operator's cab to do so.
Speaking of the cab, comfort goes a long way with this sub-compact Kubota tractor.
Most tractors focus on internal power delivery and less on the operator's comfort. Luckily, that is not the case with Kubota.
The seat is spacious and nicely padded, and it includes armrests for ultimate comfort.
Don't be fooled by the petit size of the Kubota, either. This tractor has a fantastic lift capacity of 680lbs and up to 739lbs in the front loader.
The implements and attachments can be attached to the power take-off either in the back or the middle.
Kubota also comes with a four-point hitch so that you can hook on various attachments.
All in all, this is one of the best tractors you can get for a budget-friendly price. It's versatile and performs well in the field; what more can a farmer want?
Pros
Affordable
User-friendly features
Easy to switch between implements
Comfortable
Brand: Massey Ferguson
Engine: Iseki diesel engine
Horsepower: 22.8hp
Power source: Gas-powered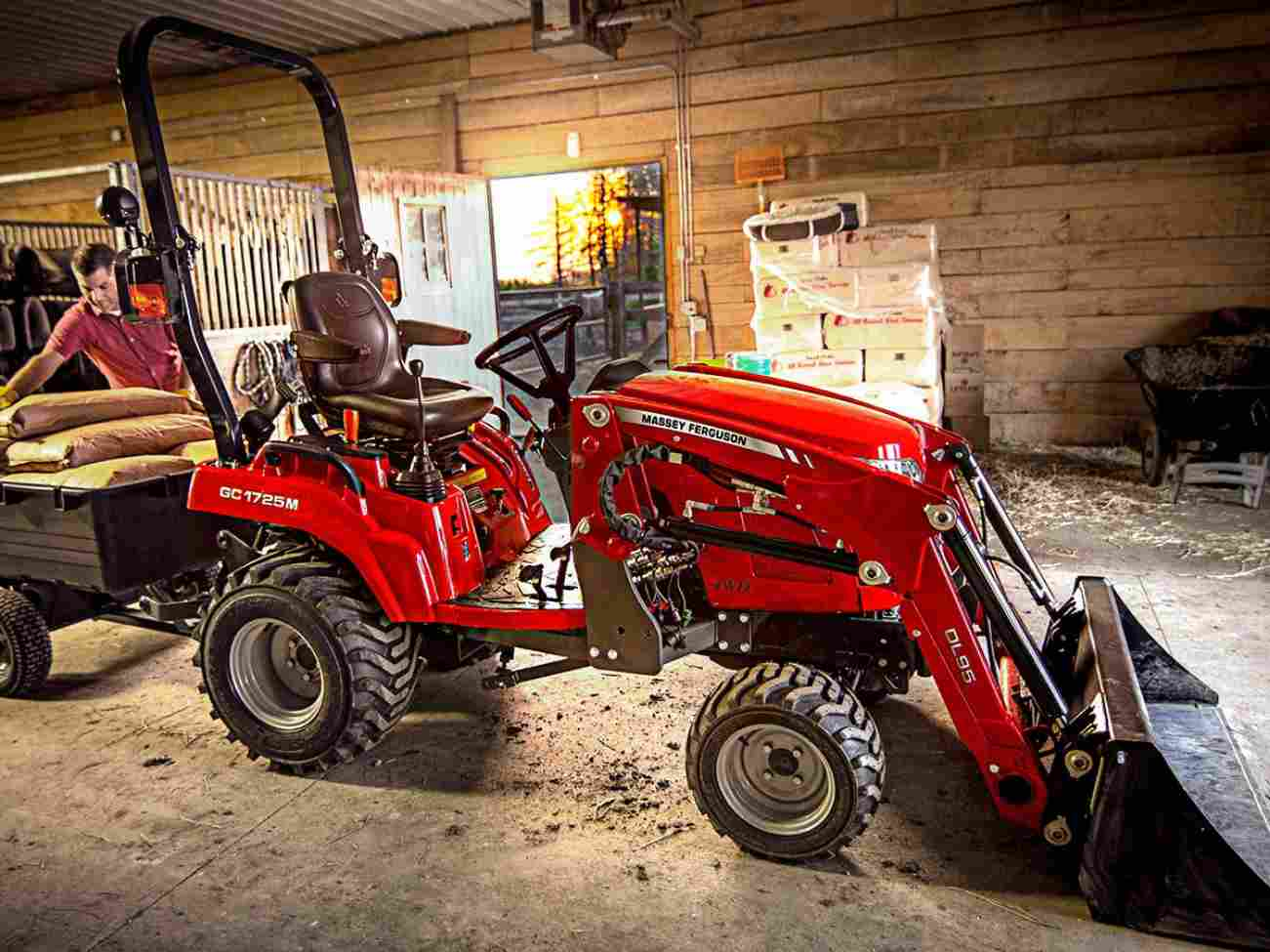 Massey Ferguson, GC1700 series models, have been around for quite a while now.
However, these sub-compact tractors are available in four other models, and they all vary in their horsepower ratings.
Who will like this tractor?
The manufacturer himself says that the GC1700 series are excellent as lawn tractors, loaders, and snowblowers.
Thanks to the independent rear and mid-mount PTOs, you can perform more than one task on the farm.
If you are short of time to get more work done, this tractor is the best choice!
With the GC1700 series, you can take on farm tasks such as hauling materials, landscaping, simple garden maintenance, or even construction projects.
What's unique about this Massey Ferguson series is that it offers a flat and easy-to-enter deck.
The new and improved seat quality will make your long day at the field much more manageable now that you are properly supported.
In addition, the entire operator station has been upgraded and improved for ease of use.
By that, the driver can easily switch between a simple lawn tractor to an all-mighty sub-compact tractor in no time!
Furthermore, all the controls, pedals, and levels are easy to reach, no matter if you are a short or tall driver.
What amazed us the most was how this Massey Ferguson delivers excellent cutting results on a lawn.
It comes with a 10-gauge steel full-floating deck that delivers a neat and defined cut every time!
Plus, the spindle assemblies are all made of cast iron, so they have ensured durability.
To sum it up, the Massey Ferguson tractor is the best small farm tractor if you are looking for a versatile vehicle from a trustworthy brand.
Although it shows the best results as a mower, the tractor also serves multiple landscaping jobs.
Pros
Powerful engine
Great cutting performance
Easy to use
Buyer's Guide to the Best Small Farm Tractor
When buying a tractor for a small farm, there are a few things you need to consider first.
To be honest, you will not be looking for the same features as you would with full-size tractors since these smaller models are often quite different.
1. 4WD
For instance, make sure you pick the tractor with a four-wheel drive.
Although this feature is quite common among modern tractors, a few models in the market still do not feature it.
Almost all smaller tractors will have a 4WD, preventing slippage!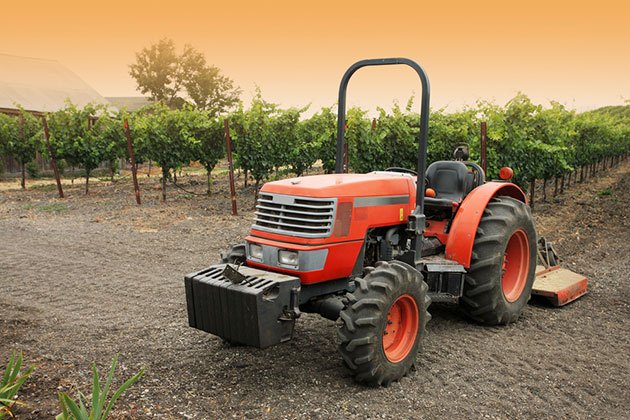 Next, you should identify what the tractor will use the most. For example, will it be much for lawn work, or do you plan to attach implements to it?
For instance, if you plan on using the tractor for mowing the lawn, it's best to choose the one with turf tires.
But, if you are planning on using it for agriculture tasks, get the one with a high horsepower rating so you can attach various implements and get the job done!
3. Find a Close Dealership
Getting a tractor for a small farm is still quite the investment as high-priced models are out there.
Don't get ahead of yourself by picking a foreign brand that does not have a close dealership.
Tractors often encounter issues that require a quick fix, so it's in your best interest to pick a dealership close by.
4. Compact vs. Sub-compact Tractors
Compact tractors are mainly used for light landscaping jobs such as garden maintenance, mowing, animal management, slow clearing, etc.
They can also carry heavy loads as long as the weight restrictions, but they serve well in almost all terrains.
These compact tractors will allow you to perform the task much quicker and hassle-free. They have great capacity, big buckets, and go over smoothly.
In addition, they can work with a three-point hitch by allowing you to attach various implements to it.
On the other hand, sub-compact tractors resemble larger tractors by power and performance. But, they are very similar to compact tractors, so they combine the best of both worlds.
In addition, sub-compact tractors will typically take up less space, so they are a great choice if you struggle with storage.
Most of them will have a four-wheel-drive diesel engine and will perform their best in the field.
However, if you are looking for the ultimate comfort, we suggest you choose sub-compact tractors.
They offer operator comfort by including a spacious foot room, comfortable seat, fully enclosed cab with AC, smooth steering. However, it may all depend on the manufacturer.
If your farm has a few narrow spaces and awkward areas that are tricky to pass through, then getting a sub-compact tractor will be the best choice.
They maneuver much easier than compact models and are easier to steer.
However, sub-compact tractors are not a friend of rough terrain and hilly areas. They are low to the ground so keep that in mind when deciding between them.
FAQ's
What size tractor do I need for my farm?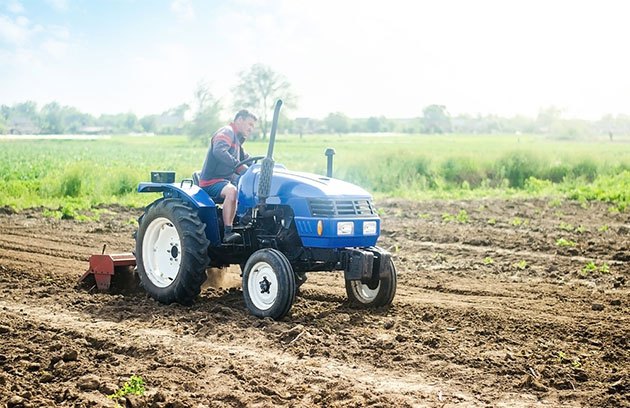 The size of the farm tractor will depend on the size of your property. For instance, you won't need a heavy-duty tractor for a small farm, would you?
If you have 5-acre property, it would be best if you choose a smaller sub-compact tractor.
You can find one of the top models from John Deere series 1. They are great for performing light landscaping tasks and are easy to store in almost all garages!
On the other hand, if you own a ten or 15-acre farm, you will need a medium-sized tractor suitable for those moderate farming tasks—compact tractors with at least 30HP work best here.
Lastly, for properties that measure more than 20 acres, you need a heavy-duty tractor that would push or pull all agricultural implements.
Here, you can find tractors with at least 250HP or more.
Which tractor is best for farming?
The best tractor for farming is the one that fits the size of your property and is ready to perform the agricultural tasks you had in mind.
From this, you can choose compact tractors, sub-compact tractors, utility tractor models, or lawn tractor models.
If you need a tractor that would pull the agricultural implements, your best option for farming would be a utility tractor.
What size tractor do I need for 500 acres?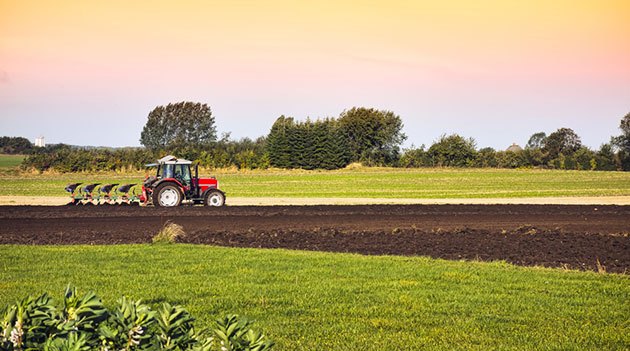 For 500 acres of land, you need a tractor that can endure heavy-duty tasks.
Meaning the tractor will need a powerful engine of at least 300HP.
Is a 35 HP tractor enough?
For light work such as garden maintenance or small farm landscaping, a 35 HP is just right.
However, suppose you plan on doing tasks that would require an immense lift capacity or the ability to pull high horsepower implements.
In that case, it's best to go with a slightly higher horsepower than 35HP.
Final Words
There you have it, folks! We have reviewed all suitable tractors you can get for a small farm.
If you want to stick to a certain budget or looking to treat yourself with the best tractor for small farm, none of these models will disappoint you.
Even though they are suitable for a smaller property, don't let their small size fool you. They are highly efficient for completing agricultural tasks!