Springtime is almost here, folks, and you know what that means. It's time you get your lawn and garden in the best shape possible!
However, if you are an owner of an extensive garden, you would know that maintaining it is no piece of cake.
Sometimes, taking care of that large property will require special tools and garden equipment, so if you need help choosing the best garden tractor, you have come to the right place.
But, if you are clueless about what you should be looking for in the best lawn tractor, no need to worry.
We have put together a guide on the top models and tips for garden maintenance and different garden tractors you should know about.
Let's step up our yard game this year!
Our Favorite Garden Tractors – Overview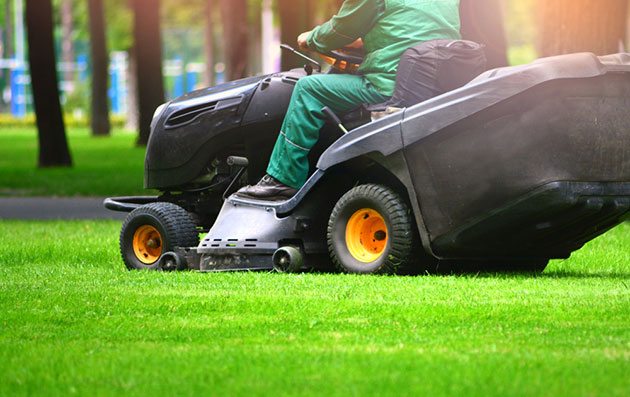 $$$$ – Husqvarna MZ61 61 in. Hydrostatic Zero-Turn Riding Mower – 770 pounds
With a large 61 inches cutting deck, this mower is best for those with bigger lawns; it comes with a robust and reliable engine.
Not for uneven slopes.
Horsepower: 27 HP
$$ – Husqvarna YTH18542 42 in 18.5 HP Hydrostatic Riding Mower – 490 pounds
One of the best riding mowers that run smoothly, are easy to drive and have a fast, automatic hydrostatic transmission.
The cutting deck is a bit smaller.
Horsepower: 18.4 HP
$$$ – Husqvarna TS 354XD 24HP Kawasaki Garden Tractor – Weight not specified
Excellent stability on uneven slopes thanks to the cast iron axles. The v-twin engine offers power for rough terrain and challenging tasks.
Tricky to gauge the fuel tank.
Horsepower: 24 HP
$$$ – Ryobi Electric Rear Engine Riding Lawn Mower – 595 pounds
One of the best battery-operated corded lawn tractors is easy to use and operate on flat surfaces
Not great for bumpy terrain.
$$$ – Craftsman 17ARFACQ091 50-Inch Hydrostatic Gas Zero-Turn Mower – 656 pounds
Allows for quick directional changes, one of the best picks for beginners thanks to the zero turning radius.
The belt tends to come off.
Horsepower: 24 HP
$$$ – Ariens IKON XD-52 24HP Kohler Zero Turn Lawn Mower – weight not specified
Easy to operate in almost all terrains, especially on wet grass. Comfortable seating area for the operator, and excellent traction
Expensive.
Horsepower: 24HP
$$$$ – Ariens IKON XD 60 inch 23 HP – 847 pounds
A top model for bigger lawns thanks to its big mower deck, runs smoothly, and is easy to operate with a reliable Kawasaki engine.
Horsepower: 23 HP
$$$$ – Simplicity 2691337 Broadmoor Mower – 832 pounds
One of the best heavy-duty garden tractors with hydrostatic drive and tuff torq transmission, it has unique features beneficial for the operator's comfort.
Pricy.
Horsepower: 25 HP
Best Garden Tractors on the Market: Top 8 Picks
1. Husqvarna MZ61 61 in. Hydrostatic Zero-Turn Riding Mower – Best Lawn Tractor
Brand: Husqvarna
Cutting Width: 54 inches
Engine: Briggs & Stratton
Power Source: Gas-powered
If you need a good garden tractor riding mower with an extensive mower deck, then this is your perfect pick!
This is a heavy-duty garden tractor with a fantastic build, and it will surely impress you with its design and performance.
The Husqvarna mower is made from 11-gauge steel with a large 61-inch cutting deck, made to handle bigger lawns and heavy-duty jobs.
So why is it the perfect candidate for challenging tasks?
Because this zero-turn lawn mower is reinforced at the bottom for stability and endurance.
What I like the most about this lawn mower tractor because it has several cutting height options, so mowing grass has never been easier!
You can have the desired length at all areas, thanks to 12 different cutting heights.
All of the controls are in the control panel located on the right side of the driver seat.
Oh, and guess what? You also get a cupholder!
So if you have a long day ahead of you and acres of grass just waiting to be cut, the cup holder can hold the cool beverage and save the day!
Speaking of acres, you can cut down at least 3 or 4 acres per hour with this zero-turn garden tractor.
The riding mower has large rear wheels that measure out in 6 inches. Given that, the machine has excellent balance, but it's more suited for big and flat terrain.
However, it can slide down on uneven terrain and hills if not controlled.
Those who enjoyed riding this tractor know how luxurious it feels. The tractor features a vinyl seat, armrests and along with the cupholder, you will feel like a king of the lawn!
The clipping can either be mulched as natural soil fertilizer or collected in a bag.
If you want to clear out the yard of debris completely, the second option will work the best for you.
Pros
Powerful
Large cutting deck
Reliable
Zero-turn mower
Cons
No fuel gauge
Not suitable for uneven terrain
2. Husqvarna YTH18542 42 in 18.5 HP Hydrostatic Riding Mower – Best Smooth Operation
Brand: Husqvarna
Cutting Width: 42 inches
Engine: Briggs & Stratton
Power Source: Gas-powered
We are starting with the Husqvarna YTH series model.
It's a perfect example that big tractors are not necessarily always better. Husqvarna decided to downsize for this garden tractor but not in performance!
Let's begin with the engine as it's the first thing you will be interested in.
The YTH series model comes with a reliable and well-known Briggs& Stratton engine.
In addition, it delivers 18.5 HP and is air-cooled, so there is less of a chance of overheating.
The engine also helps the vehicle run in different weather conditions, and the air filter prevents dirt build-up.
So if you are someone who loves lawn care but often forgets to clean out your riding mowers, this will help you out in the long run!
What you will like the most is how easy it is to ride this mower!
Thanks to the Advanced Vibration System technology, the riding lawn mower runs smoothly on almost all fields! It keeps the machine light through the 16-inch turning radius.
Plus, with the anti-scalp wheels, you will enjoy a smooth ride and not hesitate to do your landscaping job!
Now, let's talk about grass cutting performance. If you ask us, it passed the test with the highest grade!
The mowing deck uses air induction, so while you drive the mower, it will lift the grass and give excellent results.
As a result, it's a suitable garden tractor for when you want even grass cutting from start to finish.
The mower also includes side discharge so your grass will receive the optimal amount of nutrients coming from the mulched clippings.
But, is the garden tractor easy to use?
The cruise control is not that best; we have to admit.
However, the mower includes a foot pedal-operated hydrostatic transmission so you can control speed and direction.
All in all, this riding mower is excellent in offering the driver an all-around comfort while performing excellent results on your lawn.
Pros
Smooth operation
Hydrostatic transmission
Powerful engine
Cons
Not the best cruise control feature
Smaller cutting deck
3. Husqvarna TS 354XD 24HP Kawasaki Garden Tractor – Best Stability And Balance Control
Brand: Husqvarna
Cutting Width: 54 inches
Engine: 726cc Kawasaki FR Series V-Twin Engine
Power Source: gas-powered
The TS 354XD garden tractor resembles our previous tractor model by its incredible performance.
However, the two differ in some of the most basic features, so let's see what they are.
For starters, this garden tractor is made with a versatile clear-cut deck with a cutting width of 54 inches.
In addition, it comes with a commercial-grade ground-engaging transmission, so it can serve you in all climate conditions without overheating.
Don't let this mighty beast fool you if you want to perform delicate cutting on your lawn. It can just as well take care of heavy-duty tasks and be gentle at the same time.
In addition, the riding mower has excellent traction, so it will not cause additional damage to your lawn.
Is there a feature you will especially like? Lots of them!
But, for instance, the locking rear differential will do wonders on wet grass.
What it does is lock in the rear wheels, so it's possible to go over wet grass and slopes without slipping as it prevents the rear wheels from turning.
Plus, the ergonomic steering wheel makes it easy for the driver to operate and control the riding mower.
Another feature you will appreciate is the cruise control panel which allows the garden tractor to work on both rough terrain and flat surfaces with exceptional balance.
Since we are on balance, the cast-iron front axle will also be an excellent addition for when you go over uneven ground.
As for the cutting power, the mower includes an electric cutting blade that is easily controlled via a switch.
Now, we have to take a moment and talk about how much comfort this mower offers.
The seat is tall and spacious, but it also has an ergonomically shaped high-back. For those long workdays in the field, this will do wonders!
There are also headlights, so it's easy to operate in the dark!
Pros
LED headlights
Large fuel tank
V-twin engine
Electric blade engagement
Cast iron axles
Cons
A bit challenging to gauge the fuel tank
4. Ryobi Electric Rear Engine Riding Lawn Mower – Best Battery-Powered Tractor
Brand: Ryobi
Cutting Width: 38 inches
Engine: 100 Ah battery electric rear engine
Power Source: Corded-electric
Are you not a fan of gas-operated garden tractors and looking for an eco-friendly alternative? Don't worry; we did not forget about you!
This is the best battery-powered lawn tractor, so if you were looking for an electric model for smaller lawns, this is the one!
This Ryobi garden tractor is powered with 100 Ah lead-acid batteries.
Just because this riding mower is battery-operated, don't underestimate it. It's extremely powerful for lighter tasks.
For instance, it can cut up to 2.5 acres on a single charge, giving you around 2.5 hours of runtime.
Gas-powered riding lawn mowers can often be harmful to the environment.
Not only that, but they are extremely noisy as well, and if you don't want to wake up your entire neighborhood, this is your best chance.
The tractor mower includes 3-brushless motors that are less noisy and run equally as powerful as gas engines.
As we mentioned above, the Ryobi garden tractor has a 38-inch cutting deck with a dual blade.
Along with that, the mower deck also features 12 cutting heights you can choose from.
Maintaining this mower is also easier than taking care of gas-powered tractors. All you must do is charge the batteries when it's time but be careful not to overcharge them.
Just like our previous pick, the Ryobi garden tractor features LED headlights that may not seem that impressive to some customers.
However, when the sun comes down, and you still have some details to take care of, they will come in handy.
One of the unique features this garden tractor offers is a built-in hitch. This means you can attach a trailer or a lawn cart and haul materials.
It's even suitable for pulling heavy loads you could not otherwise carry manually.
Pros
It runs quietly and smoothly
Includes a built-in hitch
Convenient cruise control
Includes a USB charging port
Cons
Not great for bumpy terrain
No smart-charge feature for the battery
5. Craftsman 17ARFACQ091 50-Inch Hydrostatic Gas Zero-Turn Mower – Best For Beginners
Brand: Craftsman
Cutting Width: 50 inches
Engine: Kohler twin-cylinder engine
Power Source: Gas-powered
This is another zero-turn garden tractor with a reliable starting system for efficient results in the field!
The Craftsman garden tractor is one of the easiest tractors to maneuver.
Thanks to the zero-turning radius, the mower tractor is easy to steer, allowing for quick directional changes.
One of the main benefits of getting a zero turn mower with zero turning radius is that you can use it in narrow and confined spaces.
Therefore, if your garden has a few awkward spaces, you will need this kind of mower!
The hydrostatic transmission is there to offer a controlled ride!
If this is your first time using a garden tractor, you might as well choose this one.
Its transmission will allow you to control the amount of power you are using, so it will prevent the mower from getting out of your control.
Many customers also said that this is the right garden tractor if you want comfortability!
It has a high-back design, so the operator will be comfortable if he is in for several hours of yard work.
Along with its comfortability, the mower is also durable and robust! It's made from a steel frame with a red finish that gives it that luxurious look!
In addition, the cutting deck measures 50 inches, so it's solid for bigger fields.
Also, the cutting heights are adjustable, so you can fix them from 3.75 inches down to 1.25 inches to achieve a fine cut.
Mowing lawns have never looked easier with the Craftsman mower tractor! The tractor allows you to add a mulching kit and give your grass the natural fertilization it requires.
This is a great garden tractor if you are a beginner!
Thanks to the no prime and no choke, there are no complicated functions you need to tackle. Plus, it's generally easy to use and maneuver on most terrains!
Pros
Powerful engine
Zero turning radius for quick directional changes
Large rear wheels
Easy to use
Cons
The belt tends to come off easily
6. Ariens IKON XD-52 24HP Kohler Zero Turn Lawn Mower – Best For All-Terrain
Brand: Ariens
Cutting Width: 52 "
Engine: 725cc Kohler 7000 V-Twin OHV Engine
Power Source: Gas-powered
One of the best Ariens garden tractors is from the IKON X series.
In our review, you will read about two of the most popular models. This one has a large cutting deck of 52" and a reliable Kohler engine.
In addition, the X-series presents models that offer several cutting heights and deck sizes, so every tractor lover will be able to find their best pick!
For starters, many of the Ariens riding lawn mowers, including this one, have comfortable seats for the operator.
On this garden tractor, the seat is spacious and plush so that the driver will be comfortable during the entire ride. Not only that, but the seat also includes armrests and is fully adjustable.
In addition, the foot bay offers plenty of space both for tall and short drivers. There is also a traction pad on the front so you can safely get off the tractor.
The lawn tractor comes with a 52″ mower deck which is excellent for bigger fields. In addition, it gets the job done efficiently and in less time!
As for the engine, we mentioned that this model comes with a Kohler engine.
However, there is also another Ariens lawn tractor with a 52-inch cutting deck equipped with a Kawasaki engine.
Both are excellent options, and you cannot go wrong with either of them.
The cutting mower deck is made from steel, so there is no need to question the durability and stability of this riding mower.
Thanks to the robust build, the zero-turn mower can handle rough terrain, rocky roads, uneven lawns as well as flat surfaces.
What will especially come in handy for wet grass and slippery slopes are the large 22″ air-filled tires. They offer plenty of traction, so going over wet terrain is no challenge!
This powerful garden tractor is excellent for professional landscapers and homeowners who are looking to groom their yard to perfection!
Pros
Three-blade fabricated cutting deck
Hydrostatic transmission
Comfortable seat
Includes armrests
Easy to operate on all terrain
7. Ariens IKON XD 60 inch 23 HP – Best For Larger Lawns
Brand: Ariens
Cutting Width: 60"
Engine: Kawasaki FR691 engine
Power Source: gas-powered
Coming up next, we have another popular Ariens Ikon XD garden tractor.
As we mentioned earlier, Ariens garden tractors are made for comfort and efficiency.
This is an upgraded model for 2020, so we had more than enough time getting to know how it works.
Here is what we think.
The heavy-duty Ariens IKON XD is equipped with a Kawasaki commercial-grade engine. Not only does it offer exceptional power, but it will also serve you for years!
The reliable garden tractor comes with an entirely fabricated cutting deck.
The mowing deck is slightly bigger than the previous Ariens garden tractor, so that this one will work better for bigger properties.
With this 4" deep deck design, you will be able to handle both tall and dense grass with no problem!
It also has advanced airflow, so it runs smoothly on flat terrain.
Plus, you can choose between 13 different cutting heights on the 60-inch cutting deck.
Just like the previous Ariens lawn tractor, this one has large wheels.
Why does this matter? Well, not only are the wheels large, but they also have excellent traction.
It's an absolute must if you live in a rainy climate since the wheels will not get slippery on the wet terrain.
As for the comfort of the zero-turn mower, the tractor features a deep and plush seating area with wide armrests.
As a result, the operator can enjoy superior comfort while working in the field all day!
The backrest on the seat is tall so that all drivers will have full-body support.
The XD lawn tractors come with Hydro-Gear EZT transmissions that include increased torque and load capacity, which results in improved control and response.
Overall, the Ariens Ikon riding lawn mowers proved to be terrific for customers looking for a reliable engine and large mowing deck.
Pros
Large tires
Includes armrests and a plush seat
Reliable engine
It cuts the big area in short time
Hydro-gear transmission
Dial-operated cut height
Deep mowing deck
Easy to work with
8. Simplicity 2691337 Broadmoor Mower – Best Unique Features
Brand: Simplicity
Cutting Width: 54 inches
Engine: Briggs & Stratton
Power Source: Gas-powered
Lastly, let's take a look at the Simplicity Broadmoor garden tractor mower!
Although this is the last pick on our list, it's one of the fewer lawn mowers that include premium features.
It's time we see what they are and how this tractor compares to other garden tractors on our list!
To begin with, you will love this mower if you value a few unique features that other garden tractors don't have.
One of them is the free-floating design. What does this mean, you ask?
The free-floating mower deck design will allow the riding lawn mower to follow all the awkward spaces and curves to your lawn.
In addition, the front rollers are full-width, so you can achieve those lawn stripes you always desired! Plus, the mower runs smoothly as if it's 'floating on a cloud'!
The detailed cockpit dash is another exciting feature you won't usually find in most garden tractors.
Everything you will ever need is located on the dash, such as a clock, height of cut adjustment, push-button start, monitor, and many more!
The seat for the operator is made for hot summer days!
It features a breathable mesh design that promotes optimal airflow needed for those long and hot days in the field.
Another addition that's valuable to the comfort is the wheel suspension.
If you have a bumpy lawn that needs a lot of work, the suspension on the wheels will make sure the mower stays stable and controlled.
Thanks to the automatic controlled traction, the wheels will always support your endeavors in the yard, no matter the conditions.
The heavy-duty garden tractor offers more power to challenging tasks, but you can also use it for simple yard maintenance.
The versatility is implied when it comes to the Simplicity garden tractor.
Overall, the Simplicity riding mower is a bit pricey, but it's an investment you won't regret! A gardening tool like this is a must-have if you look for perfect results.
Pros
Breathable mesh seat
Powerful engine
Heavy duty
Hydrostatic drive
Ten gauge steel frame
Types of lawn and garden tractors
From our garden tractor reviews, you have gathered that there are multiple types and models on the market!
However, it all ultimately comes down to one function-mowing your lawn.
Garden tractors are primarily used for lawn maintenance, but some of them will even feature a hitch so you can hook on a trailer.
This is especially great if you plan on transporting minor materials such as soil, grass, or hay.
But, there are also a few other garden tractor types you should know about.
1. ZTR ( Zero-Turning Radius) tractors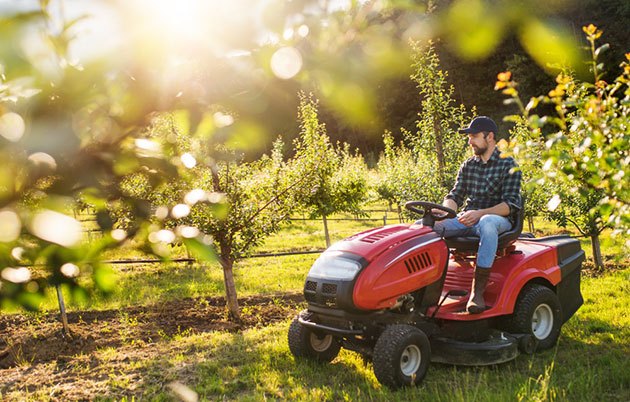 Zero turning radius mowers or tractors are absolutely the best if your garden has awkward spaces and you require maneuverability.
For our garden tractor reviews, you can see a few of the most popular picks, such as Ariens IKON XD-52, Husqvarna MZ61. But, what exactly are the ZTR mowers?
They are controlled via lap bars in the front operators' seat, which further control the hydrostatic transmission in the wheels.
This allows the tractor to maneuver easily around curbs, awkward spaces, tight edges and give the perfect cutting result to your lawn.
2. Ride-on mowers
Riding mowers are best if you have a big lawn or an extensive field to cover.
They are a great investment as they can cover a big terrain in less time while you easily maneuver the vehicle.
The most famous sub-type of ride-on mowers are the garden tractors.
Some lack maneuverability as they have the engine mounted on the front.
This is why we recommend the ZTR tractors if you want to control the tractor better.
Tips on maintenance the garden tractors
1. Cleaning under the deck
Your tractor will thank you if you remember to maintain it regularly!
Unfortunately, many owners will forget to clean under the deck, but this is a MUST!
Make sure to check under the deck and clean away any debris, dirt, or grass. You can also use a few accessories such as a wire brush or a cloth to wipe the deck over.
2. Air filter needs replacement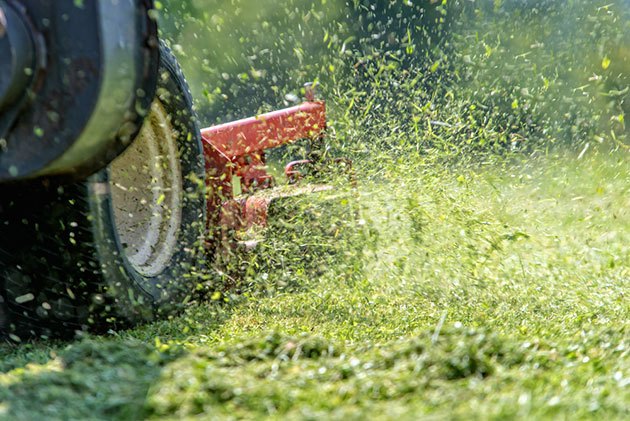 Never neglect the air filters, folks!
They need replacement once in a while. Otherwise, it can clog up, and you get yourself a mess.
Garden tractors will usually have foam filters or paper filters.
With paper ones, they are easy to replace and quite cheap. Usually, they are replaced at the end of the season.
But, with foam filters, you want to check on them at least twice during a season. They can build up quite a lot.
3. Oil check-ups
Lastly, one of the most important maintenance tips is checking the oil regularly. Every couple of months, make a note to check on the oil.
The oil level will indicate whether it's time for a refill or not.
What to look for in the best lawn tractor?
1. Power take-off
Not many garden tractors include an electric PTO (power take-off), but let's discuss its meaning.
An electric PTO will consist of a rotating shaft connected to various attachments to transmit power from the engine on the implement.
The power take-off is usually found in larger tractors, but some garden models also feature it.
2. Mowing deck
It's usually measured in inches, indicating how much grass a tractor can cover.
The bigger the deck, the more it will cut, so you know what to look for if you have a bigger lawn.
3. Engine power
If you need a heavy-duty tractor, you will need to look for a powerful engine. This is indicated through the horsepower of a tractor.
If you need to cover more land and are in for a long day of gardening, I recommend you choose a garden tractor with at least 25 HP engines.
4. Wheel size
Not only does the wheel size matter, but you also need to check for traction.
If the wheels have optimal suspension and traction, you can rest sure, knowing they will work fine on slippery ground.
Usually, front wheels are always smaller than rear ones.
But, it's smarter to choose a garden tractor with a bigger wheel size to ensure it will be stable on all terrains and support the load better.
Garden tractor accessories & attachments
Sweeper brush – clears up all debris from the lawn or pathways. It's great to have around fall time.
Snowblowers – garden tractors can also be used with snow blowers to clear up paths and driveways of snow.
Tow-behind rakes – they can be used for raking leaves or preparing the ground for composting.
Front-loaders – these are essential for moving soil or hauling heavier material.
Shredders and chippers – these attachments are used mostly during fall time to get rid of leaves, branches, twigs, or debris. It breaks the branches up, which can furthermore be used for compost.
FAQ's
What brand garden tractor is the best?
Although there are various garden tractors on the market that give off excellent performance, there are two brands that stand out the most.
They are Husqvarna and Cub Cadet. 
Are garden tractors worth it?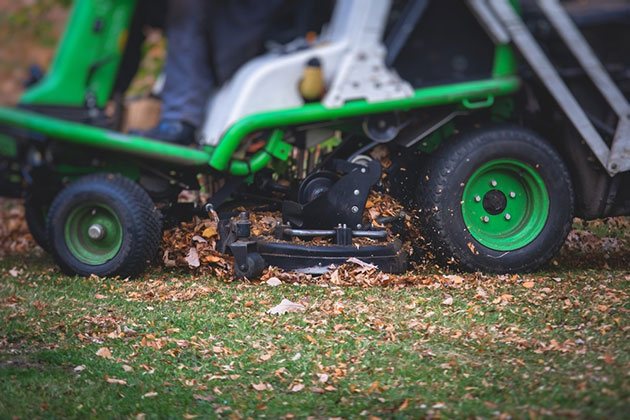 Yes, garden tractors are worth the investment if you have a bigger property to take care of.
Unlike regular lawn tractors, garden tractors can perform multiple tasks besides mowing.
In addition, because of their robust build, you can use garden tractors throughout the year as well.
For instance, getting a durable garden tractor will assist you in hauling materials, using the vehicle with snow throwers, cutting grass, tilling the soil, and many more!
What is the difference between a garden tractor and a lawn tractor?
Although these two may seem similar, they differ in one major quality – horsepower.
While lawn tractors are mainly suitable for cutting grass, they will have between 15-25 HP.
On the other hand, garden tractors are versatile, and you can use them for many tasks around the yard.
They have more power and will include between 20-30HP.
In addition, garden tractors can be used with various implements such as tow-behind carts, a lawn sweeper, lawn sprayers, spike, and plug aerators.
How to care for your garden tractor?
Investing in a garden tractor will take the most out of your budget, so you must learn to take care of the tractor.
For starters, get to know the manual. Take your time and examine it thoroughly.
Remember to clean the tractor from grass clippings, dirt, or debris at the end of each session.
Frequently check on the oil and see whether it needs replacement.
Devote your attention to regularly cleaning the air filter! It's one of the main reasons garden tractors will stop doing their best after a while.
How will you use the tractor?
Tractors are mighty machines used in agriculture, construction, and road building.
They can be used with various heavy-duty attachments such as plow, rotavator, cultivator, and many more for agricultural purposes.
Besides, these tractors can also be used for seeding and harvesting, planting, or threasing.
Who makes the John Deere garden tractor engine?
MTD reportedly made John Deere garden tractor engines in the past.
However, there is a possibility that John Deere makes their zero-turn engines for garden tractors and lawn tractors.
Final words
Have you picked out your best garden tractor yet? We sure have.
It's the Husqvarna MZ61 61 in. Hydrostatic Zero-Turn Riding Mower!
With a large mowing deck and powerful engine, this heavy-duty tractor will perform your demanding tasks with ease.
Even though they can seem like a pricey investment, lawn tractors are the best gardening vehicle for those with bigger properties.
After you give our guide a careful examination, you will know what model is the best garden tractor for you!
Husqvarna MZ61 61 in. 27 HP Briggs & Stratton Hydrostatic Zero Turn Riding Mower*
Husqvarna 61 in. zero-turn lawn mower from the MZ series delivers commercial-grade power and amazing ergonomics
27 HP Briggs Endurance engine provides reliable startups and high ground speeds
Fabricated 11-gauge steel cutting deck offers an excellent 54 in. cut with an ergonomically designed deck lifting system for quick and easy adjustments from the operator's seat
Clippings can be discharged, mulched or bagged with a 9-bushel triple bag collection system (mulching kit and bagger attachment sold separately)
High-back seat with armrests, foam-padded hand grips and vibration dampeners make mowing comfortable for hours on end