If you are anything like me, I bet you can't wait for the warm weather!
Spending sunny days in the garden, tidying it up for summer, is the time I value the most!
However, even though it can be enjoyable, it can also cause a lot of physical strain on your body.
Those with smaller gardens may not experience such issues with bigger properties. For example, when I had my little land, I did not mind raking it once in a while.
But, now that I have a large lawn to cover, I need to take out my garden tractor if I wish to get the job done quicker.
Now what I am about to tell you may change how you look at landscape rake! You can get one for your lawn tractor and never manually do the job again!
If you were wondering what some of the best options are, I got you!
This is my list of the top best tractor landscape rake worth the money!
Best Landscape Rakes: My Top 6 Choices
$ – Black Boar ATV/UTV Landscape Rake
One of the best quality construction made from heavy-duty steel has removable tines that are easy to adjust based on the task you will perform-however.
It can get clogged up when picking up heavy-duty debris.
$ – Kolpin 60-Inch Landscape Rake
Can be used for versatile tasks, made from heavy-duty steel perfect for larger properties!
However, the hitch is sold separately, and the rake is not that lightweight.
$ – Field Tuff Pine Straw Rake
Easy to use and an excellent choice for a big property!
It has a 72" working width that covers the land quickly; made from reliable and sturdy materials.
However, assembling all of the tines on the frame is time-consuming.
$ – Titan Attachments Pine Straw Needle
Made from steel and including heat-treated steel tines that are efficient and durable; it's great for a smaller lawn.
However, it's tricky to install.
$ – Dirt Rake Skid Steer Landscape Attachment
Delivers high power and is terrific for professional use; it fits most compact tractors on the market thanks to the hitch receiver.
However, the price is a bit high.
$ – Titan Attachments Landscape Rake
#1. Black Boar ATV/UTV Landscape Rake – Best Landscape Rake
Brand: Black Boar
Material: Durable steel
Width: 48"
Tins Measurements: 1 1/2 inches apart
The Black Boar landscape rake is one of everyone's favorite!
It has everything you need for successful raking and preparing the land, so let's see what it can offer you.
Let's start with the most special feature-the tines!
Unlike most landscape tractor tines that are fixed, these are adjustable. Therefore, you can set the desired spacing of your choice.
The tines can also be entirely removed when it's time to clean up the rake.
In addition, the parallel linage design makes sure there is an optimal angle even when the rake is lowered.
When you want to clean light debris such as leaves, make sure you use all the tines.
However, if you are going to be picking up heavy debris such as rocks, it's best to use fewer tines.
What most customers like is the fact that this is a highly durable rake for compact tractors! It's made from durable steel, which will easily handle any task you have in mind.
Plus, it's not prone to rust or corrosion.
However, the tractor rake requires at least 66000- motorized lift or 66013- manual lift for good service.
Lastly, the Black Boar landscape rake for tractor has a lightweight design, so you probably won't need help to install it on your own.
Pros
Heavy-duty built
Lightweight landscaping rake
Parallel linkage design
Removable tines
Cons
It can clog up a bit when removing debris
#2. Kolpin 60-Inch Landscape Rake – Runner Up
Brand: Kolpin
Material: Hardened steel
Width: 60 inches
Tins Measurements: 1-5/16 hardened steel tines
On the number two spot, we have the Kolpin landscape rake!
The previous landscaping rake was perfect for a medium-sized lawn, but what if you have a big property? That's when this rake comes in!
The working width of this landscape rake for the tractor measures out to 60 inches!
Yes, you read that correctly! It's massive so that it will do the tasks faster on a bigger lawn.
As for its line of duties, the garden tractor landscape rake can level the gravel driveway, clear trails, and even rake a beach! You can also use it to clear hay, pine needles, groom horse corrals, and many others!
It has a broad range of applications, and we are all here for it!
Even better is that the metal tines can be adjusted in one of the five available positions! So it's easy to find a proper position for the task you had in mind!
However, there is one thing we don't like. It requires a 48″ or 60″ accessory toolbar & 3-point hitch system, and guesses what? They are sold separately!
Considering this is not an inexpensive landscape rake for a tractor, you will need to invest a few more bucks if you want to be able to use it on a tractor!
Pros
Versatile use
Made from robust steel
Easy to use
Adjustable tins
Cons
The hitch is sold separately
Not a lightweight rake
#3. Field Tuff Pine Straw Rake – Best Landscape Rake For A Big Property
Brand: Field Tuff
Material: Steel
Width: 72"
Tins Measurements: 28, 0.33"
If you thought that the Kolpin landscape rake for the compact tractor was a big-land master, wait till you hear about the Filed Tuff! This landscape rake covers a big field in under an hour!
How so? Thanks to the 72" working width, the rake will take less time to perform the landscape tasks.
Not only is the tool efficient, but it's also durable and reliable! The pine straw rake is made from durable steel, a known enemy of rust!
Therefore, you can safely use your new landscaping tool without worrying if it will develop corrosion over time.
The coiled springs' steel tines are there to ensure you get the most out of your task.
They are spaced out and developed for optimal performance. Additionally, the coiled springs are powder coated for long-lasting use.
What could potentially trouble you is the assembly of the pine straw rake. Since steel tines are so long and heavy, tightening them all one by one can be challenging.
Other than that, we have no complaints! The pine straw rake is durable, reliable, and inexpensive for its quality!
So if you were looking for an affordable tractor rake you could use on the big lawn, now you have your perfect pick.
Also, the manufacturer will offer a one-year warranty which will give you a sound mind and a safe purchase!
Pros
Great value for the money
Versatile use
Durable and reliable construction
Cons
Assembling the tines is a bit challenging.
#4. Titan Attachments Pine Straw Needle – Best Pine Straw Rake For Tractor
Brand: Titan Attachments
Material: Steel
Width: 48 inches
Tins Measurements: 22 inches tall and 2 inches apart
Titan Attachments is a big name in the tractor industry.
For this specific reason, we have decided to review the Titan Landscape rake and see what all the fuss is about?!
Is it worth the money it costs, or should you look for an alternative? Let's check it out.
To begin with, the Titan landscape rake offers steel tines to rake the land. The rake head fits perfectly with the 0.3 category tractors, so it can easily do the job.
In addition, the grass rake is compatible with tractors such as New Holland, Kubota, Massey Ferguson, and more!
This is, by far, the best landscaping rake for collecting pine needles!
The thick and durable tines will do their best to collect those pesky little pine needles and other debris such as grass, dry leaves, twigs, and branches.
The Titan landscape rake is easy to spot among the competitors because of the distinct yellow paint.
But did you know the yellow paint protects the tractor rake from rust and corrosion?
That's right! You can safely use the lawn tractor rake without worrying if it will rust in two months
What makes the landscaping rake so unique are the heat-treated tines designed for optimal efficiency.
If the tines get broken, you can quickly get replaceable tines!
Pros
Great value for the money
Includes heat-treated tines
You can purchase replaceable tines
Great for a medium-sized and small lawn
#5. Dirt Rake Skid Steer Landscape Attachment – Best For Heavy-Duty Use
Brand: Dirt Rake
Material: Steel
Width: 78 inches
Tins Measurements: not specified
Before we share our final product, one more special landscape rake is left to review. It's the Dirt Rake skid steer landscape rake for compact tractors!
This one is the best choice if you are looking for a durable, sturdy, heavy-duty rake fit for professional use!
What makes Dirt Rake so special is the fact that it has reverse settings so that it can move both backward and forward.
The working width measures out to 78 massive inches! It can cover the entire length of a big field in under an hour!
As for the functions, this rake is perfect for all choices.
It can spread gravel, rake the land, prepare it for fertilization, and even collect rocks, twigs, and branches.
Additionally, the tubular steel construction landscape rake is compatible with most top brands tractors such as Kubota, Bobcat, Cat, and others!
Now, when you are out in the field, it can be tiresome to switch between attachments, especially if you are working alone.
The Dirt Rake makes the job a tad bit easier as it includes a hitch receiver so you can move trailers without changing any of the attachments.
The only negative side we found is the price which is a bit high.
However, if you want to invest in the right landscaping rake for professional use, you know what to do!
Pros
Reverse settings
Includes a hitch receiver
Easy to use
#6. Titan Attachments Landscape Rake – Best Landscape Rake For Medium-Sized Lawn
Brand: Titan attachments
Material: steel
Width: 4 ft landscape rake
Tins Measurements: not specified
Let's wrap up with another Titan Attachments landscape rake for compact tractors!
The landscaping rake is designed especially for the Titan transformer tow frame.
It attaches with ease and features a lightweight design, so you can even assemble it independently.
However, because it fits on the tow only, you will need to purchase it separately.
Once you have added the landscaping rake to the tow, you can attach it to an ATV or a UTV and finish most jobs around the landscape.
Like most titan landscaping rakes, this one features heat-treated steel tines that collect debris with ease!
It's suitable for most tasks, so you can even use it as a rock rake with no problem.
Oh, and it's also super easy to replace the tines. Just grab your toolbox and replace the old ones with the new set.
As for the working width, it's the same as the previous Titan landscape rake, so it will be suitable for a medium-sized garden.
The 4 ft landscape rake is also height and angle adjustable. You can choose from one of the seven height adjustments and control the depth of the tines.
Plus, you can use it as a grass comb since the tines are close together and can collect even the tiniest grass hairs.
Pros
It can be applied to a variety of tasks
Adjustable height and angle
Easy to use
Cons
It needs to connect to a tow frame
Buyer's Guide
Aluminum vs. Steel tines
What is better, aluminum or steel tines?
While both have their pros, they will also have a few cons, so let's see what they are.
To begin with, aluminum tines are not as durable so they will limit you with many landscaping tasks.
But, on the other hand, they make the landscaping rake a lot lighter, so it's easier to maneuver it even if it's a tractor-mounted.
If you are going to use the landscape rake as a grass rake or pick up leaves, you cannot go wrong with the aluminum one.
With steel tines, you cannot go wrong! They are durable, sturdy, and well-built to perform any given task.
Plus, they won't rust, so they can last you for many gardening seasons!
Width of the landscape rake
Next up, we have the width.
Here, you will need to check the size of the property you want to cover and, based on that, choose the width of the rake.
If you have a bigger property, it's logical you will for a 6ft rake rather than a 4 ft one!
Also, check the tin spacing. The closer they are together, the finer they will do the work.
If the tines are too far apart, they will not collect the fine grass hairs, rocks, and branches that well.
Types of landscape rakes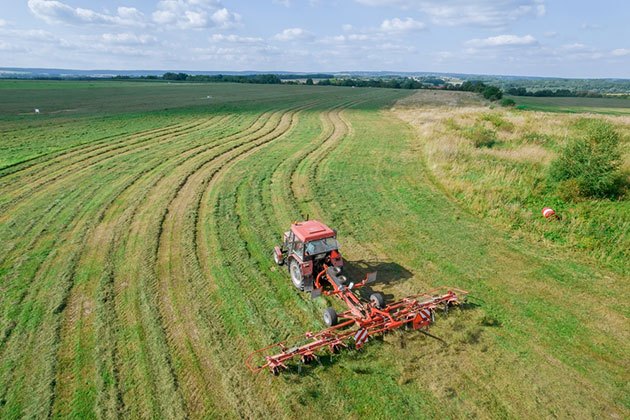 There are three main types of landscaping rakes you should know about.
1. Mulching sweeper rake
This landscaping rake is usually connected to the lawn mower deck rather than a tractor, but there are a few except products on the market.
It mulches leaves, twigs, grass, branches, and others into tiny bits.
After they are mulched, you can use this material as a natural fertilizer.
2. Transverse tractor rake
If you have to gather hay, this one is the best landscape rake. Transverse landscaping rakes pile hay and grass into swaths and then into piles.
3. Dethatcher rake
This type of rake resembles an aerator the most. It pulls the rotten grass hairs from the soil and breaks the earth loose.
If you need a great rake for soil preparation, this one is for you!
Consider the hitch
As you can see, a landscape rake for compact tractors will only connect to one with a hitch.
However, many landscape rakes will be compatible with a sleeve hitch or a 2-point hitch.
Check whether the rake you have picked out includes a hitch. Another feature you should mind is compatibility.
Not all rakes are compatible with all lawn tractors, so you must contact the manufacturer before ordering a hitch!
FAQ's
What are 3-point landscape rakes used for?
The three-point landscape rake is useful for completing a variety of landscaping tasks.
For example, you can use a three-point landscape rake to remove debris, level gravel paths, spread mulch, lawn preparation, soil preparation, and clear rocks.
How well do landscape rakes work?
Landscape rakes work excellently in clearing the lawn from minor debris to bigger branches, pebbles, and leveling the gravel.
You can get manual landscape rakes or a tractor rake that connects to your garden tractor.
Both types are efficient, but it all depends on your property size and whether you need a heavy-duty landscape rake or one suitable for lighter debris.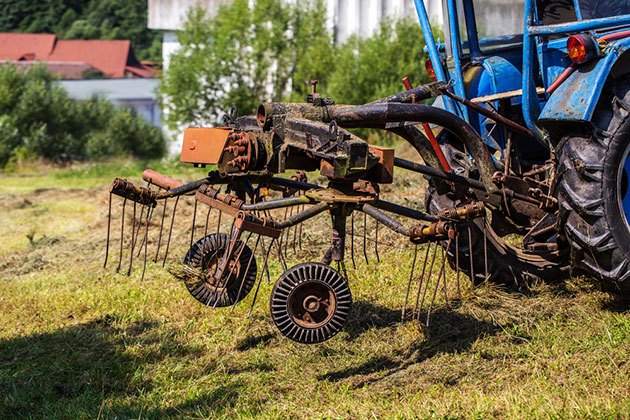 Will a landscape rake remove rocks?
Yes, a landscape rake will remove rocks, but it won't collect them.
A landscape rake is excellent for spreading gravel; however, it's best to be careful if you need to remove rocks from the lawn.
Not all rakes have sturdy tines that can handle big and heavy rocks, so it's best to use them for pebble removal.
How do you attach a landscape rake to a tractor?
A landscape rake is easily attached to a tractor via a 3-point hitch.
The attachment process is similar to most agricultural implements that use a hitch connection.
What are the different types of tractor rakes on the market?
There are four different types of landscape rakes used with tractors.
We will divide them into hay rakes (transverse rakes), landscape rakes, mulching sweeper rakes, and dethatcher rakes.
Final Winner
Among the best landscaping rakes, we have finally decided on a winner!
If you didn't guess by now, it's the Black Boar ATV/UTV Landscape Rake! It works perfectly for large and medium-sized fields.
It will smooth even the gravel driveway and collect twigs, grass, hay, or debris off your property.
It's easy to use and assemble as it's made from heavy-duty steel construction that ensures longevity!
Conclusion
The best tractor landscape rake is not an easy find, but luckily with these top 6 items, you will find one in no time!
A rake is a valuable tool you will need for this spring and autumn when the leaves have fallen and left a messy lawn!
With the best landscape rake for tractors, you can complete most tasks around the field without even switching between implements.
We conducted a close search and found some of the top-rated and affordable models you need in your collection.
See why so many agricultural workers are praising this time-saving implementation!