We all know that American families take special care of their lawns and keep them perfect.
Having a vast, flawless lawn full of healthy grass is one of the main tasks of all homeowners, but you need adequate tools to keep them beautiful.
For that reason, we have come up with the best lawn roller for your household!
So, stay tuned, find all the essential facts regarding their main benefits, and choose the best lawn rollers for your needs.
Shall we?
A Quick Overview of the Best Lawn Rollers
Before we glance at our top lawn rollers, we need to go through some details regarding their general use.
How do lawn rollers work?
The lawn rollers work in such a way to top the surface of the grass and soil for leveling the ground after the wintertime hazards, such as frost heaves, dirt, sod, etc.
But, you also use lawn rollers to flatten the earthworm tunnels, mole tunnels, and other damage that will harm your grass and lawn.
What exactly do lawn rollers do?
Lawn rollers press the grass seed into the soil and help them germinate faster when seeding lawns.
So, if some spots in your yard have difficulties growing new grass, the tools are ideal for better grass quality and a greener color.
Still, to use your lawn rollers correctly, you must fill them with water or sand and create sufficient pressure for soil and grass compaction.
So, the lawn rollers might need more or less sand or water for advanced performance, depending on their size.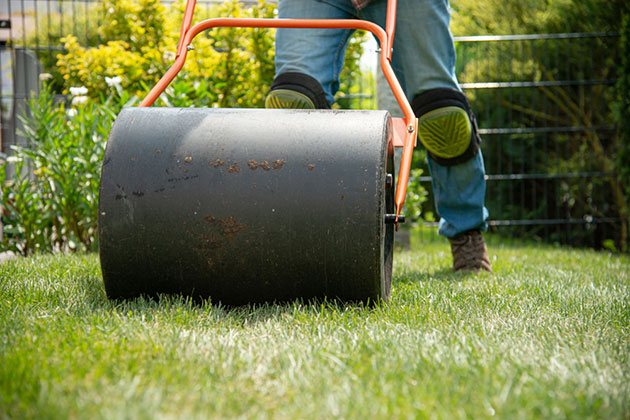 Lawn rollers: Do you need them?
If you plan to beautify and improve your lawn, lawn rollers are the perfect tools for the procedure.
You can attach them to lawn tractors or lawn mowers to drag behind as you move the machines around your lawn.
You can level the ground, but if you still have issues with weed, you may use different weed killers to eliminate them.
What kind of lawn rollers do I really need?
The units are best used for cricket pitches, baseball fields, golf courses, etc.
Still, if you want a professional lawn, you will need them, specifically the large-sized tools, to get your job done instantly.
Larger rollers will finish the project quicker and compact the grass and soil thoroughly, but they might not suit your needs.
Still, you can go for small-sized rollers, as the units benefit everybody, particularly those with larger yards. They assist in growing new grass and beautifying your garden and lawn.
But, if you have a smaller yard or lawn, especially a bumpy one, the rollers may not be convenient for you.
However, you will need the rollers to complete the process to align and maintain them properly.
Are you creating your lawn rollers: (Im)possible?
Of course – possible!
Many farmers and homeowners create their lawn rollers using specific materials, such as quick-drying concrete or plywood.
Although it requires too much of your time and energy, it's an excellent choice if you want to avoid all those high-end lawn rollers.
What are the sizes?
As you have seen, the most significant rollers might not be ideal for your households.
However, rollers can be of 60-inches and are even more critical for enormous lawns and professional uses.
But, for your residential uses, it would be best to select rollers between 24 and 36 inches for optimal working conditions.
When to use lawn rollers?
The best use is when the soil and grass are dumped, yet not watery. So, it would be best to use the rollers after a sprinkler or a short rain.
But, rollers won't be practical for dry soil. And, the too wet ground will kill the potential grass.
You can also use them before and after seeding to flatten the ground and push the seeds into the soil.
Finally, you can use them after sodding for a better root system.
Another application is before mowing to get precisely cut yards and lawns. Yet, another use is after winter when the property is bumpy and uneven.
Steel vs. poly rollers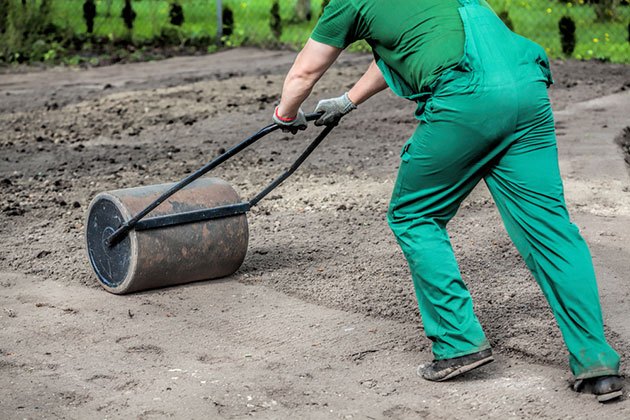 Lawn rollers differ not only in size but in construction as well. So, you can find either steel lawn rollers or poly lawn rollers.
Although the poly and steel rollers have similarities when performing, they have specific differences.
Steel lawn rollers seem more solid and sturdier than poly lawn rollers, and they are better for seeding, designing, flattening, etc.
In addition, steel lawn rollers will show excellent performance with all heavy-duty lawn tasks.
However, steel rollers have a huge drawback – they are too heavy and harder to operate on and move around. And, they can rust easily if not maintained properly.
On the other hand, poly lawn rollers are practical and valuable for domestic uses.
Poly rollers are lighter, more durable without maintenance, and perfect for medium and massive jobs all homeowners expect from the units.
Yet, steel rollers are way better for heavy-duty units, but many still choose poly units as the best options.
Water vs. sand
To properly use your rollers, you need to fill them with sand or water.
Water is the more accessible and cheaper option, yet you cannot leave it inside the roller between uses.
So, after every use, you need to empty and refill it. If you don't, you can damage the roller.
Sand is more expensive and requires more effort, but its primary benefit is that you don't need to empty the roller repeatedly.
And although this is a huge advantage, it's still a drawback, as the roller will be heavy forever, and you will move it around hardly.
Best Lawn Rollers 2022: Choose Your Fighter!
$$ – Brinly PRC-241BH 270 lb. Combination Push/Tow Poly Lawn Roller – 37 pounds.
Best performance and versatility for all lawn applications. Easy to fill with a garden hose. Still, questionable quality.
$$ – S AFSTAR Lawn Roller – 25.5 pounds.
Best efficiency, thanks to ergonomic design and ease of use. Dual system for more convenient use ad operations. Yet, metal part issues.
$$$ – Agri-Fab 45-0267 18- by 24-Inch Poly Push/Tow Lawn Roller – 20 pounds.
The best quality for advanced performance. Versatile and adjustable for different tasks and prolonged applications. But, construction issues.
$$$$ – Brinly 81174083617 PRT-36SBH 390 lb. Tow Behind Poly Lawn Roller – 53 pounds.
The most maneuverable and adjustable unit. Effortless setup for various lawn projects. Still, construction and package issues.
$$ – Toro Lawn Striping System – 8.7 pounds.
Best for smaller lawns, yet flexible for all lawn jobs. Easy setup and assembly. Anyhow, design issues.
$$ – Goplus Lawn Roller – 30 pounds.
Most reliable and solid construction with ergonomic design for longer work hours. Nevertheless, missing parts.
$$$ – Precision Products PLR1824 Lawn Roller – 2.75 pounds.
Best potential with increased strength and sturdiness. Robust and solid construction. Nonetheless, package issues.
#1. Brinly PRC-241BH 270 lb. Combination Push/Tow Poly Lawn Roller – The best performance
Brand: Brinly Hardy
Item dimensions: 48.33 x 31.31 x 18 inches
Capacity: 28 gallons 
Best for: uneven ground & uneven grass
Why should you choose the Brinly PRC lawn roller as your top pick?
As you will notice, the lawn roller is ideal for your lawn tractor as it contains a unique design.
Thus, you'll see a brand-new drum plug construction, making emptying and filling your lawn mower quicker.
As the heavy-duty lawn roller contains poly construction, it's rust-resistant, dent-resistant, and lasts for an extended period without water damage.
Thus, the sturdy poly roller drum keeps your roller free from dirt and debris while rolling, and the rounded edges keep the lawn optimal.
The poly lawn roller features a metal scraper bar above the drum to prevent damage both to the unit and your lawn.
Thanks to its specific construction, the lawn roller is either a push lawn roller or a pull-behind roller, so it's an ideal attachment for your lawn tractor or lawn mower.
Due to its versatility, you can use the roller for large open spaces and tight corners and areas. So, it's an ideal lawn roller for erasing lawn harm from sod, seed, loose dirt, etc.
Besides, the lawn roller has an excellent capacity of 270 pounds for water or sand, light enough for pushing through the yard, or towing behind the tractor or mower, thanks to its universal hitch.
Finally, you can easily store the poly lawn roller away – drain and hang it in the shed or garage to take minimum space. It will be lightweight for transport.
Pros
sturdy
maneuverable
durable construction
#2. S AFSTAR Lawn Roller – Best efficiency
Brand: S AFSTAR
Item dimensions: 36 x 12 x 45 inches
Capacity: 17 gallons 
Best for: pushing & pulling style
What's so special about the S AFSTAR lawn roller?
Firstly, the push & pull behind the lawn roller is ideal for its steel design.
Thus, you will notice the rugged and robust construction full of steel content for improved lawn maintenance.
Namely, the steel lawn roller features a durable and reliable structure, so it's hard to dent, solid, and robust for different lawn operations and tasks.
Its surface is coated with rust-resistant paint to prevent weather damage, lawn rolling damage, bumpy lawn, fading, and other harm that might affect its overall quality and performance.
In addition, the grass roller has a huge capacity for water or sand and a fill plug to prevent leaking.
Thus, unlike other lawn rollers, it will be more effective and efficient when rolling huge lawns or mid-ranged lawns.
The manual lawn roller is also ideal for its ergonomic design. Thus, the U-shaped handle offers labor-saving push and pull operations for all-round lawn rolling in all areas.
The metal scraper bar and the rounded drum ends keep the steel lawn roller keep lawn roller free from damage and debris while rolling.
So, you can use the steel lawn roller to flatten uneven grass quickly for better grass seed and flower beds tasks.
The pushing and pulling style makes the mid-ranged lawn roller perfect for protecting your lawn from pests, sod, seeds, and loose dirt. So, you can keep it optimal.
Pros
scraper bar
sturdy
stable
durable
#3. Agri-Fab 45-0267 18- by 24-Inch Poly Push/Tow Lawn Roller – Best quality
Brand: Agri-Fab 
Item dimensions: 50 x 30 x 18 inches
Capacity: 48 gallons
Best for: versatility and adjustability
Next off, the Agri-Fab 45-0267 push or tow lawn roller will wow you due to its massive capacity.
Namely, the poly roller requires water, so you will get 400 pounds of maximum capacity once you fill it.
Moreover, the Agri-Fab 45-0267 poly lawn roller is a lightweight tow lawn roller when you empty it.
So, you can hang the lawn roller in your garage or another suitable place; it won't occupy too much space and will be practical for various projects.
Still, remember that the Agri-Fab lawn roller requires some assembly.
However, you can refer to the following video and install all parts correctly for effortless use, tight corners, uneven ground, etc.
Thus, you can use a lawn roller for frost heaves, loose soil, smooth rough dirt, newly sewn seed, etc., to prevent lawn damage and make it bloom again.
Yet, the Agri-Fab 45-0267 lawn roller is the right lawn roller for your needs, as it has a dual working system – push and pull.
So, you can use it as you like, and the push/tow lawn roller will adjust to your needs.
You can quickly fill it with a regular garden hose and prevent leakage thanks to the fill plug.
Besides, the round edges and the universal hitch will make the heavy-duty lawn roller ideal for a riding mower, garden tractor, or another vehicle.
And the lawn roller has a 3-year warranty period for potential risks, but it's not probable.
Pros
stability
durable construction
versatile
#4. Brinly 81174083617 PRT-36SBH 390 lb. Tow Behind Poly Lawn Roller – Best maneuverability
Brand: Brinly 
Item dimensions: 52.41 x 45.06 x 18 inches
Capacity: 42 gallons 
Best for: flexibility and ease of use 
The Brinly lawn roller repairs the lawn damage quickly and efficiently, thanks to its specific and brand-new design.
Hence, the tow-behind poly lawn roller contains a drum-plug design for quick filling and emptying.
The Brinly PRT is ideal for medium to large lawns, with an extra-large diameter, so the grass roller easily erases frost heaves, sod, seed, dirt, and another hazard that might ruin your property.
Thanks to its tow-behind design, you can attach it to the garden tractor, lawn tractor, and mover due to its universal hitch.
So, the poly lawn roller served for various operations and increased performance.
Additionally, the Brinly PRT requires water or sand and has a removable drain plug using a standard garden hose when filling it.
And the fill plug has an extra sealing plug for leakage prevention.
Due to its diameter, the Brinly PRT poly lawn roller has a faster filling, unlike standard lawn rollers, and you can quickly empty the drum.
Also, it's advanced thanks to the poly scraper bar that easily keeps all potential hazards away from the poly surface and the drum.
So, the tow-behind rounded edges and the construction, in general, are durable and sturdy for an extended period.
The lawn roller is also suitable for its storage options – once you finish the rolling, you can easily hang the Brinly PRT lawn roller in your shed, garage, or another place to prepare it for subsequent use.
Pros
attach and use
sturdy
durable
versatility
Cons
package and construction issues
#5. Toro Lawn Striping System – Best for small areas
Brand: Toro 
Item dimensions: 26 x 13 x 24 inches
Capacity: up to 2.4 gallons 
Best for: a push lawn mower
To use a lawn roller correctly, you can fill it with water or sand.
But, the Toro lawn striping system requires 16-20 pounds of dry sand for optimal working performance and effective results.
Moreover, the Toro lawn striping system has a double-work system. So, you can use the lawn roller with or without the bagger attachment.
Still, the advanced lawn roller might seem small in design, yet, it will be preferable and suitable for storage areas where striping is not desired.
Also, when working on your lawn, the Toro lawn striping system will be effective for those hard-to-reach areas, bumpy rides, and other harsh conditions.
When assembling it, you will find that you can use a lawn roller with various lawn mowers, and the Toro striping system will significantly adjust to your needs and lawn-working demands.
Of course, the Toro lawn roller uses a Phillips screwdriver for an effortless setup.
Thus, you can effortlessly and straightforwardly attach it to the mowing vehicles and finish your projects in no time.
Due to solid and reliable construction, the lawn roller will be ideal for extended use, more robust conditions, and heavy jobs.
So, regardless of the requirements, you can use a lawn roller for all law projects to beautify your green areas and make them bloom again.
Finally, you will get a satisfying warranty period to replace the lawn roller or get a full monetary refund if you notice something irregular.
Pros
easy to use and install
sturdy
strong
#6. Goplus Lawn Roller – Most solid and reliable
Brand: Superbuy
Item dimensions: 36 x 12 x 44 inches
Capacity: 17 gallons
Best for: ergonomic design 
Thanks to its reliable and solid design, the steel lawn roller is ideal for 142 pounds of water or sand, and the steel construction will endure all external pressure, conditions, forces, or impacts.
So, the large cylinder and the overall structure make the lawn roller extraordinarily durable and sturdy for more robust applications.
Moreover, the lawn roller has a spray-treated to prevent dents and rust.
Besides, the rounded drum ends will also avoid the damage to the lawn roller and keep it protected from all damage your lawn might cause.
Due to the ergonomically designed U-shaped handle, the lawn roller is easy to use as a pushing or towing tool to complete the job efficiently.
And, the curved corners of the handle won't hurt your hands.
As it has the fill plug/drain plug, the lawn roller is ideal for filling and emptying, so after you finish leveling and aligning your lawn, you can quickly open and store it away for subsequent use and better maintenance.
Still, the steel lawn roller has a simple yet effective structure, ideal for effortless attaching and detaching.
So, once you hand it at the proper place, the lawn roller will take minimum storage space.
And, the lawn roller comes with a correct warranty period, so you can replace it or get a full money refund if you're not satisfied with the unit. But, I doubt so, as the lawn roller features only the best quality.
Pros
scraper bar
design
durable
sturdy
compact
#7. Precision Products PLR1824 Lawn Roller – Best potential
Brand: Precision Products Inc
Item dimensions: 41 x 31.5 x 17.5 inches
Capacity: 27 gallons
Best for: strength and reliability 
And finally, we're closing our reviews with the Precision Products lawn roller for your advanced requirements.
The lawn roller will astonish you due to its steel frame. Therefore, the steel lawn roller is ideal for its potential, maximum strength, reliability, and sturdiness.
Moreover, it will wow you, as the lawn roller contains a poly-drum body design, so the combination of the two increases its power and solid construction.
Also, you will find it reliable as it takes only thirty minutes to assemble and attach to your tractor or mower.
Still, the lawn roller is ideal for its dual using design. Thus, you will find the specific T-handle and use the lawn roller as you like – either by pushing or pulling it to your preference.
So, the lawn roller will be ideal for multiple uses and different heavy-duty or lighter lawn tasks.
In addition, you can use a lawn roller to flatten and level ground, sand, gravel, dirt, and more.
And to do so correctly, you can fill the lawn roller with either water or sand, and you need 225 pounds of these materials for successful performance.
Of course, the overall body and structure will offer you limitless working possibilities and hours, as the steel and poly combination makes it highly resistant to all external forces, impacts, pressure, and harsh conditions.
Yet, the combination of the two will also protect it from other various harms and hazardous elements, making it last longer and more robust.
Choosing the best lawn rollers: Buyer's guide
So far, you might be able to choose the best lawn roller for your needs.
But, for those who are still clueless, here's a practical guide to help you with the process.
1. Correct size
One of the essential points to consider is the correct size.
The size depends on your lawn area – big, medium, or small.
For more extensive lawns, choose larger rollers for more efficiency. For smaller properties, pick compact units for all hard-to-reach areas.
As we have said, the most common rollers measure between 24 and 36 inches, more than enough for medium-size lawns. But for massive properties, 48+ inches are more reliable.
Don't forget that the bigger size equals higher price tags.
So, if you need rollers for regular uses, the compact units will be more valuable for your needs.
2. Full capacity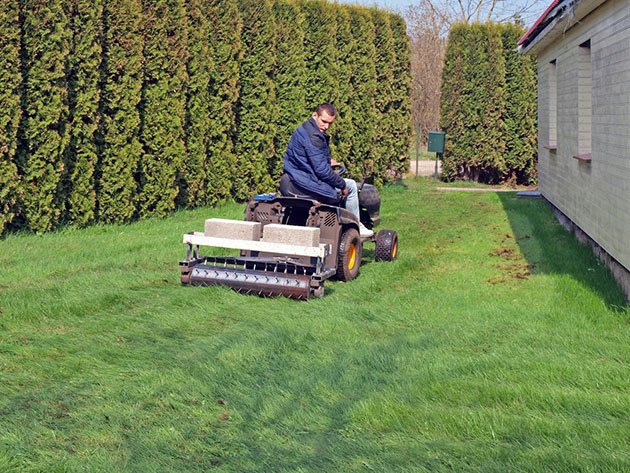 Another critical factor is capacity.
Lawn rollers are either filled with sand or water for the smoothest operations. And the power determines their effectiveness.
So, the standard rollers will need around 250 pounds of sand and 28 gallons of water. Still, you need between 300 and 700 pounds for more giant rollers.
The first type is ideal for pushing-style lawn rollers, while the second refers to tractor or mower attachments for effortless use.
3. Durable materials
As we have stated before, there are two types of roller constructions: steel and polyethylene.
Steel is heavy-duty, complex, and more robust to move around.
If you don't expose them to moisture and air, they can last longer. Yet, they're more effective as the extra weight better operates and finishes the job quicker.
On the other hand, polyethylene is the lighter and cheaper version of the roller structure, easier to move around and adjust to your needs.
They're also rust-resistant, compared to the Ohio steel, which is not. So, the external factors won't harm them.
4. Adequate weight
You should also find the proper weight before you make the final decision. This way, you will avoid further complications and issues when using the roller.
Ensure the weight of the roller you choose will not overwhelm you, as you will add extra weight inside the structure to finish all jobs properly.
No one wants to manage a massive roller unless they tow it behind the tractor or mower.
So, pay attention to the drum's weight to ensure you, the tractor, or the mower will be able to handle the roller's weight correctly.
Otherwise, you cannot finish the job and perform well.
5. Working style
And the final factor to consider is the working style of the roller.
Namely, some models have standard handles made for push and pull actions. So, you can use them manually.
Contrary to these models, some units have hitches, ideal for tractors and mowers. So, the machines will move them around for your convenience.
So, consider your preference, needs, budget, and working style before choosing the final winner.
And, do not overspend on features you will never use.
Frequently Asked Questions
What is the best weight for a lawn roller?
For commercial use and your household, you should consider those compact rollers, weighing up to 300 pounds, or less, for adequate performance and ease of service.
Still, it would be best to use more massive rollers for more professional uses and huge lawns weighing more than 300 or even 400 pounds.
Still, for manual units, less weight is more appropriate. For tractors and mowers, more weight is excellent.
Should I roll my bumpy lawn?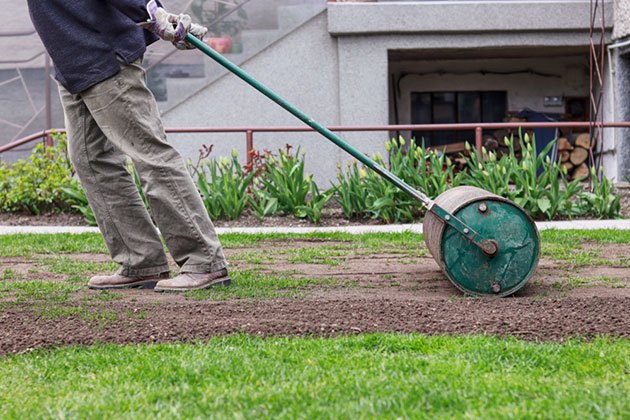 The answer is NO; you should not do so.
It will only touch the surface and flatten the higher part but won't do anything to fill the lower spots. You can also destroy the health of the grass and stop the new growth.
In addition, you may have drainage issues and harm the grass with stained water. And that might hazard the root systems.
It might be better to aerate the soil and over-seed the ground.
Will a 400 lb lawn roller work?
Yes, it will, but it might overdo it. So, you need to check the specifications and the corresponding weight and size of the rollers to meet your lawn's size and needs.
For example, you should not use those over 300 pounds rollers if you use tractors and mowers.
What does a pull-behind roller do?
Their primary purpose is to help you level and align the soil to improve and advance your lawns' overall look and speed up the new growth of the fresh grass and newly seeded lawns.
Still, you need to be careful and follow all instructions before selecting the rollers to avoid further complications, harm your grass and seeds, and slow the growing process.
What does a tow-behind lawn roller do?
Their primary purpose is to erase the harm and help establish a new, perfect and healthy lawn.
Before planting the new grass seeds, the lawn rollers help level and align uneven ground and speed up the growth.
So, what is the best lawn roller?
Drums, please!
Our best lawn roller is the perfect Brinly PRC-241BH 270 lb. Combination Push/Tow Poly Lawn Roller!
The Brinly PRC 24BH is the ideal roller for your lawn as it offers the best performance and the premium quality of polyethylene for extended use.
In addition, the Brinly PRC 24BH makes your lawn perfect as it helps in leveling and aligning your bumpy soil and ground, preparing it for new grass growth and a greener color.
Finally, the Brinly PRC 24BH lawn roller is the best for durability and sturdiness, and above all, lower maintenance requirements, so it will last longer without much care.
Final verdict
Woah! That's a lot of info about lawn rollers.
Yet, we have carefully prepared the reviews and showed you a step-by-step procedure to find the best one.
Hence, the stage is yours for the show, and pick the best lawn roller for your needs.
So, let us know once you find the best unit, OK?