A quality tractor is the most valuable possession of every farmer. This is why year after year, farmers seek ways to improve their existing tractor models or invest in even better ones!
When it comes to picking the best tractor, there are more factors you need to consider than just a price. Choosing between two powerful brands can also present a challenge.
If a famous John Deere is not an option, it's time to consider a few alternatives. Both Case IH and Massey Ferguson offer incredible tractors for versatile farming use, but which offers better models?
We are about to find out in our in-depth Case IH vs. Massey Ferguson comparison, where we compare popular models in each category!
About The Brands
Both Massey Ferguson and Case IH are respected tractor brands that have been on the market for decades now!
Although Massey Ferguson is significantly younger than Case, the brand took a storm over the North American market! They develop a wide range of highly versatile agricultural vehicles with attention to detail.
As you may have heard, their well-known Ferguson 35 was the first tractor that started the entire line and got the nickname "Gold Belly" due to the gold engine and gearbox.
Without Massey Ferguson, we would not have the three-point hitch today! This is the first brand that came up with a design that offers a reliable tool.
Most Massey Ferguson's equipment offers reliable performance to many farmworkers and delivers a good money benefit.
Case IH, on the other hand, has over 175 years of experience. Without a doubt, this is one of the best tractor brands currently. All tractors come in the iconic red color with the latest technology developments.
The brand offers a range of tractors, tillage equipment, and combine harvesters that get the job done efficiently!
Engines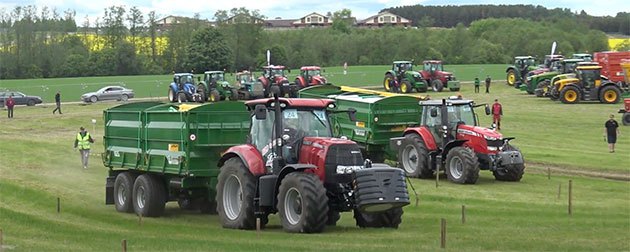 You can tell a lot about the high-torque tractor when you look at its engine. This is where you see the most difference between these two tractors. Power is something you should not save your budget on, so let's see which brand offers more powerful engines.
Massey Ferguson tractors often use a diesel engine designed by Shibaura. The Shibaura 3-cylinder engines are most commonly found in the MF1735M and MF1740M tractor models.
Additionally, the Shibaura engine provides a 4-cylinder engine for other Massey Ferguson models such as 1722 and 1772M. Therefore, the DPF filters are not required for all of Massey Ferguson's models to reach the Tier 4 emission.
The majority of Massey Ferguson's engine is manufactured in France's Beauvais tractor manufacturing facility.
A popular MF model of the 4700 Series gets all the power from the AGCO 3.3L 3-cylinder engine. Moreover, it uses a high-selective catalytic reduction that allows all the engines to reach high performance while being fuel-efficient!
On the other hand, Case IH has one of the most powerful engine manufacturers in the world- the FPT Industrial. Each engine made by FPT delivers high-performance parameters for every operation.
Like the MF, the Case engines also reach the Tier 4 emission while reducing fuel consumption by 10%!
The high-horsepower engine models by Case IH have proven reliability with over a million hours that can handle acres and acres of fields! In addition, they feature a four-cylinder design that increases airflow, creating quicker throttle response.
Winner? Case IH
Transmission
Case IH launched the first-ever combined hydrostatic and mechanic CVT transmission in 1999. Since then, the brand has focused on various details, looking for ways to improve every aspect of it.
Currently, the Case IH transmission system stands as one of the most powerful among other brands! Ask any Case dealer, and they will tell you the same!
These transmissions work by combining mechanical and hydrostatic modes, ensuring all of the power is transferred, and none is dispersed. In addition, the fuel-efficient system truly tells the difference as the fuel is used smartly, which is a big plus if you wish to save some dollars!
All of the models by Case IH feature an Active Hold Control, making them the best in the business! With the help of the control system, tractors easily perform any operations on hilly areas and uneven ground.
It lets the operator control the tractor seamlessly without reaching for brakes or the clutch.
Massey Ferguson tractors include a power shuttle transmission with up to 12 forward and 12 reverse gear systems and a wet disk clutch. Some new Massey Ferguson models even include the Dyna-4 transmission that shifts smoothly without clutching.
However, MF is currently having problems with the Dyna-6 transmissions, which can go wrong sometimes. In addition, they are performed electronically, so they are not always reliable when you need a quick switch.
The newer tractors often find issues with the switches linked to solenoids. Although these can be easily replaced, the repairs are costly. Therefore, if you want to pick a more reliable transmission, go with Case IH.
Winner? Case IH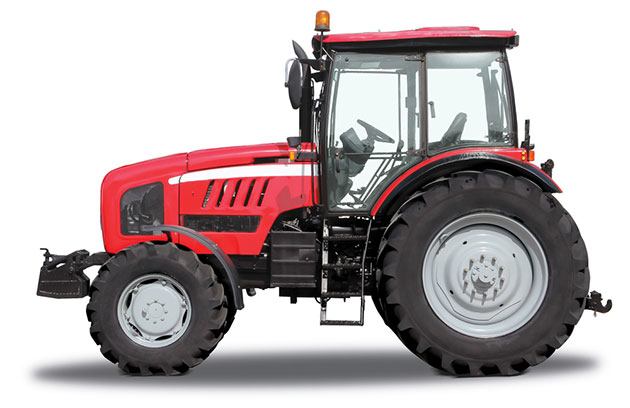 Operator Comfort
A cab is a space you will be spending a lot of time during fieldwork. For this reason, you need to make sure your tractor fulfills all your needs. The settings are all within reach of your hand, you can customize the cab, and it's not too crowded.
But, what tractor delivers those demands? Let's see.
With Case IH, you can choose between a full deluxe cab and a no-cab option. Both are fine choices, but depending on the season you work in, and how much comfort you are looking for, you have to opt for one.
Case IH is known for its roomy cabs that offer all the comfort, control, and guarantee ease of use! If you want ultimate comfort, this is a fool-proof choice.
Many cabs on the Farmall C model tractors offer AC, ten dashboard vents, side windows for extra air circulation, and controls that are within your reach. In addition, the operator's cab includes the latest technology with everything you search for!
It even includes self-cleaning steps on each side, so whenever you are done with a dirty farm task, you can easily clean your shoes before entering.
With Massey Ferguson, you will also get plenty of visibility and ease of use, but not much comfort.
These tractors include all-steel cab doors and a tilt-out windshield for better vision. In addition, the doors can be locked and pin-hinged for easy removal.
The MF is not known for its great comfort as Case is. So if you are looking for these parameters and features, your best choice is Case IH.
Winner? Case IH.
Hydraulics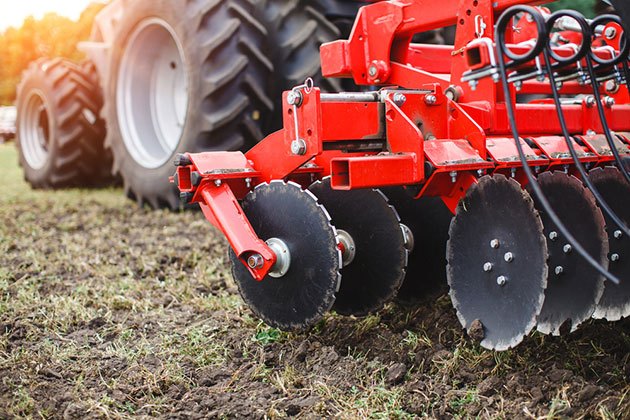 If you plan to do loader work, you will need to ensure that the model you have picked out has plenty of loader lift capacity. For example, the Massey Ferguson 5700 model series have an open-center hydraulics system with two high-pressure pumps.
A cab switch in this model allows for better control as it combines flow from both pumps. That being said, you will get more jobs done quicker! All three remotes are standard, while the third one offers flow control.
With this 5700 series, there are four MF loader models available. They all come with great gear, and each includes a joystick for the ultimate loader/tractor combination.
The Case IH brings a pretty close competition to the MF models. The key features of the Case tractor include incredible power capability, a heavy-duty 3-point hitch, range shift, dual hydraulic pump, and independent PTO.
With Case, you can independently lift the heavy load and steer, so you won't have to mix those two up. Each function is easy to use, and farmers love loader models for their busy day at the farm!
Case loaders guarantee flexibility when it comes to hydraulics. For example, the high-torque vehicle has flexible arms that allow the tractor to handle any vehicle in any location!
In this category, we would have to opt for Case again as they offer more options in maneuverability, functions, and heavy-lift capacity ability that allows for more accessible loader work.
Winner? Case IH.
FAQs
Does Case own Massey Ferguson?
No, Case does not own Massey Ferguson. However, in 1997, some of the construction elements from MF were sold to Case.
Massey Ferguson is under the ownership of AGCO Corporation.
Who builds Massey Ferguson tractors?
AGCO Corporation is the leading manufacturer and distributor of Massey Ferguson tractors.
They gained ownership of the MF company in 1997, not that long after the brand moved its headquarters to Buffalo, New York.
Ever since Massey Ferguson was under the ownership of AGCO, its worldwide success increased unexpectedly.
Is Massey Ferguson tractor made in China?
Not all Massey Ferguson tractors come directly from the USA. Although a few of the models are made within the USA territory, most MF tractors are made in Agco's Changzhou factory in Shanghai, China.
Massey Ferguson is manufactured in a few other factories, including Brazil, France, and Italy.
Does Massey Ferguson still use Perkins engines?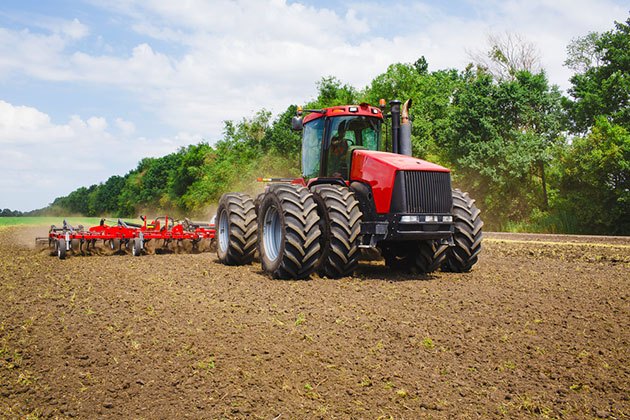 No, Massey Ferguson no longer uses Perkins engines. It was sold in 1998 and is now in complete ownership of Caterpillar. Inc.
Perkin's engine made Massey Ferguson a trustworthy option for many farmers. It was a four-cylinder design that made every operation easy!
Currently, Massey Ferguson uses a diesel engine by Iseki or Shibaura.
What diesel engine does Massey Ferguson use?
Massey Ferguson was known for its Perkins engine. However, currently, they are using more than one brand of the diesel engine in their tractors.
Although they do not make their engines, Massey Ferguson uses engines by Mitsubishi, Iseki, or Shibaura diesel engines.
Final Winner
Massey Ferguson and Case IH are long-term rivals. They make high-torque tractors with incredible features and strength to get any loader tasks done quickly.
However, just like with every other comparison, we can choose only one brand. As you can see, Case IH is a clear winner in most categories.
They are the right hand to any farmer, offering trustworthy performance and even better comfort in the cab. But, ultimately, the price will decide whether you go with Case or MF.
However, I highly advise you to visit your local dealers and test out each tractor. Specifications can tell you only so much, but once you take a seat in the cab, you will know which tractor fits your needs the best!
So, Case IH vs. Massey Ferguson?
Both brands have more options you can choose from, so feel free to explore your choices.