Spring is just around the corner, and soon, your neighbors will begin to worry about why your lawn isn't as luscious as it used to be!
However, any owner of a sizable property will know how much effort is required for fertilizing.
To avoid fertilizing the lawn by hand, you will need to get a tow-behind spreader that will do you!
Tow-behind spreaders will assist you in spreading grass seeds, fertilizers, and others on the lawn, and by doing so, you will be gifted with a lavishly green lawn!
However, not all tow behind spreaders work in the same way, and not all of them have the same capacity, so if you want to learn what is the best one for your lawn tractor type and what the best tractor spreader attachment is, keep on reading!
These are the best tow behind spreader models that will get your lawn spring-ready!
The Best Tractor Spreader Attachment Of 2022 – My Top 6 Choices
$ – Agri-Fab Tow Behind Broadcast Spreader
Easy hook up with the universal hitch attachment, works excellent on large areas and has a broadcast design that quickly covers the area.
Does not have height adjustment.
$ – Chapin 8620B 150 lb Tow Behind Spreader
One of the best stainless steel tow behind spreaders with an auto-stop feature and a large hopper.
However, it has a plastic housing that is not so durable.
$ – Buyers Products ATV All-Purpose Broadcast Spreader
Easy to assemble, includes a 12-v motor that runs the spreader, consists of a rain cover you can place on the hopper and protect the material.
The adjustments are not accurate.
$ – Agri-Fab 45-0288 175-Pound Max Tow Behind Drop Spreader
The best drop spreader you can find for an affordable price and excellent performance. It features a universal hitch, so compatibility is not an issue.
Thanks to the large capacity, you can cover one acre of land before it needs refilling.
However, it's not as precise as a broadcast spreader.
$ – Brinly AS-40BH-A Tow Behind Combination Aerator Spreader
Affordable pricing for a 2-in-1 design that lets you spread fertilizer and aerate the soil simultaneously!
The pull-behind broadcast spreader has a 40-inch spread width, perfect for a bigger lawn.
$ – John Deere Tow-Behind Broadcast Spreader
Excellent choice for a bigger terrain thanks to the large capacity and pneumatic tires that go smoothly on all terrains.
A bit pricey.
#1. Agri-Fab Tow Behind Broadcast Spreader – Best Pick
Brand: Agri-Fab
Capacity: 130 pounds
Tire Size: 13″ x 4″ pneumatic tires
Material: Poly hopper and spreader plate
Owners of a big lawn, listen up; this one is for you! We are starting the list with one of the most popular broadcast spreaders!
It's specially built with a larger property in mind, so it has all the best qualities you should be looking for.
The broadcast spreader comes with a massive 130-pound hopper which can fertilize half an acre before it needs refilling.
In addition, it has a universal hitch which means it can fit onto any riding lawn mower or garden tractor of your choice!
As you will be using this implement seasonally, you must maintain it the best way possible so that it can serve for a long time.
Luckily, the broadcast spreader is made of rust-resistant material that prevents corrosion caused by harsh chemicals.
The high-quality spreader works on uneven ground and rough terrain, thanks to the large pneumatic tires. They go smoothly on large lawns and cover a great surface behind.
In addition, it's also easy to manage the broadcast spreader due to the on/off lever, which ensures safety.
Lastly, the gearbox on this corrosion-resistant hopper is completely covered, so no seeds or lawn fertilizer will spill away.
Pros
Universal hook up
Rustproof poly hopper
Large-diameter tires
Works on rough terrain
On/off lever
Cons
There is no height adjustment
#2. Chapin 8620B 150 lb Tow Behind Spreader – Runner Up
Brand: Chapin Store
Capacity: 150 pounds
Tire Size: 14" pneumatic tires
Material: Powder-coated steel
The powder-coated steel master will deliver its best work on any lawn! Meet the great Chapin International tow behind spreader!
It has a remarkable capacity and large wheels that go smoothly on any lawn, so your job can be easier!
This stainless steel hardware is one of the best-built tow behind spreaders on our list, and just like the previous model, it's excellent for a large area!
You can cover about an acre or so before you need to refill it!
Additionally, the spreader is easy to maneuver as it has 11 setting adjustments, so you can easily find the one that works the best for you. How do they work, you wonder?
For instance, if you want to get close to the gate while spreading seed, you can choose the 0 setting adjustment if you're going to get as close as possible.
Gathered from numerous customer reviews, one of the favorite features of this tow behind spread has got to be the dual impeller system.
You can spread fertilizer past the gate even when the spreader is in motion with this addition.
Also, an auto-stop system immediately stops the spreader when it's activated. With this one, you will waste fewer fertilizer pellets and save time on the work.
Pros
Has oil-impregnated bronze bearings
Automatic auto flow stop
Rust-proof construction
Features 11 gate settings
Cons
Has a plastic housing construction
#3. Buyers Products ATV All-Purpose Broadcast Spreader – Best Multi-Purpose Pull-Behind Broadcast Spreader
Brand: Buyer's Products store
Capacity: 100 lbs
Tire Size: Does not include tires
Material: Rust-proof poly hopper
The previous two picks were quite similar in design but had different capacities.
However, this broadcast spreader has a lower capacity, but it is one of the unique designs you will get to try out.
The pull-behind spreader easily attaches to the ATV, and it's excellent for landscaping, farming, agriculture, or even hunting! The weight capacity measures out to an even 100 pounds.
Although this may seem low to some users, remember that the pull-behind spreader features a rust-proof plate hopper that will last you for quite a while!
Now, I mentioned the unique desing of the broadcast spreader, so how is it different from its competitors?
It has a 12V motor mounted inside of the poly hopper that operates the entire tow-behind broadcast spreader, for starters.
The motor is protected in the spacious hopper, so none of the fertilizing seeds get into it.
Also, the tow-behind broadcast spreader includes a rain cover that protects all of the elements when not in use.
Additionally, the whole assembly process is done in under 10 minutes to get started right away with your task.
One of the constant issues we noticed with this spreader is that the adjustment levels are not accurate and tricky to set.
Pros
Includes a 12-V motor
Includes a hopper cover that protects lawn chemicals
Cons
Short warranty
The adjustment levels are not accurate
#4. Agri-Fab 45-0288 175-Pound Max Tow Behind Drop Spreader – Best Drop Spreader
Brand: Agri-Fab
Capacity: 175 pounds
Tire Size: 12″ x 3.5″ pneumatic tire
Material: Polypropylene
Here we have another Agri-Fab tow-behind spreader! However, it's pretty different from its competitors above.
Notice how the previous one is a broadcast spreader while this one is a drop spreader!
If you have a smaller yard, this one is among the best spreaders customers have found. However, it's a drop spreader, so it is not as precise as a broadcast spreader is.
Nonetheless, it has a sufficient spread width of 42 inches that can cover the small-to-medium-sized lawn in no time!
Also, it's made from polypropylene, so it's not as durable as steel. You will also have to watch not to expose it to sunlight for too long as the plastic can get brittle over time.
Additionally, the hopper is rust-proof, so that you won't be facing any issues in that part.
The wheels are not that big, but they can carry the tow weight pretty well. Also, since they are pneumatic, they will go over the surface smooth and not leave a dent in soft spaces.
Thanks to the universal hitch, you won't have to worry about compatibility, as you can attach this spreader to any garden tractor!
Of course, the assembly of the tractor is necessary, but it's nothing you cannot handle as there is a detailed manual packed with the box!
Pros
Rust-proof
Large hopper
Pneumatic tires that run smoothly
Easy to assemble
Cons
Not as precise as a broadcast spreader
#5. Brinly AS-40BH-A Tow Behind Combination Aerator Spreader – Best 2-in-1 Design
Brand: Brinly
Capacity: 100 pounds
Tire Size: Not specified
Material: All-steel hopper
What we had so far were the regular electric or tow-behind spreaders.
However, the Brindley tow behind spreader is a 2-in-1 product you will love for your landscaping jobs!
It's excellent for yard maintenance, farming, gardening, and others.
The feature that makes this item so special is that it's a unique combo of an aerator and a spreader!
The fertilizer spreader works efficiently in getting you that luscious green lawn while aerating the soil simultaneously.
It also comes with an all-steel hopper that has a 100 lbs capacity.
Of course, large-capacity hoppers like this one should be built from heavy-duty steel gears; luckily, this one fits the profile!
The construction of the quality tow-behind spreader prevents the twisting and turning of the hopper under heavy load.
With the help of flow control, this spreader will minimize the waste of the material.
As for the aerator function, the inexpensive tow-behind spreader has galvanized tine stars with 132 fine tips that let air, water, and nutrients penetrate the soil.
However, it's not the best for rough terrain. It works better on flat lawns and fields that don't have slopes and curves.
This is a genius product if you wish to have a multifunctional tool for your landscaping tasks!
Pros
Affordable
2-in-1 design
Large hopper
Made from corrosion-resistant materials
40-inch spread width
Cons
Not cut out for uneven lawns
#6. John Deere Tow-Behind Broadcast Spreader – Best Hopper Capacity
Brand: John Deere
Capacity: 175 lbs
Tire Size: Not specified
Material: poly
Lastly, let's look at the John Deere tow-behind broadcast spreader!
If you are any bit of a tractor enthusiast, you would be familiar with the great glory of the John Deere name!
The company has been on the market for decades and constantly brings out unique and high-quality implements.
The tow-behind spreader by John Deere has a massive capacity, so it's excellent for those who have a bigger field to cover.
It can fit up to 175 lbs of fertilizing material so that you can cover as much ground as possible in one round.
To ensure it offers you years and years of service, the fertilizer spreader is made from rust-proof materials that prevent corrosion.
The stainless steel construction is durable, but it also supports your challenging tasks.
In addition, the John Deere tow-behind spreader includes a steel rod for opening and closing, so it locks in for a smooth and consistent flow.
The wheel size is not specified, but the fertilizer spreader includes pneumatic tires that work amazingly on uneven terrain.
Moreover, the spreader will also prevent material waste thanks to the autoflow function. Once you stop the tractor, the spreader will also stop spreading the grass seed.
Pros
One year warranty
Large capacity
Suitable for a bigger terrain
Evenly spreads out the grass seed
Has pneumatic tires
Easy to assemble
Rust-proof construction
Buyer's Guide
1. Hopper Material
Fertilizer spreaders will have either polyethylene or metal hoppers.
Polyethylene is more weather-resistant, while metal hopper handles heavyweight better.
However, both push spreaders will have downsides.
For instance, you will have to watch out for the rust and corrosion and learn to maintain it properly with a steel push spreader.
On the other hand, polyethylene tow-behind spreaders are brittle and will break easily if left in the sun for too long.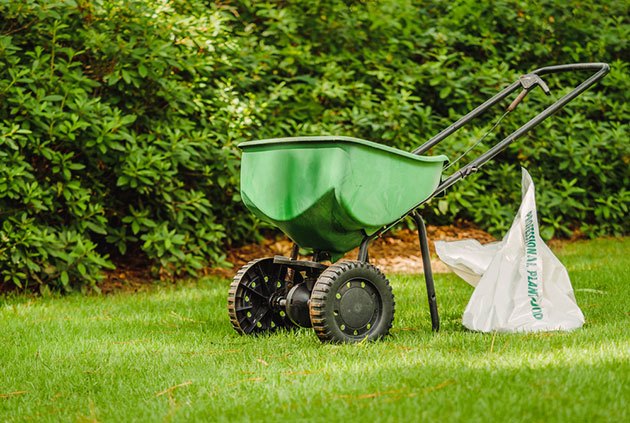 2. Optional Hopper Cover
Although they are an optional accessory, I always recommend getting a hopper cover with your tow-behind spreaders.
It will keep the material and grass seed safe and tucked in the hopper even if exposed to harsh weather.
Covers will come with an elastic string around the top, so make sure you get the proper dimensions for your drop spreader model.
3. Flow Settings
If you will be covering a large area with your drop spreader, it's best to check whether it has flow adjustments.
For example, some tow behind spreaders includes an adjustment lever, so when hooked on the lawn tractors, they evenly distribute the material in the selected flow.
This setting is beneficial if you have uneven terrain or even flowerbeds that don't need grass seed!
If you have a bigger property, your best option would be broadcast spreaders with a spreader plate underneath the hopper and release the fertilized in a broadcast pattern.
On the other hand, drop spreaders are pretty different and will often not have a flow setting.
In addition, a drop spreader releases the fertilizer pellets as you walk along, so they are not as effective.
4. The Capacity of the Hopper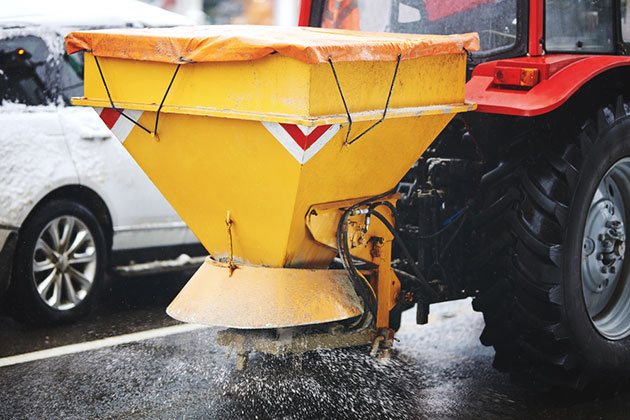 Whether you have chosen a broadcast tow-behind spreader or a drop style spreader, you must check its capacity level first!
How will you know for sure how much capacity you need? Well, based on your lawn size, you can quickly determine the size of the required hopper.
For instance, if you own a big lawn, it's best to select a hopper with 170 pounds or 150-pound capacity.
Here are some of the best choices: Chapin 8620B 150 lb Tow Behind Spreader and John Deere Tow-Behind Broadcast Spreader.
FAQ's
What is a tow-behind spreader?
A tow-behind spreader is an implement that can be attached to the lawn tractor.
A tow-behind spreader can be extremely helpful for a large lawn as it will eliminate the need to fertilize the lawn manually.
They can be either drop spreaders or broadcast spreaders.
Why purchase a tow-behind spreader?
If you ever wondered if you should purchase a tow-behind spreader, this is your sign telling you to do it!
A tow-behind spreader is a valuable implement you can attach to a lawn tractor and spread the fertilizer.
Homeowners with a bigger lawn will benefit the most from this implementation as it will efficiently spread the grass seeds and nutritious fertilizer on the lawn.
In addition, you would not have to do the job manually; just let your garden tractor do the rest.
How to use a tow-behind fertilizer spreader?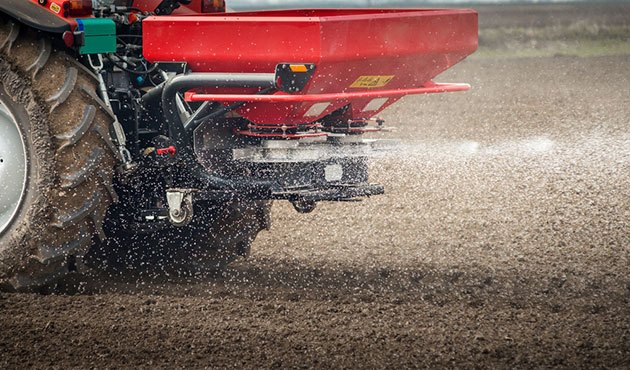 You will need to attach the hitch to the garden tractor for starters. Each hitch has a different installation process, so consult the manual for this part.
Next, calculate the amount of fertilizing material you will need for your lawn.
Before you begin spreading grass seed, make sure the control lever on the implement is in the "off" position.
Then, once you have filled the hopper grate with the fertilizer, you may turn the lever in the on position and start your garden tractor.
Drive the lawn tractor across the area that needs fertilization and make sure you evenly spread the amount of material.
How to maintain your tow-behind spreader?
Keeping a proper shape of the tow behind the spreader could not be easier. For starters, always empty the hopper after you have finished the task.
Remove any residue with an air compressor and thoroughly wash out the spreader. Allow for it to dry before you assemble it again completely.
You can also check once in a while to lubricate the bearings or any other parts the manual instructs you to. 
Keeping it away from sunlight is also crucial since you will be using the implement seasonally.
Which is better, drop spreader or broadcast spreader?
If you have a large lawn and a bigger area to cover, your best choice would be a broadcast spreader. It will do the job more quickly.
On the other hand, drop spreaders are often more affordable. However, they are not as precise as broadcast spreaders are.
A broadcast spreader has a flow setting underneath the plate so you can adjust the amount of fertilizer you want on the lawn.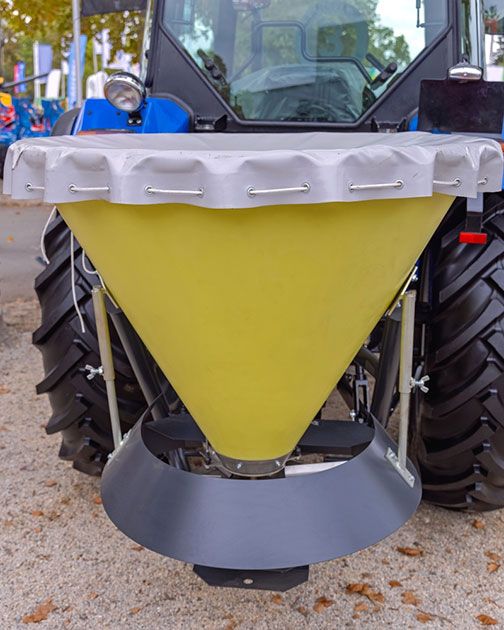 What setting should I use on my Scotts fertilizer spreader?
You should use a 5 1/2 setting if you wish to overseed and an 8 1/4 for a bare lawn setting.
However, if you are using drop spreaders, it's best to use the 8 1/2 setting.
What is the best spreader for 2022?
The Agri-Fab Tow Behind Broadcast Spreader tow behind spreader won us over in the first round! It's practical, maneuverable, easy to assemble, and drops the fertilizer pellets and seeds in an even pattern across the field.
There is no compromise with this heavy-duty trailer hitch, as it easily mounts onto any tractor type!
Additionally, it works better for all-terrain as it has large pneumatic wheels that go over smoothly!
Sale
Final Words
The best tow behind spreaders can help you achieve the lawn style of your dreams! It quickly spreads out the fertilizer you would otherwise have to do manually.
It's time you cut back on the time you spend in the garden and efficiently fertilize the lawn in under half an hour with the best tractor spreader attachment!
These were some of our top 6 best tow-behind spreaders you can get in 2022, and be prepared for spring in time!