If you need the best tractor cultivators to prepare and operate your soil better, you're at the right place! In this article, you will learn:
What a tractor cultivator is
Its purpose
Its advantages and disadvantages
Best models available on the market
How to find the best tractor cultivators for your needs.
So, without further delays, let's dive straight into the topic.
Take away key points:
Cultivators are ideal for soil preparation for growing plants
You don't need rotary tillers if your land allows the cultivators only
Find the best cultivators below to ensure the best operations
All you need to know about a tractor cultivator machine for your farming activities
Read our guide below to learn more about tractor cultivators and their purpose.
What is a farming cultivator?
A tractor cultivator is an attachment used to finish secondary soil operations – setting up the dirt and controlling weeds to prepare the soil for more robust tasks.
You can use cultivators for seedbeds, flowers and plants, vegetables, gardens, and similar plant fields.
What is the purpose of the tractor cultivator?
The purpose of a tractor cultivator is to prepare the soil for planting by breaking up the soil, removing weeds and rocks, and aerating the soil. This process helps to ensure that plants can grow in the best possible environment. It also helps to improve water drainage and increase nutrient availability in the soil.
Additionally, tractor cultivators can be used to mix fertilizer into the soil, which helps promote healthy plant growth.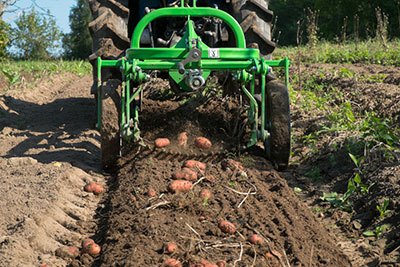 Is a tractor cultivator mandatory?
No, a tractor cultivator is not mandatory.
Depending on the size of the land and the type of cultivation required, various types of equipment are available for use. For small plots of land, a hand tractor or mini tiller can be used to cultivate the soil. For larger plots, a full-size tractor with a cultivator attachment may be more suitable.
Difference between the tractor tillers & cultivators
The main difference between the cultivators and rotary tillers is that a tractor cultivator is pulled behind a tractor, while a rotary tiller is self-propelled. In addition, a tractor cultivator uses curved blades to break up soil and create furrows, while a rotary tiller uses rotating blades to cut through soil and mix in organic matter.
The tractor cultivator is ideal for preparing large plots of land for planting crops or gardening. It can also be used to break up clumps of soil, remove weeds, and level the ground.
The rotary tiller is better suited for smaller areas such as gardens or flower beds because it can work more precisely than the tractor cultivator. The rotary tiller can also be used to mix fertilizer or compost into the soil.
So, do I need a Titan Attachments rotary tiller?
You may not need a rotary tiller if you have a cultivator for smaller tasks, such as aerating, weeding, and cultivating. But, you need a rotary tiller for heavy-duty tasks and larger working widths for loosening hard soil types.
What are the advantages and disadvantages of the tractor cultivator?
Advantages include:
– Improved soil structure
– Better water retention
– Increased crop yields
– Reduced weed growth
Disadvantages include:
– You cannot use the cultivator for deep tillage
– Overuse or use in wet soil results in compaction, leading to reduced crop yields or poor drainage
Below is the ultimate list of the best tractor cultivators for all farming applications. Read the reviews thoroughly to learn all their benefits.
$$$$ – Heavy Hitch Multi-Purpose Disc Cultivator – Best for planting flowers and similar garden tasks. Adjustable and heavy-duty for prolonged life and more robust jobs. But discs don't come from the USA.
$$$ – MotoAlliance Impact Implements CAT-0 Cultivator – Most reliable and adjustable cultivator due to its adaptable design. Suitable for all secondary soil operations due to its gear-driven system. Still, fewer spare parts are available due to their origin.
$$$ – Field Tuff FTF-48C3PT 3 Point Cultivator – The cultivator is perfect for larger farms and similar areas after the rotary tillers set the soil standards. The reliable design will not damage regardless of working conditions. However, the tool is the best drilling option.
$$$ – YITAMOTOR Chisel Plow Scarifier – The tool is perfect for tractor tillage tasks, as you can adjust the depth and prepare the soil for further robust operations. It lasts longer due to composite materials. Yet it might not be the best Category 0 attachment.
$$$ – Field Tuff 43 Inch Steel Tow Behind Disc Cultivator – Best cultivator for all garden and flower field operations. Advanced for more robust tasks and easily adjustable to different machinery. Anyhow, it doesn't include a toolbar.
Brand: Heavy Hitch
Material: alloy steel
Operation mode: manual
Best for: yard maintenance equipment
The Heavy Hitch field cultivator is an ideal option for your small tractors, as it contains an adjustable heavy-duty frame. The powerful cultivator uses a heavy-duty wall design with a steel tube, so it's compatible with most of the attachments and shelf clamps.
The digging power and the compact design make the rigid cultivator versatile for different small tractor operations. The 2-inch receiver mounts easily mount on the hitch, and the attaching point comes standard with this farmer helper. So you can easily mount the rigid cultivator for vegetable farming and other sub-compact tractor needs. It's easy to attach and detach it.
As the rigid cultivator uses adjustable Hiller clamps, they are fully adjustable, and you can maneuver them to fit your needs. The powerful cultivator handles come in 14-inch sizes, so your subcompact tractors can quickly operate on flatter hills, wider areas, and narrower, taller hills. So you can accomplish more ground tasks.
Thanks to the sleeve design, the tractor cultivator easily adjusts from side to side, allowing more configurations in less time. In addition, you will find it reliable for smoother operations.
You need to use the tractor rotary tillers first to set the soil ready to apply the cultivators for smooth jobs. But, the cultivator machine is also valuable for the garden, and smaller areas, as the rotary tiller first prepares the soil. However, the garden cultivators control weeds and other unwanted vegetation away.
Cons
discs not made in the USA
Brand: MotoAlliance
Material: Metal
Operation mode: electric
Best for: gear-driven operations
What's so specific about the MotoAlliance farmer helper? This tractor cultivator might seem similar to a heavy-duty tractor tiller, yet you use the heavy-duty rotary tiller first and then apply the cultivator.
The cultivator is valuable for its adjustable spring steel tines and 52-inch cutting path with a beveled edge. For this reason, the rigid cultivator eliminates all excess vegetation and unwanted weeds once the heavy-duty tiller prepares the soil for further jobs. As a result, you will keep your soil optimal for more robust operations.
Since the tractor cultivator performs secondary soil operations after the tractor tiller breaks the soil, the cultivator requires less maintenance effort than the rotary tiller. However, if you don't perform regular maintenance of the cultivator, it will not offer smooth work conditions, and you cannot do the job quickly.
Unlike similar cultivators, the MotoAlliance tractor cultivator has different gear-drive standards and is machine-operated. However, it's not manually operated, so you will also get more time for other tasks.
Thanks to its six adjustable and replaceable cutting-edge tines, the heavy-duty tractor attachment is ideal for multiple functions, and you can easily finish the job. The cast iron gearbox is also durable and sturdy for an extended period, and you can use it regardless of weather conditions.
However, the machine requires the CAT-0 system installed on your tractor. But this mechanism doesn't come with the attachment. And the cultivator also requires assembly for the 3-point CAT-0 quick mount.
Pros
adjustable skid control
adjustable cutting lines
heavy-duty cast iron
Brand: Field Tuff
Material: alloy steel
Operation mode: manual
Best for: sharp cutters
The following cultivator for smaller compact tractors uses a wider working width. Thus, you can apply the cultivator to prepare the soil for larger gardens, food plots, fields, and similar areas.
The working width is 48 inches, offering fast and efficient work. So, you can use the cultivator to prepare seedbeds or dig the entire fields after a rotary tiller has broken the land.
Due to its heavy-duty shovels, the cultivator effectively cuts through the soil and keeps the surface optimal for further operations. In addition, the sturdy and reliable S-shaped shanks, made of spring steel with resilient heat-threaded materials, offer better absorption of digging the shovels.
The cultivator resists corrosion and rust, thanks to its heavy-duty steel construction and powder-coated finish for a strong and durable machine. So, the sharp cutters cannot damage so soon, and you can apply the cultivator even as a professional landscaper.
You will like the tool's adjustable and reversible shovels to be more adaptable to different working standards. You can easily change the configurations and ensure the best use of the attachment.
As the Field Tuff offers an adjustable rear shield and adjustable skids for better control, you can easily attach it to different Category 1 hitch models. It's ideal for hassle-free tasks and better working performance. The cultivator is ideal for use after the chain-drive rotary tiller, allowing better digging and weed control.
Finally, you'll get a one-year warranty if you notice something wrong.
Pros
adjustable
bigger size
durable
Brand: YITAMOTOR
Material: carbon steel
Operation mode: manual
Best for: chain-drive tasks
The YITAMOTOR cultivator is another valuable tool for the agriculture sector, and you should have it for the specific design. The tool is compatible with all Category 0 and Category 1 tractors. The tool uses mounting brackets for quick installation on most machines without additional modifications. You can easily attach or detach without any other issues.
Due to the premium carbon steel with heavy-duty standards, the cultivator is ideal for its reliable and durable construction, regardless of the working conditions, forces, and other external impacts or pressure. In addition, the tool uses different shanks, and each comes with a spring steel tine that is reliable and durable for an excellent tillage depth.
As the YITAMOTOR offers adjustable steel shanks, you will find six of them, and you can adjust their height. So they are ideal for all tillage operations and conditions, multipurpose uses, and different applications. Still, you can easily sharpen the edges and the stool steel when necessary.
Although this is a cultivator, the tool is similar to a rotary tiller, as it also offers different primary soil preparations. For this reason, you will get the raised soil for your land or garden, ideal for initial land preparation, providing a perfect foundation for further seed work and optimal robust operations. So you can quickly use it and prepare for the wholesome working process.
Of course, the tractor cultivator price list matches the overall quality, so you will get what you pay for, don't worry.
Pros
durable
reliable
heavy-duty
adjustable
Cons
not for Category 0 hitches
Brand: Field Tuff
Material: alloy steel
Operation mode: manual
Best for: seedbeds and flower fields
Finally, we're closing this part of our article with another Field Tuff cultivator. This tool is a valuable machinery part for your tractors due to its shank attachments. In addition, the shank parts will create a raised seedbed so that you can plant a wonderful garden or flower field.
The cultivator shanks feature four S-shaped tines with mounting brackets and shovels included. Thus, the cultivator offers different operations, and it's ideal for all heavy-duty and light-duty tasks. So, you can control the weeds and other vegetation and prevent them from damaging your soil and land.
The cultivator shanks easily break up tough soil, so the cultivator works similarly to the rotary tiller. In addition, it will rip through weeds, ensuring the soil is ready for planting or seedbeds. Therefore, it shares certain features with the rotary tiller. You might use it for the primary soil preparation instead of the rotary tiller if the working conditions allow you.
Thanks to the heavy-duty steel construction, the cultivator will last for an extended period. As a result, it will offer you more durable and sturdier operations, and you can adapt it to fit your standards. Thus, the external impacts, pressure, and forces cannot damage it so soon, and you can use it longer.
Finally, the cultivator fits the Field Tuff's 3-Part Hiller and Garden Bedder for more optimal working conditions and multiple operations. So, you can combine well and work for longer hours.
Pros
durable design
adjustable construction
reliable use
for all garden operations
Cons
the toolbar is not included
Finding the best cultivators for your high-quality tractor: Buyer's guide
Choosing the best cultivators might be challenging. You need to consider various factors for the best use. Here are some of them:
1. Size
First, consider the size of the area you will cultivate. If your area is large, you need a larger cultivator. If it's small, you need a smaller cultivator model.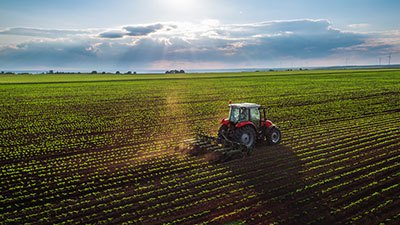 2. Soil type
Consider the soil type to determine how much power you need from the cultivator.
Some soil types require more power, while others require less. Some models might also include extra features, such as adjustable speed control for the smoothest cultivator operations. So, check the features and soil types first, and then look for the best model.
3. Budget
When choosing the cultivator, consider your budget as well. There are multiple models with various price points. So, you will know which fits you the best.
But, do not sacrifice the quality of the operations for cost savings. The high-quality models last longer and perform more effectively.
FAQs
What is a 3-point cultivator used for?
It is used for soil preparation for planting. You attach it to the machine with three points of contact to dig into the soil, break up clumps, remove weeds, and mix fertilizer or other materials. 
What is the difference between a tiller and a rotavator?
A rotary tiller is a smaller, hand-held machine used to break up soil and create furrows in the ground. It is usually used for lighter work over smaller areas.
A rotavator is for heavier work over larger areas. It typically moves with a wheelset at the rear and sometimes even at the front. Rotavators are more powerful than rotary tillers and can dig deeper into the ground: up to 300-400mm, while tractor tillers only go shallower.
Which tractor is best for rotavators?
For compact tractors, Beckside Machinery offers some of the best-quality rotavators on the market. The FarmMaster RT-125 compact tractor rotavator is an excellent option for larger farms
Can a cultivator be used as a tiller?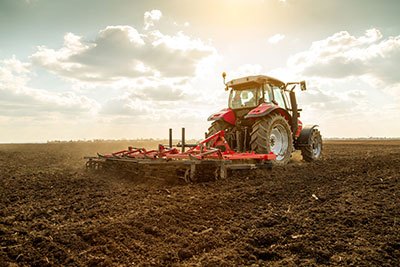 Yes, a cultivator can be used as a rotary tiller if your soil type and conditions allow you to do so.
How to use a cultivator on a tractor?
A field cultivator cultivates an entire area covered by the equipment, while a one-row cultivator lets you drive your tractor right over the top of the row in your garden. It skims right over the tops of the plants.
The tines on the cultivator loosen and aerate the soil, making it easier for plants to take root and grow. You can also use a cultivator set to make gardening projects easier. Adjust the depth of your tines so they don't damage any existing plants or roots.
How to make a cultivator for a tractor?
Follow the steps below:
– Find the fitting tractor model: a seedbedder, defoliator, shredder, row crop cultivator, or sugarbeet harvester
– Assemble the machine: attach the cutaway discs and shares to the frame
– Connect the arts to the PTO shaft
– Adjust the depth gauge wheels
– Check that all elements are securely connected in a good working order
How much is the cultivator tractor?
The price points depend on their benefits and quality, but you can find different models from less than $200 to more than $500.
How to hook up a tiller to a Kubota tractor?
Follow the procedure below:
– Attach the lower 3-point arms of the rotary tiller to the machine. Use the QH series quick hitch
– Connect the drive shaft of the rotary tiller to the PTO shaft of your machine
– Adjust the tiller's angle to look like from the sides
What size tiller for a 30 hp tractor?
Generally, a 40-hp requirement jumps to nearly 50-hp with six tines.
The best cultivator is…?
The best cultivator is the Heavy Hitch Multi-Purpose Disc Cultivator.
It offers durable and sturdy construction, ideal for all heavy and lighter tasks. It allows you to operate soils faster, and it will be more effective than other models. Finally, the price matches the high quality and value.
Heavy Hitch Multi-Purpose Disc Cultivator Garden Bedder 3-Point Attachment with S-Tines and Row...*
[2 INCH RECEIVER MOUNT INCLUDED] Our multi-purpose attachment utilizes a 2″ receiver mount that comes standard with this toolbar.
[BUILT TO LAST] 48″ wide and uses 2 in. x 2 in. heavy wall steel tube compatible with most off the shelf clamps and attachments
[UTILIZES ADJUSTABLE HILLER CLAMPS] Fully adjustable 14″ disc hiller clamps so your sub-compact tractor can easily tackle wider, flatter hills or narrower taller hills
[EASILY ADJUST USING OUR SLEEVE DESIGN] Our unique "sleeve" design allows you to easily adjust the toolbar from side-to-side requiring less time adjusting and more time getting the job done.
[CHOOSE FROM 3 DIFFERENT CONFIGURATIONS] We give you the option of getting the disc only, the disc and S-Tines, or the disc, the S-Tines, AND the row maker insert which makes plant or seed ready, one...
Summary
Although the cultivators are not mandatory, they are essential parts of tractor attachments to help you prepare the soil for later growing tasks. So, you should choose the best tractor cultivator to fit your needs.