We present the best tractor radio kit for all farmers who like working with music since they can relax a bit for your needs!
These radios are ideal for you as they save money since you will get your needs – Internet, Bluetooth function, USB port, microphone input, remote control, head unit, speakers, headphones, and more features a good radio must-have.
So, without further delay, you can pick a fantastic tractor CD player and radio kits to enjoy your agricultural tasks.
Our Favorite Tractor Radio Kits – Overview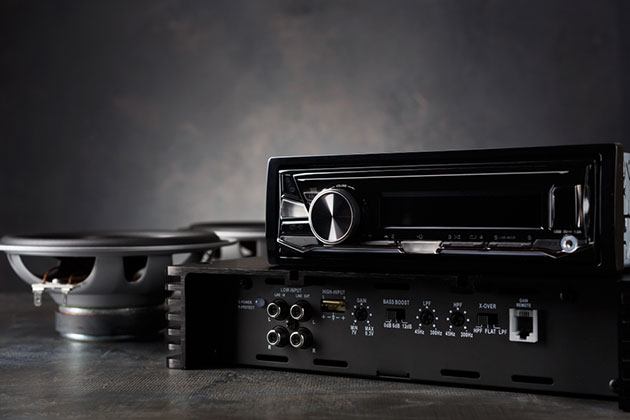 $$$ – Jensen JBR550 Heavy Duty AM/FM/CD Stereo – 4.11 pounds
Best control quality and versatility options. Heavy-duty for maximum durability. Still, design flaws.
$$ – Kubota Tractor Direct Connect Stereo Radio – 2 pounds
Best direct plug and play system, with Bluetooth speakers and phone connection. Yet, not so durable.
$ – Direct Connect Plug & Play Kubota Tractor Radio – 1.48 pounds
Best Google support with wireless connection. Easy to install and use. However, display issues.
$$ – Wireless Bluetooth Marine Audio Stereo-Kit – 11.9 pounds
Best quality stereo equipment with water resistance and advanced sound effects. But, poor customer service.
$$ – Herdio 4 Inches Waterproof Marine Bluetooth Speakers Car AM/FM Radio – 5.02 pounds
Best versatility for multiple vehicles and sturdy construction for longer uses. Nonetheless, inner system issues.
Best Tractor Radios Money Can Buy: A Complete 2022 Overview
1. Jensen JBR550 Heavy Duty AM/FM/CD Stereo – Best controls
Brand: Jensen HD
Price: $$$
Connectivity technology: RCA, Auxiliary
Main benefit: easy to connect
Why should you choose the Jensen radio for your tractor?
The radio is a selectable electronic unit with AM/FM with thirty presets – 12 AM and 18 FM. So, you can manually choose the tuning you like and adjust the radio to your needs.
In addition, the high-quality radio has a CD player with 40-second ESP.
Besides, the CD player features different functions, such as repeat, intro, random, but single-disc CD/CDRW/CDR playback.
The device has a maximum power output of 160 watts (40Wx4) and the electronic control for the bass/fader/balance and other sounds.
However, the radio also features the rear AUX audio input (RCA left/right) and a time/frequency display for better sounds and less vibration.
With the positive LCD and the fixed front face, you can install the radio in the cab and effortlessly carry on with your tasks.
But, I mustn't forget the large, user-friendly buttons and controls. So, you can press them quickly, and choose the music you will listen to easily.
Still, the radio device has the integrated PA microphone input a built-in clock, and you can place it on mute, silent, or other switching positions.
Pros
heavy-duty
quick setup
durable
2. Kubota Tractor Direct Connect Stereo Radio – Best Bluetooth radio
Brand: TractorRadios
Price: $$
Connectivity technology: USB port, Bluetooth
Main benefit: excellent reception
The Bluetooth hands-free calling unit is ideal for your tractor, as it offers fantastic Bluetooth streaming, with both AM/FM radio options.
In addition, it contains a direct plug and play system for your tractor cab!
Hence, you don't need to guess which wire goes where, and you can enjoy the hands-free installation and connect the machine instantly.
As the radio mostly fits Kubota RTV-1100 radio wire pinouts, you will find that each wire harness connects to the M100GX, M110GX, M126GX, etc.
However, if you order it at Amazon, choose to ship it in Amazon packaging at checkout. Otherwise, the package will reveal what's inside.
Due to the Bluetooth speaker and port, you can also easily talk on the phone and not worry about reception.
In addition, the speakers are of high quality; therefore, you won't have any issues speaking on the phone.
And thanks to the Android control method and controlling type, you don't need any remote control to maneuver the radio.
Besides, you can install it in your car, truck, or other vehicles.
And, if you have a stereo system, the tractor fun is endless!
Pros
easy to install and use
maneuverable
phone connection
high-quality
accessories
speaker system
3. Direct Connect Plug & Play Kubota Tractor Radio – Best Internet system
Brand: Tractior_Radios
Price: $
Connectivity technology: Bluetooth, USB
Main benefit: direct plug and play system
Thanks to its plug-and-play system, another Kubota radio is a perfect solution for your new tractor.
Thus, the heavy-duty product has net support with Siri, Google Assistance, and other features a good radio should have.
Moreover, the system is excellent for Bluetooth speakers, high-quality sounds, Bluetooth music streaming, AM/FM station types, and hands-free calling options.
Therefore, you will have excellent reception and talk freely via headphones or speakers. The choice is up to you and your preferences.
But, the unit will wow you as you can install it in your car, truck, or Kubota tractor, thanks to the same system.
So, if you add stereo options, you can get a next-level experience with tractors.
The kit is also compatible with other B2650, B3350, L3430, L4330, L4630, L5030, and other tractors.
So, you should check the compatibility in advance and see whether the heavy-duty kit fits your old or new tractor.
However, when shipping to your country and buying online, ensure you search for the Amazon packaging.
If not, you will receive a package that reveals the equipment inside.
Pros
excellent stereo system
easy to install and use
Google support
durable
4. Wireless Bluetooth Marine Audio Stereo-Kit – Best quality
Brand: Pyle
Price: $$
Connectivity technology: Bluetooth
Main benefit: water resistance
The Pyle AM/FM stereo is unique for its features.
Namely, the Bluetooth stereo speaker has a marine receiver, water-resistant speakers, a shield, and remote control.
Additionally, the unit contains different SD/USB/MP3 reading slots. Hence, you can also install the stereo in your truck, car, or another vehicle.
In addition, the wireless connection and accessories will allow talking on the phone via speakers or other available equipment.
Since the marine console is water-resistant, it cannot damage so quickly.
So, the stereo also has a dash receiver that it's effortless to install and a universal standard OEM size for a quick update.
Of course, the Bluetooth stereo seats an example for working with your Smartphone, iPhone, and other devices with the same system. Its wireless range is sixteen feet.
And the unit has a CD player with SD/USB readers.
The water-resistant speakers have plenty of power and offer a full range of stereo audio.
No more wondering if you can listen to your favorite music or speak on the phone effortlessly.
The product has a built-in microphone for hassle-free calling and speaking on the phone – you can hear and answer the calls correctly.
Pros
automatic memory storing
EQ function
sound quality
5. Herdio 4 Inches Waterproof Marine Bluetooth Speakers Car AM/FM Radio – Best versatility
Brand: Herdio
Price: USB
Connectivity technology: USB
Main benefit: heavy-duty construction
And last but not least, the heavy-duty Herdio stereo equipment will wow you due to its power and sound benefits.
Thus, the heavy-duty stereo is compatible with both speakers and television, offering you limitless use and numerous features in your working machine.
In addition, the water-resistant IP66 screen will protect the unit from the harsh conditions inside the cabin.
Moreover, you can use a mini-shaped mounting bracket for overhead installation or on a deck. So, it provides an effortless and quick setup.
Due to the Bluetooth system, you can pair the heavy-duty stereo with your phone or other portable devices.
And the intense Bluetooth signal & the independent amplifier box feature different benefits for bringing you high-quality stereo sound effects.
The signal is also great, so you don't have to bother about speaking. And, you will hear the person talking to you properly. So, nothing can go wrong.
The heavy-duty device fits various vehicles, so you can easily install it wherever you like. The options are limitless.
In addition, the heavy-duty kit won't harm your ears, as the system protects you from any damage. So, don't worry about the health risks.
Pros
durable
sound quality
easy to install
water-resistant
Best tractor radios 2022: Buyer's guide
It's not hard to imagine a relaxed farmer. The main reason refers to the radios they use in their machines.
So, let's see what you need to look for in the best tractor radios for your needs.
As you have seen in the reviews, all radios were water and weather-resistant. Therefore, drivers can use them for an extended period and enjoy their favorite music.
So, even in harsh conditions, your radios will remain intact, potent, and strong enough to endure all conditions and work well.
The same applies to materials – it would be best to choose radios that feature reliable constructions, inner and outer frames, and systems for extreme elements and surroundings.
They will last longer and perform well regardless of the external forces and impacts.
So, heavy-duty radios are always the number #1 choice for all farmers.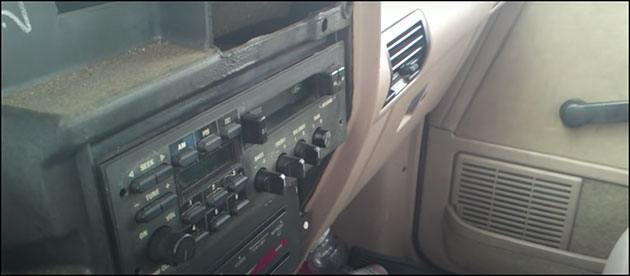 2. Wireless connection
This is a crucial feature, as you need a hands-free unit that can easily connect to your phone or other portable devices.
Therefore, selecting the USB or Bluetooth radios with a wireless connection would be best.
In addition, you don't have to worry about the signal, and you can talk effortlessly on your phone.
The speakers will provide you with a high-quality sound effect, so there won't be any issues regarding this benefit.
3. Extra features
Of course, it's always a big plus if your radio kit has CD players and other slots and readers, so you can choose how you listen to music.
So, these extra benefits will do the job and perform flawlessly, offering you numerous options.
Here, you can search for the input, AM/FM options, and all other benefits these brand-new radio kits offer users.
Of course, with various slots and different systems, you can download different types of music and listen to songs you don't have on your phone or radio at the moment.
4. Ease of installation and use
It would help if you skipped those hard-to-mount devices, as they might be tiresome with the wiring system and instructions.
So, stick to the units that will ease your job when mounting and installing the radios in your cabins.
And you can always refer to the instruction manual or contact customer support if you need additional help with installation or using the radios.
Some might come with remote controllers, so pay attention to them.
5. Versatility
Many products are versatile and fit many vehicles.
However, I still recommend checking the vehicle manual and radio instruction manual before the final purchase.
The outcome might not fit your vehicle, and you might have issues with the mounting and connection.
So, to avoid these issues, stick to the manual first or contact customer support.
6. Prices
All of the units are quite affordable for our farmers.
However, I would check their quality instead and then look for the prices.
Of course, you will get what you pay for, but you might need to prepare more money if you want more benefits.
So, determine your needs first, and select the products according to your needs and preferences.
Frequently Asked Questions
How to install a tractor radio?
Follow the procedure below:
remove the plastic tab to open the hole for placing the radio inside
open the box and find the radio and wiring harness
locate the antenna hookup and hookup for left and right speakers
the pink wire is hot
find the locked tabs on the radio
lift the charges with and take the bracket off
squeeze the frame into the hole in your machinery
use a screwdriver to push all the tabs and flaps in
use pliers for better effect
place the wiring harness to the stereo's back
put the connector end to all the wires
match them up to the saddle for speakers and antenna
connect all male and female ends correctly
plug the antenna in the radio
hook the power-up
snap the stereo inside the frame in the hole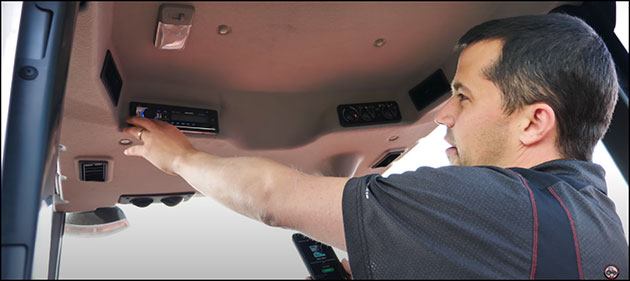 What types of tractor radio are there?
You can find various radios that serve as AM/FM stereos, with or without CD players, with Bluetooth or USB connection for music or phone calls.
They are hands-free models, and you can easily install them in your tractors or other vehicles available.
However, you can find two-way radios, similar to commercial mobile radios. Their primary purpose is communication between farmers.
Thus, you use them without a signal, making them better than the phone. Farmers use these during plating seasons, feeding livestock, cleaning out grain bins, etc.
You can use them between the grain truck and farm or for the combine to grain cart communication.
Which radio CD player brands are best for tractors?
Well, of the mentioned radios are leaders on the market, and each has its benefits and advantages.
However, the most prominent brands might be Jensen and Radio_Tractors due to their affordable radios.
However, their models are small, compact, and lightweight but strong and effective enough to last longer.
Finally, they are easy to install and use on your tractor.
And, the best radio kit is…?
The Jensen JBR550 Heavy Duty AM/FM/CD Stereo is the best one. It's small, compact, lightweight to fit the cab, and easy to use and install.
Moreover, it's affordable, durable, and sturdy for more robust use.
Finally, it has all crucial parts and controls for all benefits radios must-have.
Jensen JBR550 Heavy Duty AM/FM/CD Stereo, 12 Volt DC, 160 Watts (4x40W) Output Power, Single Disc...*
Selectable electronic AM/FM with 30 Presets (12 AM, 18 FM); Manual up/down and seek tuning
CD player with 40 second Electronic Skip Protection (ESP); CD player functions: Intro, Repeat, Random; Single disc CD/CDR/CDRW playback
Maximum power output: 160 watts (40W x 4); Electronic control for volume/Bass/Treble/Balance/Fader; Time/frequency display selector (T/F); Rear AUX audio input (RCA left/right)
Fixed front face; Positive LCD display; Large, user friendly controls and buttons; Built-in clock; Mute; Integrated PA microphone input
Dimensions: 7.5"L x 7.4"W x 2.3"H/ 183mm (W) x 158mm (D) x 58mm (H)
Final thoughts
Have you found your final winner yet?
I know it's tough, but hold on a bit more extended, and I'm confident you will select the best tractor radio for your needs.
Remember that all these stereo players are leaders on the market, and they won't let you down.
Let me know about your choice.