Tool or no tool, fixing a sagging fence wire isn't a child's play.
I've seen farmers carrying around nothing but fence pliers, but damn, we know it takes skill, strength, and experience to improvise like this.
Good fence stretchers can cut you some slack, so today, we're looking into different types and brands of best wire stretchers, as experienced farmers and handy newcomers recommended.
From the original Texas fence fixer to the trustworthy Goldenrod, let's see what each of these models has to offer and choose the best fence stretcher for 2022.
7 Best Recommended Fence Stretchers
$$ – Fi-Shock A-53 Fence Stretcher – 8.59lbs.
A solid two-in-one tool for stretching and splicing smooth, barbed, and high-tensile wire. Ratcheting is easy and controlled, but the overall quality could be improved.
$$ – Goldenrod 400 – 8.0lbs.
The original Goldenrod stretcher and splicer are appropriate for all types of wires and simple to use. It's a robust, heavy-duty tool, but the paint coat is not great.
$$$ – Goldenrod 415 – 10lbs.
New and improved Goldenrod wire stretcher with a three-hook design for unlimited stretching. It's great for multiple fence wire types and more demanding repairs since it has a mobile hook.
$$$ – The Original Texas Fence Fixer – 6.69lbs.
The most expensive and the lightest stretcher so far, this is a classic that's been on the market for quite some time. It has a simple design but requires some skill and technique.
$ – Midwest Air Fence Stretcher Bar – 5.67lbs.
Special stretcher bar with a three-hook design for net wire fence. It's made of heavy-duty galvanized steel, portraying fantastic quality per price. But it's designed for woven fences only.
$$ – Nisorpa Chain Fence Strainer – 7.77lbs.
This is a chain fence strainer with a removable handle. Due to its swivel design, it's relatively simple to use with either right or left hand, but you need some time to get used to it.
$$ – American Power Pull Corp – 6.4oz.
A well-made grip, suitable for plain fence wires up to 3/16 inches in diameter. It's sturdy and easy to use, but it doesn't work that well with barbed wire.
Read more —
Best Electric Fence Charger for Cattle 2022: Top 8 Picks to Wow You!
#1. Fi-Shock A-53 Fence Stretcher- Solid Stretcher for Garden Fences
Brand: Fi-Shock
Price: $$
Material: Metal
Purpose: Stretching and splicing
Designed for stretching and splicing, this fence stretcher-splicer can hold different sizes and types of wires, so it's a reliable tool for repairs whether you're working with a traditional or a high-tensile fence.
The way it's designed allows you to either hold both ends of the wire when you need to splice, or you can hook it around a post for tightening.
As a result, ratcheting is pretty controlled and straightforward, especially since this tool is on the lighter side.
As for the quality of the stretcher itself, it's made of rigid metal, but if you leave it outside for some time, it will start to rust since there's no protective coating.
It's not a bad tool overall, but I am not impressed.
It's versatile and works on smooth, barbed, and high-tensile wire. But, it is not the highest-quality product and seems like a cheap copy of Goldenrod.
It doesn't always provide a secure grip since the teeth are made of soft steel, and due to constant use, they can become smooth and useless, especially on an old wire.
This can be frustrating, so if you put in a bit more money, you can get high-quality pressed steel stretchers that finish the tasks in half a time.
Pros
Stretching and splicing wire
On the lighter side
Easy ratcheting
Works on all wires
Cons
Rust
Teeth don't always grip
#2. Dutton-Lainson 400 – The Best Fence Stretcher Splicer for Smooth and Barbed Wire Fence
Brand: Dutton-Lainson
Price: $$
Material: Metal
Purpose: Stretching and splicing
Proudly made in the USA and first introduced by the Dutton-Lainson company in the 1940s, Goldenrod 400 has probably been in the hands of every experienced rancher at a certain point.
Stretcher and splicer, this tool can work with any type of fence wire, be it smooth, barbed, or high-tensile, and it's fairly simple to use.
You can either secure one end to the pole and the other to the wire to stretch, tighten, or even reposition the fence.
Or you can connect the wire on both ends and splice it in the middle conveniently.
Now, this is the OG Goldenrod, and Dutton-Lainson released two more models afterward, so there are a few things that farmers didn't initially like.
For example, the paint coat is awful.
Not just that it looks terrible, but it also blocks the mobile parts of the tool, so once you get it out of the box, you'll need to hit it with a hammer to release the moving bits.
Also, if you're a newbie, it won't be that simple to clip this stretcher onto the wire. But after a couple of times, it gets easier.
However, these are not serious issues, and if you ask any experienced rancher, they'll tell you this is a great tool.
It's been on the farmer's market for quite some time, and it introduced a design that has ever since been copied by many different brands.
Pros
Made in the USA
Stretcher and splicer
High-quality steel
Works on all wires
#3. Goldenrod 415 – The Best Fence Stretcher With Three Hooks
Brand: Dutton-Laison
Price: $$$
Material: Metal
Purpose: Stretching and splicing
As I already mentioned, there are three variants of Dutton-Laison's Goldenrod wire stretchers, the 400, 405, and the latest 415.
The latter variants each have an improvement of their own, but all three models are based on the same original design.
When it comes to innovations, the Goldenrod 405 has a controlled release holding ratchet that allows a gradual release of tension, so there's less chance for the wire to break.
It's a good safety device for beginners.
On the other hand, Goldenrod 415 features the third hook. The goal of such a design is to allow unlimited wire stretching without repositioning the tool. How?
Well, the second stationary hook holds the wire tight while the so-called "traveler" hooks move down the bar to clamp another bit of wire.
While I am pretty impressed with the performance of the Goldenrod 415, I am disappointed that the paint job is not getting any better.
You can't use the tool until you lube it or even remove the excess paint with sandpaper.
Overall, this is an improved version of an already well-received wire stretcher, so it's on a higher-end when it comes to price.
But if you don't mind adjusting it a bit before use, you'll be more than satisfied with the results.
Pros
Three-hook design
Easy to use
Improved design
Stretch, splice, or reposition the wire
Cons
Needs to be lubricated before use
#4. The Original Texas Fence Fixer – The Highest-Quality Heavy-Duty Fence Stretcher
Brand: Texas Fence Supplies
Price: $$$
Material: Metal
Purpose: Stretching and splicing
Here we have another farming classic that's been around for more than twenty years.
It's manufactured in the United States, and it's definitely the best-selling fence stretcher on the market.
First of all, I'd like to note that this stretcher is more expensive than the previous models, costing almost $100.
But, it is a high-grade tool that comes with a lifetime replacement guarantee, so it's very reliable and worth the cost.
Now, this stretcher works slightly differently than the previous models. It has two hinged handles and a chain.
So, once you spread the handles, there's a slot for the wire at the top of each handle.
When you place the wire, you close the handles together and tighten it.
To free your hands, connect the handles with the chain, and then you can use the pliers to splice the wire.
As you can tell, this stretcher demands more tools and additional effort for fence repairs, but most ranchers swear by this good old technique.
The stretcher works with barbed wire, horse fence wire, net wire, and different types of electric fence wire, basically any material.
It's probably the lightest fence stretcher of this kind, but it does require some skill and practice.
Once you get the idea, though, it takes no more than a minute for a fast repair.
Pros
Lifetime replacement guarantee
Barbed wire fence stretcher
Works with electric fence wire
Heavy-duty
Lightweight
Cons
Demands the use of other tools
Requires some skill to use properly
#5. Midwest Air Fence Stretcher Bar – The Best Fence Stretcher For Woven Field Fence
Brand: Midwest Air Technologies
Price: $
Material: High-grade steel
Purpose: Stretching
Stretching a chain-link fence, or as some call it, a woven wire fence is slightly different from the barbed wire.
Here we have a specialized stretcher for a chain-link fence, made of high-quality pressed steel that's galvanized for an anti-rust finish.
It is, in fact, a simple stretcher bar with hooks.
This stretcher has a three-hook design that ensures even pressure is applied to the wire and no-sag is left behind.
It weighs less than 6 pounds, so it's pretty easy to use and carry around.
The bar is thirty-six inches long, and you can order one or a pack of two, three, or four. The price is very budget-friendly, and the quality per price ratio is more than fair.
What is more, most people are genuinely surprised with how well-made this tool is and how well it performs.
Comparing it with other models on the list wouldn't be entirely fair since this is a stretcher for a woven wire, and it has a different design.
But quality-wise, this stretcher bar leads the way with its rugged steel construction that's resistant to all weather conditions and lasts, well, if you put minimal effort into preserving it, forever.
Overall, this is a great tool, well-made, simple, and lightweight.
So, if you need to stretch your woven wire fence, this is probably the best model you can find.
Pros
Galvanized steel
Simple design
Three hooks for even pressure
Great quality per price ratio
Cons
Works on net wire fence only
#6. Nisorpa Chain Fence Strainer – The Best Fence Strainer With Chain
Brand: Nisorpa
Price: $$
Material: Metal
Purpose: Stretching
Here we have another metal stretcher that works well with plain and barbed wire fences. Some farmers even use it for woven wire fences, and it works just fine.
Now, the tool itself is a mid-range product price-wise, and it portrays a decent quality and good performance.
But when it comes to design, it's slightly different from the products we reviewed so far.
This is, in fact, a chain strainer, so it's slightly more complex to use.
It has a removable handle with a claw that you hook to the wire, and then you attach one side of the chain to the handle and the other claw hook to the wire.
Then you pull the level a couple of times and create tension.
A good thing about this tool is that it's designed for both left-handed and right-handed people, and it's suitable for wires between 1.5 and 5 mm in diameter.
According to farmers who tried it, this wire fence stretcher tensioner is not at all simple to get going, and releasing the pressure can be a real pain in the neck.
All in all, it's a well-built tool and a multi-purpose device that's worth buying if you already know how to deal with fences.
But I wouldn't recommend it for a first-timer since it's not the easiest to use.
Pros
Multi-purpose tool
Good for left-handed and right-handed people
Well built
Good quality per price
Plain or barbed wire fence stretcher
#7. American Power Pull Corp – Works Great With Cable Puller
Brand: American Power Pull
Price: $$
Material: Metal
Purpose: Stretching
This is the simplest fence and wire grip you can find, with a traditional design for smaller fence and wire repairs.
It supposedly works well with both plain and barbed wire, but most customers are not satisfied with how well it performs on a barbed-wire fence.
Firstly, to remove any possible confusion, this is a small conduit spring-loaded grip that only hooks onto the wire and connects to a tensioner, so it requires additional tools for stretching.
Its design is typical for a cable grip, but it can work on some types of fence wires smoothly.
It works with wires up to 3/16″ or 5 mm, and the maximum weight capacity is 1000 lbs.
Generally, it's a well-made tool, but the opening is too narrow for most barbed wires, so it can be a hassle to put the wire in and later release it.
The grip itself doesn't weigh too much, so it's pretty convenient to use, but as I mentioned, you need additional tools for stretching the fence, so take it all into account and decide whether it pays off.
Farmers who are used to this method find it a good-quality tool, but like with the previous model, I don't think it's the best choice for beginners.
Pros
Well made grip
Lightweight
Good weight capacity
Performs well on plain wire
Works well with steel cables
Cons
Doesn't work well with barbed wire
Buyer's Guide
Anyone who owned a ranch and tried repairing fences knows this is no joke.
There are still no tools that could significantly lower the effort and make this an easily manageable task.
But, there are a few different kinds of wire stretchers, so each farmer relies on a technique most suitable to his own style.
Let's look into different types of wire stretchers.
1. Wire grip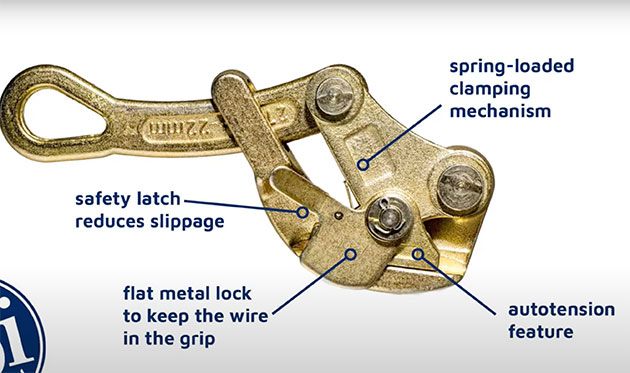 This is a mechanical tool that includes a handle and a set of grooved and serrated jaws.
The jaws are where you insert the wire, and then you close the metal lock to keep it in place.
Additionally, there is an "eye" on the handle that allows you to connect the mechanical pulling device. Aside from tensioning wire, you can use it for cables.
Here is a video demonstration of this technique.
2. Stretcher bars
Stretcher bars are used for stretching the wire of a woven fence.
It consists of a bar, hooks that connect to the wire, and then a circle that connects to a fence wire puller.
This specific design is used to stretch the wire fences with a chain link design.
Here, you can see a video on how to use this type of stretcher.
3. Chain fence strainer
Chain strainers can either have a removable or fixed handle. They consist of a handle with a claw and then the chain.
The chain has another claw on one side and a hook to link it to the handle on the other side. You use this device by first getting the wire into the claw on the handle and securing it.
Then you take the chain, link it to the handle, and get the other bit of a wire into the claw on the chain.
Then you simply pull the lever a few times to create tension, and you can tighten or splice the wire.
A more detailed demonstration can be seen in this video.
4. Texas fence fixer
Texas fence fixer has the simplest design of all fence stretchers. It includes two handles and a connected chain.
At the top of each handle, there's an opening for the wire.
You spread the handles, feed the wire into the stretcher, then close the handles to pull the wire and tighten it.
You then secure the handles with the chain, and your arms are free so that you can splice the tight wire. It works with smooth wire fences and barbed wire fences.
Take a look at the demonstration of fencing wire with this tool.
5. The Goldenrod wire stretcher
Now, Goldenrod is a specific model of a wire stretcher, but I'd like to list all stretchers of this kind under this category.
These stretchers consist of two or three hooks, a handle, and a bar with teeth.
They are multi-purpose devices for repairing fence lines of barbed or smooth wire, high-tensile materials, or horse fencing.
Here is a video on how to use these.
Frequently Asked Questions
What is a wire stretcher?
A wire stretcher is a mechanical tool, usually made of steel.
Its purpose is to remove the slack from your fence and help in maintaining a tight, secure fence line.
There are different types of these tools, but they all have similar designs.
They include hooks that connect to the wire and handles, or levers, used for pulling.
How tight do you stretch the field fence?
There is no precise answer to this.
Of course, you want to avoid the fence sag, but only about a half of the bend should be pulled out of the wire during installation.
So, take the loose wire and tighten it just enough to eliminate any sag along the fence line.
Don't overdo it because, most likely, the wire stretched will break.
How much does a fence stretcher cost?
Fence stretchers vary in price.
The price range is mostly between $40 and $100; it depends on the quality of the materials and design.
The Texas fence fixer is the most expensive model on our list, but I'm sure there are more pricey ones in the stores.
Do you have to use a fence stretcher?
According to hard-core ranchers, NO.
Fence pliers are a handy tool for fixing old wires in the good old-fashioned way. It's tough to achieve the proper tension, though, so this method demands real strength.
With a fence grab and a cable puller, you can also achieve great results, but this is yet another tool you need to buy.
How do you stretch an uneven ground fence?
Well, the best advice is to set up a pole at every rise and dent to achieve better stability of the fence.
Then you can choose a wider fence wire so that there's more space for uneven stretches in critical places.
Conclusion
What we can conclude from all given and said is that you need to be a sort of a badass to stretch wire fences properly.
Jokes aside, the best choice you can make when choosing the best wire stretcher is to select a model that works on smooth wire fences, high-tensile fences, and barbed wire fences.
My favorite is the Goldenrod 415 because it is well-built, works on all wires, and includes three hooks for fast and effective stretching and splicing.
Sale
Fi-Shock A-53 Wire Stretcher*
Designed to help with splicing and stretching fencing wire
Securely holds both ends of the wire as you splice
Makes it easier to repair your fence line
Rugged design features strong hooks
Convenient ratchet action for easy use