Have you finally decided to install electric fencing but don't know where to start?
With numerous types and materials of fence wires, it can be challenging to make the right choice.
But, there is absolutely no need to make a choice hard when we have already done half the decision-making for you!
With these top 6 best electric fence wire products, it's easier to tell the difference and decide what works the best for your farming needs.
Picking the right fence does not require a particular skill; only a couple of minutes of your day to learn basic information on the best electric fence wire!
Best Electric Fence Wire Fences: My Top 6 Choices
$ – Gallagher Electric Fence Turbo Wire
User-friendly design and durable quality that resists unpredictable weather include a UV-resistant coating and a portable function that makes it suitable for temporary fencing solutions.
Not so visible.
$ – Fi-Shock Galvanized Steel Wire
The best high-tensile steel wire offers incredible breaking load and durable design; it has superior strength and can carry an electric charge over a long distance.
However, it's a bit pricey.
$ – Fi-Shock FW-00001T Aluminum Wire
The best aluminum wire for the money; it stretches easily, so it needs tension for better adjustments on the fence line.
However, it's not suitable for fast-moving animals.
$ – Farmerry 1312 Feet Portable Electric Fence Polywire
Easy to install on permanent fencing and temporary fencing, highly visible to animals due to its unique design.
The Zareba poly tape is an excellent solution for horses; it's highly visible to other animals and stands out from the environment.
$ – ElectroBraid Copper Lead Out Wire
The sturdy wire can carry up to 15,000 volts with its copper conductor core and effectively protect your horses and other livestock animals.
However, it's a bit costly.
#1. Gallagher Electric Fence Turbo Wire – Best Turbo Wire
Brand: Gallagher
Material: Stainless steel
Breaking Load: Not specified
Length: 800m
Gallagher electric fence wire has proved to be the best one! You have found it if you are looking for a durable wire suitable for temporary fencing solutions.
The Gallagher turbo wire features an attractive design that makes it a unique selection among competitors.
To begin with, the steel wire is made with nine inter-woven metal strands with stainless steel wires.
Along with copper, they offer up to 40x more durability and strength than regular poly wire fences.
What farmers love the most about this electric fencing is the fact it is easy to use! The wire unwraps and adjusts to your liking, and it can be repaired when needed.
Additionally, it's portable, so it's suitable for temporary fences.
The UV protection coating on the steel wire fencing makes it durable throughout all seasons.
In addition, it includes nine stainless steel wires that are rust-free, so you don't have to worry about the rainy days running it.
However, due to the white color of the wire, it's not as visible as some others may be.
Pros
Affordable
UV-resistant
Superior strength
Easy to install
Portable
Cons
Not so visible to animals
#2. Fi-Shock Galvanized Steel Wire – Best High-Tensile Galvanized Steel Wire
Brand: Fi-Shock
Material: galvanized steel wire
Breaking Load: 165-195 lbs
Length: 1/4 mile
The Fi-Shock offers a highly quality 17-gauge steel wire that has a massive breaking load of 195 lbs!
Although its design is quite basic, the effect will deliver its very best.
The steel wire also has a high-tensile strength of 80,000-95,000 psi. High tensile wire fencing is best used for permanent fences as it can easily be tightened when it gets loose.
Additionally, galvanized steel wire is an economical solution that can carry an electric charge long distances when needed.
It's safe and secure for confining animals, and it can effectively stop wild animals from sneaking into the field fence area.
With the Fi-Shock galvanized steel electric wire, you can use porcelain and plastic insulators. However, one of the main disadvantages of these wires is the price.
Unlike aluminum wire fences, galvanized steel wires are a lot more expensive. But, on the other hand, they are a long-term investment you won't regret!
Pros
Suitable for permanent fencing
Superior conducting capabilities
Low-maintenance
It can be used with both plastic and porcelain insulators
High tensile
Carries electric charge over a long distance
#3. Fi-Shock FW-00001T Aluminum Wire – Best High-Tensile Aluminum Wire
Brand: Fi-Shock
Material: Aluminum
Breaking Load: 90 lbs
Length: 1/4 miles
We previously admired the galvanized steel wire by Fi-Shock. However, the product's high price may not be everyone's favorite.
That's why it's essential to check out the alternative aluminum wire by Fi-Shock!
It covers up to 1/4 mile of the fence and comes in a spool for easier use! Compared to the galvanized wire type, it will not rust, so it's suitable for all weather conditions.
The cost-effective option is suitable for permanent fencing and semi-permanent ones.
In addition, the aluminum wire is known for its superior conducting capabilities and excellent strength.
It's capable of conducting four times as much as steel wire fencing. However, it's not so suitable for fast-moving animals such as coyotes and horses.
In addition, it can easily bend, so it will not stop heavier animals.
With that in mind, the aluminum wire does stretch, so you must use tensioners. However, it's also relatively lightweight, so it's easier to work with!
Pros
Affordable
More powerful than steel
Thinner profile
Suitable for semi-permanent and permanent fences.
Easy to stretch
Lightweight
Cons
Not suitable for fast-moving animals
#4. Farmerry 1312 Feet Portable Electric Fence Polywire – Best Poly Wire
Brand: Farmerry
Material: Poly wire
Breaking Load: Not specified
Length: 400 meters
If in doubt, go with poly wire!
It's one of the most commonly used electric fencing materials for agriculture, so you cannot make the wrong choice!
The Farmerry portable electric fencing poly wire is suitable for up to 400 meters of permanent fence or temporary fencing solutions.
It's easily adjusted and repaired, giving you versatility with the installations.
What makes this poly wire electric fencing so unique is its design.
In addition, the Farmerry poly wire is yellow and black, making it highly visible to animals and humans!
Additionally, the six stainless steel strands are excellent electric current conductors. They effectively carry the electric shocks throughout long distances.
It's always good to see that the electric fencing is UV protected.
Since the wire is constantly exposed to sun and rain, it must be protected adequately. This makes sure you get a long life out of your new fencing!
The wire is lightweight, so it's a breeze to install it! With enhanced visibility and durable design, you can stop both slow animals and faster ones!
Pros
Enhanced visibility
Cost-effective option
Less likely to suffer wind damage
Suitable for temporary fencing and permanent fencing
#5. Zareba PT656WH-Z Polytape – Best Poly Tape
Brand: Zareba
Material: poly tape
Breaking Load: 150 pounds
Length: 200 meters
Zareba is a commonly seen name for electric fencing materials and products. It's a highly respected brand that delivers reliable equipment for electric fencing.
The Zareba poly tape is made from individual strands of plastic and five stainless steel strands.
The strands act as electric conduction while the overall tape is highly visible to the entire environment.
Experts who have used the fence poly tape say that it is an exquisite product for horse containment.
It's visible enough yet sturdy to stop the fast-moving animals that tend to gallop away.
However, the Zareba electric poly tape may only be used on a permanent fence.
Many other electric tapes have a thinner width, so they suffer wind damage. But, that's not the case with the Zareba poly tape!
Its 1/2 width offers less resistance and is visible, especially in a brown landscape. The unique features of this electric poly tape make it one of the best products for heavy-duty use.
Pros
Easy to install
Offers less resistance
Suitable only for permanent fence types
Highly visible
Cost-effective
Cons
It can't be used with temporary fencing
It cannot be used with high tension
Exposed for sun damage
#6. ElectroBraid Copper Lead Out Wire – Best Poly Braid Fence Wire
Brand: ElectroBraid
Material: lead out copper wire
Breaking Load: Does not specify
Length: 200 ft
Lastly, we have yet to review the ElectroBraid copper wire!
As a part of every ElectroBraid fence wire, there is an insulated, high-voltage wire inside the braid. It's an excellent electro conductor and can carry the load over long distances!
This is a spectacular electric fencing wire for horses!
It will teach them psychological boundaries between the wire and the open field, but it will not cause a severe injury.
But, of course, it's implied the horses need proper training around the wire.
That being said, don't underestimate the wire's power! The 14-gauge copper wire can carry up to 15,000 volts with its solid copper core.
ElectroBraid uses copper to ensure the effectiveness of the wire and of the entire fence line. Plus, the single wire is suitable for any type of fence!
Whether you have permanent fencing or a temporary one, the ElectroBraid is there to follow.
The overall installation of the wire is easy, but the price is slightly higher than what the competitors are offering.
Pros
Suitable for horses
Low maintenance
It can effectively carry electric charge long distances
Buying Guide
Before we discuss all the different types of electric fence wires, here is what else you need to consider.
Type of Fence System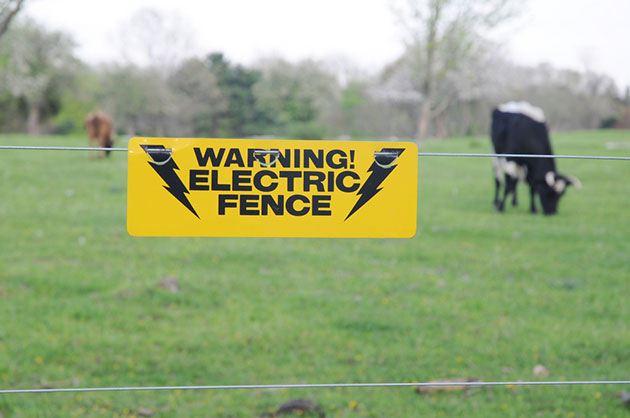 There are a total of four electric fencing systems:
Offset: with offset fences, you can quickly turn them into electric protectors. They can be transformed into an electric fence by using offset electric wiring.
Temporary: These fences are, like the name suggests, temporary and can be easily relocated. In addition, they offer flexible grazing and wires such as poly wire.
Equine: owners with temperate and unpredictable animals should consider equine fences. They are designed to cause less injury when used with electric wires.
Permanent: a permanent fence needs to use a highly conductive wire with a steel core and corrosion-free properties. You need to avoid poly tape, which is not a friend to all-weather seasons.
Consider the Animal Type
Not all electric fence wires are suitable for all types of animals.
For example, the ones that work best for horse safety may not keep smaller poultry like chicken safe.
Before deciding on the type of fence wire you want, first consider the majority of your livestock.
Always protect the bottom portion of the fence too. Some animals, such as goats, are quite the escape artists and can dig their way out of the fence.
Types of Electric Fence Wire
1. High-Tensile Wire Fencing
With high tensile wire fencing, you have two options. You can either go with a high tensile wire made of aluminum or steel.
In this case, you need to think about what type of animal you contain and whether you want a stronger or weaker conductor.
A high tensile wire fencing effectively keeps the predators away, but it can also safely contain stronger animals.
The aluminum and steel electric fence wires are easy to maintain and install and hard-wearing.
However, if you want a wire that can conduct a charge for a long-distance, then aluminum is a better choice. It can be costly at times, but the investment will pay off!
Both wires can be used for constructing perimeter fences.
The only thing you need to be careful about is not to use a high-tensile electric fence with fast-moving animals.
They can easily get caught, and the wire can cause serious injury.
2. Galvanized Steel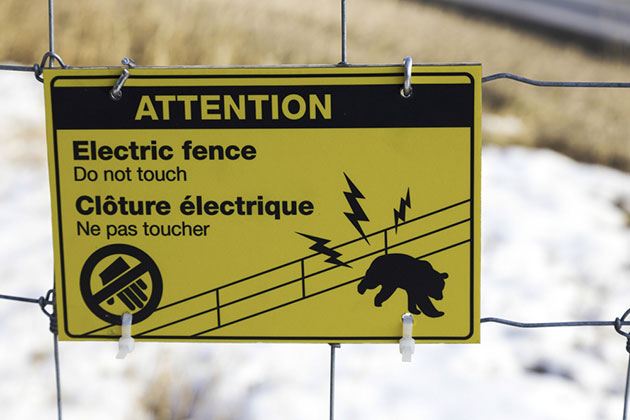 A galvanized wire is one of the most popular types used in agriculture. However, it's not suitable for every need.
Although it's incredibly sturdy and can be hooked on every charger, steel is known to be a weaker conductor.
If you want a wire that conducts charge to a long-distance, your best option would be an aluminum wire for electric fences.
On the other hand, steel wire fencing can be used for temporary and permanent fencing needs.
Galvanized steel offers an economical solution, and it can even be paired with extensions.
3. Aluminum Wire
The most significant disadvantage of aluminum electric wire is its cost. But, ask any farmer, and they will tell you that it's worth paying extra!
With aluminum electric fence wire, you don't have to worry about conductivity and rust. It's resistant to weather changes, so neither the sun nor the rain will damage it.
It can be used for constructing perimeter fences as well as permanent fences.
Since aluminum wire can be a high-tensile wire, you need to train faster animals to respect the wire.
Try hanging a brown or green tape on the wire, especially in the snow background. It's highly visible than with plain green vegetation.
4. Turbo Wire
Turbo wire fences are pretty similar to poly products. However, they are distinct in one feature.
With turbo wires, you will have nine strands of conductive metal core, making them more endurable and conductive than poly products.
Those with longer fences will always worry whether their electric fence is strong enough to carry a charge.
However, you shouldn't have that kind of problem with turbo wire. Because it features more electric strands, it's suitable for fences that go over 200m.
5. Equine Fence Wire
Those who own horses will need to consider equine fence wires. They are easy to install and highly visible to fleeting animals.
In addition, this long-life lasting high tensile wire is a safe alternative for horses.
Due to its layer, it will reduce the risk of serious injury. The thinner width of the wire is also easier to spot in snow background and green vegetation areas.
It's an economical solution that is a perfect match for permanent fencing.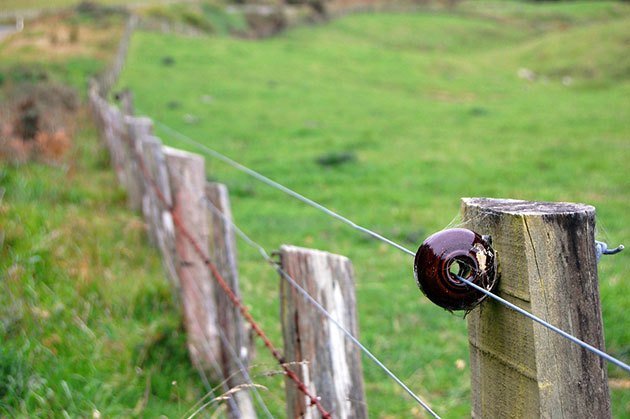 6. Barbed Wire
Barbed wire is a fence wire designed with sharp edges that stretch out to the entire length of the wire.
It's made in various styles, and this fence wire is an inexpensive solution for many agricultural workers.
Nowadays, it's not commonly used for livestock as it can cause injuries with its design. But, it still can be used with some animals, such as sheep and goats.
It also works excellent on perimeter fences as well as security fencing.
Poly Fencing Materials
Poly fencing is mainly used for temporary fencing, and it includes three-wire choices: poly tape, poly wire, and poly rope.
All of them are constructed from the primary poly material and woven with metal conductors.
1. Poly Wire
A poly wire fence is commonly used as a temporary fencing solution.
It's made from plastic strands woven with metal conductors that carry the current from the energizer.
One of the biggest benefits of the poly wire electric fence is that it's highly visible to the animals.
However, it's relatively thin, so it's not as strong as a steel fence.
It usually comes in a roll, suitable for strip grazing, rotational grazing, and divided pastures.
2. Poly Tape
Poly tape fence wire is designed from individual plastic strands interwoven with conductors that make a ribbon.
It's an excellent choice for many fencing needs and comes in different coloring that stands out from the environment.
For instance, a white tape poly will be best visible in a brown landscape, whereas brown or green tape will be suited for snow backgrounds.
Not only does the white tape have excellent visibility, but it's highly durable as well.
It's available in three different widths of 12, 20, and 40mm, and each is used for special applications.
For example, the 40mm one is best used for perimeter fencing due to enhanced visibility, even for slow animals.
The tape can be used in temporary, permanent, and perimeter fencing and strip grazing. However, I would not recommend you use poly tape in unstable climates.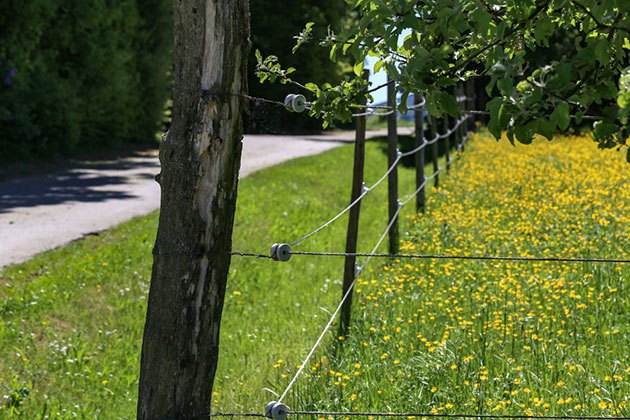 3. Poly Rope
Lastly, the poly braid electric fence wire is a sturdier choice than poly wire since it includes stainless steel strands.
It is highly endurable to all weather conditions and can be used with various fencing needs.
Poly rope wire is made with individual strands of wire and plastic braided to create a tight rope.
Additionally, poly rope wire is highly visible to the environment and comes in different color options. Therefore, it's ideally used for horse fences, perimeter fencing, and controlled grazing.
Both poly rope and poly wire should be used with low impedance chargers.
Final winner
With up to six competitors we reviewed, it's time to declare the best one! The Gallagher Electric Fence Turbo Wire is a turbo wire your pasture needs!
It's easy to install with most fences and has up to nine conductors. That being said, it carries the charge for longer distances, so it's suitable for longer fences.
Gallagher is a trustworthy choice many farmers rely on, so it's time to see why it has been a number one choice!
Conclusion
Electric fencing is crucial for keeping your livestock and crops safe from predators.
Therefore, you need to ensure you have picked out the best electric fence wire for the application.
We have already listed what we consider the best one; now, the choice is up to you to choose wisely!