For the best horse protection, you need to keep them safely contained. And what's the better solution than a correct electric horse fencing?
Now, I know that many of you have heard of ElectroBraid horse fencing. They are among the leading brands in the electric fence industry in the USA.
They are famous for their safety benefits, advanced benefits & premium-quality products.
That's why the article will focus on the best ElectroBraid horse fence reviews & their best electric fences. 
Let's start!
What is the ElectroBraid electric fence for horses?
The ElectroBraid is a permanent electric fence designed particularly for horses. It represents both a physical barrier & a psychological deterrent.
The electric fence is highly visible for horses, reliable, solid, and durable enough to withstand various physical and harsh conditions, external impacts, forces, and pressure.
What does the electric fence look like?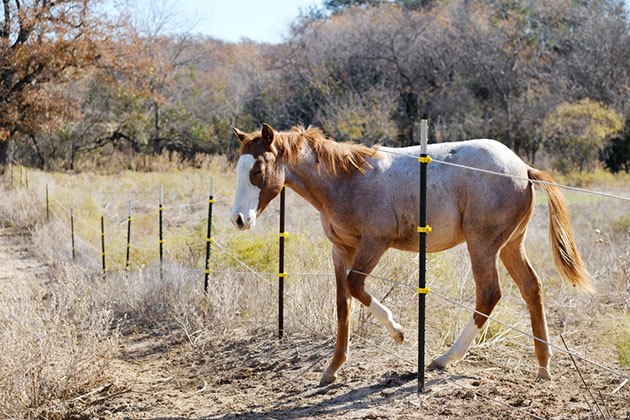 The electric fence resembles a premium-quality yachting rope. It contains a dual helix of copper wire systems braided into the outer jacket of the fence rope.
You can find 3 or 4 wire strands of 0.25-inch diameter mounted on the insulators on fence posts. Whether the fence posts are vinyl, wood, or steel, they must be 30 to 50 feet apart.
You can choose between white, black, or checkered electric fences.
What are the main benefits?
The horse fencing stands out among other fence brands due to highly visible ropes, unlike traditional horse fences with steel wires, which are hard to see.
But, the most significant benefit is that the horse fencing ABSORBS the energy of a panicked animal, bouncing your horseback into the pasture without any harm to the horses or the fence.
You will like the ElectroBraid horse fencing due to:
safety
simplicity
versatility
security
cost-effective design.
1. How safe is horse fencing?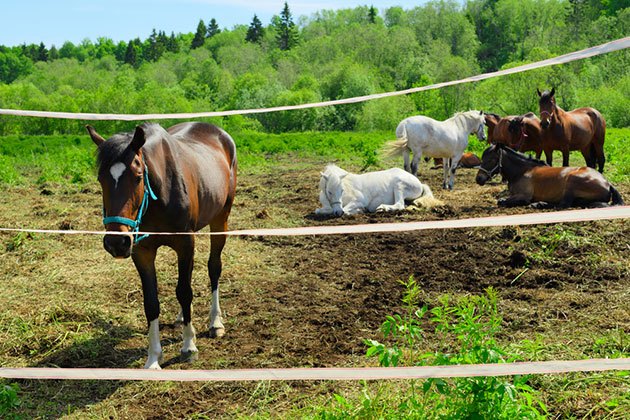 Your horse will not be injured without sharp edges, points, and impact injuries.
With no wires to puncture or cut, boards to splinter or break, horses can only rub against the fence or crib on board fences.
However, the only possible injury is if your horse wraps a wire strand completely around struggles and rear leg.
But, if the fencing is correctly installed and used, such dangerous situations are not possible.
In addition, the electric shock is harmless, causing an unpleasant psychological barrier. It provides the minimum amperage of 3/10,000 per second so that the horses won't get hurt.
Horse owners agree that horses like the fencing, as there are no predators to hide from. And horses respect the fencing.
2. How simple is the fence?
As mentioned above, the horses respect the fencing due to uncomfortable shocks. This way, the barrier represents the absolute limit and boundary for the movement.
Once shocked, horses will stay away from it. They won't crib on it, go under or jump over the fence. They don't want to experience the shock again.
Installing and using the fence is also simple. You can find the best fence energizer to test the voltage levels and fix the errors.
You also need to do proper maintenance once the installation is complete. Weeds, grass, bushes, etc., may affect the fence line and overall construction, so keep it clean.
It doesn't need much effort, but regular cleaning shows better results.
You can use any type of posts for installation, but they must be insulated. For example, t-posts can be used, or fiberglass posts as these do not require insulators.
Many farmers use wood posts with a 6-inch diameter for ends and 3-4-inch diameters for fence line posts.
3. How versatile is it?
The fence is versatile as you can use it for the permanent or temporary fence. It can also be used for other domestic animals, not only horses.
Numerous experts claim that fencing is also safe for deer control. Many use it for deer airport and cornfields control without hurting them.
One strand on top of the fence prevents all these animals from breaking it and escaping.
4. How secure is the fencing?
The fencing resists the impacts of horses.
Unlike other models, the fencing shocks horses to confuse them and keep them away from the paddock edges.
As it's made of durable content, the fence has a 25-year warranty.
In addition, due to its UV-resistant and solid structure, the fence resists all impacts, chemicals, and harsh conditions.
5. Is it affordable?
You don't need a fence expert to help you install the fencing. It's a self-installed unit, done by everyone. You just need the correct equipment for the setup.
It also costs 17.5 cents afoot, so it's affordable to all. However, to move it, you need a contractor.
But, you can set the fencing for your horses 30 to 50 feet apart and provide them with more space.
When installing posts and end corners, ensure they don't move.
When installed, they should be stable and secure in the ground so that horses cannot break the construction.
Sometimes, you may only search for new insulators, but posts and ends don't need replacement.
The structure resists lightning strikes well. The dual helix of copper has the same functions as the lighting arrestor. Thus, it will ease the tension and prevent damage to the energizer.
When trees fall on the fencing, cut them, and the fence will spring back. All repairs are done by hand, quickly and effortlessly.
The construction is made of copper to last longer and provide better performance. Still, it would be best to check the voltage system for potential errors.
What are the most common mistakes?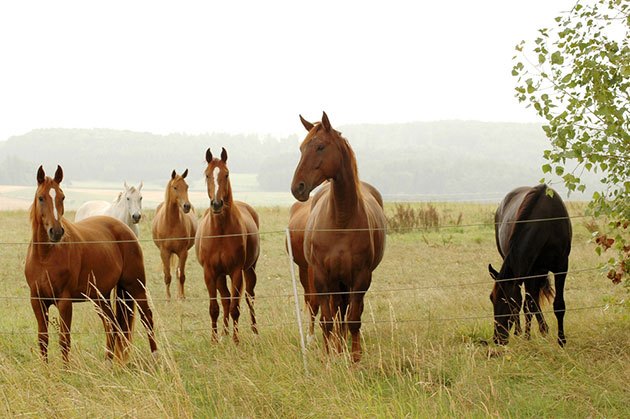 Although ElectroBraid provides advanced products for your horses, you can make mistakes and jeopardize their safety.
So, here is what you must not do:
Not setting up at least three strands of wires. Without this, horses will break the fence. So, three is a minimum, but four is even better for a beginning.
Incorrect grounding – when horses touch the fence, the circuit will not complete, and it's ineffective. At least three ground rods are required, ten feet apart. But, for different soil conditions, you might need more rods.
Not introducing the horse to the new pasture – you won't train it to know the limits
Lower installation than required – fences must be at least 5 or 6 feet tall to prevent horses from breaking them.
Putting water and feed buckets on or too close to the construction – causes unnecessary shocks. So, keep the feed and water buckets away to eat correctly. Avoid putting them in danger.
Turning the energizer off to save money will break the structure of the wire is not hot. And you won't spend much money – about 1$ per month. So, keep it on!
Placing hoses or other units over the fence – will damage the fence line. If you need hoses, place them under the fence, through the gate.
Tension issues – the correct tension withstand up to 1,300 pounds of panicking horses. Otherwise, it's ineffective.
Other mistakes include periodic maintenance, tested sessions, repairing procedures, etc. So, stick to the instructions and obey the rules to avoid complications.
And now, if you agree, let's check the best ElectroBraid horse products!
Best Electrobraid electric fence models 2022: Our best overview
$ – ElectroBraid Roller Insulator
Easy to install and use. The most stable unit is due to inner and outer elements, including conductors. However, too pricey. 
$$$ – ElectroBraid PBRC1000C2-EB Horse Fence Conductor Reel
Best safety & security mechanism, thanks to its improved structure. Longer for larger areas. Still, poor instructions.
$ – ElectroBraid IWHDCLAWB-EB Heavy Duty Line Post Insulators
Best heavy-duty construction for multiple tasks. Reliable and solid for an extended lifespan. But, pivoting issues. 
$$ – ElectroBraid UGCC200-EB High Voltage Insulated Copper Lead Out Wire
Best voltage maintenance due to supreme inner and outer design. Overall, solid and secure for multiple applications. Yet, too expensive. 
$ – ElectroBraid GHWKRW-EB Horse Gate Kit
Best for gates, thanks to all components and their connection. Advanced mechanism due to solid attachments. Nevertheless, specific design issues.
#1. ElectroBraid Roller Insulator – Best for conducting electricity
Item dimensions: 3.5 x 7.8 x 12.8 inches
Item weight: 9.6 ounces
Material: plastic 
Best for wire stability
Why should you choose this insulator for your fence posts?
This is a great product as the product secures the braided rope around inside and outside the post corners. It comes with a package of 10 insulators. So, it will be ideal for your fence needs.
You can attach the insulator to the fence posts using either screws or nails.
Whatever your choice is, the easy-to-install unit will provide you with the best stability and tightness of the fence wires. Hence, it will offer a complete electrical conductivity.
Of course, you cannot imagine any fence without the insulators, as it helps in maintaining the wires correctly, keeping them in the correct lines.
In addition, it will provide a secure and safe horse enclosure.
Since the insulators are the backbone of the electric fencing for horses, they are the crucial part of the equipment and details necessary for an effortless installation.
This way, they must be durable and sturdy enough.
This one has a solid structure, full of high-quality plastic content. So, it's ideal for electricity, and it cannot harm so soon.
Plus, you can use it for permanent fences, as their lifespan is longer.
Pros
reliable
sturdy
quick setup
warranty
#2. ElectroBraid PBRC1000C2-EB Horse Fence Conductor Reel – Maximum safety benefits
Item dimensions: 8.3 x 8.3 x 11.8 inches
Item weight: 12.1 pounds
Material: polyester, helix copper, polypropylene 
Best for conductors
When looking for the best horse fence, don't skip this specific ElectroBraid model!
The fence is unique due to its long construction. I bet it will wow you when I say its length is an extraordinary 1,000 feet of checkered fence line! Still don't believe it? Check it out!
But, let's see the other benefits too. As you'll find, the fence contains heavy-duty materials and overall design. Thus, it's excellent for its inner conductors.
Your horses will feel the electrical shocks, yet the fencing won't hurt them. Instead, they will learn to respect the confined spaces.
As it's made of different UV-resistant materials, the fence is an excellent unit for various areas, pastures, and other fields requiring horse protection. Plus, it lasts for an extended period.
The premium content is not suitable only for enclosures but parachutes and seatbelts as well. Thus, the structure offers versatility and different applications.
It means it's sturdy, reliable, and potent enough to resist various external forces, pressure, and impacts.
It's secure, simple, and safe to install and use for your horses, as the unit does not contain any sharp edges, points, or wires that easily puncture.
Pros
durability
stability
size
potential
#3. ElectroBraid IWHDCLAWB-EB Heavy Duty Line Post Insulators – Best design
Item dimensions: 11.75 x 8 x 2.38 inches
Item weight: 15.2 ounces
Material: heavy-duty nylon and glass 
Best for reliable construction 
The following heavy-duty line post insulators are similar to the previous models, yet there's a slight difference. That's the composition.
The previous model was made of plastic, while this unit contains a heavy-duty structure. It's a superb model for brace posts and braces.
But you'll often see them on the wood posts as well.
The heavy-duty insulators are also productive for their specific design.
Namely, among other materials, the insulators offer UV inhibitors to prolong the lifespan and make the best use of your needs.
If you already have an existing fence, so you don't need the brand's fence lines and other parts, it's OK. The insulators can act independently and serve you well, even with different conductors.
The only requirement is to install and use them correctly for optimal performance.
Besides, the package contains twenty of these gadgets, so I'm sure they will provide you with maximum use.
Turning a step back to the design, the overall structure perfectly matches heavy-duty content. It will be reliable, solid, and potential for a more prolonged time and extreme conditions.
Even the more vital forces cannot damage them so soon.
#4. ElectroBraid UGCC200-EB High Voltage Insulated Copper Lead Out Wire – Best voltage maintenance
Item dimensions: 6.5 x 6.5 x 9.3 inches
Item weight: 2.9 pounds
Material: copper 
Best for superior structure
Next off, this electric fencing model is another good product from our best brand. Still, it slightly differs from the previous one.
The UGCC200 electric fencing is five times shorter than its counterpart.
So, as the very name suggests, it's 200 feet long. Still, according to the size of your pasture or similar area, it will deliver the best performance!
The main reason for this is the 14-gauge copper wire.
The previous one was a combination of multiple materials. However, this one contains a heavy-duty wire system to be the best conductor.
In addition, the conductor is crucial for use even with the splicers or copper split bolts for non-electrical connections.
You might use it for the ground rods and strands. It provides a stable and solid connection.
Due to its primary material, the fence and wire withstand up to 15,000 volts of the maximum power!
Copper also ensures advanced conductivity. Thus, you can use it under gates and connect the critical parts of the circuits.
However, you must sufficiently install all strands and connect all crucial parts to use them adequately. The fence comes with a spinning spool to prevent breaking.
#5. ElectroBraid GHWKRW-EB Horse Gate Kit – The best performance
Item dimensions: 2.5 inches 
Item weight: Not specified 
Material: heavy-duty metal, plastic 
Best for included components 
Finally, we're closing our review section with this ElectroBraid product. This is the best fence kit for a single strand you can find on the market. Why?
Firstly, the fence kit is a complete set of components necessary for stable and secure 15 or 2o feet electric horse gates.
You'll be impressed as the kit makes ideal, cost-effective gates. Naturally, the equipment will offer you instant and easy access, in or out of the paddock.
However, the experts do not recommend it for frequent use. So, it would be best to stick to the instruction manual.
The kit contains the following components:
one gate handle
one wood post gate handle anchor
four heavy-duty screws
one roller insulator
one electric rope slice.
Due to the various elements, the instructions review different voltage levels for various types of domestic animals. Do not overcharge them!
For this reason, you must follow the rules to find the correct voltage power for cows, horses, sheep, goats, and other livestock, without potential safety risks.
As the kit contains only heavy-duty content and reliable components, it will last for an extended period and resist all harsh conditions and external forces.
So, what's the final winner?
The ElectroBraid Roller Insulator is our winner!
You'll like it due to its specific structure, effortlessly conducting the electrical shocks without hurting your horse.
In addition, it's sturdy and reliable enough to withstand various external impacts, forces, and other impacts threatening to harm it.
Finally, the easy-to-install product will keep the single wiring strand stable and secure to prevent damage and resist harsher conditions.
Conclusion
To sum up this ElectroBraid horse fence review, follow the safety protocols, and respect the boundaries.
If correctly installed and used, horses cannot break and damage the fence.
You need to set it up 5 or 6 feet tall to properly install the fence.
Their length will depend on the acres. And ensure the posts stand stable on the ground for the best use & stability.