When setting up an electric fence for your livestock, you need to consider one crucial thing-the gate!
But, unfortunately, it may not have crossed your mind with all the different types of fences and electric wires you have to choose from.
But, planning an electric fence gate is far more critical than you think.
It allows the cattle, people, and farming equipment to access the pasture and the barn easily.
Additionally, you will need the best electric fence gate kits and handles to complete the construction.
So without further ado, let's see what the best ones are!
Best Electric Fence Gate Handles Kits: My Top 5 List
$ – Zareba GHKS16-Z Spring Gate Kit
When installed, this spring gate kit does not sag or get loose; it can cover a variety of gate openings thanks to the 16 feet spread. However, the plastic clips used on a T-post are low-quality.
$ – Farmily Electric Fence Gate Handle and Anchor Set
A highly visible handle that is easy to install; it offers a maximized grip for easy handling. However, the plastic is not UV protected, and the installation instructions are not included.
$ – Lenink 2 Pcs Electric Fence Kit
One of the best affordable spring gates handles that are easily connected. The installation is straightforward while the handles are well insulated, so there is no risk of getting shocked.
$ – Fi-Shock GHRY-FS Rubber Gate Handle
The rubber spring gate handles are excellent alternatives to plastic ones. They are installed quickly and won't crack under challenging weather.
$ – FENCE SHOCK Insulated Fence Plastic Gate Handle
This handle kit includes five handles made from zinc hooks and a weatherproof plastic body. They are easy to install and reduce the chance of an accidental shock.
#1. Zareba GHKS16-Z Spring Gate Kit – Best Complete Gate Kit
Brand: Zareba
Material: Galvanized steel
Dimensions: 3.2 x 7.6 x 10.5 "
A number of handles included: One
Wheter you have just started your own farming business or have been in it for years now, the name "Zareba" pops up occasionally.
This is because Zareba is one of the top agricultural equipment manufacturers, especially electric fencing supplies.
The complete spring gate kit by Zareba is all you need for your electric fencing gate!
It includes a plastic gate handle as well as two gate insulators. Additionally, with the kit, you will not only get handles.
Instead, the complete gate kit includes a 16" spring gate that quickly spreads out!
This is among the best spring gates we have seen, constructed from galvanized steel and with excellent endurance when electrified.
The spring gate kit is an absolute winner for high tension. Once installed, it does not sag to the grass or get loose over time.
It can also handle quite a variety of widths, so it's versatile.
Pros
Affordable
Highly visible and durable
The Spring gate spreads over 16 feet
Cons
Poor design of the plastic clips that are used with T-posts
#2. Farmily Electric Fence Gate Handle and Anchor Set – Runner Up
Brand: Farmily
Material: Polypropylene plastic for handles
Dimensions: 8.7 x 6.61 x 2.32"
A number of handles included: One
Farmily is another commonly heard name in the industry. They deliver fine products for agricultural fencing systems such as wires and gate opening sets.
If you want gate handles with terrific visibility, then we recommend Farmily. They are an excellent choice for green pastures and snow backgrounds.
In addition, the bright yellow color of the handles is visible from a great distance.
The gate handle is large and offers convenience with the maximized grip.
Furthermore, the installation is even easier as the handles include a reinforced mechanism and a hook, and a tension spring.
The heavy-duty gate anchors are there to enhance the durability and stability of the handle. However, many are not satisfied with the quality.
Due to the sun exposure, the plastic handles can break apart, but you can always get a replacement.
For this price, it's worth checking the handles out and seeing whether they satisfy your needs.
Pros
Affordable price
Includes anchors for stability
Reinforced mechanism
Offer maximum grip
Highly visible
Cons
The instructions are not included
#3. Lenink 2 Pcs Electric Fence Kit – Budget-Friendly
Brand: Lenink
Material: Plastic spring gate handle
Dimensions: 10.94 x 6.73 x 2.28″
A number of handles included: two
If you are looking for an affordable spring gate handle, you have found the best ones!
These Lenink gate handles cost less than their competitors, yet they are one of the best quality items!
The insulated spring gate handles have a maximized grip that allows the owner to access the barn or the livestock through the gate safely.
Depending on your needs, you can install these handles on the main pasture gate.
But, you can also use them as replacement handles as they are suitable for replacing the broken gate handles.
As you know, defective gate handles must be replaced immediately as they oppose a tremendous environmental threat.
However, since these handles are budget-friendly, you can purchase the bulk of them always to have them in the stash.
Additionally, they are easy to install!
Connect a rope to the electric fence on the handle; no tools are required! Handles are made from high-quality galvanized tension spring that is easily stretched.
Pros
Affordable
Suitable for horses fences
Comfortable form grip
Well insulated
#4. Fi-Shock GHRY-FS Rubber Gate Handle – Best Rubber Gate Handles
Brand: Fi-Shock
Material: Tough Polymer
Dimensions: 7.7 x 3.5 x 1.9
A number of handles included: two
So far, we have seen plastic handles with excellent performance. However, did you consider getting rubber handles for the gate post?
They offer the same benefits as plastic gate openings, and they are affordable for the pack of two!
The benefits of a polymer gate handle go beyond good looks and cheap prices!
Farmers mostly choose plastic handles for fencing due to the easy installation and endurance. However, plastic is not the best for the summer days.
It easily cracks after sun exposure hours, making them unreliable for safe operations.
Well, that's not the case with these spring gate handles! The polymer material works excellent in offering safety.
The handles will not crack under cold winters nor break and bend during summertime.
Furthermore, if you wish to prevent the livestock from rubbing on the gate, an electrified wire can be installed directly on the gate.
Now, for that exact electrified wire, rubber handles work the best! Plus, come in a bright yellow color, making them visible for a far!
Pros
Affordable price
Great insulators
The rubber does not crack in the winter
Excellent visibility
#5. FENCE SHOCK Insulated Fence Plastic Gate Handle – Best Weather-Resistant Electric Fence Gate Handles
Brand: Fence Shock
Material: zinc
Dimensions: 9.61 x 8.86 x 2.48 inches
A number of handles included: five
The Fence Shock insulated plastic gate handles kit comes in a pack of five for an unbelievable price! It's a fantastic budget deal you cannot miss.
Let's see what these fence handles offer and whether you should invest in them.
For starters, the handles are made from heavy-duty plastic material.
The material offers convenience with the grip, but it is also UV resistant! The most significant disadvantage of many plastic handles is their durability under sun exposure.
Luckily, these handles have protective laying that prevents them from getting damaged by the sun that easily.
As a result, they should last you around a full year before it's time for a replacement.
Additionally, the hook on the handles is made from zinc; an antirust galvanized material! With this kind of design, it's less likely for handles to develop rust.
There is a 5mm galvanized top open and seal hook to prevent getting shocked through the handles.
Lastly, the Fence Shock handles are a terrific choice for fences used for horses, ponies, and livestock.
Pros
Rust-proof zinc hooks
Easy installing
Well-designed to reduce shocks
How to Choose The Right Gate Handle? The Buyer's Guide
Handles for gates are made from different materials and shapes. So, how do you choose the best one? Well, easy!
You first need to check what type of material your fence is constructed of.
Whether it is tape, wire, or poly rope, each handle is suitable for different types.
Unfortunately, not all of them are universal, so making sure your fence is compatible should be your number one step.
Most handle gate kit models come with a spring so that you can stretch out the cable even more!
Easy access is always guaranteed with them, and you don't have to search for alternatives.
Considering colors is also vital for safety.
Logically, you don't want to pick a color that blends in the environment of the pasture. Instead, choose a vibrant color that makes the handle gate kit visible.
1. Handle Materials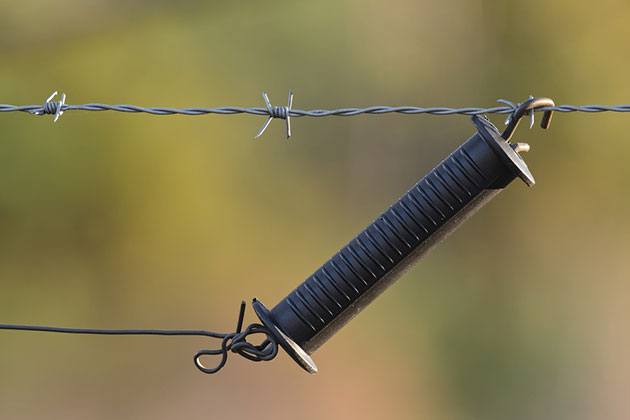 When you have planned out the gate openings, it's time to pick the best material for the handles!
Plastic handles for gates are standardly used with the majority of gates.
They are well insulated for shock and can work with all the fence wires. Plus, you can use these handles with high-tensile fencing as well!
They deliver heavy-duty performance. However, the majority of them are not UV-protected.
A rubber gate kit can also be used with poly wire, tape, or poly rope.
They are incredibly durable and will take a long time till they require replacing. Also, unlike a plastic gate kit, these endure cold and hot weather better.
2. Expandable Spring Gate Kit
This is also known as a spring gate kit, and it includes a gate handle and an extendable spring. The spring is easily stretched to a couple of feet, so you have guaranteed versatility.
These gate openings work easier than some may think.
With an expendable spring gate kit, you need to remove the handle from the post by using the handle and then pull the spring back.
One of the significant benefits of a spring gate kit is that it does not carry a charge when opened, so they are safe to work with.
3. Anchors
Anchors are located on each end of the handle.
They are usually made from metal material and allow the gate's handle to be hooked quickly.
Like with gate handle material, you also need to consider the fencing here. Depending on your fencing material, you will choose what type of anchor works best.
Additionally, if your pastures are separated into sections, some gate-opening anchors have more than two hook connectors.
In this way, you are allowing for more movement for some animals.
4. Gates Material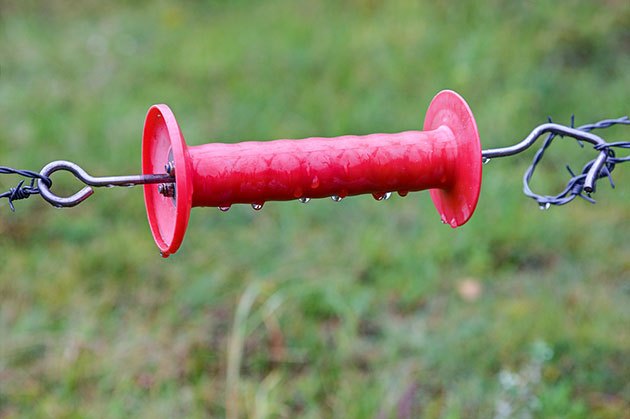 As far as the material of the gate goes, it's recommended you use the same material as you did with fencing.
In this way, a trained animal will respect the gate and the fence limit.
If your existing fence is made from poly rope, the best material for the gates would be bungee cord. It's similar to the rope, and the difference is barely noticeable.
Also, consider how many lines your fence is constructed. If it has more than two lines, you will most likely need to install one gate per line.
Types of Electric Fencing Gates
1. Permanent Gates
As the name suggests, permanent gates have been there for a long time! Once installed, these gates should not be relocated.
They are sturdy and long-lasting, usually made from wood, galvanized steel material, or even wire mesh.
As for the overall design of permanent gates, it will mainly depend on the type of animal being confined.
Your options are various here, so depending on whether you keep a big or smaller animal, you will accordingly design a gate spacing.
For instance, permanent gates used for sheep, goats, or hogs should be designed with smaller spacing at the bottom.
Believe it or not, sheep and goats are experts at finding their way out from the gates.
They will usually crawl under, so you must design a specialized gate to keep them contained.
To install permanent gates, you will need a 20KV insulated hook-up wire.
The wire should pass through an underground PVC pipe buried approximately 10 inches below the ground. It is used to carry the current underneath the gate opening.
Furthermore, the ground wire can be buried with a hot cable.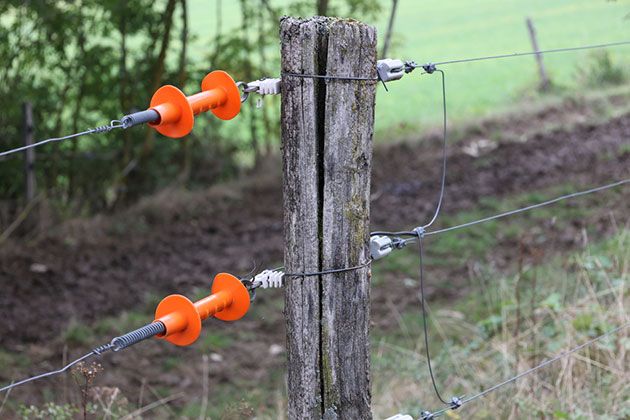 2. Open Grates
Open grates are usually used when there is a need for easy access for vehicles.
Additionally, they prevent livestock and cattle from passing on the railroads but allow vehicles to pass through the fencing surrounding easily.
The open grates design is typically used in high-traffic areas.
Like regular gates, open grates should present both a mental and a physical boundary to the livestock. Plus, you can electrify them to make them more effective.
However, open grates are not the most effective, especially with crafty animals, such as horses and goats.
For secure livestock confinement, I suggest you stick to the permanent gates.
FAQ's
Can you put a gate in an electric fence?
Yes, installing a gate in the electric fence is necessary for easy access of the livestock, equipment, and owners to the pasture.
Electric gates are usually made from the same material as fencing.
Using gate opening kits is an even easier way of installing gates into the electric fencing.
How do you build an electric fence gate?
Firstly, you should avoid placing the gate opening in the middle of the fence. It's a far better choice to put it in the corners.
You will need to build an electrified wire under the gate to convey electrical connections across the opening when building a gate.
To install the gate, you will need two insulators per line to attach a cable to the fence on one end.
You will also need quality handles for spring gates with a hook insulator.
Depending on the fence structure and type, you will use an electric fence post. This will depend on whether you have a temporary or a permanent fence type.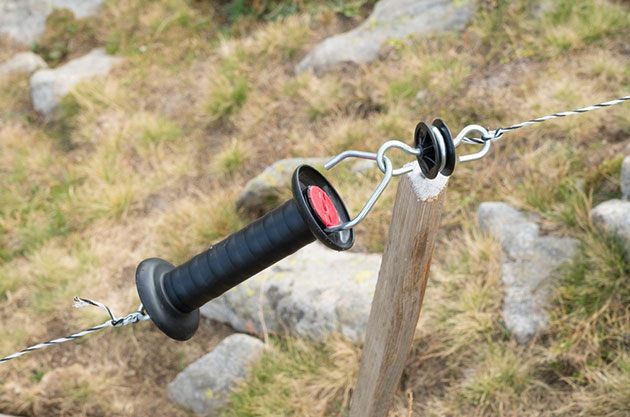 How do you stop an electric fence?
If you have constructed a plan for your entire fence, you should now plan where the fence line stops.
When the electric fence spans the entire perimeter of the livestock pasture, it should stop at the same fence post where it began.
This can be done with a termination knot used at the end of the fence line to attach a wire to a strainer.
How do you install electric fence handles?
For starters, you need to consider the location of the gate and the width it requires. The posts should be either wood or metal to have adequate insulators attached.
The handle should be hooked with the anchor.
One end is attached to the live and the other on a non-live insulator of the post.
Doing this will make sure the gate is not live when it's opened, so both you and the livestock don't suffer a sudden shock.
Final Winner
The Zareba GHKS16-Z Spring Gate Kit is an unmatched winner!
The complete gate kit is easy to attach to gate openings and does not sag once connected. It keeps its initial shape and is safe to work with.
The Zareba gate kit includes everything you need to attach to the two posts.
Zareba GHKS16-Z Spring Gate Kit Black*
Black rubber gate handle kit
16-feet long compressed spring for easy opening and closing the gate
Kit includes everything needed to attach the spring gate to the two posts
1 gate kit per pack
Conclusion
Planning gate openings is crucial when setting up an electric fence.
The entire installation process is made even easier with a gate kit and handles for gates.
We have reviewed the top five choices of the best electric fence gate kits so that you can find the most suitable one, depending on your fence type!