The electric fence has become a matter of necessity for every serious rancher.
To correctly set up and maintain an electric fence, there are many factors you need to consider: location, fence posts, wire, but also insulators.
Insulators are essential components if you want to use the full potential of your wire.
Depending on the type of fence posts, fence line, and installation, you can choose many different insulators, but not all of them are effective.
If you're interested in this subject, stay with us to find out about the best electric fence insulators and the advice the experienced farmers gave us on choosing the right one.
Best Electric Fence Insulators: My Top 5 Choices
$$$ – Dare Products Tube Post Insulators
Solid plastic insulators that mount horizontally or vertically to either square or round posts. They connect to wires or ropes and come with galvanized mounting hardware.
$$ – Zareba Corner Post Insulators
Excellent corner post insulators from Zareba. They are made of ceramics and attached to wooden posts only. But, they work for high-tensile, poly wire, poly rope, and poly tape.
$$ – Zareba ICLXY-Z Chain Link Insulator
These are solid plastic chain-link insulators. They extend the wire for 4 1/2 inches, and they come with the hardware. Yet, the installation can be a struggle.
$$ – Dare Products Snug Insulators
A pack of twenty-five high-quality plastic insulators that work for chain-link fences and U-post fences. They are durable, easy to install, and generally well made.
$ – ElectroBraid Line Post Insulators
Budget-friendly pack of twenty ultra-durable insulators for wooden fence posts. They can be used for braces and brace posts too, and they last long regardless of the weather.
#1. Dare Products Tube Post Insulators – The Best Versatile Insulators
Brand: Dare Products
Price: $$$
Type of wire: Wire and rope
Hardware: Included
Quantity: Pack of ten
This is a pack of quite versatile plastic tube post insulators from Dare Products that work for wires or pliable ropes.
You can attach them to chain-link posts, either square or round, tube posts, or corral panels up to 2 inches in diameter.
Now, these insulators are very easy to install, and they don't slip.
Customers are pretty satisfied with the grip and general quality of the product. They come in a bag of ten insulators, and you also get galvanized hardware for the price.
You can secure them horizontally or vertically and connect the wire up to 5/16″ of an inch or a pliable rope up to 3/8 of an inch.
The plastic insulator holds the wire or the rope 3.5 inches away from the posts, and some people use them to create arches and manipulate the wire to their liking.
As for the negative comments, a few people said it doesn't work for pipes that measure two inches in diameter.
So, don't take the measurements in the description literally.
Pros
Versatile
Round or square posts
Wire or pliable ropes
Include hardware
Good grip
#2. Zareba Corner Post Insulators – The Best High-Quality Corner Insulators
Brand: Zareba
Price: $$$
Type of wire: Wire, rope, poly tape
Hardware: Not included
Quantity: Pack of ten
Here we have ceramic corner post insulators from Zareba.
They can be used for all types of electrified fences, be they high-tensile wire, poly wire, poly rope, or poly tape.
These ceramic insulators last for a long time, they are well-made and durable, but you can only attach them to wooden posts.
Still, the price is very reasonable, and if you combine them with Zareba T-post insulators and insulated cable, you get everything that you need for about $40.
This is a great deal, especially when we take the quality of these products into consideration.
Most customers say these insulators are dependable, showing excellent insulating performance.
Each one measures 1-3/4 inch in diameter and supports poly tape up to 1/2 inch in diameter, so it's pretty straightforward to install them.
Zareba has been a top choice in electric fencing ever since 1930, so customers often decide on their products and are rarely disappointed.
For that reason, these ceramic insulators present a reliable choice for you if you have wood posts.
Pros
Reliable
Good quality
All types of wires
Good value
#3. Zareba ICLXY-Z Chain Link Insulator – The Best Insulators for Chain-Link Fence
Brand: Zareba
Price: $$
Type of wire: Wire
Hardware: Included
Quantity: Pack of ten
Here we have another Zareba plastic insulator, but these ones are designed for chain-link wires only, and they come in a small bag of ten or a box of ten bags.
The insulators are made of plastics, and they have heavy-duty metal brackets you need to attach to the chain-link fence.
Now, you need to secure them with screws, and they are provided by the manufacturer, but most people are not satisfied with the quality of the hardware.
As customers commented, some screws are defective, and even the good ones are very hard to get into the bracket.
Once they are installed, the grip on the wire is pretty tight, but pushing the components together can cause some trouble, especially since the screws are softer than the brackets.
The overall quality of the insulators is pretty good, though. I've seen people commenting about having these for more than ten years, and they still work.
They extend the wire 4 1/2-inch from the chain-link fence.
Pros
Affordable
Good quality
Last long
Practical
Cons
Defective screws
Hard to install
#4. Dare Products Snug Insulators – High-Density Durable Plastic Insulators
Brand: Dare Products
Price: $$
Type of wire: Smooth, barbed poly wire
Hardware: Not included
Quantity: Pack of twenty-five
Here we have another pack of insulators from Dare Products. They work for chain-link and U-post fences, and you can attach smooth, barbed, or poly wire.
Now, the thing with this insulator is that it is made of high-density polyethylene that's additionally treated with a UV stabilizer for weather resistance.
That makes them very strong but at the same time flexible, and farmers love it.
Another thing I like about this model is the ease of installation.
These are snap-on insulators, but they have a strong grip and don't fall off. They keep the wire around 3-3/4″ away from the fence.
These come in a pack of twenty-five, and the price is pretty affordable.
I'd say the quality per price ratio is on point when it comes to this offer, and I couldn't find any disappointing comments.
The only remark I noticed is that they match a chain-link fence slightly better, but that's to be expected given the snap-on design.
Pros
High-quality plastic
UV-treated
Good quality
Easy to install
Cons
Works slightly better on a chain-link fence
#5. ElectroBraid Line Post Insulators – The Best Heavy-Duty Line Insulators
Brand: Electro Braid
Price: $
Type of wire: Wire
Hardware: Included
Quantity: Pack of twenty
If you need some heavy-duty, versatile insulators that will hold up in the Arizona sun, these are the ones. Here we have a pack of twenty well-made.
Strong line-post insulators from Electro Braid are also good for braces and brace posts.
The manufacturer suggests using these on wooden posts only and installing them with electro braid hex head screws.
I'm not sure whether the screws are included, but I think they are not since there's no indication on the package.
What makes these insulators so durable is the glass-filled nylon that's treated with UV-inhibitor for better durability.
I couldn't find a single negative remark about these insulators.
They are excellent for horse fencing, and you can use them with different conductors or as a part of the ElectroBraid Horse Fence System.
Either way, they work perfectly and last long.
Pros
Heavy-duty
Glass-filled nylon
Great for horse fencing
UV-treated for weather resistance
What are electric fence insulators?
Electric fence insulators are small components used to secure the electric wire to the fence posts without losing energy.
They don't conduct electricity, but they are essential for a proper electric fence installation.
Farmers also use them to manipulate the wire and enable enough distance between the wire and vegetation or posts.
Insulators come in different shapes, materials, and types, but to choose the right one, you need to select them in accordance with the type of posts you have and the wire.
Chain-link wires can also be used with insulators, but only with specific models.
Posts and wires
1. Posts
Fence posts, besides varying in size and design, can be either round or square.
The insulators then need to match the shape of the posts, but most types can be attached to both.
As for the post materials, the most common type is a wooden post, but not rarely do farmers use fiberglass posts and metal posts.
I'd say there are five common types of fence posts you can find:
Wood posts
All-round metal posts
Fiberglass posts
Spring steel post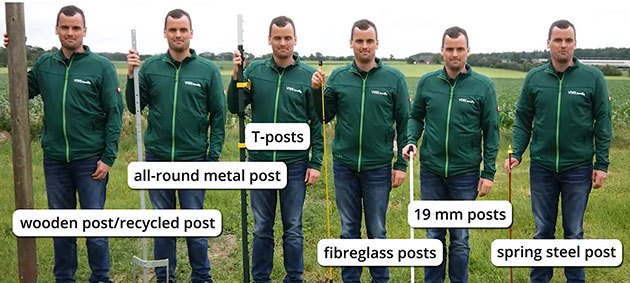 Most adjustable insulators can work for all types of posts, but there are some that can be used for one specific type, so it's always important to check that in advance.
2. Wires
When it comes to the types of electric wire, we differentiate the following:
High-tensile steel wire
Poly wire
Poly rope
Poly tape
High-tensile wire is a solid, thin steel wire that is perfect for long-distance fences and slow-moving animals. It's very durable but thin and almost invisible.
Poly wire is a lighter alternative to the high-tensile wire, made of plastic strands interwoven with metal conductors. It's primarily used for temporary fencing.
Poly rope is a thicker, more visible wire that consists of a rope that's not a conductor, laced with conducting metal strands. It's used for cattle and horse fencing.
Poly tape, similar to poly rope, is made of polyethylene strands laced with a conductive metal strand. It's used for fast-moving animals, and it's highly visible.
For more information on this subject, check out our comprehensive content HERE.
Types of Insulators
Now, we can move on to the insulators.
First off, we can differentiate them by material. Most insulators are either plastic or ceramic.
Plastic insulators are more common and less expensive. They are made of polyethylene, nylon, or polycarbonate.
Most people think they are not durable and break easily, but actually, there are different qualities and brands you can choose from.
If you opt for high-density, strong plastics, they will last longer.
And if it's additionally treated with some UV inhibitor, the insulator is more likely to last long and survive different weather conditions. Most come in yellow or black color.
Ceramic insulators are heavier and more expensive than plastic insulators. They are mostly used for corner insulators, but this is not always the case.
The materials they incorporate are quartz, clay, or feldspar.
If properly installed, ceramic insulators can last incredibly long, which is the main reason why farmers choose them.
Next off, we can divide the insulators according to their general purpose.
1. Line insulators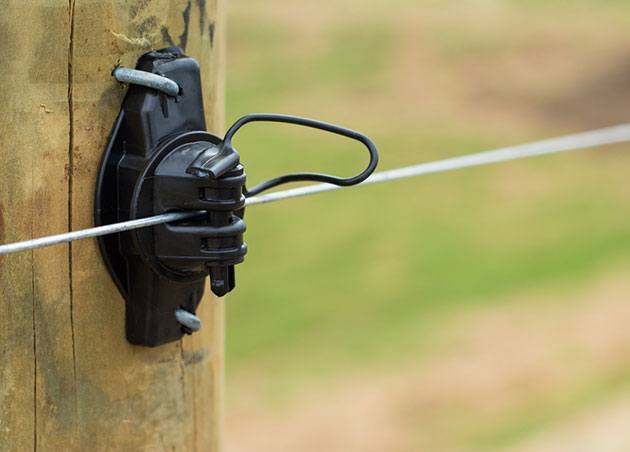 Line insulators are mainly used for guiding the wire over longer distances.
They are used for steel wire, poly wire, and rope. And the most commonly used insulator for this purpose is the ring insulator.
2. Corner insulators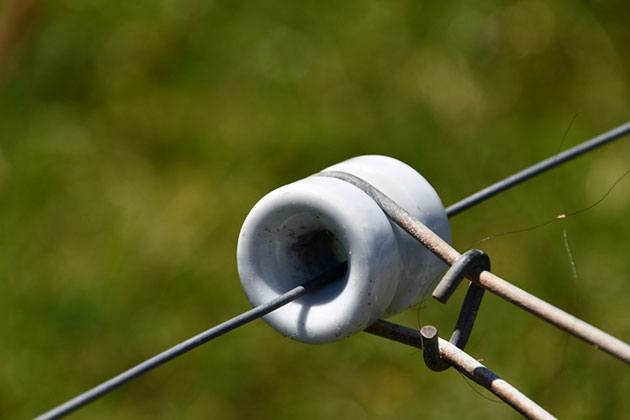 Corner insulators, as the name suggests, are used for corners.
Naturally, corner insulators are stronger and more durable because they need to withstand the tension of the fence line.
3. Tube Insulators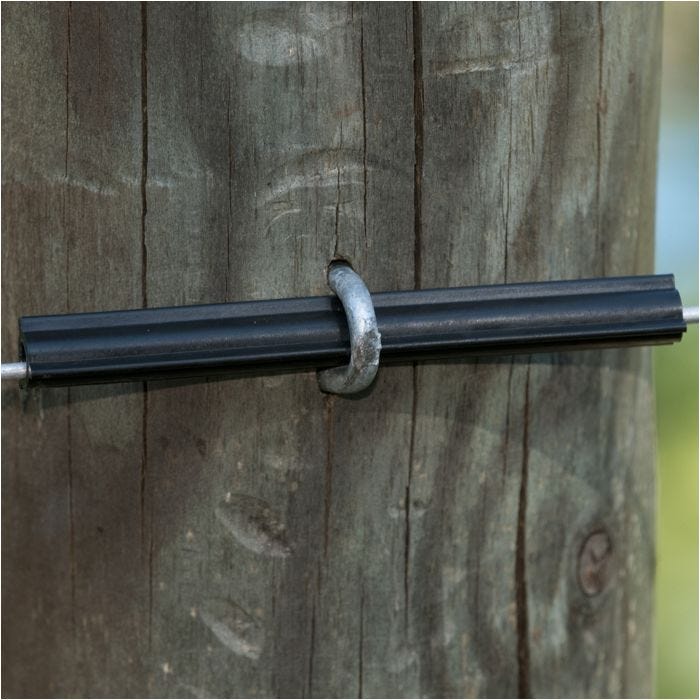 Tube insulators are practically tubes used for high-tensile wire insulations. You can use them with staples to attach the wire to the posts.
4. Chain-Link Insulators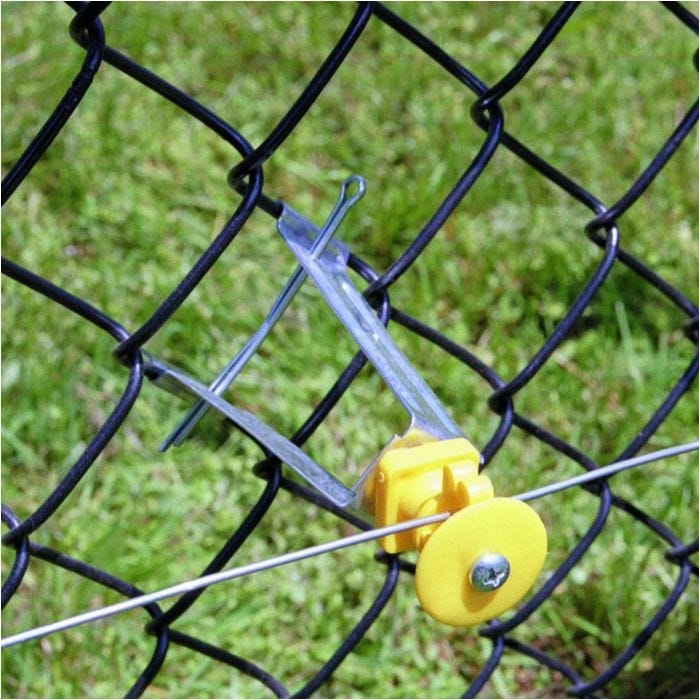 Chain link insulators are special insulators used for chain-link fencing. They securely attach the electrified wire to the chain-link fencing.
Buyer's Guide
So, now that we've covered the types of posts and wires electric fencing can have and the types of insulators you can find, we can merge it all into a useful guide on how to choose the high-quality insulator for your needs.
1. Installation
Installation is a huge factor in choosing the right insulator. If you're not that skilled, it's better to choose models that are easier to install.
If you have wooden posts, I suggest buying screw-on insulators.
They are not quite effortless to install, but they last long and securely hold the wire, staying in place for quite some time.
For chain-link fencing, a better option is snap-on insulators.
They are super-easy to install, and the tension of the chain-link fence is not too strong, so they can withstand it without falling off.
For corral panels, tube clamp insulators are probably the best choice.
They have adjustable diameters, so they are more likely to fit a thick tube, and a special ratcheting mechanism to ensure they don't slide off.
When I mentioned screw-on insulators, I referred to the ones that get nailed/screwed into the wooden post. But there are also insulators with clamps and screws.
You basically snap them on and then screw the clamps horizontally for additional security.
2. Hardware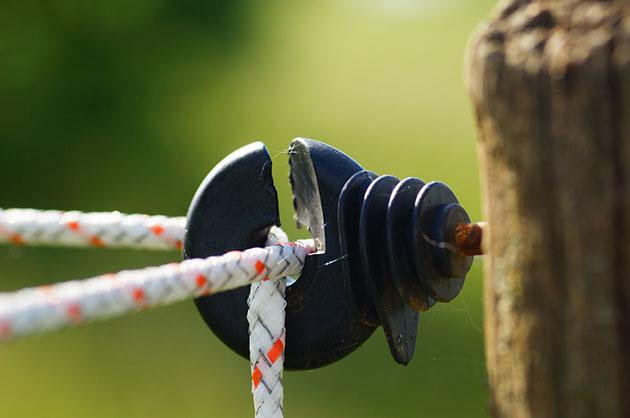 Besides the quality of different insulators, it's important that the hardware is also well made and durable.
Choose galvanized hardware that is not soft and easily bendable.
I've seen a lot of negative comments about defective screws that eventually fail to deliver or bend during installation, and that can be frustrating.
3. Prices
Finally, insulators come at different prices.
If you're on a budget, plastic models are a better choice. There are more of them in a pack, and they are more affordable.
But in the long run, you can save if you choose more durable solutions because they have a better quality per price relation and won't require replacement for a long time.
FAQs
What are electric fence insulators for?
Electric fence insulators are used to fasten the wire to the fence posts without losing any energy.
Basically, the electric current runs through the wires, and everything that gets in contact with it can affect the pressure of the current.
For example, if vegetation gets in contact with the wire, it interferes with the electric current, and then the shock won't be as effective as it would be in a clear fence line.
That's why we use fence insulators that don't conduct electricity but help to keep the line secured to the posts without losing any energy.
How far apart should electric fence insulators be?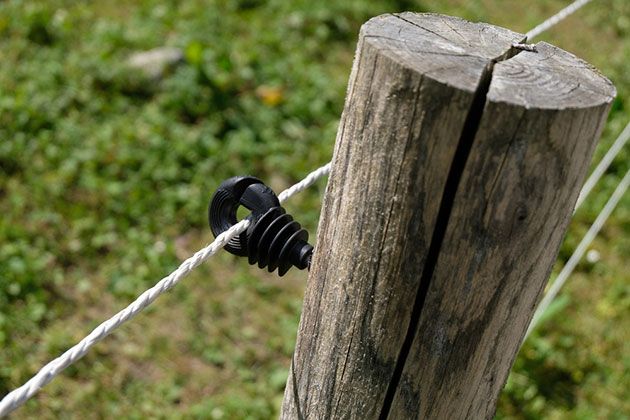 Generally, insulators go on every fence post you put up.
The posts should be installed somewhere between eight and twelve feet apart, so the insulators should also have the same distance between them.
Still, don't take this literally; each farmer has a practice of his own, so you should figure out what distance works the best for you.
Do you wrap electric fence wire around insulators?
No. You don't usually wrap electric fence wire around standard insulators.
The corner insulators, though, are installed differently, and on some models, you can wrap the wire around.
Here is a useful visual demonstration of how to install different types of insulators regularly and on corners:
Do wood posts need insulators for the electric fence?
Yes, wooden posts need insulators like every other post.
You need to keep the electric wire away from the posts, no matter the material of the fence posts or the type of wire.
Therefore, all fence posts need insulators, and all wires need insulators.
But, you need to choose the exact model in accordance with the fence. For example, T-posts require T-post insulators, while corner insulators are used for corners.
What is the best electric fence insulator?
I suggest Dare Products Tube Post Insulators as the best electric fence insulators.
They are made of dense plastics, and they include high-quality galvanized steel hardware. You can attach them to basically any post, and they work for steel, poly wire, and poly rope.
On top of everything, the price per quality ratio is on point, and it's easy to install them and achieve the right tension.
They don't work for corners, though.
Dare Products 3359-10 831950 Tube Post Insulator (10 Pack), Black*
For chain link posts Tube gates or corral panels up to 2 post round or square
Fits vertically and horizontally
Holds rigid wires up to 5/16 inch and Pliable ropes up to 3/8 inch
Holds wire 3-1/2 inch from post
Heavy duty 1/4 inch Galvanized mounting hardware included
Conclusion
So, what we learned from this best electric fence insulators article is that electric fence insulators are absolutely necessary for proper electric fence functioning.
They come in different shapes, colors, and prices, but you should choose them in accordance with the fence post you have and the fence wire.
My advice is to choose the hard-wearing ones made of high-density plastics or ceramics and buy separate models for corners.