If you like to invest smartly into a trustworthy brand, there is no better investment than Zareba. They have been a leading manufacturer of electric fence equipment for over 75 years!
It has been one of the best high-quality brands for years now, and numerous farmers can prove the same!
When you decide to install an electric fencing system around your property, Zareba has the best offer.
You can practically find everything you want in one place and not doubt the longevity or quality.
With years of experience and positive customer feedback, read all you need to know about this U.S. brand in our Zareba electric fence reviews.
Over 75 Years of Leadership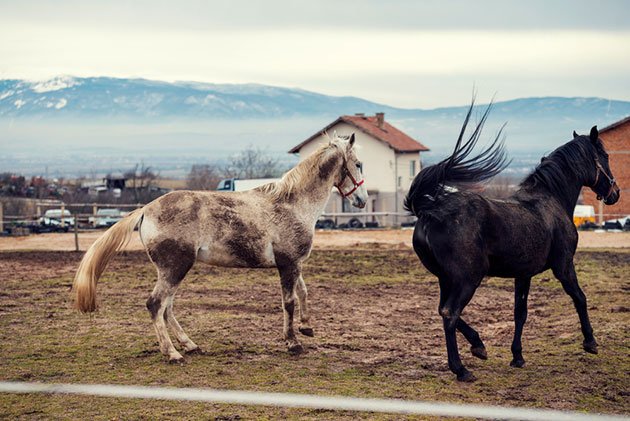 It all began in 1937 in the humble home of Frank Schneider and his partner Ewing Nunn.
They founded the Northern Signal Company of Milwaukee, and it became the first U.S. electric company of fence controllers.
From many competitors on the market, the company strived to make the best fence controller.
Initially, they succeeded as they became a worldwide success for farmers that needed their crops and livestock protected from intruders.
The Northern Signal Company of Milwaukee was just the beginning of the Zareba brand.
As it was its precursor, they were later on followed by Electro-Line and Blitzer fence controllers.
The Zareba brand was officially introduced in the 1960s, when Flo-Tronics, Inc was developed in Minnesota. They gained recognition at first with their proprietary pneumatic conveying systems.
After years of hard work, the company began developing electric fence perimeters and security systems that would make them globally popular.
Finally, the brand changed its official name to Zareba System and, in the 2000s, expanded its range of products.
Earlier, the company had sold its non-electric fence divisions and acquired two electric companies.
Then, Zareba started focusing mainly on electric fencing products with their official name change.
As a subsidiary of Woodstream Corporation, Zareba is currently integrating Fi-Shock products into its electric fence line.
Along with Fi-Shock, brands such as Blitzer, Red Snap'r, and Rutland also joined the portfolio.
With Fi-Shock on its side, Zareba has become a leading company in electric fence chargers, fence wires, solar panel models, and other equipment.
Zareba is celebrated as the biggest electric fence manufacturer in North America.
Why Should You Trust Zareba?
Besides offering high-quality electric systems, Zareba works tirelessly in providing only the most reliable electric fence systems for farmers worldwide.
Additionally, they feature the most well-known brands such as ElectroBraid Fence, American Farmworks, Fi-Shock, Blitzer, and Red Snap'r.
1. Broad Spectrum of Products Available
They offer a variety of products suitable for farming needs, homeowners, livestock maintenance, and the livestock industry.
Considering an electric fence can be installed in many different ways, it's essential to find a suitable product for every installation.
This is why the majority of farmers opt for Zareba.
In addition, you can assemble a fence in different terrains and conditions, thanks to the broad spectrum of Zareba fence chargers, wires, and electric fences.
2. Safe Purchase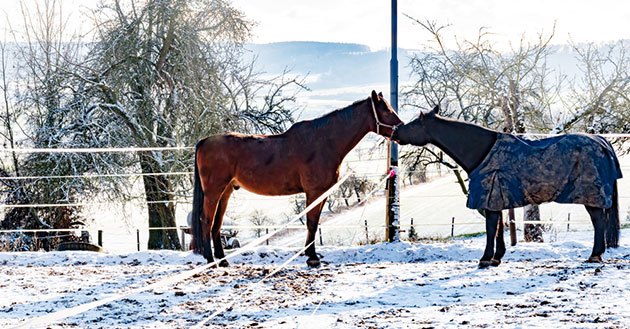 Zareba invests effort in creating high-quality electric fence systems. However, first-time buyers will always have their doubts, no matter how reliable the brand is.
To offer a sound mind to all of their customers, Zareba has introduced a 30-day return policy.
Due to this worry-free purchase policy, you can return the product within 30 days of your purchase if you happen to be dissatisfied.
3. Offers Customers Support
Those who are just getting started with the farming business will value how much Zareba cares about its customers.
Along with their other brands, the company offers resource articles for everyone!
You will generally benefit the most from their Learning Center, where you can find various information articles and videos.
Is Zareba an Affordable Brand?
Generally, Zareba is considered a mid-priced brand with high quality.
In addition, most of their products arrive with detailed instructions and are worth investing in.
Additionally, you can find a variety of electric fence models and the following equipment. Electric fence solar chargers and electric ones are their most popular products at an affordable price.
Also, you can purchase insulators, different types of wires, poly fences, and fence wood posts.
Zareba Poly Fences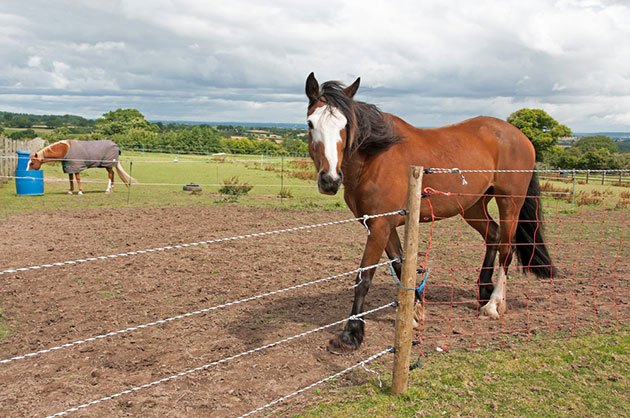 Zareba offers poly electric fencing, a unique containment system for most livestock. You can choose between a poly wire, poly rope, and a poly tape fence from their offer.
All of them are highly visible, making them a great safety system for your yard.
In addition, they come in bright color options so that you can avoid any undesired contact with the electric fence.
One of the best things about these poly fences Zareba offers is the versatility! You can easily take them on and off and relocate them if necessary.
In addition, the easy portability allows the majority of their fences to fit on T-posts.
Due to the user-friendly design, it's possible to customize the electric fence however you would like!
Whether is to the animal's needs or terrain; Zareba fences can adjust to your liking.
What Makes Zareba Fences So Unique?
For starters, durability!
Zareba is a unique brand that covers its poly fences in U.V. protective coating.
An electric fence is inevitable for sun damage. Over time, they can rust, develop corrosion and eventually break. However, that's not the case with Zareba.
Sun damage is out of the question, thanks to the U.V. protective coating!
Additionally, Zareba fences are suitable for temporary fencing systems, rotational grazing, and equine containment.
Zareba Fence Charger: A Necessity Item for Every Farmer!
Although other manufacturers make choosing the proper electric charger a challenging task, Zareba makes things simple.
Before choosing a charger for your fence, you will first need to measure out the perimeter of the garden, yard, or other property you plan for fencing.
Consider the purpose of your fence charger.
Will you be using it to confine animals within the pasture area, or do the predators and intruders bother you?
Next, think about the length of the electric fence and the number of wires that need electricity.
Zareba offers three electric fence charger models: solar-power charger, D.C. fence charger, and A.C. fence charger.
1. Solar Fence Chargers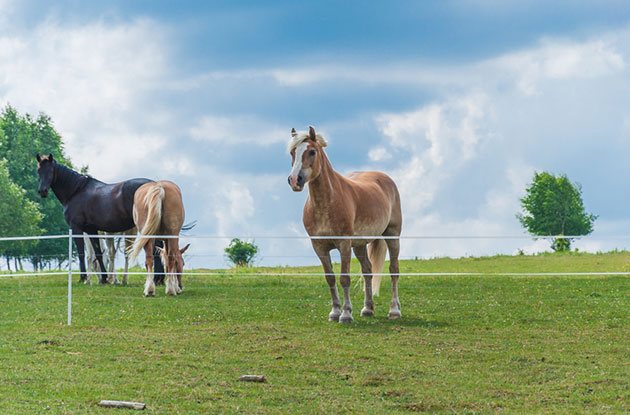 They offer an average power output and are best suited for remote locations that don't have access to an A.C. power outlet or another power source.
What makes them unique is their light design that can be carried anywhere!
However, solar-powered chargers will always rely on warmer days and will not suit wintertime.
2. A.C. Power Chargers
This type of charger is best used with a reliable electrical power source. They deliver the strongest power source output.
It would work the best if you used these chargers with permanent fencing.
3. D.C. Battery-Operated Charger
Like solar panel chargers, battery-operated ones are best for remote locations and get their power source through batteries.
They are used with standard 12-V, 6-V, 4-V, or a D-cell battery.
The only problem is that you need to purchase the batteries separately from the charger.
Also, consider that the battery on these remote location chargers will drain faster if there are weeds around the fence.
If the small animals and other livestock are often touching the fence, that can also affect the battery life.
My Top 5 Favorite Zareba Electric Fence Products
$ – Zareba ESP5M-Z 5-Mile Solar Low Impedance Electric Fence Charger
The best 5-mile solar charger for the money includes brackets that mount with ease. However, it's not suitable for larger fences.
$ – Zareba EAC25M-Z, 25 Mile A.C., Powered Low Impedance Charger
One of the best low impedance electric fence chargers that work on A.C. systems. It's easy to connect to the outlet and powers up to 25 miles of fence. However, it can sometimes be unreliable.
A poly rope does not rust and includes six steel wire conductors that deliver excellent power. It works best with small animals and a low impedance electric fence charger.
$ – Zareba PW1320Y6-Z 400m Polywire with 6 Conductors
Includes a breaking load of 180 pounds and is suitable for most animals on the farm; easy to install and best used with a low impedance electric fence charger. However, it's a bit thin.
$ – Zareba 50 Feet 12-1/2 Gauge Underground Controller Hook-Up Wire
The double-insulated cable prevents energy loss and can be used under a long distance between a fence charger and a line.
#1. Zareba ESP5M-Z 5-Mile Solar Low Impedance Electric Fence Charger – Best Solar Charger
Dimensions: 7.9 x 7.9 x 15 inches
Weight: 5. 49 pounds
Mile Range: 5 miles
Voltage: 8.6-kilovolts
If you decided to cut down on your budget this year, what better way than switching to solar power? This is the best 5-mile solar fence charger by Zareba.
Due to its convenient dimensions, the charger is portable and easy to relocate.
It's best designed for remote locations that do not have easy access to A.C. power sources.
Additionally, the low impedance fence charger delivers up to 0.10 output joules, so it's best used for short-haired animals such as pigs, cattle, and horse applications.
The Zareba solar charger includes an energy storage panel that collects solar energy and lasts for two weeks without direct sun.
The low impedance solar fence charger can be paired with a steel wire, poly rope, and tape.
The 5-mile solar fence charger unit can be mounted easily on t and y-posts and flat surfaces thanks to the mounting brackets.
The charger includes an indicator light that lets you know when the fence is running and the helpful brackets.
Pros
Easy to install
Suitable for horses and limited cattle
Indicator light
It works best with an aluminum wire
Low impedance charger
#2. Zareba EAC25M-Z 25 Mile A.C. Powered Low Impedance Charger – Best AC-Powered Charger
Dimensions: 4.8 x 9.4 x 11.7 inches
Weight: 3.1 pounds
Mile Range: 25 miles
Voltage: 1.0 Output Joules
Next up, we have the low impedance Zareba charger that covers up to 25 miles of fence. Its price stands at a mid-affordable point, but the overall quality is terrific!
For starters, it's designed to work well in heavy weeds condition.
Many electric fence charger units will compromise their power due to the rich vegetation in the garden. But not this one!
The 25-mile low impedance charger is A.C. powered source. It can deliver up to 1.0 joules output and can be versatile used.
You can use the electric fence charger unit to power horses' fences, cattle, pigs, and other livestock animals. It's easy to connect to a standard outlet, so there is no tricky installation.
When the low impedance electric fence charger is used with steel wire in no-weeds surroundings, it can easily power 25 miles.
But, if light vegetation is touching the fence, the volts can reduce slightly, and the charger can power up to 12 miles.
Nonetheless, you will always know when the power charger is working since there is an indicator light on the case.
It works with rain, sun, and other challenging weather conditions.
Pros
Clear instructions
Easily installed
Lightweight unit
Offers adequate power
Works with heavy weeds surroundings
#3. Zareba PR656W6-Z Polyrope – Best Poly Rope
Breaking Load: 820 pounds
Weight: 6.69 pounds
Length: 200 meters
Material: Polyrope
Along with low impedance chargers, Zareba offers excellent fence ropes as well.
You can choose from more options than one as they provide poly rope, poly tape, and poly wire.
Finally, you can have the most secure safety system for your garden.
This is the well-known poly rope that covers up to 200 meters in length. Due to its lightweight design, the poly rope is easy to install on temporary fences that often need relocation.
Additionally, it's excellent for small animals and livestock.
What makes it so unique are the six stainless steel conductors. They carry an electric current charge for long distances, suitable for larger fields.
Probably the most significant benefit of the poly rope is durability. It can practically endure every environmental impact, including damage from the sun and rain.
Furthermore, it does not rust, so it will last you long!
Lastly, the poly rope should not be used under high tension, and it should be combined with a low impedance charger for best results.
Pros
Easy to install
Includes six stainless steel conductors
Works excellent with a low impedance electric fence charger
Great for small animals
#4. Zareba PW1320Y6-Z 400m Polywire with 6 Conductors – Best Poly Wire
Breaking Load: 180 pound
Weight: 2.51 pounds
Length: 400 meters
Material: poly wire
If you are not a fan of poly rope fences, don't worry! Zareba is known for its versatility and therefore offers exceptionally durable poly wire!
It's a lightweight and user-friendly fence wire designed for the utmost protection of your property.
The bright yellow and black color design is perfect for offering visibility to both animals and humans, contrary to an aluminum wire.
The fence wire can be used with a temporary fence, giving you the freedom to move it around.
Additionally, if you want a sturdier construction, we suggest using the poly wire with a permanent fence.
Although this is a fence wire, it will not rust! The electric fence wire is weather-resistant with ensured durability.
Additionally, it comprises six steel conductors that transfer electric energy to great distances with a low impedance electric fence charger.
It can protect and confine horses, cattle, and livestock with the breaking load of 180 pounds. In addition, the wire is easy to install and repair on some occasions.
Pros
Excellent visibility for animals and humans
Best paired with a low impedance electric fence charger
Durable and weather-resistant
Cons
The profile is a bit thin
#5. Zareba 50 Feet 12-1/2 Gauge Underground Controller Hook-Up Wire – Best Insulation Cable
Length: 50 feet
Weight: 2.14 pounds
Insulation rates: 20,000 volts
Best Used With high tensile and poly electric fencing.
So far, we have reviewed a solar fence charger, A.C. electric fence charger, and fence ropes by Zareba.
To complete the electric fence installation, you will also need a quality insulation cable.
Luckily, Zareba has one just for you!
This 12 ½ gauge insulated cable is designed to prevent unnecessary voltage loss over the fence.
It's essential for the ground wire and ground rods as it offers secure grounding and delivers excellent voltage.
This insulated cable is best paired with a high-tensile fence and poly electric fencing. You can even combine it with one of the two poly ropes we have reviewed above.
The double-insulated cable is rated at 20,000 volts, and it can be used for the grounding system, under the gates, across the stretches from a fence charger to the fence line.
All in all, the weather-resistant insulated cable will have to be in your shopping cart!
It's necessary for the majority of benefits it brings to the electric fence as it offers a stable voltage delivery.
Pros
Weather-resistant
Class 3 galvanized wire
Double-insulation to prevent voltage loss
Conclusion
The Zareba brand never ceases to amaze us!
With over 75 years of hardworking experience in the electric fence business, there is no better brand you can choose from.
We highly recommend their products to farm owners who wish to protect their livestock and crops from predators and environmental impacts.
You can't put a price on a restful night's sleep knowing your property is safe, and what better way to secure it than with Zareba?
Sale
Zareba ESP5M-Z Solar Powered Low Impedance Electric Fence Charger - 5 Mile Solar Powered Electric...*
5 Mile Rating – Energizes up to 5 miles of electric fencing in ideal conditions (no weeds) and up to 2.5 miles in light weeds
Long-Lasting Charge – This solar-powered charger stores enough solar energy to operate for up to 2 weeks without sun
Versatile Installation – This charger features a built-in mounting bracket for T-posts, Y-posts, and round-wood posts
Patented 360-Degree Rotation – Adjustable mounting allows you to rotate the charger on T-posts to face the sun's changing directions
Built in the USA - Full-load tested in the U.S. after manufacturing - 1-Year Limited Warranty including lightning damage