Many farmers think that your electric fence should be bull strong, hog tight, and horse high. High-quality fencing is a top priority in a farm lifestyle where livestock is raised.
Some farmers have doubts about pig fences, saying they cannot confine pigs.
In fact, I'm afraid I have to disagree, as with proper training, pigs can teach to respect fence boundaries.
Let's look at the productivity the electric garden fence for pigs provides.
Pig fence: Yes or no?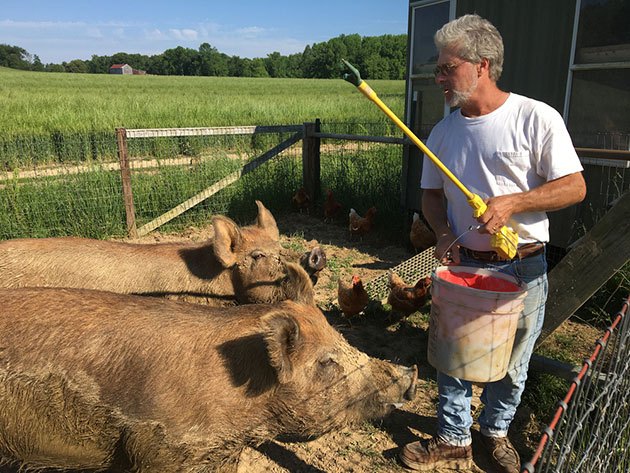 Pigs and hogs are effortless to protect and control with correct electric fencing due to their large, wet noses and little, almost no hair.
In addition, pigs are intelligent animals, so they will learn to respect the fence limits and avoid them.
What are the best proportions?
1. Wire system
Pigs and hogs root, so the lowest and the first fence wire should be 6 inches above the ground or even less.
The following pig fence wires should be closely organized at even intervals.
The wires should meet the pig's nose, approximately 8 inches, 10 inches, etc. Experts recommend at least 3 wire strands for the pig fence and at least 24 inches tall.
However, if pigs put their heads between wires in the pig electric fence, they will be shocked behind the eyes instead of their front.
Thus, they will push into pig the fence instead of pulling out.
A proper fence wire spacing – a hot wire at the pig's shoulder height is crucial for safely containing the pigs and maximum effectiveness.
You can find two main wire types for a successful fence: a poly wire and a 17-gauge steel wire. The poly wire might be a better option. Why?
The poly wire is easy to set up, it's easy to tighten and moderate, and it won't kink so quickly.
Although it might be a bit pricey, it's worth every penny since you don't have to re-arrange the strands and make the fence weaker or more robust for optimal performance.
It's durable for all conditions.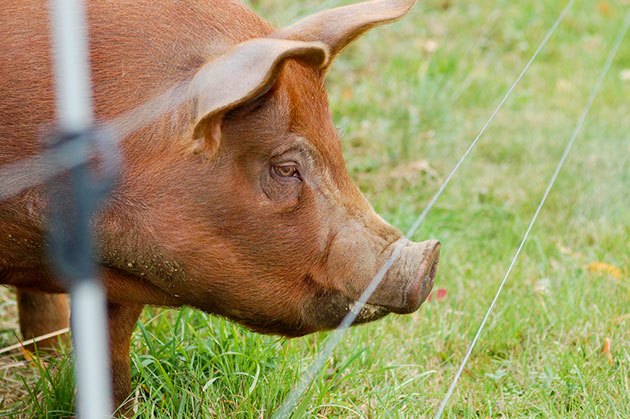 2. Fence charger
You will need a high-quality fence charger that maintains at least 2,000 volts of power levels on the fence line.
Keep in mind that vegetation also affects the pig fence line, type of wire, and length of the pig fence.
So, when your fence wires are close to the ground, you need to use a low-impedance fence charger to overcome weeds.
You should also know that mud will insulate pigs and hogs from the electric shock.
The low-impedance charger should penetrate the mud to make your electric fence for hogs and pigs work optimally.
Small piglets kept with the adult hogs and pigs require wires spaced closer together and placed lower to the ground than pigs or hogs alone.
You can find the best fence charger HERE or find the best model on Amazon.
However, a charger is only solid as its ground, so your electric fencing won't be productive without a firm grounding.
So, check the electric fencing supplies to find the proper ground rods.
[amazon box="B0749ZMHVH" template="horizontal"]
3. Ground rods
They come in galvanized steel or copper, being the most conductive but also the most expensive.
Whatever type you choose, they should be conducive to adequate shocks in dry areas and weather conditions.
For optimal electric fencing for pigs, you need at least 3 ground rods in line, 10 feet apart if possible, with ground rod clamps and insulated wire.
4. Pig fence posts
Depending on your needs, you can search for various fence posts – from T-posts to fiberglass to plastic, wooden and similar posts.
Also, based on their type, you may or may not use insulators. They will make more substantial corner posts and keep your wire stable and tight on the fence line.
In addition, you may or may not choose to build a permanent, semi-permanent or temporary fence.
So, search for adequate electric fencing supplies to make the wiring system and overall construction appropriate.
Many farmers recommend fiberglass posts for the wire strands and best rotational grazing.
5. Gate handles
Plastic or insulated rubber gate handles are worth it since they connect the poly/steel wire and the line on the post completing the electrical circuit.
They are also crucial for rotational grazing setup, allowing you to quickly move your pigs from one paddock to another one without taking the entire side of the pig fence down.
What about permanent fencing?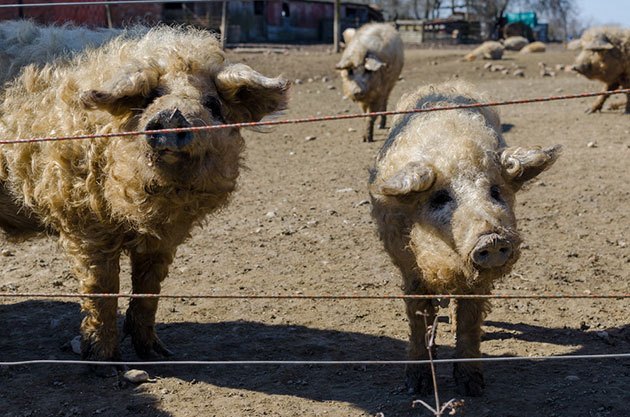 Although you can follow the guidelines above for the fencing, remember that you may have to add an extra exterior fence in some areas.
It's crucial to stop the contamination with swine fever by loose wilder boars.
The best solution is to construct a 7-wire mechanism with a 39 feet distance between them. You will get a reliable permanent exterior fence for the free-range pigs.
The exterior fencing should be placed 13 feet away from the interior fencing.
The same rule applies to hogs. It would be best to have more wire strands to protect them, as the number of free-range hogs is also rising nowadays.
What about portable fencing?
A mobile fence is an excellent solution for an easy-to-move, temporary enclosure. It's also suitable for large plots for the pigs and subdividing.
The same rule applies here – 1 or 2 wires won't be enough for these animals, so you need at least 3.
Also, you may need an external fence to protect the internal one and the animals inside.
Keep the same distance as with permanent fences, and follow the basic structure to create the product construction and prevent your pigs and hogs from accidents and escaping.
Conclusion
That's it, folks. Nothing more, nothing less.
You can see the pig fence's main benefits, how to build one, and what to look for when installing the electric garden fence for pigs.
You can also watch various videos if you still have difficulties setting up fencing.
The main trick is following our proportions and determining the animals you want to protect, deter, and the fencing type you construct.
Without these three conditions, your fences won't be effective.