Horses are beautiful, free-spirited animals, but that does not mean you can let them gallop away each time they want to, does it?
However, many owners fear the safety of their horses if they decide on the electric fence.
Is it safe to use with horses, what are the best materials, and how is it effective? These are common dilemmas of horse owners, and we bet you are eager to get your answer!
So with that in mind, let's check out what the best electric fence for horses you can get in 2022 is!
Here are the top picks that are worth investing in for keeping your horses safe!
The Best Electric Horse Fence: My Top 7 Favorites
$ – ElectroBraid PBRC1000C2-EB Horse Fence Conductor Reel
The best electric horse fencing you can get for horse control. It's made from UV-resistant materials and is highly durable and sturdy, even for stubborn horses.
However, the price is a bit high but worth paying!
$ – Farmily Portable Electric Fence Polywire
The best portable wire fencing for horses can be used on permanent posts and has a 600-pound breaking load capacity.
However; it cannot be used under extreme tension.
The horses' electric fencing is excellent for smaller horses and permanent fencing; it has six conduction wires and bright yellow color that make it a visible fence in the field.
It's not suitable for larger horses.
$ – Gallagher Electric Fence Poly Wire
One of the top poly wire electrical fences for horses can be installed with reels, and it's made from UV-resistant materials.
However, it's relatively thin.
$ – Farmily Portable Electric Fence Polywire
Extremely durable thanks to the unique construction, easy to set up, and best used for permanent fencing systems.
However, it should not be used under high tension.
$ – Baygard ELEC ROPEWHITE Poly Electric Rope
One of the best poly rope models that cause no harm to horses only offers a mild shock. It's made from durable materials and can be reused multiple times.
However, it's not suitable for larger horses.
$ – Zareba PR656W6-Z Polyrope 200-Meter
Made from one of the best materials that do not rust or corrode. It can be used as rotational grazing and a temporary fencing system.
However, the coverage is not that great.
Read more —
Best Wire Fence Stretcher in 2022: Seven Trustworthy Brands
#1. ElectroBraid PBRC1000C2-EB Horse Fence Conductor Reel – Best Pick
Brand: ElectroBraid
Dimensions: 1000 feet
Material: Braided polyester fiber jacket with a polypropylene core
Breaking Load: 1,300 pounds
It's no secret that the ElectroBraid is the most popular horse fencing on the market!
But, what's the secret behind its success? Time to check it out and see how it tests out in reality.
For starters, we have trustworthy efficiency and endurance.
This electric fence for horses is built from the same required standard for parachutes and seatbelts, so you know it can endure a heavy load.
Next, we have the structure and design.
The fence has a unique braided design that combines electric braids strands that ensure its strength.
In addition, the 1000 feet horse fencing includes a polypropylene core and polyester cover known as UV-resistant materials.
Plus, the copper strands on the fencing increase elasticity, and they are even more durable than steel fencing!
Since your electric fence will be exposed to dangerous sun rays all the time, you must pick a fence that can endure sunny days.
The electric fencing is also easy to install! You don't need to spend hours setting it up, as all the installation requires fencing, a battery, and posts!
Lastly, the electric fence does not oppose such a treat to the horses safety-wise.
It will scare them into not escaping, but it will not cause hooves or coat damage if your horse runs into it.
Pros
High-break weight
Extremely durable
25-year warranty
UV-resistant
#2. Farmily Portable Electric Fence Polywire – Runner Up
Brand: Farmrily
Dimensions: 400 Meters
Material: poly wire
Breaking Load: 600 pounds
Coming up at spot number two, we have the well-known Farmily portable electric fence!
This poly wire horse electric fence should be in every horse owner's collection; here is why!
The Farmily portable electric fence is especially suitable for aggressive horses, for starters.
But, if you fear the weather, there is a wire that can endure your horse's strength; then this one is for you! It's the best portable electric fence you can get for the money.
The reason behind its incredible endurance is the nine conductor wires! It's made from a black and white rope mix, and it works excellent as temporary fencing for horses.
Because it's generally used for temporary horse fencing, the wire can be reused repeatedly.
In addition, it's made of heavy-duty materials that are also weather-resistant. Therefore, your temporary fencing wire will not rust under the rain or decay under the sun!
Plus, the poly-covered wires control horses with ease!
So if you need emergency fencing quickly, this is the right fence for you! It's quickly installed and portable, so you have your options open.
Lastly, the Farmily portable electric fence could also be installed on permanent fencing posts.
However, remember that it should not be wrapped around the tree as it cannot be used under extreme tension.
Pros
Portable wire fencing
It can be used on permanent fencing posts
Highly visible
Durable and suitable to control an alpha horse
Cons
It cannot be used under extreme tension
#3. Zareba PW656Y6-Z Polywire – Best For Smaller Horses
Brand: Zareba
Dimensions: 200 meters
Material: poly wire
Breaking Load: 180 pounds
The Zareba fencing is an item you will see a lot these days. Not only is it one of the best electric horse fences you can get, but it also presents a great value vs. quality.
In addition, it's pretty inexpensive, and you can even purchase a bulk of 6 packages if you want to get a great deal.
On a side note, the electric fencing comes in an attractive bright yellow color, making it stand out from the pasture.
Even horses will know there is a barrier they should not come near!
As you can notice, the fencing has a high point of breaking as it can endure up to 180 pounds of heavy load.
But, surprisingly, the heavy endurance makes the fence pretty lightweight and easy to install.
However, I still do not recommend using it for large flight animals.
Many horse owners mentioned that it's not that durable for bigger horses that are quite the escape artists with electric fences.
This is why the fencing is third on our list. It's terrific, but you have to know what its weaknesses are.
It's made from weather-proof materials such as poly wire and six stainless steel wires that work as electric conductors.
Since it's made from such rigid materials, you can install it on the existing fence and have a permanent electric fence for horses!
Pros
Affordable
Great as a permanent fencing option
Made from weather-proof materials.
It has six conductor wires
Cons
Not suitable for large horses
#4. Gallagher Electric Fence Poly Wire – Best Poly Wire Fence
Brand: Gallagher
Dimensions: 1312 Ft Plus Free 328 feet roll
Material: poly wire
Breaking Load: Not specified
The Gallagher electric wire fencing is one of the rare items made from steel. Although it's not the world's highest horse fence, it sure is durable.
So let's check out what else makes it so unique.
The electric horse fence is made from six strands of stainless steel with a twisted style.
As you know, stainless steel electric fence wire is highly durable, but it's also been treated specially for rust and corrosion.
Therefore, it can endure heavy-duty weather with no problem!
What attracts customers the most is that this is a 1312 feet electric fence wire, but it also comes with an additional 328 feet roll!
It's a fantastic budget deal if you are looking for an affordable horse electric fence.
You also have various fencing options.
The Gallagher fencing can be reused again and again due to its portability and easy installation.
Plus, it can be used with electric fencing reels! However, if your fence does not already own a reel fencing system, you need to purchase it separately.
It's an excellent investment for those who want to wind the fence in and out quickly. The user-friendly design makes the entire fencing project much more manageable and easier!
Plus, it maximizes the pasture efficiency, and what's better than that?
Pros
Easy to install
It can be used with electric fence reels
Includes a free 328 feet roll
Sturdier than aluminum wires
User-friendly design
#5. Farmily Portable Electric Fence Polywire – Best For Permanent Post System
Brand: Farmily
Dimensions: 1312 Feet
Material: poly wire
Breaking Load: Not specified
Here we have another poly wire fence that will amaze you! It comes from Farmily, which we reviewed above.
However, unlike the older brother, this electric fence wire is made from different materials so let's see how it performs.
For starters, it's portable, just like the previous electric fencing model. This allows for versatility and more accessible use since the flexible wire fencing is easy to set up.
Plus, it can be used repeatedly with slight repairs over time!
Farmily is one of those brands that does not boast of high prices but with high quality. Such is the case with this wire fencing.
In addition, it's budget-friendly, so every horse owner can afford to use it for successful pasture management.
Moreover, the electric fencing includes six strands of conductor wires.
It's powerful to scare the horses away from going out, but it's not harmful to their physical state.
As with most electric fencing, this electric wire is coated with UV-resistant material that makes it durable under challenging weather.
However, I noticed one downside: the wire fencing does not endure too much tension upon installation.
That being said, it's best to use the electric wire with a permanent fence for best results.
Lastly, the electrical wires have high visibility due to their bright yellow and black pattern.
Pros
Easy to set up
Made from durable materials
UV-resistant
Best used with permanent fences
It can be used for temporary fencing
Cons
It should not be used under high tension
#6. Baygard ELEC ROPEWHITE Poly Electric Rope – Best Poly Rope
Brand: Baygard
Dimensions: 656 feet
Material: poly rope
Breaking Load: 850 pounds
Are you looking for a traditional fencing solution that will keep your horses in their particular field but does not want to break the bank? I got your back!
The Baygard wire fencing is not only affordable, but it's also one of the most durable wires on the market!
One of the first questions that horse owners wonder about is whether the electric rope is safe for their horses? This one is!
The wire fencing offers a mild shock that deters horses from going over the fence.
On the other hand, the electric fencing for horses will not cause harm! So in design, it's pretty similar to the rest of the fencing options we have listed.
It features six conductor wires made from heavy-duty materials. In addition, it's UV-coated, so it will not decay under scorching sun or rust after heavy rain.
This ensures longevity compared to other wires that break easily under heavy load.
The easy installation has got to be one of the top-selling points of this electric fencing for horses!
It can be set up as temporary fencing or as permanent. Whatever one you choose, you won't be disappointed by the fencing delivery!
It's also relatively easy to see it from afar due to its specific color pattern.
The bright white color will prevent any awkward run-ins with the fence!
Pros
Highly visible
Easily installed
Heavy-duty design
Can endure heavy load
Delivers a mild shock
Cons
Not suitable for larger horses
#7. Zareba PR656W6-Z Polyrope 200-Meter – Best Versatile Electric Fence
Brand: Zareba
Dimensions: 200 meters
Material: poly rope
Breaking Load: 820 pounds
Lastly, let's look at another Zareba poly rope electric fence for horses.
It's similar to the one we reviewed by the same brand. However, the different materials, designs, and values make it unique!
To begin with, this electric fence is on the smaller side and can be used only for 200 meters of electric fences.
Unfortunately, this rules out using it for more extensive pastures. However, those with small space to cover will enjoy this electric fence!
It can be used as a temporary solution as it is portable and relatively effortless to install!
But, you can also install the fencing on permanent posts to keep your horses away from any forbidden area.
It's pretty surprising that a poly rope electric fence can have high visibility!
However, don't let anything about Zareba catch you off guard. The brand is known for delivering high-quality items for pasture maintenance and landscaping!
Additionally, the rope works for rotational horse grazing, controlled grazing, and temporary fencing.
The Zareba fencing system is much more durable than poly wire as it features stainless steel strands for extra endurance.
In addition, the poly rope is known for not rusting or corroding over time like metal exposed systems, so it will last you for a long time!
Pros
Easy to set up
Works with rotational grazing
User-friendly design
Durable
Lightweight
Cons
Not suitable for bigger coverage
Buyer's Guide
1. Break Load
When purchasing electric fences, you first have to check the break load.
Most brands will disclaim the break load of their electric fence, so always look for them on the packaging.
If the brand does not specify the exact weight, I suggest you stay away from that item. It's like playing a lottery, and you can never be sure just how strong the fence is.
Generally, the bigger the break load, the better it will hold down larger horses.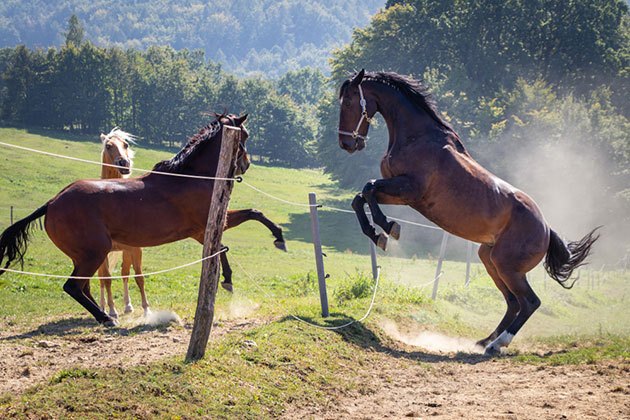 2. Durability
Does the best electric fence have a warranty? I would check for one if I were you.
Although it's never easy to guarantee the longevity of this kind of product, you should always aim for the strongest fence.
You can pick anything from poly wire, tape, and poly rope.
3. Installation
Although electric fences are not that hard to install, you would find that a few of the models require some time to be assembled.
Therefore, it's best to pick the electric fencing that can be rolled in and out for easy use.
This kind of fence includes a spool that makes the entire process much easier!
What should you never do with electric fences?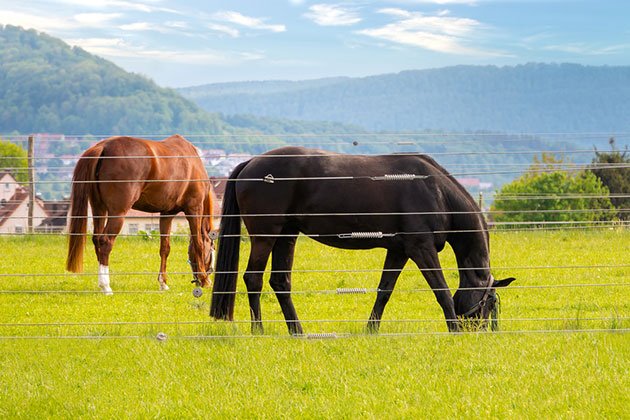 Although they can be a great benefit for keeping the horses safe, there is one thing you need to be careful about.
Never tie the electric fence around the tree!
Electric fences for horses need to be installed on permanent posts to offer the safest use. Also, be careful of the tension.
Electric fences do not support high pressures upon installation, so you should always check with the manual first.
FAQ's
What is the best type of electric fencing for horses?
The best type of electric fence for horses is aluminum wire.
It's strong enough to carry a high and low charge so that you can use them for stronger animals.
It does not rust, making it a heavy-duty component that keeps your horses safe.
How strong does an electric fence need to be for horses?
Electric fences work pretty simply.
If you set up a higher voltage, it will cause a stronger shock. If you set a lower voltage, the less the damage will be.
However, if you use the electric fence for horses, you need to be careful. After all, you don't want to traumatize the horse, do you?
Therefore, setting the proper voltage is necessary.
At least 3,000 volts is strong enough to warn the horse but not scare him to death! Typical fences with two wires carry this voltage, so you should be good to go.
If you are unsure about the fence voltage, you can always check with the voltmeter.
How many joules should a horse fence have?
A generally used joule output for horses is around 3-5 joules.
It gives the horses a warning but not a traumatizing experience that will make them skittish.
You should also mind the dimensions of the wire. Typically, one joule is used per mile of the fence line.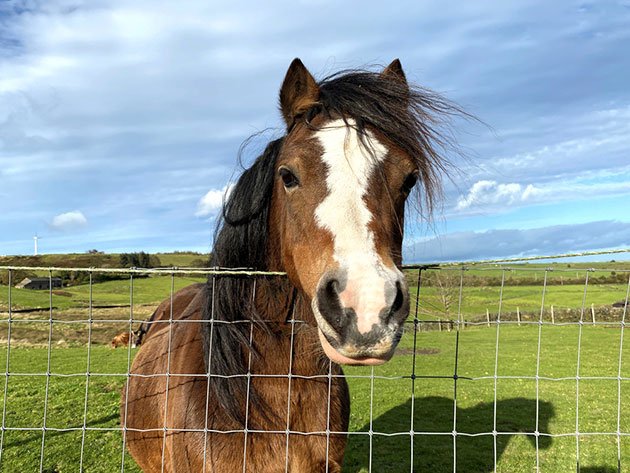 How much is grounding needed for an electric fence?
If you want to make the best out of your electric fence, you need to ensure the energizer is properly installed and grounded.
If you have a large output, you will logically need more grounding rods.
Typically, you will need to install 3 ft of ground rod per one joule of output capacity.
What do joules mean in the electric fence?
Joules refer to the amount of energy sent through the fence line. Therefore, you would often see that energizers are rated in joules.
Depending on what you are using your electric fence for, you can set the desired voltage.
Additionally, the energizer must deliver enough joules to overcome the load caused by weeds and grass.
What is the best electric fence for horses?
I'm guessing it was not hard to pick the best fence, was it? For me, it's the ElectroBraid PBRC1000C2-EB Horse Fence Conductor Reel.
It's easy to use and install and will keep the horses safe in their field.
Besides the high-quality material, the fence will not cause extreme harm to the horses, but it will only serve as a gentle warning not to cross boundaries!
After all, they don't call this America's #1 horse fencing for no reason, do they?
Sale
ElectroBraid PBRC1000C2-EB 1000 ft. Reel - Electric Fencing Designed for Horses*
America's #1 Horse Fence – Specially designed for horses, ElectroBraid is the most recommended horse fence for safety by equine veterinarians
1,000 Ft of Line – Made from UV resistant materials including a braided polyester fiber jacket, polypropylene core, and double helix copper conductors
Designed for Horses – This highly visible fence line serves as a physical and psychological barrier to prevent leaning, chewing, and more
Safe, Secure, and Simple – Collision with a rigid fence can cause horse injuries. ElectroBraid is engineered to break if a horse gets caught
High Quality and Durable – This electric fence line meets the high standards established for seatbelts and parachute harnesses
Conclusion
You must have picked out the best electric fence for horses and already set a few alternative picks on the side as well.
Finding the right electric fence can sometimes be a challenging task for a horse owner, especially those who don't know what to look for in fences!
You cannot make a wrong choice with either horse fencing you pick out, as they are a fantastic support system for keeping the horses safely corralled.