Are you finally installing electric fencing? Have you found all the components? If yes, it's time to set up the structure.
Once you determine the fence posts, you need to choose an appropriate fence line and set it up.
But, how can you place and strengthen the wire lines on the fence? It's easy – with the best electric fence reel.
And how can you select the best one? Read below.
Best electric fence reels money can buy: Our final overview
$ – Premier EzeReel 2.0 Electric Fence Conductor Reel – 4.50 pounds.
Best quality due to its solid and reliable structure. For all harsh conditions. Easy to install and use.
$$ – Gallagher G611504 Electric Fence Geared Medium Reel – 6.34 pounds.
Most versatile and adjustable, thanks to its updated structure. A locking mechanism for more security and safety. Still, hook issues.
$$ – Gallagher Geared Maxi Reel – 6 pounds.
Most resistant to all harsh elements and is ideal for different wire types. Durable and sturdy for most wire operations. Quick setup.
$ – Zareba 145 Self-Insulated Wire Reel – 2.97 pounds.
Best for small pastures and rotational grazing due to specific design and functions. Upgraded spool insulation mechanism. Yet, too small.
$ – Gallagher G61600 Econo Reel – 3.84 pounds.
Best design due to improved construction. For multiple wire options. But, slacking issues.
#1. Premier EzeReel 2.0 Electric Fence Conductor Reel – Best quality
Brand: Premier 1 Supplies
Item dimensions: 5.25 x 4.25 x 11.5 inches (diameter & W)
Material: stainless steel
Best for solid construction 
The electric fence reel is an excellent choice due to its design. The reel is ideal for durability and sturdiness, thanks to its solid ribs.
In addition, the electric fence reel has a reliable construction and a handle pin that's also reliable for multiple projects and heavy-duty operations. Thus, it meets various wire types.
You'll see that it can roll up to 330 or 660 inches of IntelliRope, 2,000 inches of IntelliTwine, and 900 inches of IntelliTape.
So, you can choose among the wires and find the best content for your fencing.
Since the reel has a strap around its neck, it's easier to use and operate than regular hand-held reels.
You can adjust it to your needs and measure the exact length and size of the wire lines for the fencing.
The reel offers a spring-loaded metal latch when you don't use it. It will lock the reel in the proper place, and you can keep it safe for increased quality.
Finally, you can take a few turns with the 20-inch inner circumference to wind up conductors properly.
So, you can place the gears or wire guides and protect them from harsh conditions.
#2. Gallagher G611504 Electric Fence Geared Medium Reel – Most versatile
Brand: Gallagher 
Item dimensions: 12 x 15 x 11.5 inches
Material: plastic 
Best for advanced design 
Thanks to its multiple functions, the Gallagher turbo wire electric fence reel is a perfect solution for your needs.
The reel can quickly roll the poly wire, braid, or tape by turning the wheel handle.
So, you can adjust and moderate the reel according to your needs to tighten and apply the wire lines without any issues.
Unlike similarly geared reels, the Gallagher turbo wire electric fence reel is an entire unit due to its advanced design.
The reel uses a locking mechanism. It will lock the reel after you tighten the electric fence and create a suitable construction for your property.
Thanks to its advanced materials and model, the fence wire units will be optimal, and they can stand correctly to protect the property and animals inside.
Moreover, as the reel has a hand handle, you can easily and quickly perform multiple operations & use it promptly for heavy-duty projects.
Among poly wire, tape, or gears, the reel also allows a 40-acre capacity due to the InsulGrip gate handle.
As our manufacturer thought of all-electric fence components, it comes with the package.
It's reliable and solid, more advanced than regular geared reels.
Pros
resistance
durable
spool insulation
#3. Gallagher Geared Maxi Reel – Best resistance
Brand: Gallagher 
Item dimensions: NA
Material: plastic
Best for multiple wire options
Another Gallagher electric fence reel will wow you due to its construction. It's made of durable and reliable plastic materials.
Unlike standard geared reels, the reel will show maximum resistance and premium-quality structure. Hence, you can adjust it to your fence and wire needs.
The reel is also versatile for numerous wire types, including poly wire, tape, turbo wire, and other wire models to make your fence stable and stand correctly on the posts.
It features a massive galvanized hook for an easy attachment to the fence. Plus, it comes with a wire guide for a tangle-free installation and an impact-resistant hub.
Another great feature is a shatter-proof reel locking mechanism. It offers a safer use due to a carry handle with a knuckle guard.
So, it will remain stable and secure when locking the reel.
The reel offers a practical storage unit for a gate handle or Gallagher Insul-Grop, thanks to its package. You can attach it to the galvanized Porta Reel Post.
As the reel uses a compact yet flexible design, you can adjust it to your needs and roll multiple wire types.
As a result, your fence can be used for numerous light and heavy-duty operations.
Pros
spool insulation
solid
stable
#4. Zareba 145 Self-Insulated Wire Reel – Best for small pastures
Brand: Zareba 
Item dimensions: 13.6 x 12.2 x 11.6 inches
Material: alloy steel 
Best for rotational grazing 
The Zareba electric fence reel is an ideal system for your fence, as the fence reel offers an improved construction to prevent tangling of various wire options.
You can roll and wind up such poly wire, steel wire, aluminum wire, poly tape, and other options. So, you can search for your ideal solution and stabilize the wire lines.
It will hold up to 656 feet of poly tape and 1620 feet of aluminum wire or poly wire.
In addition, the galvanized steel frame will insulate the wire from the spool.
So, your wire lines will always be optimal and secure for more extended use and broader applications.
The steel lock mechanism will keep the gears in the correct place. So, you'll keep the wire units secured and the proper for robust projects and keep them in optimal condition.
Of course, the reel comes with a convenient carry handle and a solid steel crank to make it easier for you to use for an extended period.
Thus, you can quickly adjust it to your needs. In addition, the reel is ideal for rotational grazing and small pastures to prevent the tangling of the fence wire.
Pros
spool insulation
durable
sturdy
#5. Gallagher G61600 Econo Reel – Best design
Brand: Gallagher 
Item dimensions: 10 x 12 x 13 inches
Material: zinc 
Best for performance 
And last but not least, the Gallagher electric fence reel holds multiple wire options, such as poly wire, poly tape, turbo wire, or turbo tape.
However, these models come in different sizes, from 656 to a maximum of 1640 feet of wire length.
So, you will have to check the size to see if the reel meets your electric fence wire.
The frame is zinc coated, so the reel has a positive locking ratchet mechanism. Thanks to its sturdy construction and materials, it's also a UV-stabilized reel.
You can use the reel with a replaceable and reversible hub. It's strong and durable to resist harsh conditions, impacts, and pressure.
However, the reel is lightweight and easy to use, adjusting it to your needs and using it more robustly.
The reel will withstand all potential risks and harsher conditions so that you can apply it for multiple projects.
Moreover, the reel is eco and user-friendly, so it won't create any issues for you or the environment when using it for multiple operations.
Besides, it will show advanced performance for different needs.
Finally, the reel will come with a satisfactory warranty period to replace it or refund your money.
Pros
durable
application
solid
Best electric fence reels 2022: A complete buyer's guide
To fully understand the purpose of the reels and find the best options, please refer to the guidelines below.
You must consider multiple factors for the best reels.
1. Wire materials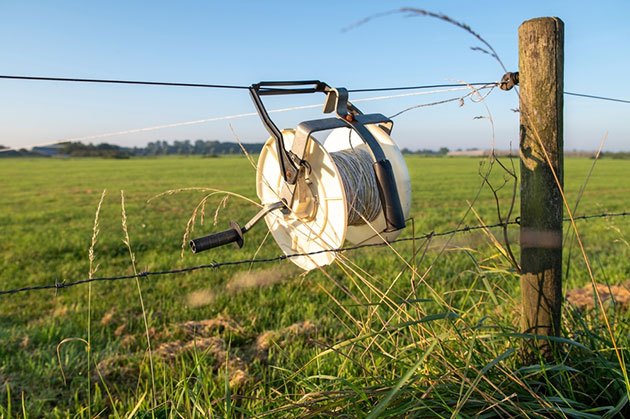 Numerous reels will work well with poly wire and tape, turbo wire and tape, and another wiring system.
However, those models have extension cord reels and a cordless drill to roll the poly wire.
It would be best to determine the purpose of the fence wires to find the proper reel to suit your needs.
2. Durability and sturdiness
Of course, it's crucial to look at the reels with more robust and solid constructions to ensure they will be long-lasting and for broader applications.
In addition, they provide the best materials to last for a prolonged time.
Our list includes only steel, plastic, and zinc constructions, so you can freely select your ideal reel model.
3. Locking mechanism
A reel with a spring-loaded latch system will offer an improved locking mechanism. This is essential to keep your wires optimal and make your work fruitful.
In addition, the locks will keep them in the proper places, and the spring will increase their stability and security when not in use.
4. Performance and standard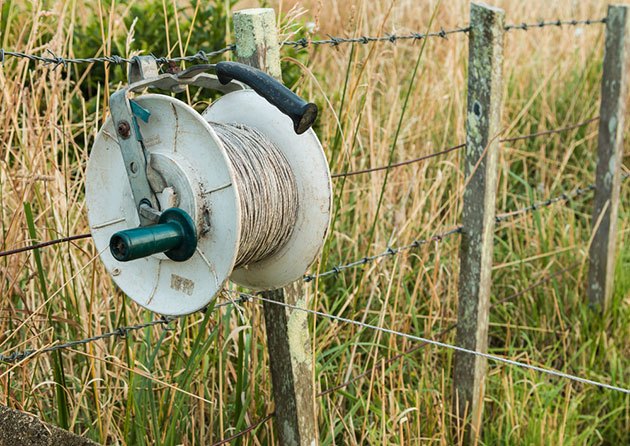 If it's not of a higher standard and advanced performance, you cannot use a reel properly.
All our models contain impressive structures and higher standards for more robust applications and multiple wire models.
They will show their maximum performance, too, keeping the fence optimal and ready to use whenever you need it.
However, the higher standard comes with a higher price. But, the functions you'll get are more significant than all other necessities.
You can find multiple reel products at a higher or reduced price. Our list includes affordable units suitable for all pockets and all farmers.
However, sometimes you will have a bit more to get better quality. So, I suggest you first examine the overall function and then go for the cost.
The better the standard, the higher the price. But, as farmers agree, it's worth every penny.
Frequently Asked Questions
How do electric fence reels work?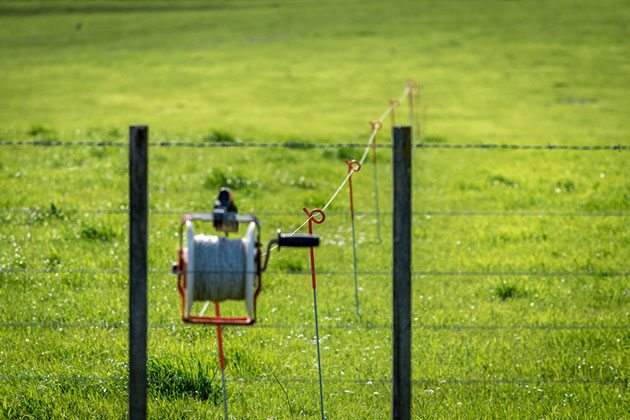 It works in a way that allows you to erect a mobile fence quickly. It is cost-effective and time-saving, as you can quickly move the fence when taking it down.
Reels allow you to wind up your fencing without any additional knots. They're also easy to use due to handles and overall design to make your job easier.
And, when you wind up the wire, it will be ready for subsequent use.
How do you roll electric fence wires?
You can use the electric fence reel. It has a handle, and you can manually roll the wire if you use or don't use the fencing anymore.
However, you will have to select the proper types to ensure they will have enough space on the reel.
And, once you roll them, ensure you use the locking system to secure and support wires.
How do you put poly wire on a reel?
You can use a wheeler, but you first have to put the posts in. Next, you will string it on the way back.
The following step is to ride along and drop the wire on the takedown. Then you'll pull posts as you go until you reach the end.
Then, you'll unhook it, go back to the reel and start reeling. You can walk towards it as you reel until it feeds towards you if it's too long.
You can try with a bobbin for multiple fences. Yet, the bobbin is hard to swap on geared reels.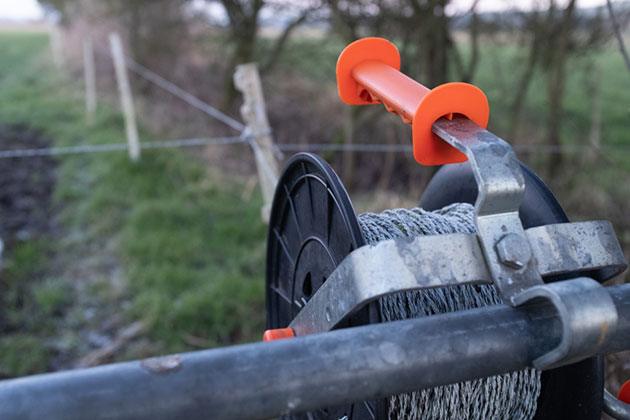 So, what's the best electric fence reel?
The best reel is the Premier EzeReel 2.0 Electric Fence Conductor Reel.
The reel shows an exceptional standard and performance thanks to its overall construction.
It also features a spring-loaded metal latch to lock the wire units correctly and keep them optimal for more extended operations.
Finally, the reel is convenient for poly wire, tape, and other models, to meet your needs and make the tension optimal for more robust applications.
Premier EzeReel 2.0 - Electric Fence Conductor Reel*
Holds 330' 6 mm IntelliRope, 660' 4.5 mm IntelliRope, 2000' 2.25 mm IntelliTwine, 900' 1/2" IntelliTape
Easier to use than hand held reels because reel is supported by a strap around the neck.
Thick, strong ribs make these reels durable. Handle pin is stainless steel.
Spring loaded metal latch locks the reel in place when it's not in use.
20" inner circumference takes fewer turns to wind up conductors.
Final words
So, have you decided on the best electric fence reel? If yes, please refer to our guidelines to find the best solution.
Ensure you follow all instructions to avoid further complications & eliminate potential risks. Keep the work optimal.