Harrowing is essential for various benefits.
Firstly, the process aids drainage and assists with standing water. Therefore, it will minimize muddy patches.
In addition, it will successfully manage new grass growth, remove the old thatch, and provide more room for new grass growth and needed oxygen for the ground and growth.
Finally, the process is beneficial for removing clods and mole hills, spreading manure, and eases the mowing during the summer.
But, to achieve this, you need the best tractor grass harrow – tractor chain harrow or tractor drag harrow to complete the process.
And, how to do so? Read below.
Best Tractor Grass Harrows 2022: Our Complete Overview
$$$$ – Neat Attachments 6'4″ x 3′ Multi Action Drag Chain Harrow – 82 pounds.
Best performance due to maximum versatility and multiple functions. Still, it has specific design flaws.
$$$ – Titan Attachments Heavy Duty Drag Harrow – 107 pounds.
Best design and increased resistance for prolonged reliability and solid construction for ease of use. Diverse for numerous spring tasks and operations. But not for heavy-duty jobs.
$$$ – Field Tuff HDHA-44 Drag Harrow – 128 pounds.
Best efficiency and effectiveness for different operations and jobs. Adjustable and flexible for various lighter and heavy-duty spring tasks. Still missing some parts.
$$ – KUAFU Tow Behind Drag Harrow – 48.5 pounds.
Maximum safety features for the smoothest spring operations and advanced performance. Improved quality for more robust uses and different spring tasks. Solid and potent for a prolonged time.
$$ – VEVOR Driveway Drag 74" Width Tow Behind Drag Harrow – 38 pounds.
Most reliable with exceptional capacity and extra support. Supreme resistance, and heavy-duty construction for all spring jobs. However, incomplete instructions.
#1. Neat Attachments 6'4″ x 3′ Multi-Action Drag Chain Harrow – Incredible performance
Brand: Neat Attachments
Product dimensions: 76 x 36 x 72 inches
Material: carbon steel
Vehicle fit: ATVs, UTVs, lawn tractors
Best for: versatility & multifunctionality
Why should you choose this tractor harrow as your final winner?
Firstly, the chain harrow is ideal for its material.
As you can see, the chain harrow offers sturdy and durable content. So, you can use it more robustly, and it will perform well, without any damage or other potential hazard.
In addition, the chain harrow is a great way to prepare and improve the ground for your springtime harrow.
It's one of the best inexpensive farm implements to start regular harrowing in an environmentally friendly way, remove older thatch, and produce new shoots.
Naturally, the chain harrow will also assist you when improving grazing and your grassland.
Of course, the chain harrow will also be a crucial tool for your grassland, as it offers superior performance and does all jobs regarding horse and castle farmers preparing seedbeds, spreading manure, covering germination, paddock maintenance, etc.
But, you could also use the chain harrow for landscaping, land leveling, pasture maintenance jobs and renovation, root raking, and other heavy-duty or lighter tasks.
So, you will find the tool versatile and adjustable for your needs.
Finally, the chain harrow model comes with a satisfactory warranty period.
Pros
durable frame
sturdy construction
quality content
#2. Titan Attachments Heavy Duty Drag Harrow – Remarkable design
Brand: Titan Attachments
Product dimensions: 48 x 48 inches
Material: steel & iron
Vehicle fit: ATVs, UTVs, lawn tractors
Best for: high resistance & multi-purpose
Next off, we present this awesome drag harrow for your needs!
The Titan Attachments drag harrow will wow you due to its overall design and thickness.
Namely, the drag harrow contains reliable, robust, and rich content, suitable for a variety of light and heavy-duty tasks on your grassland or other soil.
Thus, it will help you prepare the soil, level the uneven ground, and start regular harrowing in an environmentally friendly way by improving grazing, minimizing muddy patches, removing the old thatch, and making room for the new shoots and grass growth.
However, it will competently manage the paddock and pasture maintenance jobs, and you can use this model for different types of dragging methods, from smoother to more aggressive ones.
Thus, it will be versatile and multi-purposeful for numerous grassland and overall ground operations.
Due to its durable and sturdy content, the unique size drag harrow is rust-resistant and withstands external pressure, impacts, and different working forces.
Thus, it aids drainage, prepares land and soil, and helps your cattle come back to grazing the surface sooner.
And, thanks to its thickness of 0.43 inches, it cannot break or hazard so soon.
Pros
versatile
easy to use and assemble
affordable
durable
#3. Field Tuff HDHA-44 Drag Harrow – Outstanding efficiency and effectiveness
Brand: Field Tuff
Product dimensions: 48 x 48 x 3 inches
Material: heavy-duty steel
Vehicle fit: ATVs, UTVs, lawn tractors
Best for: adjustability & flexibility
You can adjust the following harrow, adapt it to your needs and perform a variety of operations.
Thus, you will notice the harrow has different performance types, from more or aggressive.
You can also move the harrow to the opposite end and even flip it over to operate better on the ground, grassland, or another soil type.
Thus, you can fully prepare your soil, yard, field, or ground for preparing seedbeds, over-seeding, land leveling, dealing with mole hills, and other jobs.
Due to its thickness and heavy-duty design, the Field Tuff harrow model will also be perfect for breaking up soil, grading, leveling plots, leveling pastures, and other jobs.
So, the model will help you remove the old thatch, weeds, and other pests and ensure the growth of the new, healthy grass.
Therefore, the tractor harrow will be an effective way to prepare the pastures and paddocks for the rest of the year and provide advanced grazing for your livestock.
As the harrow has seven different horizontal rows of tines, it features 69 tines.
Moreover, the harrow tines and tow chain harrow have a specific frame, fitting any of the 2-inch trailer balls.
#4. KUAFU Tow Behind Drag Harrow – Superior quality
Brand: KUAFU
Product dimensions: 66 x 35 x 4.48 inches
Material: powder-coated alloy steel
Vehicle fit: ATVs, UTVs, lawn tractors
Best for: safety features
The KUAFU tractor harrow stands out as it has the best frame.
Namely, the tractor harrow has a unique pin-style hitch. Therefore, you can use the harrow frame to level your driveway, parking lot, lawn, yard, or other soil and ground types.
As it's built to follow strict control standards, the KUAFU tractor harrow has a solid and reliable all-welded heavy-duty steel design for maximum safety and strength while operating.
And, due to the black powder finish, the tractor harrow will last for an extended time.
Due to its lightweight frame and construction, the grass harrow avoids wearing your machines, and you can easily attach it to your tractor or another vehicle.
However, you will love the model for its diversity, so the grass harrow will assist you when standing water or spreading manure. 
It will be helpful when killing present weeds and harrows and removing the older thatch, preparing your patch and paddocks for the rest of the year, making it easier to mow in the summer.
Still, the grass harrow will be valuable for breaking rocks and weeds on the ground surface to soften the soil and make it ready for planting.
Thus, your soil and ground are flawless.
Pros
durable
sturdy
easy to attach and use
#5. VEVOR Driveway Drag 74" Width, Tow Behind Drag Harrow – Fantastic reliability
Brand: VEVOR
Product dimensions: 44.68 x 5.5 x 5.7 inches
Material: heavy-duty steel
Vehicle fit: ATVs, UTVs, lawn tractors
Best for: exceptional resistance and heavy-duty construction
Finally, the VEVOR tow-behind grass harrow will be ideal for your working needs and all-weather conditions.
As the grass harrow has premium-quality materials and design, the unit will be fantastic for rust resistance, durable, reliable, and robust construction.
So, regardless of the climate and weather conditions, you can freely apply the harrow attachment.
Due to specific frame and construction, you can easily attach the tractor implement to various UTVs, ATVs, and lawn tractors.
And, due to durability, the harrow cannot harm so soon.
Since the grass harrow has sturdy and durable bars, you can add up to 50 pounds of burden to help grading, leveling the ground, breaking soil, and rocks, removing weeds, older thatch, and other obstacles efficiently, to improve the soil and ground quality.
Therefore, you will effectively make your soil ready for later planting and pasture and paddocks for the rest of the season and the year.
Among the breaking and pasture maintenance jobs, the harrow also helps in drainage and other jobs requiring more strength and keeping your soil optimal for the following seasons and other operations.
So, your livestock can freely return to the pasture and enjoy new, healthy grassland.
Pros
maneuverability
sturdiness
easy to pull
affordable
Choosing the Best Tractor Harrows: All You Need to Know
You need the best tine harrows to make the best out of the harrowing season. So, to find them, check our exquisite guide below.
Spring tine harrows: Main purpose
The tine harrows have various benefits, to help you arrange and make the ground ready for use. These include:
penetrating the hardest ground
ripping out the dead thatch
opening the soil surface and letting the air stimulate and encourage the new grass growth in the root zone
When to harrow and how?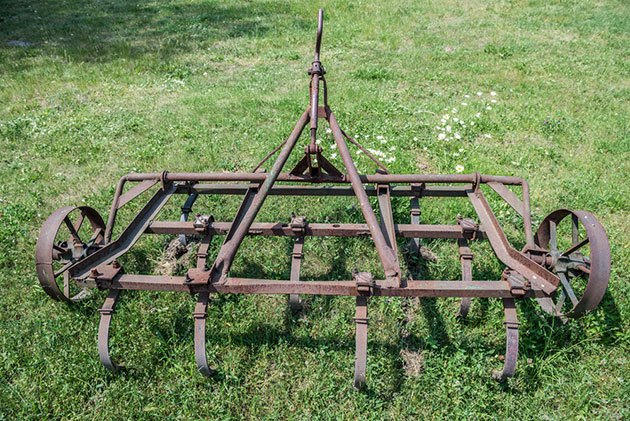 Experts suggest mid-march onwards as the ideal time to start regular harrowing.
But, all farmers using tractors to pull their harrows need to wait until they're dried out to eliminate the creation of the mud bath.
Still, you can finish the tasks quicker if you use a quad bike.
Chain vs. disc harrow
Different types of spring tine harrows serve for foreign operations.
In addition, these inexpensive farm implements come in various shapes and designs. So, which one will you use: chain harrows or disc harrows?
Chain harrows will lift and spread the soil while the disc harrows break the massive dirt clumps to make them ready for planting.
Chain harrows have teeth and metal tines in the mesh form, and they're lightweight so that you can use the chain harrows with other harrows for cultivating products as well.
The primary purpose of chain harrows is:
spreading fertilizers
covering newly-planted seeds
lightly leveling soil surface
breaking smaller dirt clumps and making a smoother surface
leveling and covering sports fields
On the other hand, the disc harrow will break different massive dirt clumps, preparing the soil and ground for the following planting jobs.
Its heavy-duty construction with discs makes the disc harrow capable of cultivating acres of land and gardening.
Additionally, the disc harrow is ideal for its heavy-duty blades on the discs to cut through old crops, weeds, and extensive soil clumps, so it's perfect for the most challenging operations and jobs.
So, the disc harrow has the following uses:
uprooting weeds
turning and mixing soil
breaking up massive soil and ground clumps
chopping up old stumps and crops
leveling uneven ground and huge swaths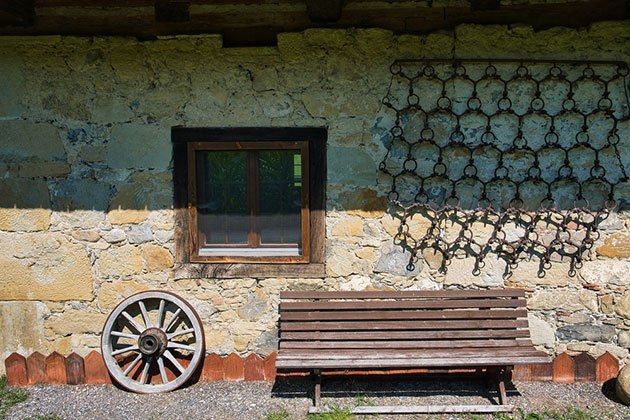 So, whether you'll choose the disc harrow or chain harrows for your spring needs depends on the jobs you will do. For lighter jobs and less work, you will use the chain harrow.
But, for more work and heavy-duty operations, you can use the disc harrow.
Also, consider if and when to choose drag harrows and frame harrows.
Drag harrows are cheaper models and tow any machine with a ball or pin hitch. But, the frame harrows require a compact tractor with a three-point hitch for attaching.
Another benefit is that you can lift them while attached so that you can transport the harrows on the road or around your land.
In addition, it would be helpful to choose the 3-way harrows.
They offer you to face the times forward for aggressive harrowing or turn the tines backward for more passive harrowing. Or, you might turn the tines upside-down for smoother harrowing.
However, when choosing between the chain and spring tine harrow, the spring tine harrow might be more valuable for getting rid of moss.
Also, the tine harrow might be more helpful for steep and bumpy ground. But, you still have to check its durability and sturdiness to penetrate the environment better.
Crucial factors
Regardless of the harrow you choose, ensure they are:
durable and reliable
heavy-duty
versatile
easy to maneuver and operate
Frequently Asked Questions
When should you grass harrow?
According to experts, mid-March onwards is the best time for your harrowing process.
Yet, for all farmers who use tractors to pull harrows, wait a bit more to drain completely, and then start the process to avoid mud bath.
How often should you harrow a field?
It would be essential to arrange the pasture and paddock for the remaining time of the year and provide ideal grazing for your livestock.
But, it would be valuable to harrow in the autumn to help flower seeds and grass germination over winter.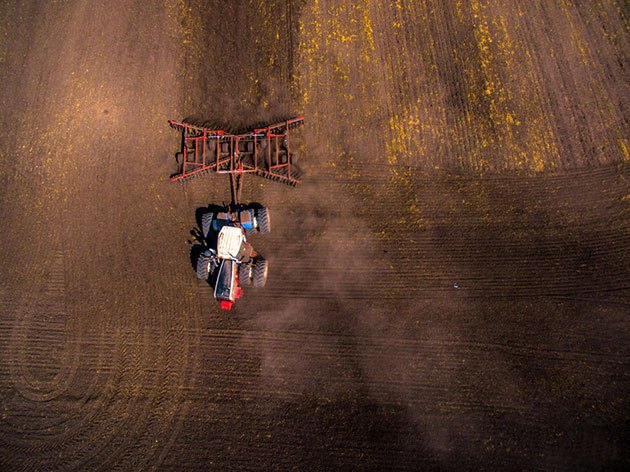 What are the disadvantages of harrowing?
Some of them include:
negative impact on the soil and disturbance of the structure
tall-growing weed species
control failure of the tap-rooted weeds
risk of the crop injuries
What can you do with a drag harrow?
You can use it to loosen and even out the soil after plowing and packing.
It can also pill up massive rocks that you can manually pick up and put in the stone box to remove from the field.
And you can find other benefits in the guide above.
What is the difference between a harrow and a cultivator?
The main difference is that the harrow contains a heavy construction and frame with either discs or tines to drag and penetrate the land.
It will break up and smooth the soil to remove the weeds and cover the seeds.
Contrary to harrows, cultivators are tools to stir or lose the ground.
And, the final winner is…?
The fantastic Neat Attachments 6'4″ x 3′ Multi Action Drag Chain Harrow is the best harrow for your pasture or other soil needs.
The chain harrow will wow you due to exceptional performance and versatility for various operations and different heavy-duty and lighter jobs.
In addition, the specific-size chain harrow will offer valuable assistance with the new grass growth, cleaning and removing the old weeds, thatch, and other pests, pulling them, and making the ground and soil surface great again.
Finally, the chain harrow might be expensive, yet it saves you money for an extended period due to its premium quality.
Neat Attachments 6'4" x 3' Multi Action Drag Chain Harrow - Overall 6' Long - 1/2" Dia*
1045 CARBON STEEL. Includes- Heavy Duty Universal Drawbar, pull chains & a Tow ring
Overall 76"Wide x 36"Length Harrow Section. Overall Length with drawbar and tow chains - 72"
Power Required To Pull = 6 HP. 1/2"x 4" long - 64 Tines. Weight - 82 Lbs.
APPLICATION - The Chain harrow is ideal for the horse and cattle farmers that are spreading manure, preparing seed beds, covering seed beds to enhance germination, harrowing on hay fields assure a...
Final verdict
In your opinion, what's the best tractor grass harrow? Is it challenging to find the right one?
You can refer to all tips & tricks and the primary benefits of finding the most advanced one and starting your harrowing season on time.
However, follow the instructions and suggestions for the best outcomes, and save your money when choosing the best tractor chain harrow and tractor drag harrow.
Thus, you will avoid further complications.