So, you have set the budget aside for a new tractor, but you are still debating on Case IH or New Holland?
The two are the world's most popular tractor brands, so I understand why your choice is hard.
But, I bet that it would help to have an in-depth side-by-side comparison of the two brands and their most popular models.
Although they are similar mechanically, there are still a few differences you need to know about when it comes to reliability and comfort.
So, Case IH vs. New Holland?
Let's compare them in a few crucial categories to decide which one works better for your needs.
New Holland vs. Case IH – Beginning Steps
We can trace back the Case IH history to 1842 with the innovation of the Racine Threshing Machine Work. It was founded as a significant Fiat Group, headquartered in the USA.
Back in 1999, the Fiat Group was looking for a way to increase their worldwide sales and overall success.
So with that, they built their fame under the New Holland brand and decided to purchase Case Corporation.
This transaction leads to the now well-known formation of CHN Global as a new company within Fiat.
Within the manufacturer of Case IH and New Holland, it was decided that these companies should sell under a joined platform but retain their distinct qualities and features.
In 2016, Case IH was the first tractor brand to develop a cables autonomous concept tractor, able to plant the entire field mechanically.
Case IH is among the largest manufacturers in the world, while their farming equipment finds a place on the majority of farms!
On the other hand, New Holland is considered to be the world's second-largest agriculture manufacturer.
Now let's compare a few of their well-known models.
New Holland vs. Case IH – Top Competitor Models
Case IH Farmall JX90 & New Holland TD5050
Case IH Puma & New Holland T7
1. Applications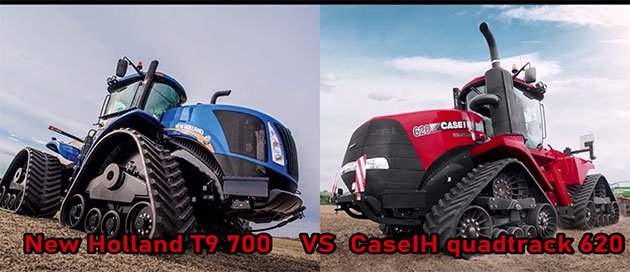 Before we go on and compare these three well-known models, let's discuss their applications. In this way, you will know which one is the best pick for you right from the start!
The Case IH Farmall JX90 tractor is a front-end loader perfect for any basic farm operations. Such include hay moving, tillage, planting, harrowing, and mowing, among the rest.
Compared to the NH TD5050, which is also front-end loaded but better suited for bailing and hay mowing.
Other applications include light tillage, road grading maintenance, digging, and post-hole boring.
The Case, IH Puma tractors are known for their robust build as they are equipped with high power and gears designed to perform various farming tasks.
These tractors are best used on farms that handle livestock and mixed-crop operations.
Its opponent is the similar New Holland T7 equipped with just as much power but is slightly better for field maintenance, transportation of materials, and hauling.
Winner? New Holland only because it's more versatile.
2. Operator Comfort
If you spend the whole day in the field, you better make sure the tractor you have chosen is comfortable.
For instance, both JX90 and TD5050 have similar cabs.
However, they are a bit smaller than their competitors, so they make a simple operation challenging, especially if you are tall.
Although users find the cab on these tractors to be just right, a few have said that the tight space makes it hard to maneuver the entire tractor. Unfortunately, this is more the case with NH than with Case.
The JX90 model is a bit roomier than its competitor as it has more headroom, and personally, it's much more comfortable to spend your day in!
It's ergonomically designed, so all the controls are within the reach of your hand.
However, if your primary concern is better visibility, I recommend you go with New Holland. The upgrade on the sloped hood offers excellent visibility in every location.
As for the other two models, the Case IH takes the win! With the Puma tractors, the cab offers the benefit of a decent ride with the optional cab suspension.
Additionally, operator controls are all on the MultiControl armrest display and are easy to work with.
Plus, if you are working in a challenging location, the upgraded rear-view mirrors help with blind spots and increase accuracy.
You will enjoy the extra comfort with the four-seat package options!
The T7 tractors kept the functions operator cab pretty similar. It's a bit roomier but with one of the best Auto Command™ CVT.
Winner? Case IH
3. Engine Power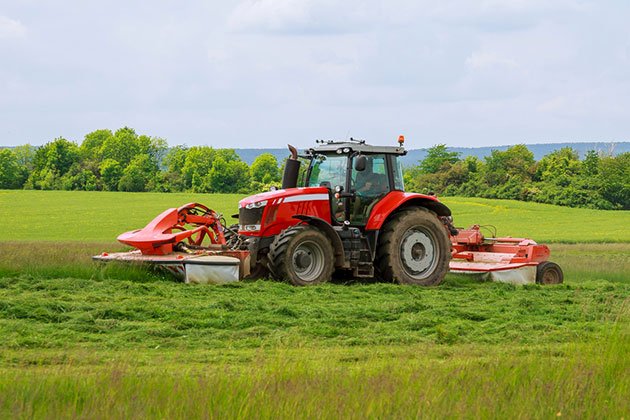 Some would say that both New Holland and Case IH use the same engine!
Although it may have been seen like that, they are not the same tractor model, so you cannot expect a similar delivery from both brands.
NH power ranges from 150-300 HP, while the Puma tractor includes 185 HP. As you can see, the difference is immaculate!
Additionally, the PTO is noticeably weaker in Case IH than with NH. The NH tractors have more options that share the PTO power of 125 to 267 HP.
They are all within the T7 line, where you can choose a semi-powershift, continuously variable transmission, or a full powershift.
Let's not doubt the power of Case IH also! These tractors feature a turbocharged, intercooled engine that delivers high boost levels.
Both tractors offer reliable engines, but it all depends on which one you prefer best for your business.
Winner? New Holland
4. Performance
When deciding between a better operation, we would have to look at a few features.
Starting with the transmission, the Case IH allows you to choose between CVXDrive continuously variable transmission and Powershift Powerdrive transmission.
On the other hand, NH also has three types of transmissions such as semi-powershift, full-on powershift, and continuously variable.
But, the AutoCommand function is available only with the T7.270, T7.290, and T7.315 models.
However, if you want to get your money's worth with fuel efficiency, I would have to stick to Case IH. Their tractors protect the engine better and tend to maintain power to the ground.
With the automatic shifting of gears, the tank never runs under a heavy load, creating a fuel-efficient machine for every location!
Additionally, with the Puma tractor line, you can easily customize it as it features a split throttle design found in almost all Case IH tractors.
Since we are still on the line with Case IH, I would like to mention the tremendous hydraulic pumps and hitch lift capacity! They genuinely get the job done in every situation.
The Puma tractor, for instance, has a pressure-flow compensating hydraulic system. 
While the Case IH has three hydraulic pumps, the NH one has only two, accounting for one of the most significant differences.
Winner? Case IH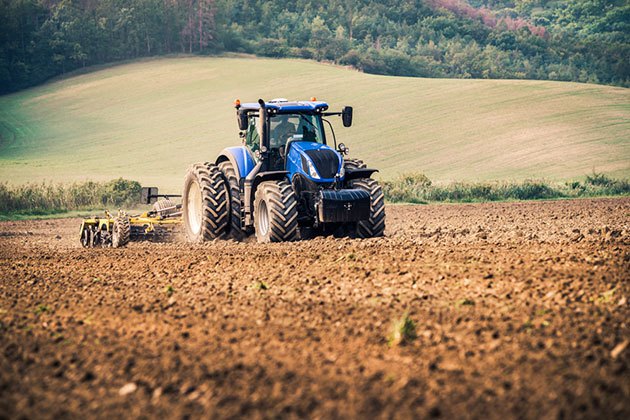 New Holland vs. Case IH – Price
Ultimately, it is all about how much money are you willing to invest for the final drive? With Case IH, you will be getting a better operator cab with extended seat comfort.
However, with NH, the tractor offers more reliability and exceptional maneuverability.
The price range is pretty much similar to one another, so the tractors don't make drastic price differences.
FAQs
Are Case IH and New Holland the same?
Case IH and New Holland are sister companies owned by Fiat Group.
Back in 1999, Fiat Group, which New Holland then owned, purchased the shares of Case Corporation.
This merge led to one of the most well-known brand formations by CNH Global.
Although they were merged by the same company, New Holland and Case IH make tractors of their quality with distinct differences.
Is Case IH a good tractor?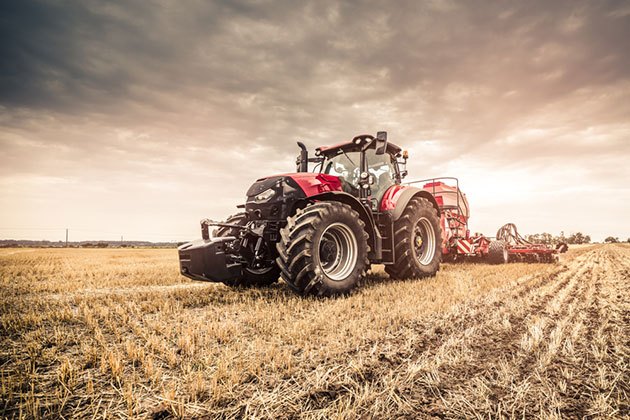 Yes, a Case IH is a good quality tractor. The brand offers versatile agricultural equipment and vehicles that suit the needs of every farmer.
Like any vehicle, they will require essential maintenance, but they are equipped with the latest technology and advanced features.
Depending on the type of farming work you will be doing, most farmers opt for a reliable Case IH loader or a standard heavy-duty tractor.
Where are Case IH tractors made?
Since the company's headquarters seem to change frequently, Case IH has a few manufactory facilities worldwide.
Therefore, you can find them in North Dakota, Wisconsin, Iowa, Illinois, Pennsylvania, Nebraska, and Minnesota.
What is the difference between New Holland and Case?
Although most farmers make the common mistake of thinking these tractors are the same, they have a few noticeable differences.
Apart from the difference in body construction, these machines are distinct in prices and performance.
For instance, Case IH offers three hydraulic pumps while the New Holland tractor provides only two. They also feature different armrest controls, as well as engine brake setups.
Since New Holland has a bigger and better hood design, it also has better quality visibility.
What brand engine does Case IH use?
Currently, Case IH is partnered with the FPT Industrial, responsible for their engine production.
The FPT Industrial is one of the largest engine manufacturers that delivers the latest technological development.
Conclusion
Finally, it's time to pick the winning brand.
Those who had the chance to try out the blue one and the red one will tell you that these machines are incredibly similar. Each has its benefits, but the tractors are the same mechanically.
The Case IH will offer you better cab comfort if you spend the entire day in the field or any other location with numerous minor differences.
On the other hand, the blue NH also has a nice cab, but if you had the chance to try out the Case IH, you would know the differences we are talking about!
But, if you are looking for a truly reliable, heavy-duty tractor that can take up any field operation, then NH is a clear winner!
It offers an upgraded performance in the field and can take up any type of work in any location!
You have to wonder what is more important-personal, comfort, or an unbeatable machine for money's value?