A medium-sized property owner often has many problems finding the best garden tractor.
First, you can't get a small one for sure.
Just imagine the time you will waste getting your lawn perfect with a smaller model.
On the other hand, buying too big of a tractor can take up a lot of storage space, and for what? Only to be used seasonally?
You need something with excellent power properties yet is not too cumbersome for a medium-sized garden!
Meet Husqvarna TS 348XD!
It's one of the best garden tractors you can get for such a price!
It comes with a reliable Kawasaki engine and a fantastic design all your neighbors will envy you on!
Let's get started with the Husqvarna TS 348XD review and see what this garden tractor can offer you.
Summary Box
The Husqvarna TS 348XD is a terrific garden tractor and an excellent mower for maintaining the property.
It features one of the newest ClearCut fabricated cutting decks, which delivers satisfactory results.
With the comfortable driver seat with a high-back, the operator will enjoy complete comfort while performing the landscaping tasks on a sunny afternoon!
Main Features
Cutting Performance: 5/5 – The tractor includes six different cutting heights that range from 1"-4", and they are all easy to adjust.
Comfort: 5/5 – One of the reasons the Husqvarna TS 348XD is so popular is the comfort it offers. The tractor includes a comfortable seat, ergonomic steering wheel, and armrests.
Performance on Hills and Slopes: 5/5 – Thanks to the electronic locking differential; both rear wheels work in union and will not slip if you go over wet grass or hills.
Built Quality: 4.5/5 – The deck is coated in protective layering that ensures longevity. Includes a cast iron front-axle and terrific performance on all terrains.
Price: Under $5000
CHECK ON AMAZON
What I Like
Oversized steering wheel
Deluxe gauge package
Turf tires
Cast iron spindle housings
No spinning one tire on wet grass
Deck wash port for simple maintenance
Quiet engine
Easy to navigate
What I Don't Like
Pricy
The instructions are hard to follow
Overall Rating
Getting your lawn ready for spring means you have to have a reliable lawn tractor by your side.
There is no better pick than Husqvarna.
The deep and comfortable seat allows you to perform your tasks tension-free.
Thanks to the high-quality steel building, the garden tractor is rust and corrosion-free, so you know you will be investing in a durable model.
It features an electronic locking differential that keeps rear tires moving together. This is crucial if you live in a rainy climate and often mow the wet grass.
It's suitable for hilly areas as well as for uneven terrain.
It comes with a deluxe gauge package that includes an hour meter and ammeter.
Get to Know Husqvarna
Husqvarna is a well-known Swedish-based brand that began its first steps back in 1689.
Many nowadays customers know it for the fantastic tractor production, however, that was not the main selling item of the company back in the day.
Husqvarna is also known for being one of the leading manufacturers of muskets, sewing machines, motorbikes, and many more!
Now, the company is divided into three groups: Husqvarna Garden Division, Construction Division, and Husqvarna Division.
As we will discuss Husqvarna TS 348XD, mentioning the brand's involvement in garden equipment is fair.
For starters, the Husqvarna brand offers a wide array of lawn tractors, lawnmowers, walking lawnmowers, robot mowers, zero turn mower models as well as non-zero turn ones.
The list of products goes on, but you can rest sure knowing you have picked from one of the finest garden brands there is!
The company will deliver the most quality item to professional landscapers and gardening enthusiasts who want the best for their property!
1. Engine & Power
Husqvarna TS 348XD is a reliable mower suitable for every terrain!
However, what makes it so reliable is the mighty engine this garden tractor features.
The Husqvarna TS 348XD 48" comes with a Kawasaki V-twin engine. It also incorporated 24HP power, so you can't doubt its performance.
No matter if you are in for challenging gardening tasks, this Kawasaki garden tractor can handle it like it's nothing.
That being said, it can power through the harshest mowing conditions!
Furthermore, the garden tractor features an easy access fuel cap. It allows you to refuel the tank quickly without even opening the hood.
Plus, you can always check the fuel status through the transparent fuel tank indicator.
This one will save you quite some time guessing whether the garden tractor needs refueling or not.
Many customers were impressed with the well-built Husqvarna garden tractor, but what surprised them the most was the speed it reached.
Thanks to the commercial-grade hydrostatic transmission, this garden tractor can reach a speed of 5.8 mph.
2. How Comfortable Is the Husqvarna TS 348XD?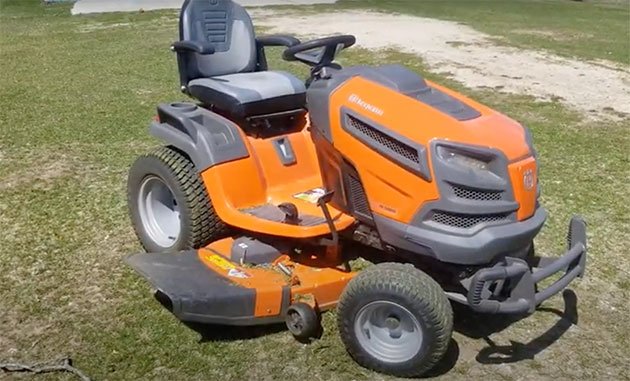 If you spend the entire day working in the garden, you might as well be comfortable.
For a garden tractor, Husqvarna TS 348XD is quite comfortable!
However, when I say comfortable, I mean the plush seating area and all other operator-friendly features.
Let's see what they are.
This awesome garden tractor includes a high-back seat that measures 21 inches in height for starters.
The deep seating area makes all the difference, especially if you suffer from back problems.
For further comfort, the seat can be adjusted as you like it, and it includes armrests!
In this way, you get to enjoy a fully-personalized operator area!
In addition, there is an ergonomic steering wheel that allows you to work in the most comfortable position.
The ergonomic steering wheel is soft to touch and designed to relieve the fatigue of working all day in the field.
It also features a roomy cockpit for the operator's comfort and easy mounting and dismounting.
We will also talk about the nifty cruise control that is at the reach of your hand, but more on that later!
The Husqvarna TS 348XD 48" lawn tractor is not just fitted for daytime gardening.
You can also use it once the sun sets, including LED headlights. These are especially helpful after a long day when you want improved visibility in the field.
All in all, this lawn tractor is pretty comfortable for all users!
Whether you are a beginner landscaper or a pro, you will enjoy every feature that makes gardening easier!
Although Husqvarna TS 348XD looks heavy-duty and is super-comfy, many customers wonder how easy it is to maneuver the tractor on fields? One, this is for sure.
This high-end garden tractor will not give you headaches when it's time to mow the hilly parts of the property!
To begin with, the Kawasaki garden tractor has large rear wheels as well as turf tires.
This means it will not cause too much pressure on the grass and will go over it gently.
If you worked years on getting your lawn just perfect, you know how much you have to be careful with the tractor tire selection.
Those that go too heavy will compress the unmowed grass and deliver slower growth and regeneration.
So, why are tires so essential when we talk about navigation?
Well, tires like these offer better traction stability on wet grass self-cleaning.
Navigating through uneven and rough terrain can often compromise safety.
Therefore, the Husqvarna TS 348XD includes a pedal-operated hydrostatic transmission.
It makes navigating through harsh terrain much easier as you can manage the speed with a pedal.
In addition, this will allow you to use both hands on the wheel, making the operation much safer.
However, the electronic locking differential makes Husqvarna TS 348XD truly magnificent in easy navigation.
This one will allow rear wheels to turn simultaneously, which is crucial if driving over heavy-duty terrain or wet grass.
The feature we mentioned before is cruise control. It's one of the most necessary for stable speed control on challenging terrain.
Lastly, you will get to enjoy the 16-inch turning radius, which is heaven-like for operating in smaller properties!
4. Heavy-duty Built of the Husqvarna TS 348XD
This well-built mower impressed customers worldwide!
At first, it may not look like much, but once you learn what hides behind the attractive exterior, this beast of a mower will not leave you indifferent.
The garden tractor is the best buy when you consider it features cast-iron spindle housings, cast-iron front axle, steel hood, steel chassis, and a heavy-duty brush guard.
These features would not matter if it weren't for the protective coating on the frame.
The coating ensures the mower's durability as it is rust and corrosion-resistant.
The cast-iron front axle makes sure you get all the stability possible when mowing rough and uneven terrain.
In addition, the spindle housing is built to last! Thanks to the sealed ball bearings, this mower will last you for a long time!
My last lawn tractor lasted for around 15 years until I decided it was time to change. Switching to Husqvarna TS 348XD was the best decision made for my gardening!
On the other hand, the brush guard included in the purchase will make all the difference in longevity!
It protects the engine and is necessary for gardeners who operate in close quarters.
5. Deck Wash Port
Clearing out the yard from unwanted debris and trimming tall grass can be satisfactory. But, after a long day of doing so, the last thing on your mind is cleaning the mower deck.
Sorry to disappoint you.
This is not the part where I will tell you there is a magic button that does the cleaning for you.
However, there is an excellent way to clean out the deck faster than anticipated.
You can attach a garden hose to the lawn tractor's deck wash port and clean it easily.
There is no need to explain this process as it is pretty straightforward, and I know you will value its simplicity!
It keeps all of the grass clippings away from the deck and out of sight!
6. Cutting & Mowing Performance
Besides looking mighty, this lawn tractor delivers spectacular cutting performance on all types of lawns!
It's built from a ten gauge welded steel and features multiple cutting heights!
To be exact, you can choose between six cutting heights that range from 1" to 4", offering you versatile results.
There is no need to doubt its efforts on thick and tall grass, as this garden tractor includes three mower blades with a washout port.
One feature that makes the Husqvarna TS 348XD 48" attractive is the wide deck cutting width that measures out in 48".
It's perfectly suitable for a medium-sized garden, but it has been known for tackling a few of the more extensive fields as well.
As discussed previously, this garden tractor includes a locking differential that has excellent traction on wet terrain.
Also, the mower includes four anti-scalp wheels that work perfectly on the slippery ground as it prevents scalping on uneven terrain.
There are so many accessories you can purchase with the Husqvarna TS 348XD!
One of them is the mulcher kit, and I recommend you get this one if you prefer natural lawn fertilization.
In this way, you can use up all of your grass clippings and turn them into nutritious mulch!
Husqvarna TS 348XD vs. John Deere X350
As you know, Husqvarna is one of the brands that has been in the industry for ages now!
But so is the John Deere company.
Many users tend to compare these two brands, so let's see how this model works side by side with a similar John Deere tractor.
For starters, Husqvarna has a bigger mowing deck of 48" while John Deere includes a 42" mowing deck.
So if you want to cover mode land quicker, I recommend you choose Husqvarna.
Next, we have the horsepower.
Yet again, Husqvarna takes the win as it features a 24HP engine while John Deere has only 18.5 HP.
Again, this is not too bad, especially if you only need a tractor for maintenance.
Both have turf tires that are crucial for the slippery grass.
However, with Husqvarna TS 348XD, you get the chance to purchase plenty of additional accessories!
With John Deere, your choices are pretty much limited, but they both work well with a snowblower attachment for clearing knee-high snow in the winter.
Overall, both tractors work seriously, but it all comes down to your personal preferences.
John Deere is well-built and long-lasting, but Husqvarna has better safety features and offers better performance.
FAQ's
Is the Husqvarna TS 348XD a garden tractor?
Yes, the Husqvarna TS 348XD is a garden tractor.
It's also one of the best garden tractors you can get for under $5000, which is a fantastic deal considering it features a reliable Kawasaki engine and terrific cutting performance.
It's the perfect garden tractor for owners with a medium-sized garden.
What engine is in the Husqvarna TS348XD?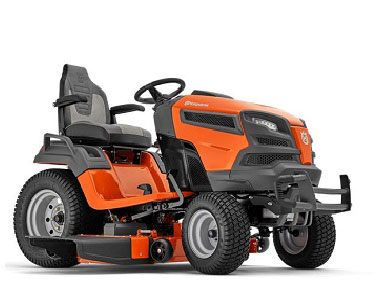 The Husqvarna TS 348XD features a reliable 726cc Kawasaki FR Series V-Twin OHV Engine and a 48" width cutting deck perfect for a medium-sized garden.
The two-cylinder engine features an oil pump and filter and is fully pressure-lubricated for the ultimate smooth performance.
However, no matter the high power in the engine, it works quietly.
Also, the heavier duty transmission allows it to reach a maximum speed of 5.8 mph.
How reliable are Husqvarna lawn tractors?
Husqvarna garden tractors are considered one of the most reliable models!
The brand offers various suitable models for a large yard and a small property.
You can also find zero-turn mowers and riding mower models in their offer, as well as typical lawn mower models for everyday use.
If this is your first online mower purchase, you have nothing to fear, as Husqvarna is one of the most reliable tractor brands that has been on the market for decades!
Is Husqvarna better than John Deere?
When it comes to the battle of the brands, John Deere and Husqvarna are often compared.
This is because John Deere offers high-quality engine hood, high-quality production, and construction, as well as low-failure rates.
However, Husqvarna features more reliable models and is suitable for rough terrain.
You cannot go wrong with choosing either one of the brands as they offer various models designed for specific needs.
What transmission is in the Husqvarna TS 348XD?
Husqvarna TS 348XD 48" includes a commercial-grade hydrostat transmission with an electronic locking differential.
Final Words
Husqvarna is a brand that never ceases to amaze its audience.
So when the TS 348XD model came out, we just knew. It was set out to be a big hit, especially for gardeners with a medium-sized lawn!
Although it does not look like it can do much, this garden tractor is a work of art on hilly areas and wet grass.
As many garden tractors struggle in this area, the Husqvarna TS 348XD is a winner if you ask us!
It's the ideal gardening solution when you need to mow the lawn after a rainy day or have to get between a few awkward spaces near the flower beds.
Thanks to the cast iron built and incredible Kawasaki engine, the Husqvarna TS 348XD can last you for a long time!