Two strong opponents. One red and one orange. Who will win at the end in this Case IH vs Kubota review?
If you are a tractor fanatic like myself, you would know all about Kubota and Case IH!
They are among the most reputable tractor brands on the market, with similar price ranges and excellent quality.
If you are looking to purchase one of them, it can often be challenging to choose! However, these tractor brands have a few outstanding models that are pretty similar.
With that being said, let's compare them in common categories and see which one will be the ultimate winner.
The choice may surprise you!
About The Brands
Before we go on and compare these two brands and their popular tractor models, a bit of background information could also assist you with your choice.
Case IH is one of the largest American agriculture manufacturers, created in 1842.
The brand was formed when Tenneco bought out several assets of International Harvester and merged them with JI Case Company.
Later on, the brand became a part of CHN Industrial. The CHN Industrial delivers delicate agricultural equipment and vehicles under the New Holland-Case IH family.
Kubota is a tractor brand created in 1890 by Gonshiro Kubota.
Kubota is currently the most popular Indian market, delivering high-quality agricultural machines, power tillers, implements, harvesters, and others.
Kubota vs. Case IH – First Look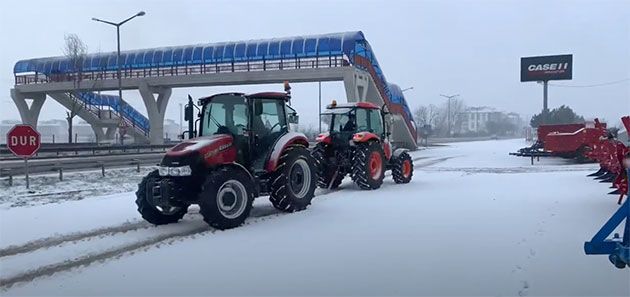 Take, for example, the two utility tractor models by Kubota and Case IH.
The Case IH Farmall 75 C is a true master of versatility.
This machine is robust in performing daily basis farming tasks, while some even compare its efficiency with Massey Ferguson and John Deere.
The Case IH Farmall 75 C has a heavy-duty yet compact frame that fits every location and ground. With that in mind, you won't have to avoid certain property areas.
The durable components offer an incredibly strong PTO that can perform any operation!
On the other hand, we have the Kubota M7040.
This tractor is a 2WD or a 4WD, a popular utility tractor model from the M series. With this model, you can find almost all replacement parts at local dealerships.
It's one of the largest Kubota tractors, so farmers who search for a more compact model should probably pick Case IH.
Operator Comfort
The operators' comfort is one of the crucial features you need to check before purchasing. This is where I tell you that it's best to visit the local dealer and sit in the cab of each tractor.
Nothing beats the actual experience of feeling the ultimate comfort when you are out in the field all day long! Therefore, a test drive is an ultimate test when deciding between tractors!
The Case IH Farmall tractor offers excellent visibility. This is a nice tractor with an overhead hood window panel.
It can easily be opened, which offers even better visibility when doing loader work.
You can handle round bales like it's nothing!
All the functions are within the operator's reach, while the driver seat has a 15-degree pivot angle!
The Kubota tractor is an AC tractor, meaning the air circulates throughout the windshield.
This is especially beneficial in preventing icing and frosting. If you live in colder climates, the Kubota is a better option!
The cab also offers excellent visibility, while the front wiper services the driver on rainy days!
Winner? Case IH.
Engine
The Kubota tractor has a new and upgraded V3307-DI engine.
This is a four-cylinder engine that delivers a total of 67 HP. The horsepower of the PTO is also quite extraordinary, as it measures out at 62 HP.
The Kubota machine will do excellent loader work for round bales or even hay the entire field with a mower implement.
What makes Kubota engines so unique is that they are designed to make low noise and assist the operator in comfort.
All the usual noise is reduced thanks to the ladder frame crankshaft support.
The Case IH Farmall tractor also uses a four-cylinder engine.
With the help of the precise electronic metering of the fuel delivered through high-pressured fuel injectors, the entire fuel efficiency of the tractor is improved.
This means that the fuel is consumed at an intellectual level, preventing excessive spillage or use and extending engine life while maintaining high horsepower ratings.
Winner? Case IH.
Transmission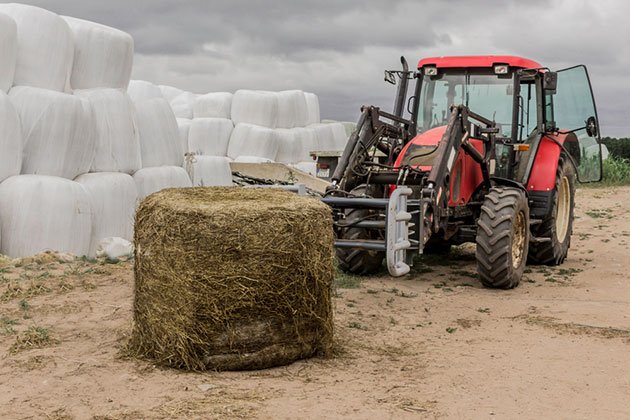 With the 75 C model, you get all the power you need!
This tractor line features a standard 12 x 12 power shuttle with the additional creeper 20 x 20 power shuttle option.
The Farmall C tractors are designed with an excellent transmission that can do efficient farming work.
In addition, the transmission offers more options than the rest of the models, allowing the utility tractor to control and power up smooth operations.
Kubota is quite similar within the transmission field. The two models are comparable as they both feature 12 x 12 speeds with a creeper function.
The M7040 tractor includes an F12 and R12 transmission system.
Additionally, you can tailor the transmissions by choosing between hydraulic or synchronized shuttle transmission.
However, if we compare transmissions of other Kubota and Farmall models, we can see that this function is more advanced with Kubota.
For instance, the Kubota L01 series offers a heavy-duty front axle, low prices, cast steel transmission, and all the versatility you need.
In addition, every repair is easy to mend, while the Kubota offers impressive Gear-Drive transmission.
With the Case IH Farmall, you will receive straightforward mechanical operations that are not as customizable as Kubota is.
Winner? Kubota.
Hydraulics
When it comes to hydraulic systems, I have to say that both tractors hold remarkable similarities.
It can ultimately come down to lower cost and what works better for your budget.
If you want a powerful hydraulic system, you have to go with Case IH Farmall.
They are excellent for all landscapers who want a durable and sturdy machine that can handle its way through dirt and loader!
Case IH includes a three-point lift system with a lift capacity of 3570 kg. If you want to operate it as a loader, you can do so with standard-flex lower links, which offer stability.
The Farmall C is everything you search for when you want a reliable machine for implements!
These tractors work with a hydraulic pump that delivers 64L/m when used with a loader and other implements.
Kubota is also not to be neglected in this section. Although it offers less lift capacity, it's still quite reliable and robust.
The lifting capacity is 24 in, while the lift point is 1,500 kgs. Like Case, the Kubota also works with a three-point hitch that gives fast and efficient results.
Winner? Case IH
FAQs
Who is Case IH owned by?
Case IH is a part of CNH Industrial, a subsidiary company of the Fiat Group.
Case IH is currently one of the leading manufacturers and a leader of agricultural equipment, with the main headquarters in the USA.
Who makes Case IH compact tractors?
All of the Case IH agricultural equipment, including compact tractors, are under the ownership of the Fiat Group.
In 1999, the Fiat Group acquired Case IH Corporation and decided to merge it with New Holland. As a result, both New Holland and Case deliver their unique tractor lines.
Which is better: Case IH or Kubota?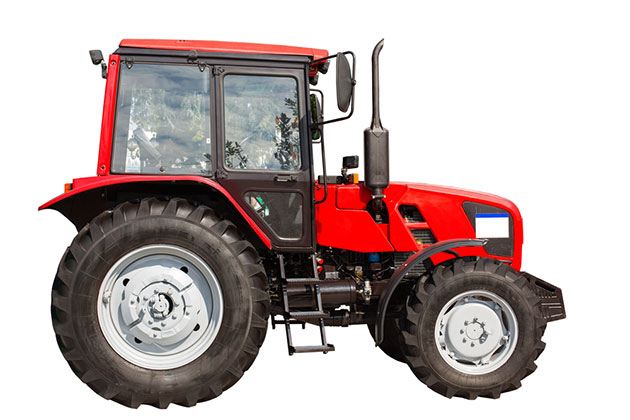 Both Kubota and Case IH make excellent tractors for various farm operations.
The majority of them are equipped with the latest technology and offer reliability to every customer.
However, you can expect a smoother ride, easier operation, and better quality overall with a Kubota tractor.
Kubota is one of the few that make their engines and tractor parts. Therefore, you can easily find replacement parts at local dealers if needed.
With Case IH, this is not an easy task.
Are CASE tractors made in the USA?
Yes, the Case IH tractors are made in the Racine, Wisconsin plant.
In addition, the Magnum-home plant is a manufacturer of other Case IH equipment such as axle, valves, and directional control valves for agricultural equipment.
Does Case make their engines?
No, the Case IH tractor engine manufacturer is the FPT Industrial.
Luckily, Case IH has partnered with one of the most potent engine manufacturers and continues to deliver high-horsepower engines.
Conclusion
That is all, guys, from this Case IH vs Kubota review!
These were some of the in-depth side-by-side comparisons on the most popular competitors by Kubota and Case IH; of course, it will all come down to how much money you are willing to spend to get a fair deal!
Although the cost of each tractor is relatively similar, I always suggest you check the dealer's service store before making a final decision.
Once you take a seat in the cab of each tractor in person, you will know how to make the right decision!
For me, the ultimate winner is Case IH.
The operator's cab is much more comfortable, the hydraulics are impressive, especially for implements, while the engine is fuel-efficient.
The only thing that makes me lean more towards Kubota is that they make their tractors.
If you ever need it apart from the dealers' store, you will find it faster with Kubota than with Case IH.