If you're looking for a compact utility tractor, the John Deere 650 is the perfect option for you! The tractor performs multiple tasks and is suitable for robust use, so you cannot go wrong.
But what are its benefits, and how does the vehicle work?
Read the John Deere 650 tractor reviews to find all specs, features, benefits, and answers to your questions.
Take Away Key Points:
The machine is fuel-efficient, with higher engine power for a smaller tractor, suitable for multiple farming tasks
Thanks to its transmission type with multiple forward and reverse gears, an internal expanding shoe, front and rear tires, and rear PTO, the tractor operates efficiently on various terrains
Due to attachments – front loader and mower deck, the machine can adjust to longer working hours for maximum effectiveness
John Deere 650 tractor: A wholesome guide for all farmers
If you're hesitating about whether or not to purchase the John Deere 650 model, the data below give a better insight into the construction. Let's see.
John Deere 650 tractor history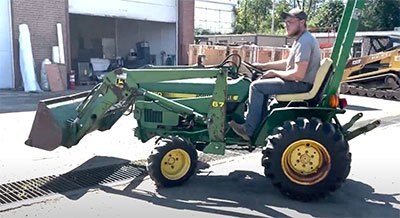 The John Deere 650 is a small, compact utility tractor made by Yanmar for John Deere. The machine can be either 2WD or 4WD. The tractor was produced in Japan for the JD company from 1981 to 1989.
Thanks to its compact design, the tractor is ideal for lawns, small gardens, and various operations. You can use it to spread fertilizer, till, remove weeds, and keep the lawn perfect and fresh.
Due to its fuel efficiency, the tractor stands out among competitors and is popular even today.
Although the original price was $8,400 for 2WD (1989), and $9,300 for 4WD (1989), today, you can find the best deals at local auctions and dealers.
If you need replacement parts, here are specific serial numbers for the medium-sized tractor:
1981: 1000
1982: 3539
1983: 6250
1984: 10543
1985: 15001
1986: 19001
1987: 22501
1988: 24298
Final: 25426
John Deere 650 tractor dimensions
The John Deere 650 Tractor is a well-rounded work vehicle, offering an excellent combination of size, power, and maneuverability.
Its shipping weight varies depending on the configuration, with 2WD models weighing 1530 lbs (694 kg) and 4WD models weighing 1640 lbs (743 kg).
Additionally, it provides generous ground clearance for both configurations with 2WD and 4WD.
Wheelbase
56.1 inches/142 cm
Length
107.5 inches/273 cm
Width
43.2 inches/109 cm
Shipping weight
1530 lbs 694 kg (2WD)
1640 lbs 743 kg (4WD)
2WD Clearance (front axle)
13.5 inches/34 cm
4WD Clearance (front axle)
10.4 inches/26 cm
2WD Front tread
33 inches/83 cm
4WD Front tread
34 inches/86 cm
Rear tread
32-35 inches/81-88 cm
2WD Hood
43.1 inches/109 cm
4WD Hood
44.7 inches/113 cm
Exhaust
77.4 inches/196 cm
John Deere 650 tractor mechanical specs
The John Deere 650 tractor is an impressively powerful piece of agricultural machinery. It features a 4×2 two-wheel drive or a 4×4 multi-function four-wheel drive, manual power steering, and differential mechanical dry internal expanding shoe brakes for superior control.
The cab is outfitted with a two-post ROPS for operator safety and includes an 8-speed gear transmission for a wide range of forward speeds. The combination makes the John Deere 650 tractor capable of tackling even the toughest jobs easily and efficiently.
Chassis
4×2 2WD
4×4 MFWD 4WD
Steering
manual steering (power steering is optional)
Brakes
differential mechanical dry, internal expanding shoe
Cab
open operator station/Two-post ROPS.
Transmission
8-speed gear
John Deere 650 tractor engine
The John Deere 650 tractor engine is a reliable and efficient power source.
This Yanmar 2T80 diesel 2-cylinder liquid-cooled inline engine has an impressive displacement. This engine is designed for an optimal running speed of 2600 RPM, and the starter runs on 12 volts.
And, as the tank ensures 6.2 gallons of capacity, you will have enough space to store diesel.
| | |
| --- | --- |
| Engine | Yanmar 2T80 diesel 2-cylinder liquid-cooled inline |
| Displacement | 52.1 ci/0.9 L |
| Bore/Stroke | 3.15×3.35 inches/80×85 mm |
| Power (gross) | 17 hp/12.7 kW |
| Compression | 22.5:1 |
| Rated RPM | 2600 |
| Starter volts | 12 |
| Oil capacity | 2.5 qt/2.4 L |
| Coolant capacity | 4.0 qt/3.8 L |
| Intake valve clearance | 0.008 inches/0.203 mm |
| Exhaust valve clearance | 0.008 inches/0.203 mm |
| Fuel tank capacity | 6.2 gallons/23.5 L |
John Deere 650 tractor power & PTO
The John Deere 650 is a powerful and versatile tractor. Its gross engine power of 17 hp/12.7 kW provides excellent performance. The rear PTO runs off the transmission, with an overrunning clutch for smooth operation.
In addition, the model has three Power take-off shafts: rear, middle, and front PTO shaft. The front PTO is independent due to the electromagnetic clutch option.
| | |
| --- | --- |
| Engine (gross) | 17 hp/12.7 kW |
| PTO (claimed) | 14.5 hp/10.8 kW |
| Rear PTO | transmission |
| Clutch | over-running |
| Rear RPM | 540 |
| Engine RPM | 540 at 2350 |
| Front PTO | independent |
| Clutch | electro-magnetic |
John Deere 650 tractor transmission
The John Deere transmission is an 8-speed gear type. It has 8 forward and 2 reverse gears, providing the operator with versatile speed control in all conditions.
This transmission is perfect for those who need power and versatility in their agricultural equipment. It provides a smooth, reliable operation that can withstand tough work. 
| | |
| --- | --- |
| Type | gear |
| Gears | 8 forward and 2 reverse |
| Clutch | 200mm dry disk clutch |
| Transmission oil capacity | 14 qt/13.2 L |
John Deere 650 tractor tires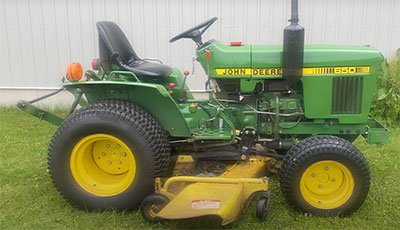 The two front tires are reliable and long-lasting, providing superior performance for a range of agricultural applications. The same goes for rear tires – they provide a smooth ride.
These units have been designed to ensure maximum traction, stability, and safety on a variety of surfaces. These are not bad tires; you can operate them even in tight spaces.
The tires are ideal for farmers who need durable and dependable tires to help them get the job done. 
Standard tires (ag)
Front: 5.00-12. Rear: 9.5-16
Front: 6-12. Rear: 9.5-16
Lawn/turf front
23/8.5-12
Lawn/turf rear
31/15.5-15
John Deere 650 tractor electrical system
The John Deere 650 tractor is powered by a 12 volt electrical system, with the negative side connected to the ground. This powerful tractor can handle even the most demanding jobs and provides reliable performance.
The battery power ensures it will have the necessary power whenever you need it. With its robust design and proven technology, this tractor is an excellent choice for agricultural and industrial applications.
John Deere 650 tractor attachments
The compact utility tractor uses different attachments to complete its work. Some of the implements you can use are:
60″ mid-mount mower deck
front-mount blade
front-mount 60″ snowblower.
However, you can use other attachments such as a rototiller, loader, four-way blades, and other heavy machines.
60″ mower deck
Type
mid-mount John Deere 160
3-blade
Cutting width
60 inches/152 cm
blade
| | |
| --- | --- |
| Type | front-mount John Deere 365 |
| Width | 54 inches/137 cm |
60″ snowblower
Type
front-mount John Deere 359
two-stage
Clearing width
60 inches/152 cm
What is the biggest problem with the John Deere 650 tractor?
The biggest problem with the John Deere machine is its reputation for being extremely unreliable.
Many tractor owners have experienced repeated breakdowns and malfunctions, leading to costly repairs and lost time while the machine is out of commission. Others find the front-end loader problem as it's hard to attach correctly.
Other common issues include poor fuel economy and difficulty starting the engine in cold weather. Overall, the John Deere 650 utility tractor can be challenging to own and maintain.
Fortunately, many of these problems can be resolved with regular maintenance and quality parts. Taking good care of your tractor will ensure it is reliable, economical, true to the core values, and dependable for years to come.
What are the alternatives?
As with other tractors, the John Deere 650 also has alternative options. Some tractors worth considering are John Deere 750 tractors. Let's see their differences.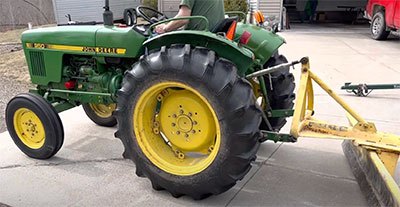 650 vs. 750 differences
750 offers more engine power than 650
750 was more expensive than 650
750 offered more working hours than 650
Other than these, the 650 and 750 are pretty much similar in:
fuel tank capacity
transmission and gear shift type
exceptional power
battery capacity
attachments
lift capacity
Conclusion
The JD 650 is a good deal for small lawns and gardens, fuel-efficient and versatile for keeping your property clean and perfect. In addition, the model uses multiple implements for effortless operations and quick jobs. Contact your dealers to find the best solutions.