You want to buy lawn tractors, yet you don't know the best solution for your needs.
You searched multiple tractor brands and found their benefits and advantages, but Kubota and Kioti models are your favorite ones. However, you're not sure what your choice should be.
No worries; you can inspect our Kubota vs. Kioti comparison & choose according to your needs.
You cannot go wrong; both brands are extraordinary. But, which one is better? Let's see.
Kubota vs. KIOTI tractors: The background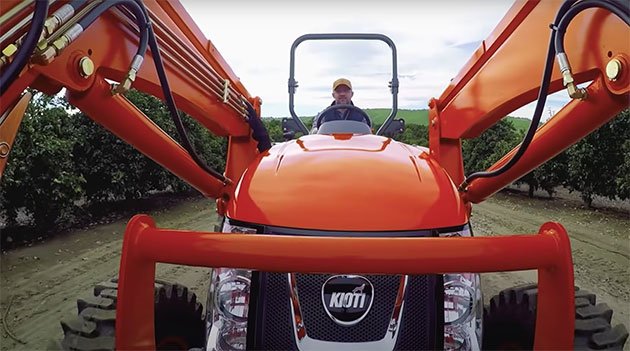 Kubota tractors originate from Osaka, Japan. Their production began in 1980 with various tractor models, utility tools, agricultural engines and tools, construction equipment, etc.
The US headquarters is located in Gainesville, Georgia.
Kubota tractors are one of the leading on the market, shoulder to shoulder with John Deere tractors and similar brands.
Kubota has specialized in producing multiple garden tractors, lawn tractors, off-road vehicles, and compact and sub-compact tractors through the years.
On the other hand, KIOTI tractors are part of the Daedong tractors, originating from South Korea.
It's another Asian tractor brand, with the US headquarters in Wilson, North Carolina.
KIOTI is a famous diesel engine manufacturer producing agricultural equipment in South Korea. However, their quality is spread and recognized globally.
In addition, the KIOTI lawn tractors feature the famous Daedong engine, with high power and high torque.
Are KIOTI & Kubota the same?
There is a misunderstanding that these brands are the same.
Although they both come from Asia, this is an incorrect perception. Instead, these two are different brands with an extended rivalry.
For instance, in 2022, a Japanese company Kubota filed a lawsuit against the South Korean company Daedong Corporation.
Japan also filed a lawsuit against the Korean leading US distributor responsible for producing KIOTI models.
The most significant issues were the favorite orange color and the tractor design.
The battle lasted for almost five years, and the dispute was resolved via mutual settlement.
Until today, both brands have continued to use the orange color for the tractor bodies and constructions.
The brands are entirely distinct, and each has its key features. However, Daedong worked together with Kubota to create their 02 series.
But, their construction and mechanism are entirely separate, and neither of the US Kioti or Kubota production share parts. They're not interchangeable.
Farmers can choose the models and parts according to their preferences and needs.
And now that we know about the history of compact tractors, let's compare the most popular models, including Kubota L2501 & Kioti CK2610H, and find a better solution.
Kubota vs. Kioti tractors: The ultimate comparison
We have compared Kubota and Kioti tractors in nine different categories:
tractor configurations
engine performance & drive-train abilities
hydraulic systems
operator features
warranty
price tags
ergonomics and comfort
customer service
So, let's find their similarities and differences.
1. Kubota L2501 vs. Kioti CK2610H: The configurations
The Kubota L2501 has overall dimensions of 106.3 x 55.1 x 91.7 inches. In addition, its wheelbase measures 63.3 inches, and the turning radius is 8.2 feet.
Overall, the Kubota L2501 weighs 2,623 pounds. So it's a vast compact tractor, you'll agree.
On the other hand, the KIOTI CK2610H has the following proportions 120.9 x 55.1 x 99.2 inches.
Additionally, its wheelbase measures 6.7 inches, but the turning radius is slightly smaller compared with Kubota L2501.
It's 8.0 feet, and the overall compact tractor weight measures 2.701 pounds.
Although both the Kubota and KIOTI tractors have pretty similar configurations, the Kubota L2501 is still smaller than the KIOTI CK2610H tractor.
Both compact tractors have the same tractor width and are very close in turning radius, approximately eight feet.
Still, the Kubota L2501 is slightly more advantageous than the KIOTI CK2610H in height, as it's easier to park in the smaller garage and better for the shed storage.
It's 7.5 inches shorter than the KIOTI CK2610H compact tractor.
However, the crucial difference between the two compact tractors is their wheelbase and length.
The KIOTI CK2610H surpasses the Kubota L2501 in both specifications. In addition, the KIOTI CK2610H has a longer frame, which is crucial when considering stability.
Of course, it makes a tremendous difference also when you plan on using tractor attachments such as a tractor loader or a backhoe.
The KIOTI CK2610H has a longer wheelbase than the Kubota L2501, offering more stability, better ride, and optimal performance, especially when using different tractor attachments.
So, our vote goes to the KIOTI CK2610H compact tractor.
2. Kubota L2501 vs. KIOTI CK2610H: The engine performance matchup
The Kubota L2501 has a Gross HP of 24.8 and a PTO horsepower of 24.8. Its fuel capacity is 10-gallon, and the displacement is 100.47 cubic inches.
The KIOTI CK2610 has 24.5 gross HP and 21.8 of PTO HP. The compact tractor uses a 9.6-gallon fuel capacity and has a displacement of 100.47 cubic inches.
Kubota has solid engines, famous for their reliability, and this D1073 engine is no exception.
In addition, the Kubota 24.8 HP engine meets all EPA Tier 4 Final emission rules and regulations, being a fuel-efficient engine.
Kubota engines have a slight advantage in terms of horsepower compared to KIOTI diesel engines. However, Kubota is also an excellent tractor as it holds a bit more fuel – four gallons.
The Kubota L2501 is also a great tractor, as the tractor engine produces a rated power of 2200 rpm.
KIOTI diesel engines are also excellent yet less dominating than the Kubota models.
KIOTI tractor produces high-quality tractor engines for various tractor brands, such as McCormick tractors, JCB, Landini, Cub Cadet, and Bobcat tractors.
The KIOTI tractor engines are best-known for their tireless workhorse and oppose Kubota tractors and engines regarding performance and reliability.
The same goes with the KIOTI 3A165LWM-U Diesel tractor engine.
It's an eco-friendly diesel engine, generating power & solid torque, but it's highly scrooge-like on fuel.
Thus, the KIOTI tractor has an advantage in the total available torque rise and torque peak, providing 2600 rpm, while the Kubota tractor produces slightly less rpm.
Although the Kubota engines and KIOTI engines are similar in specifications, performance, and size, the two tractors still have specific differences.
Their main similarity is the engine displacement, and the two tractors are similar at 100.47 cubic inches.
So, many tractor owners call it an end due to the equal engine displacement.
However, our voice again goes to the KIOTI tractor, as it uses less fuel and offers only a slightly more powerful engine. But, it's a callous decision.
3. Kubota L2501 Vs. KIOTI CK2610: The drive-train
Regarding the drive-train, both the Kubota and KIOTI tractors are pretty much the same, so tractor buyers may not find significant differences.
The two tractors feature hydrostatic infinite speed three-range transmissions, both have similar 540 PTO rpm, and both have wet disc brakes.
The wet disc brakes will perform optimally and ensure better control over the high-torque vehicle.
The infinite hydrostatic speed ensures the best efficiency and performance.
Both the Kubota and KIOTI transmissions are well-proven, superb, robust, and easy to run. But, the main difference here is how the two tractors are operated.
The KIOTI tractor uses two independent right and left pedals – one forward and one reverse, whereas Kubota utilizes a single-forward and aft rocker foot pedal for projects.
There's no specific advantage to their styles, so it's up to you to pick the better one.
And, as there's almost no difference between the two tractors, you can freely choose the better option.
If you like two pedals, go for KIOTI, if you want an aft rocker foot pedal, go for Kubota.
4. Kubota L2501 vs. KIOTI CK2610H: The hydraulic systems
We can come across considerable differences when comparing hydraulic systems between the KIOTI and Kubota tractors.
While both tractor models feature gear-driven hydraulic pumps, Category 1 three-point hitch, and the hydraulic power steering, that's the end of the similarities.
While the Kubota L2501 tractor uses a standard T1150 8.18 GPM hydraulic pump, the KIOTI CK2610H uses a much larger TC24 11.70 GPM pump, surpassing the Kubota tractor in the hydraulic performance.
In addition, the Kubota tractor doesn't have an advanced lift capacity as the KIOTI's 242-pound lifting capacity.
So, Kubota's three-point hitch is not as potent as the KIOTI's hydraulic system.
KIOTI also produces more hydraulic power and flow than the Kubota tractor, which can be a crucial factor when you're adding tractor attachments such as backhoes or loaders, requiring an advanced hydraulic system.
Regarding hydraulic power, the KIOTI CK2610H is the absolute favorite in terms of hydraulic performance.
KIOTI NX series replaces the current DKSE tractor series.
The series includes a hydrostatic transmission, hydrostatic power steering, new styling, and similar benefits.
5. Kubota L2501 vs. KIOTI CK2610H: The warranty
Both the Kubota tractor and the KIOTI tractor have similar warranty periods, almost identical.
However, the Kubota tractor has 1500 or 2000-hour limitations, while the KIOTI tractor has unlimited working hours.
I don't know how often you'll use your tractor and what the projects are, so you can decide whether to go with the first or the second option.
But, it may sound better when you know that there are no limits to the performance.
Most tractor buyers think of tractor prices before they decide to obtain the best model.
You can find the total prices for both models in the manufacturers' suggested retail price and keep the cost for each tractor equal. You can avoid further complications.
Of course, tractor dealers are getting discounts from the MSRP; others may try to temper the particular dealer price for small tractors in a region or specific area.
So, based on the MSRP, each base tractor without wheels seems somewhat similar.
While the Kubota tractor comes at $16,644.00, the KIOTI model has a price tag of $15.289, which is $1355.00 lower.
But, after adding wheels, tires, and other basic equipment required for tractors, including rear remotes, the Kubota tractor was more expensive than the KIOTI model, at $3,075.00.
Of course, you will base your tractor on your needs and financial possibilities.
Yet, the KIOTI small tractor is far more advantageous and with more excellent value in a head price comparison.
So, we again give our vote to KIOTI.
7. Kubota L2501 vs. KIOTI CK2610H: The safety system
Both Kubota and KIOTI are solid-torque vehicles designed to keep the operator safe and secure during multiple projects.
Regarding safety, the KIOTI model comes standard, with the wet disk brakes, an adjustable seat belt, hydrostatic power steering, safety lights, and headlights, while the Kubota tractors go a step further.
The Kubota models have the operator presence control feature.
The system will automatically shut off the engine when the PTO is engaged or the operator leaves the seat.
So, although we appreciate the KIOTI's dedication, the Kubota model still wins over in terms of safety and security.
8. Kubota vs. KIOTI: Comfort and ergonomics
Kubota is a well-known tractor for its straightforward controls and open design.
So, they're easy to use and operate upon. In addition, they will provide increased comfort to the controller.
The high-back seats with lumbar support are ideal for all farmers, landscapers, and other tractor drivers spending too much time in the vehicle.
In addition, the brand provides its users easy access to regular maintenance checks. So, you don't need to worry too much about possible comfort issues.
On the other hand, KIOTI also dedicates and prioritizes comfort in their vehicles. The most prominent models are the NX series.
The operators can easily climb into the cabins and operate quickly and easily. However, they may not be as optimal as Kubota, notably their previous DK series.
The DK series were claimed to lack control. However, the company made genuine efforts and corrected the whole system.
That's why the brand-new models have extraordinary comfort benefits, similar to Kubota's, making them one of the best on the tractor market.
Still, many prefer Kubota due to its popularity and well-known design, which may affect the attitude towards KIOTI.
But, never underestimate Koreans, as their tractors also stand out, as various operators claim.
9. Kubota vs. KIOTI: The customer support
Kubota is always there for their customers. Their support is favorite for quick responses, full support, and an expanded dealer network.
Kubota has three times more dealers than KIOTI. This does not imply that KIOTI as a brand does not have any dealers at all. Quite the contrary.
Their customer support is also more than excellent. They are dedicated and strive to concentrate on exceptional customer support, as they always have.
They willfully guide you through the process before, during, and after the transaction.
And, even though they may not have as many dealers as Kubota does, you will never lack any crucial information or other necessity when choosing the best tractor. So, don't worry.
So, again, it's up to you to decide which tractor brand suits you better – KIOTI or Kubota.
Frequently Asked Questions
Is Kubota better than KIOTI?
Not necessarily. As you have seen in the comparison chart, there are some factors where KIOTI beats Kubota, such as engine power, lift capacity, hydraulic systems, stability, price, etc.
However, Kubota seems to offer more security, and it's more popular on the market, so that's why many farmers still choose it over KIOTI.
You can visit various official websites, the Tractor Forum, and similar websites to find the first-hand experiences of the farmers using both tractor brands and compare their stories.
Is KIOTI the same as Kubota?
No, they are not the same. The brands used to have the same parent company – Daedong, and together produced the Kubota 02 tractor series.
However, the brands are entirely separate and different, and there isn't any US production of the Kubota and KIOTI tractors sharing components.
So, the choice is up to farmers and their preferences; the brands are not connected.
Who are KIOTI tractors made by?
KIOTI tractor models are made by a South Korean company called Daedong Corporation. It's a South Korean agricultural machinery manufacturer founded in Daegu, South Korea, in 1947.
The South Korean company's primary vehicles are tractors, engines, all-terrain utility vehicles, and combine-harvesters.
Are KIOTI tractors cheaper than Kubota?
Yes, they are. When you compare the most prominent models – the Kubota L2501 and the KIOTI CK2610H.
Kubota is $3,000 more expensive than its opponent KIOTI.
Are KIOTI and Kubota parts interchangeable?
As the tractor brands are not the same, their parts are also not interchangeable. They vary in size, shape, purpose, function, or form.
The only possibility is to use KIOTI engines in McCormick tractors, Cub Cadet, Bobcat, and similar tractors, as a part of their equipment.
But, they won't work with Kubota or vice versa.
Which tractor brand is better? The final verdict
So, what's a better tractor between Kubota VS KIOTI?
Both Kubota and KIOTI have the same tractor width and range transmissions and are similar in the turning space (approximately eight feet).
KIOTI is more advantageous than Kubota in the torque peak and torque rise due to its more potent engine.
In addition, the KIOTI tractor brand advances Kubota in terms of price, stability, hydraulic performance, engine performance, and overall design. But, Kubota is more improved in safety.
Please calculate all variables and consider all factors before the final purchase.