Is red your favorite color? If yes, I guess you'll choose a red tractor to fit your farming needs.
So, you have two options: KIOTI or Mahindra tractors.
Both tractor brands have a good reputation & specific models, high-quality attachments, and other implements to meet your standards.
But, who's the best on the market? Read below and find out in the ultimate tractor battle!
KIOTI vs. Mahindra: A complete comparison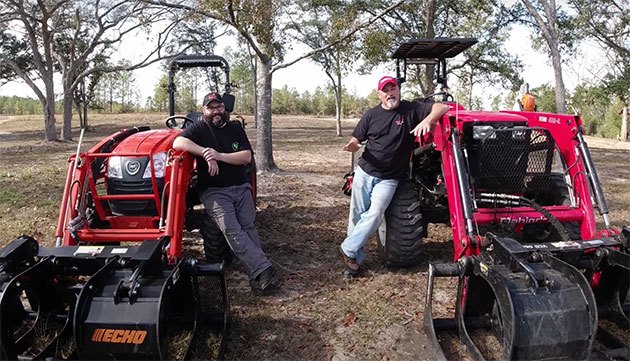 1. The beginning
To briefly tackle the history and compare the two brands, we have to start from scratch.
KIOTI was established in 1947 in Daegu, South Korea, as a part of the Daedong Corporation. It's one of the leading brands in the agricultural market.
They produce tractor models, attachments, and implements necessary for successful farming.
However, they're most famous for the diesel engines that surpass all other brands and fit various other models.
The tractor brand has its headquarters in the USA, tractor dealers, and customer support for your needs.
On the other hand, Mahindra is the best agricultural manufacturer in India, founded in 1945.
The company is famous for numerous tractors and the following equipment necessary for your farm.
They have headquarters in the USA, specifically in Texas, California, Tennessee, Kansas, and Pennsylvania, with customer support and tractor dealers.
As well as KIOTI, Mahindra is also dedicated to meeting and granting the farmer's wishes.
But, who's better? Let's see.
2. The configurations
We will compare two tractors – the KIOTI DK5510 and the Mahindra 4550 tractors.
These are the most representative models nowadays, so we took them as the primary examples for the comparison.
The KIOTI DK5510 belongs to the DK10 Series. The Series includes two other models – DK4510 and DK 5010.
The KIOTI DK10 Series are ideal for convenience, comfort, safety, rugged performance, and other features.
KIOTI tractors include foldable ROPS to work in enclosed areas and around trees.
They also feature correctly positioned controls, power steering for the smoothest projects, and removable engine panels to check the service points quickly.
Regarding safety and performance, you can find wet disc brakes, safety lights, sturdy PTO, and of course, the powerful KIOTI diesel engines.
Its opponent Mahindra 4550, belongs to the 4500 Series.
The Series includes three tractors – 4540 and 4550 available in 4WD and 2WD tractors, and the 4565 model is available only in 2WD.
Their main power is the famous Mahindra mCRD engines, accompanied by the FT4 emissions, DPF, and DEF or AdBlue.
Thus, the Series offers simplicity, reduces complexity, and comfort for the operator.
But, let's compare the tractors to find more specifications.
3. The specifications
When comparing Mahindra and KIOTI, you'd say it's almost the same tractor.
However, there are differences in power, purpose, strength, dimensions, and other benefits, so the tractors are not that similar.
The KIOTI has the following proportions 124.8 x 62.8 x 32 inches, while Mahindra measures 127 x 62.8 x 93.7 inches.
In addition, the KIOTI new tractor weighs 3,373 pounds with tires, while the Mahindra new tractor weighs 5,292 pounds with tires.
So, you see that the Mahindra brand-new tractor is slightly higher than the KIOTI tractor, yet it weighs more.
But, on the other hand, the KIOTI new tractor is somewhat smaller yet more compact.
A heavier tractor is better for traction, ground-engaging tasks, backhoe, etc. But, a lighter version is better for transport, mowing, and minor damage to the yard.
So, according to your needs and preferences, you can select freely among the two new tractor units.
4. Materials and durability
When you search for the best tractor, you want it to last for an extended period.
Many machines come with exceptional inner and outer design, such as Kubota or John Deere, so that these machines will last for many years, regarding the working or other conditions.
The same goes with KIOTI. Thanks to the advanced materials and overall design, the KIOTI tractors will last longer than Mahindra.
Why? Primarily due to the materials they're made of.
Various KIOTI machines contain cast-iron material, advanced for resistance, durability, and sturdiness.
So, external forces, impacts, harsh conditions, and pressure cannot affect and damage it so soon.
In addition, multiple Grapple products contain AR400 steel.
These units will also show their best resistance and last for an extended period, regardless of the external conditions, impacts, or pressure.
On the other hand, we cannot claim Mahindra machines are that solid and reliable.
Although their construction contains multiple materials and similar projects, their direct support is reinforced steel.
Unfortunately, it's prone to rust and fading. So, it may not last as long as it should.
For this reason, we suggest you search for a more reliable machine and choose KIOTI rather than its opponent, so save yourself from further complications and possible risks.
5. The engines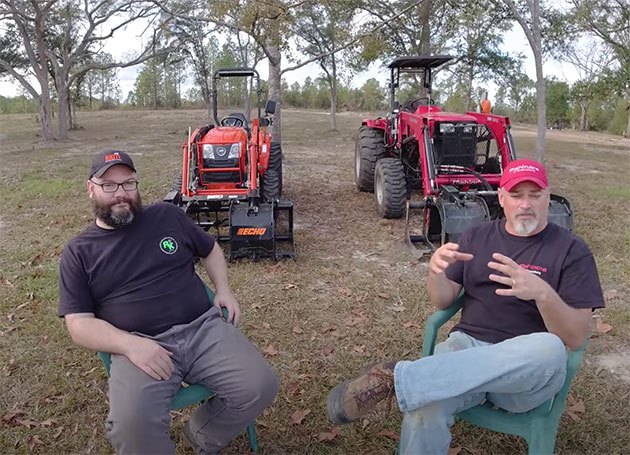 The KIOTI DK5510 machine has a 3-cylinder, 11.4 cubic inch diesel engine with a Gross of 55 HP at 2,600 RPM.
Due to natural aspiration and a fuel capacity of 11.9 gallons, the KIOTI tractor will save energy and offer more power at less RPM. It will be a safe fuel for more extended performance.
In addition, the brand-new Common Rail Diesel Engines improve fuel efficiency, reducing noise levels.
The eco-friendly Tier 4 system offers a quiet work environment with powerful performance.
On the other hand, the Mahindra 4550 machine utilizes a 4-cylinder 1 167 cubic-inch liquid-cooled engine, delivering 48 HP at 2,300 RPM.
The Mahindra 4550 uses 14.55 gallons for fuel capacity, requiring more energy for optimal performance. However, it's noisier than KIOTI tractors.
Mahindra tractors, in general, seem noisy, regardless of the configurations.
So, when comparing the two engines, KIOTI surpasses Mahindra since it saves fuel and offers more power at reduced RPM. Hence, it will be a better fuel-saving machine.
6. The transmission & PTO
The Mahindra 4550 uses a complete constant mesh transmission time-tested with an 8 F and 2 R manual gear drive.
The shift levers are positioned on the transmission hump between the operator's feet.
The right gear lever utilizes four gears in a traditional H pattern, with a reverse back to the left. Simultaneously, the left range lever has low forward and high backward gear.
All the pedals, levers, and hardware, in general, are substantial, with almost no effort put into material cost and weight reduction.
You can find the ratchet-lock parking brake lever on the floorboard's right side, foot throttle, split brake pedals, and right-heel differential lock.
You can also notice the clutch pedal on the floorboard's left side to pull down the 4550 tractors in both 2WD and 4WD mechanisms.
Although all pedals are painted metal, they have anti-vibration and slip-mats.
To the tractor seat's left, there's a PTO lever. The Mahindra 4550 provides claimed 38 PTO HP at 540 RPM.
However, at the seat's right is the lever for the three-point hitch Category 2, with suitable position and draft control.
Contrary to Mahindra, the KIOTI DK5510 has a Synchro Shuttle transmission type, with eight forward and eight reverse speeds.
The transmission is manually operated; however, the tractor utilizes an independent PTO HP of 49.6 at 540 RPM.
But, Mahindra uses both position and drift control to be used only as a tiller, while KIOTI connects various implements – loader, plow, etc.
This is a key factor when working on various farm projects.
The power take-off can be controlled via an electronically controlled motor, and you can maintain it at the set value even with the various load conditions.
The newest KIOTI NX Serie contains the Auto PTO for a better hydraulic flow and advanced performance.
So, again, KIOTI is slightly more advanced than its opponent coming from India.
7. Hydraulics
The Mahindra's 4550 hydraulic system runs through an open plan with 5.8 GPM going to the power steering system at 8.7 GPM and tractor implements at 14.5 GMP in total.
The Category 1/2 three-point hitch has a lift capacity of 3,527 pounds.
On the other hand, the KIOTI DK5510 has a standardized Category 2 three-point hitch with positioned control.
As mentioned above, it's not a combination, so it fits various tractor attachments. However, it offers a smaller lift capacity compared with Mahindra, with a maximum of 2,716 pounds.
So, Mahindra is slightly advantageous here.
But, you can operate the hydraulics via a gear pump with 14.5 GPM in total, so it's equal to Mahindra.
So, based on your load needs and demands, you can select a better machine.
8. Comfort benefits
Just like Kubota, Case IH, or John Deere, KIOTI is the absolute king of comfort! That's why it might even beat Massey Ferguson, New Holland, Ford, and other tractors.
Its main feature is the ergonomically designed operator's seat. The set is fully adjustable, with a suspension system allowing the operator to work longer without fatigue.
You can also find a pocket on one side of the seat to place the instruction manuals inside. Thanks to the fender grip located on both sides, you can quickly get in or out of the tractor.
In addition, the DK5510 new tractor is more advanced than the older tractor, as it has a new projection head and working lamp.
The operator experiences safer and easier projects and operations after the sunset due to the safety and security equipment.
The DK5510 new tractor is also advanced compared to older models, as the previous DK40s tractor had issues with the ignition switch, which is not an issue with new KIOTI tractors.
The new tractor also provides a tail lamp to increase the operator's visibility and enhance his safety while operating.
Of course, the new tractor series, such as KIOTI NX Series, include even more comfort features, such as rear remotes, absolute cruise control, HST drive, advanced equipment, wet disc brakes, etc.
The KIOTI DK5510 also has wet disc brakes for more control and better performance, but the NX Series are overall premium-quality tractors and loaders with advanced, brand-new tractor equipment.
Rear remotes in KIOTI will help you change the implements and equipment, so the KIOTI DK5510 is a great tractor when you need to complete agricultural tasks quickly and effortlessly.
The KIOTI DK5510 is also famous for the tilt and power steering, reducing the effort to make repetitive and tight turns.
The wheel is a push-lever, allowing the operator to adjust the tractor model to his needs.
And thanks to the central market on the hood, the operator will have complete assistance when maintaining straight rows.
Contrary to KIOTI, the Mahindra 4550 tractors do not provide the fender grips to help you climb up easily.
You will find that the stepping is a bit tight between the seat and transmission, but the dashboard is easy to reach and use, with suitable control panels.
However, the steering wheel is fixed. As a result, many folks find it uncomfortable, while others claim it's OK.
However, you'll find a left-hand signal stalk with a horn button. Unfortunately, many farmers still complain it's not a hydraulic shuttle lever.
Additionally, the joystick control is mounted on the loader stanchion. It gives close proximity to the steering wheel and hand throttle.
But, KIOTI tractors have advanced system technology, which, unfortunately, we cannot say for Mahindra machines.
So, our KIOTI tractor model is eco and user-friendly, with minimal to almost no noise, while the Mahindra tractor model will be noisy and uncomfortable.
In addition, the KIOTI tractor uses the best comfort system, while the Mahindra model doesn't include all these benefits.
That's why we prefer the KIOTI model rather than Mahindra regarding comfort and safety features.
9. Price tags
When comparing Mahindra and KIOTI tractors, you will find that the Mahindra 4550 tractor costs $26,964. On the other hand, the KIOTI DK550 tractor has a smaller price of $24,000.
You can also check the MSRP and see the differences or similarities in costs. So, you will get a more powerful tractor for less money if you choose the DK5510 tractor.
However, you can find various KIOTI dealer organizations and support, ask for tractor sales, and save more money.
Another big plus is that KIOTI produces its own tractors, so you can easily find the equipment, parts, and other support for a great tractor.
Remember that their tractor equipment is not interchangeable with Kubota tractors, so do not search for these parts.
Additionally, you can compare it with New Holland, Case IH, John Deere, Massey Ferguson, Kubota, or Ford tractors and search for the dealer network as well to compare the prices.
KIOTI dealer network includes the main headquarters in North Carolina, but you can find more than 450 dealer networks in the USA and Canada.
So, search for your local dealer to get more info.
If you still search for the Mahindra tractor, ensure you also contact the network of dealers, find the local official Mahindra dealer near you, and ask for possible changes in price tags.
You will know if the price is final or not. The Mahindra dealer network is spread in five American states, including Texas, California, Tennessee, Kansas, and Pennsylvania.
You can also search for the dealer near you on the official Mahindra websites.
Also, you can visit the official Mahindra forum to find more info about this great tractor.
You can compare it to numerous other brands, such as John Deere, Case IH, Ford, Massey Ferguson, Kubota, New Holland, etc., and reach the price points.
The pricing is always a big deal when it comes to the final decision and purchase of the tractor and following equipment.
However, I believe that if you search for an excellent machine, you should examine the crucial factors, including performance, comfort, and strength, first, and then search for the cost.
It will be money-saving and a better investment, as it will last longer.
So, please, refer to your dealer and support as the primary source of all information you might need.
Then, you won't be stuck between the pros and cons of your preferred or less preferred model.
Are there alternatives?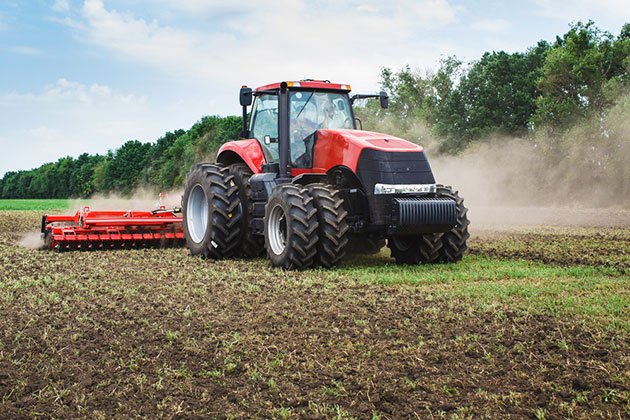 Remember that there are always alternative solutions if you still cannot find the best solution for your needs.
So, you can look for your dealer and get more info about other KIOTI and Mahindra components.
For instance, you can search for the KIOTI CK3510SE and Mahindra 1635 SST machines.
However, I think KIOTI will also win you over Mahindra due to Gross and power take-off HP, as the KIOTI tractor offers higher horsepower of 34.9 and 30.8.
In contrast, the Mahindra loader provides 34.5 and 25.2 horsepower.
In addition, the first competitor offers a three-cylinder engine, while the latter utilizes a four-cylinder one. So, the KIOTI loader will also be more fuel-efficient than the opponent.
However, Mahindra features a 7.7-gallon fuel tank capacity, whereas KIOTI provides a 9-gallon fuel tank capacity.
You can choose according to your preferences, but KIOTI is still more advanced. How?
The Mahindra 1635 SST doesn't provide the DPF – Diesel Particulate Filter. So, it cannot wholly keep your loader cleaner to run better.
In addition, without the DPF, the tractor will run a DOC – Diesel Oxidation Catalysts.
These DOC parts are essential parts of diesel engines, as they are catalytic converters explicitly designed to reduce carbon monoxide, particular matter emissions, and hydrocarbons.
DOC parts are maintenance-free, inexpensive, and simple, ideal for all types of DE and multiple applications.
Without them, your loader will require constant heat, which means more fuel burned at every RPM. As a result, they also need more EGR.
The EGR system consists of an EGR cooler and an EGR valve. The principle and the primary function of the EGR mechanism are to control the flow of the exhaust gas being recirculated.
It depends on the engine load via the intake manifold.
However, Mahindra does not have the DPF, which leads to a lack of DOC, leading to issues with the EGR system, and finally, more efficiency penalties.
This is not the case with the KIOTI loader, which is another reason to select it over the Indian opponent.
Again, choose according to your beliefs and preferences, yet KIOTI wins and avoids possibly stuck situations and projects. But, a dealer is a crucial factor in the final decision.
KIOTI vs. Mahindra – The final countdown
What's it going to be, folks? Which loader is your future test drive?
You've seen the unbiased battle between Mahindra vs. KIOTI. We've compared them at multiple factors and narrowed the contrast for better guidelines.
In the end, we concluded that KIOTI won over its counterpart due to advanced design, technology, comfort, safety, and performance. And all that for a smaller price!
So, what do you say? KIOTI or still Mahindra?